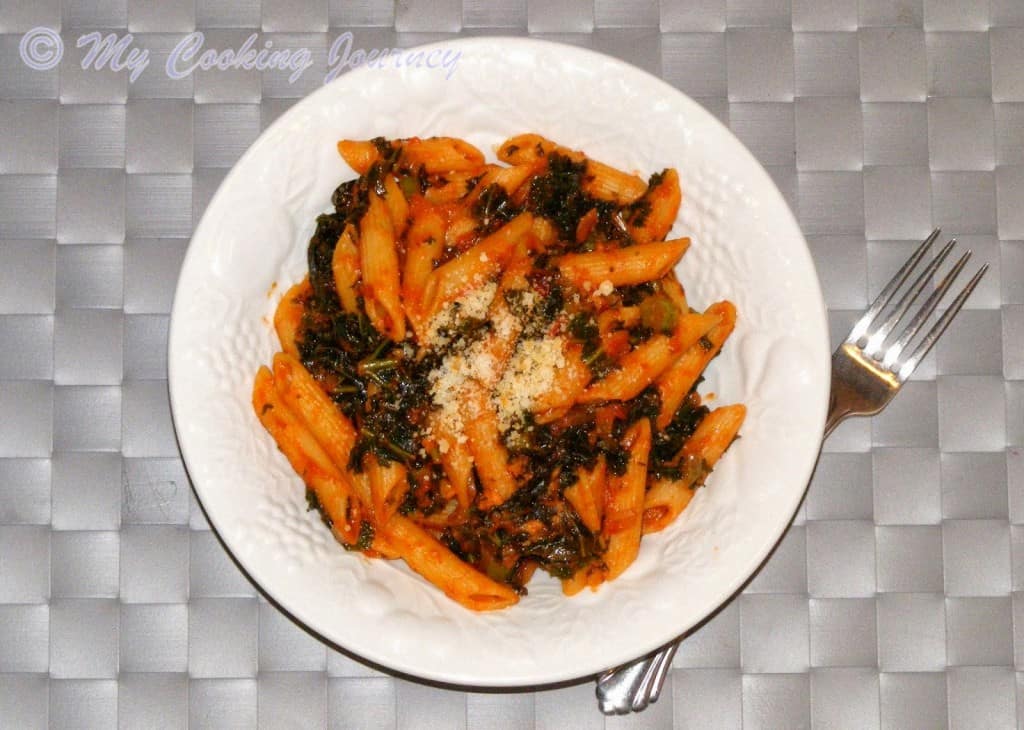 Pasta is something that I make often for dinner and for lunch boxes. The Kale and Tomato Pasta recipe is pretty basic if I am packing for lunch with homemade marinara sauce but if I am making pasta for dinner, I like to make it a little elaborate, something like the baked vegetable pasta. Kale is something new that I am cooking with me. I like the texture of the kale but my kids and husband are having a little hard time getting used to it.
This week I chose to make three recipes using one ingredient and the ingredient I chose is tomato. This pasta is very hearty and healthy and makes up as a perfect dinner with some crusty bread on the side. I used Marinara sauce for the recipe since I had some in hand, but if you do not have the sauce, you could use canned tomatoes or fresh tomatoes.
Preparation time – 10 minutes
Cooking time – 40 minutes
Difficulty level – easy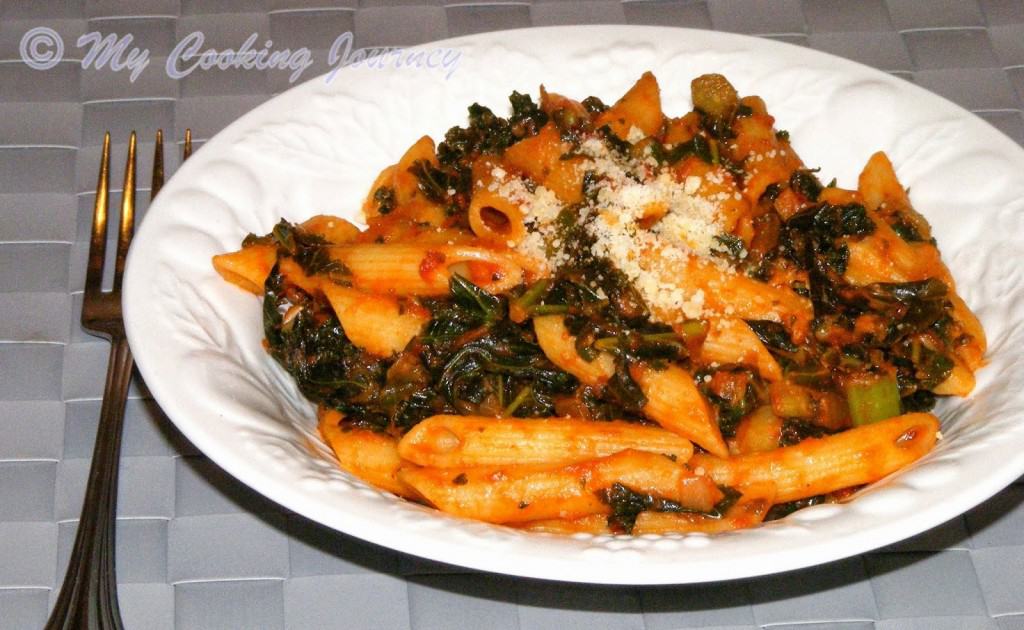 Ingredients to make Kale and Tomato Pasta – serves 4
Whole grain pasta or regular pasta (penne or any large ones) – 12 oz
Kale – a small bunch (about 8 cups chopped)
Onion – 1 large (finely chopped)
Marinara sauce – 1 cup (substitute canned tomato sauce)
Garlic – 2 cloves (minced finely)
Salt – to taste
Pepper and red chili flakes – to taste
Olive oil – 2 tbsp
Parmesan cheese – ¼ cup plus more to serve
Procedure –
Cook the pasta based on the cooking instructions on the pack and drain. Reserve about ¼ cup of pasta water and keep aside.
Cut the stems off the kale and chop it into small pieces.
In a wide pan, heat the oil and sauté the onions until translucent. Add the crushed garlic and fry for a minute more.
Now add the chopped kale and sauté until it wilts down a bit. It takes longer than spinach to cook, so keep tossing until the kale is soft (about 6-8 minutes).
Now add the tomato sauce or the marinara sauce and mix well. Season with salt and pepper and add the chili flakes if you like the heat. Let the kale cook for about 5 minutes in the tomato sauce.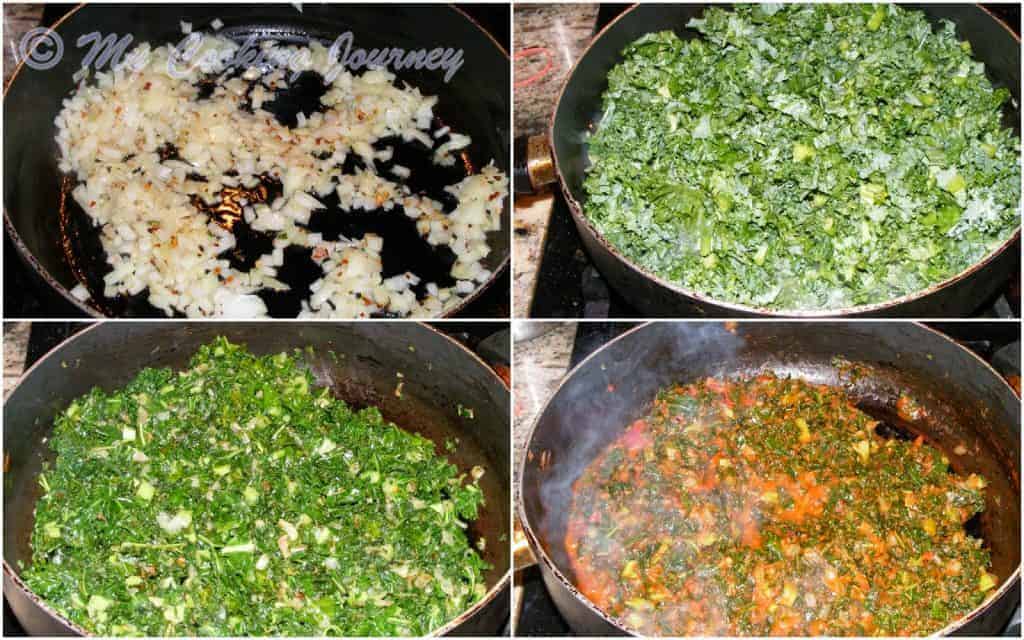 Now add the cooked pasta and mix. Sprinkle the reserved pasta water to adjust the consistency and toss to combine. Add the cheese and mix.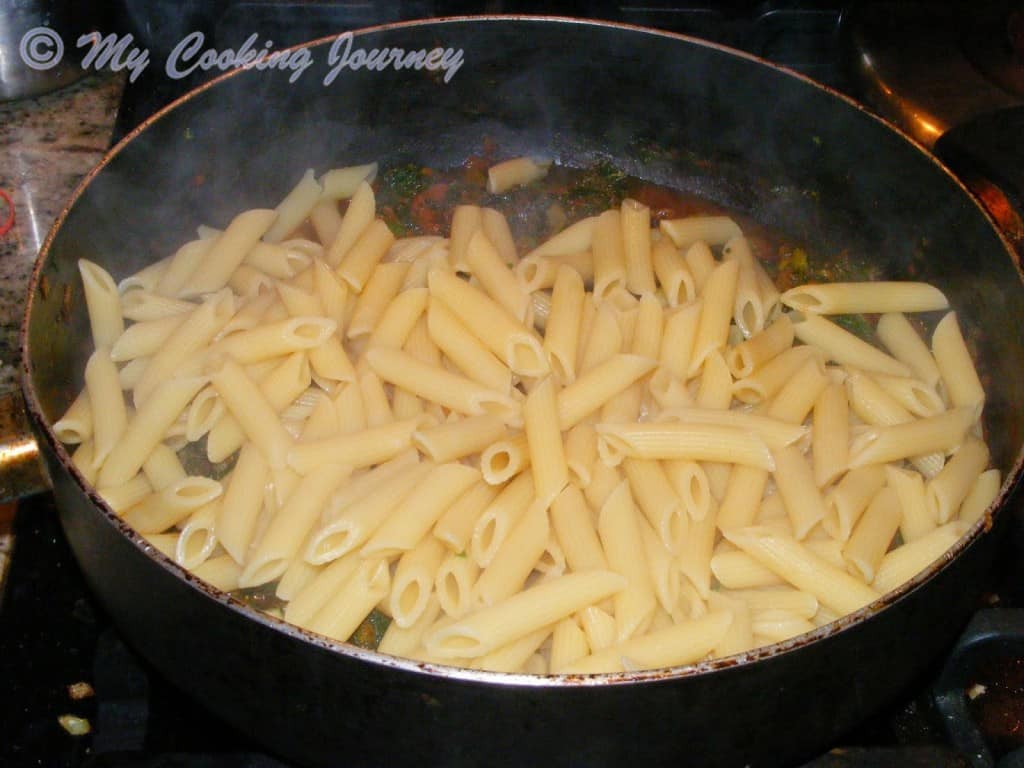 Serve the Kale and Tomato Pasta hot with more cheese if preferred.