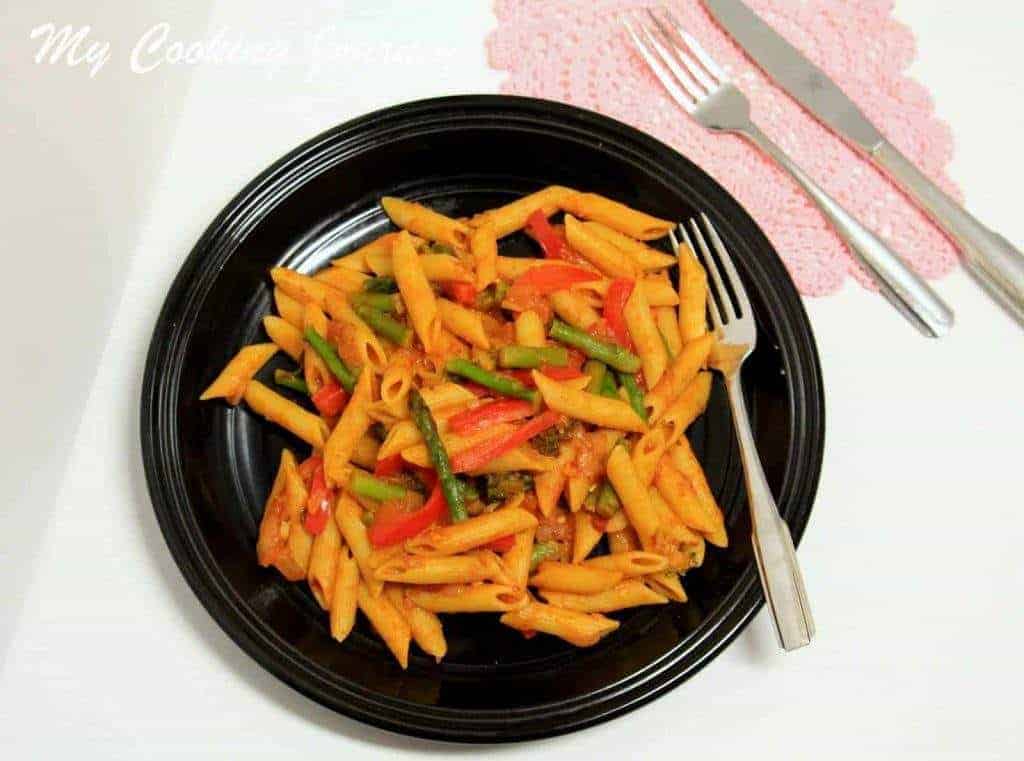 This week for blogging marathon, I am going to be making three different sauces for pastas. This theme was very interesting as it gave me an opportunity to explore different vegetarian sauces to go with pasta. I sort of stuck to sauces with tomatoes in them as my little one loves the red pastas and not so the creamy ones.
The first one that I have is the spring vegetable pasta as it was very apt for the season. The weather is getting better and the plants are beginning to bloom. I love spring for its crisp air, chilly mornings and warm afternoons and not to forget the fresh vegetables. Pasta primavera can typically have any vegetable in it, but we more often see vegetables that retain their crispness. I have used whatever vegetables I had in hand along with prepared Marinara sauce. You could also use tomato sauce instead of marinara. There are also creamier versions of the pasta primavera, but that is for next time. For now, it is loads of vegetables with tomato sauce.
Preparation time – 10 minutes
Cooking time – 30 minutes
Difficulty level – easy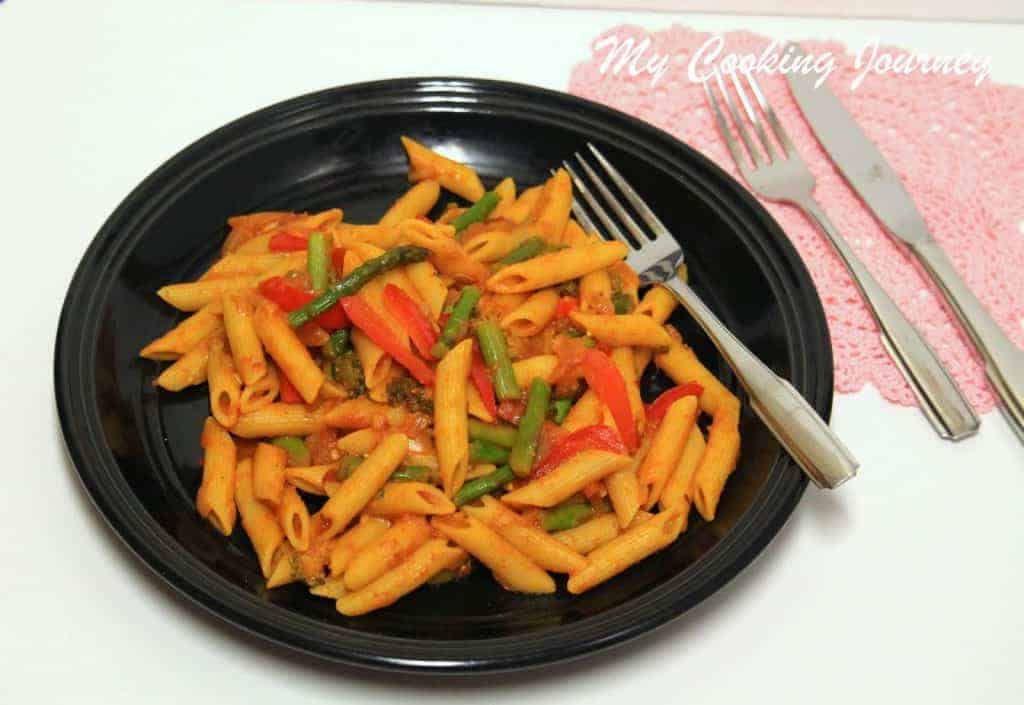 Sign up to my newsletter
Ingredients to make Pasta Primavera – Serves 4 - 6
Onion – 1 small (finely chopped)
Garlic – 2 cloves (minced)
Red bell pepper – 1 (sliced thin)
Broccoli – 1 ½ cups (florets removed)
Asparagus – 10 stalk (cut into 1 inch pieces)
Prepared marinara or tomato sauce – 2 cups
Pasta – 1 lb (I used penne)
Crushed red peppers – 2 teaspoon (adjust based on your spice level)
Salt – to taste
Olive oil – 2 tbsp
Parmesan cheese – for garnish (optional)
Procedure –
In a wide pan, heat the oil and then sauté the garlic for 10 seconds. Now add the onions and sauté until golden brown.
Add the red bell peppers, broccoli florets and asparagus and give it a stir. Add little salt just for the vegetables and cook it until the vegetables are just tender and still have a crunch to it.
Now add the prepared marinara sauce or tomato sauce along with crushed red peppers and simmer for 10 minutes until the flavors combines.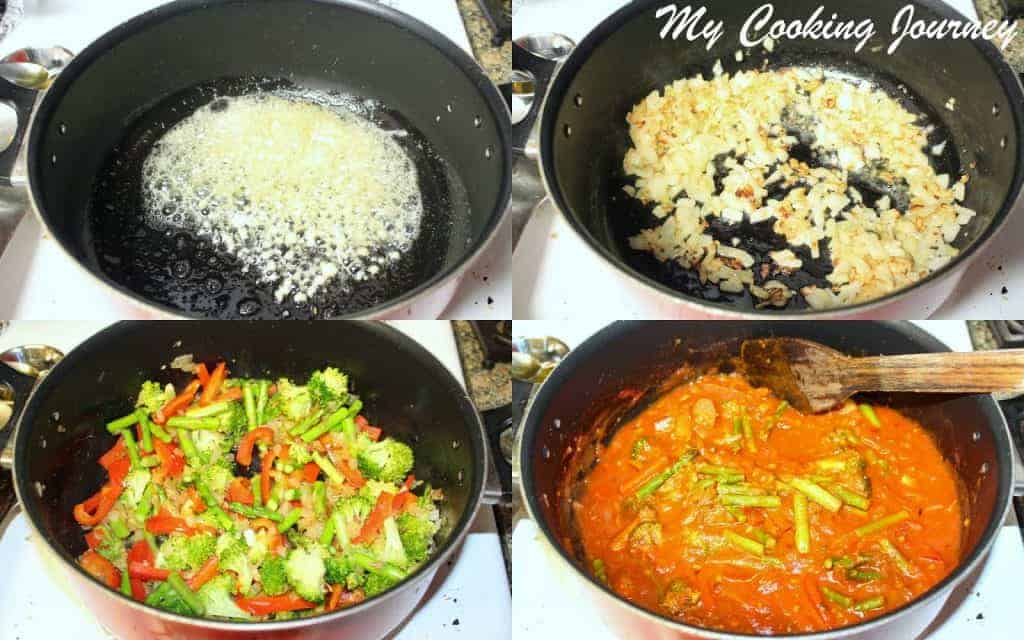 Meanwhile, bring a large pot of water to boil. Salt the boiling water and then cook the pasta until al dente. Drain and keep it aside.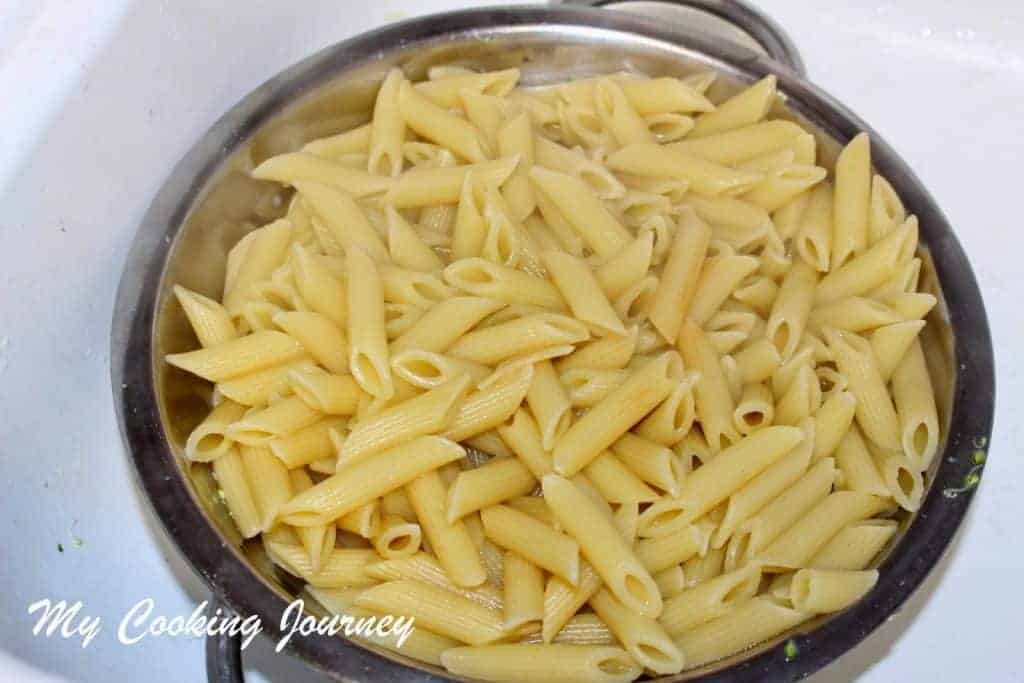 Once the sauce is ready, add the pasta to the sauce and mix gently.
Serve immediately with parmesan cheese as garnish.