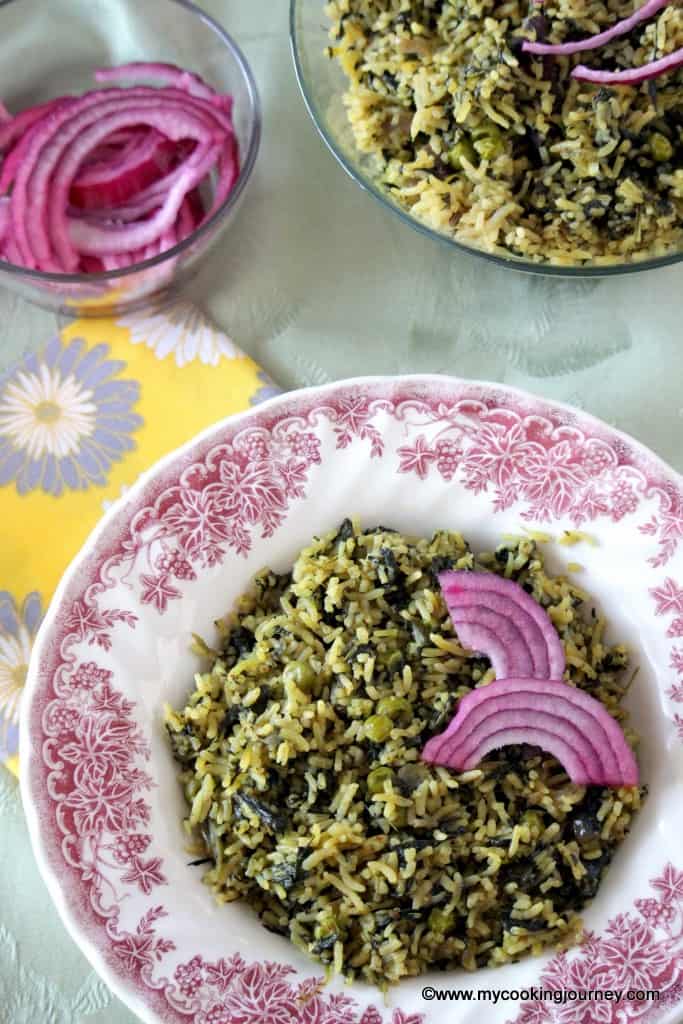 Bookmarked theme is one of the themes I really look forward to as I always have tons of recipes waiting to be made. Every week as I read though different blogs, I keep bookmarking the ones that I want to try and that list is long. In fact, lately I have had to organize them under different categories for easy handling.

This month though Srivalli had specified that we make a bookmarked recipe from someone who was currently doing the edition. That was a little hard to sort out, but picking a dish was not hard at all as everyone in the group makes marvelous dishes.
This recipe is from Gayathri's space that she had posted not long ago. I love one pot meals and lately after making this Spinach rice, which happens to be one from Sapana's space, I have fallen in love with the kind. I think using spinach in rice is an excellent way to incorporate greens into kid's meal.
This pulao is a little different and is a little more elaborate than my earlier version. I loved the use of mint in this rice as it adds lots of flavor. Next to Palak Paneer / tofu, this is one of spinach recipes that my kids love. This also makes a great choice for lunch box. My older son loves to take rice for his lunch box and his favorite is curd rice with some fresh grapes. He apparently has got this side of his genes from his father who also loves to take curd rice for lunch. I was the one who hated to take curd rice for lunch box and still would do anything to avoid it.
I have used frozen chopped spinach in the recipe and just the ease of availability of spinach like this makes it much easier to incorporate in meals. Gayathri had made a puree with the spinach and used it. I have used the spinach as is in the recipe.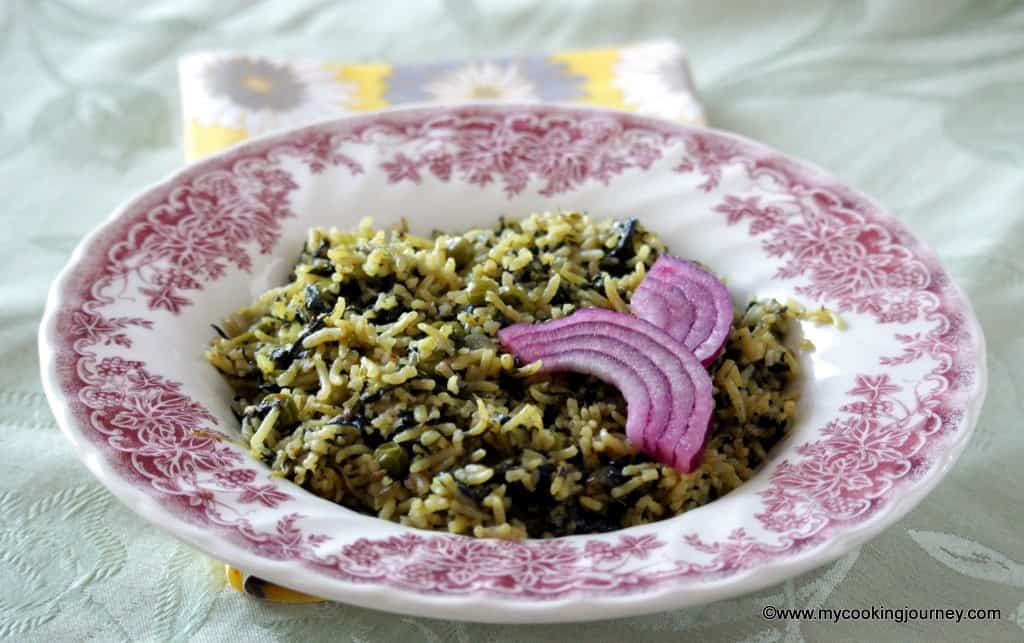 Preparation time – 20 minutes
Cooking time – 40 minutes
Difficulty level – easy
Recipe adapted from – Gayathri's Cook Spot
Ingredients to make Palak Mutter Pulao – (serves 4 – 6)
Basmati rice – 1 ½ cups
Spinach – 3 cups (I used frozen)
Peas – 1 cup (I used frozen)
Onion – 1 large (sliced)
Fennel seeds – 1 tsp
Cloves – 4
Cinnamon – 1 inch piece
Turmeric powder – ½ tsp
Red chili powder – ½ tsp
Oil / ghee – 2 tbsp
For the masala paste to make Palak Mutter Pulao –
Mint leaves – ½ cup
Cilantro – ½ cup
Garlic – 2 cloves
Ginger – ½ inch piece
Green chili – 3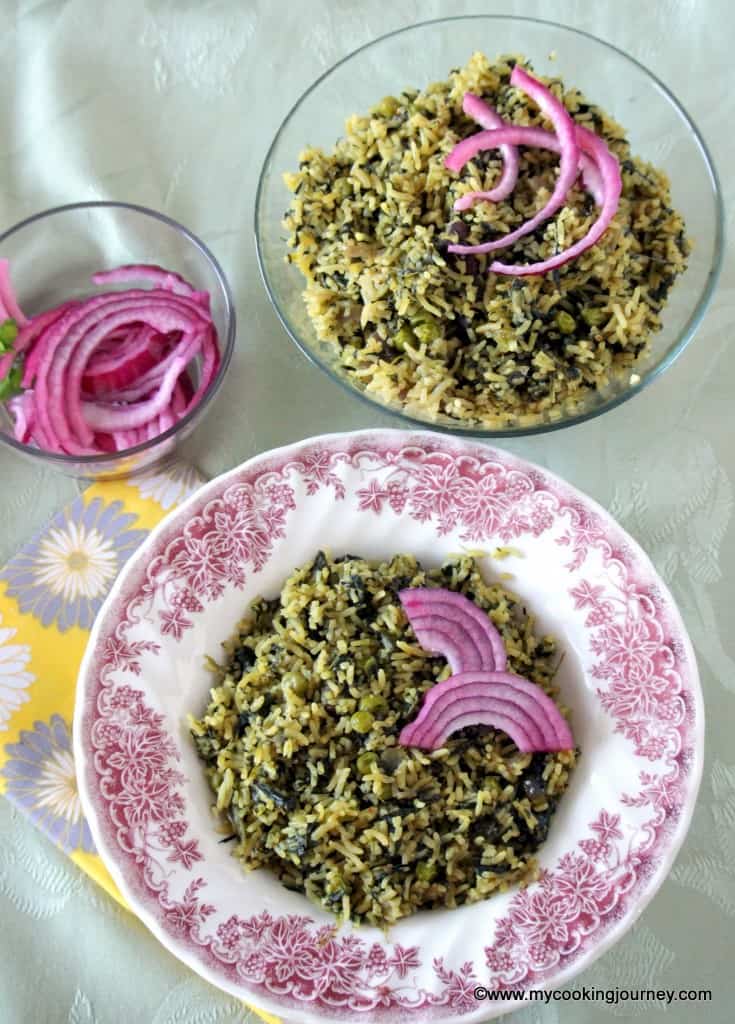 Procedure to make Palak Mutter Pulao –
Grind all the ingredients mentioned under the masala paste.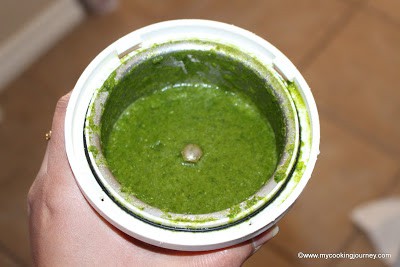 Wash and soak the rice for about 20 minutes. Drain and keep aside.
In a pan, heat the oil / ghee (I use the combination of both) and add the fennel seeds. Fry for about 10 seconds and then add the onions. Sauté until the onion are translucent.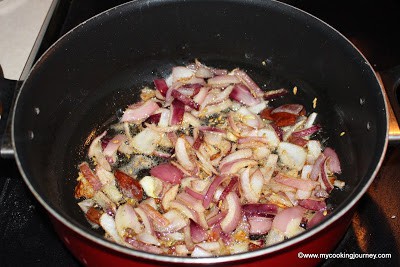 Now add the ground masala paste and fry on low flame until the mixture becomes aromatic and the oil starts oozing out (takes about 5 to 6 minutes).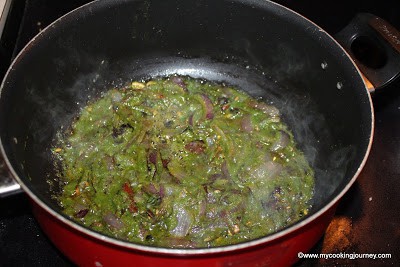 Now add the frozen spinach and all the dry spice powders (turmeric powder, red chili powder and salt). Cook until the spinach becomes soft (about 5-7 minutes).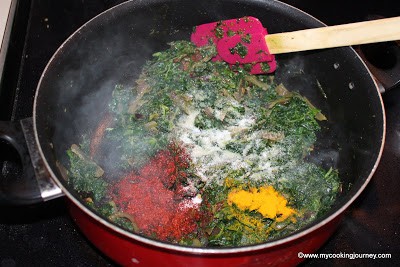 Now add the frozen peas and give it a good mix. Add the water needed for the rice (I used 3 cups of water) and let it come to a boil.
Add the drained rice and mix well.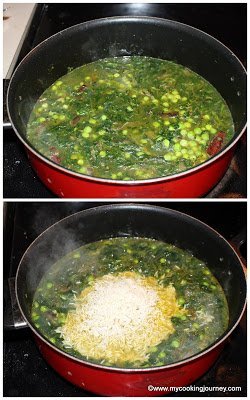 Cook covered until ¾th done. Now cover the pan with an aluminum foil and then the lid. This method locks in the steam and makes the dish more flavorful. Cook in low heat for about 10 more minutes and then fluff the rice with a fork.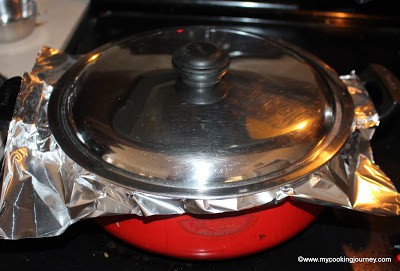 Let the rice sit for about 10 minutes before serving.