Chewy coconut ladoo made with freshly grated coconut
and sweetened condensed milk.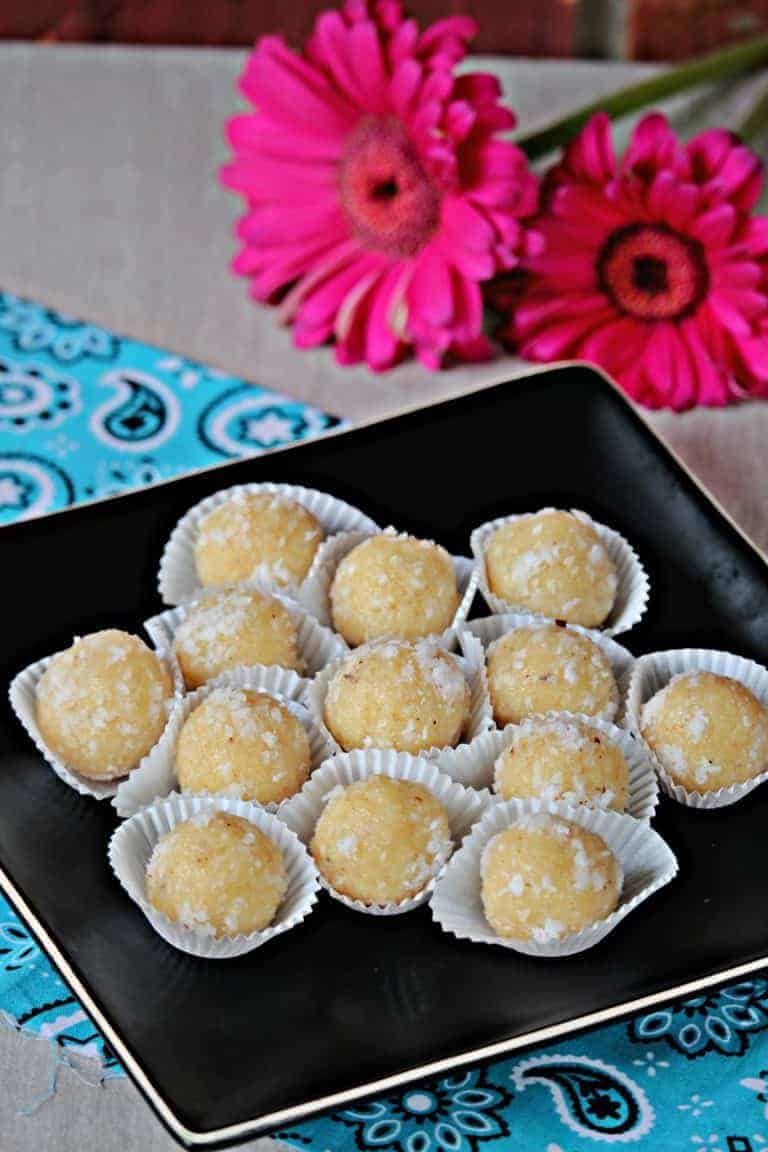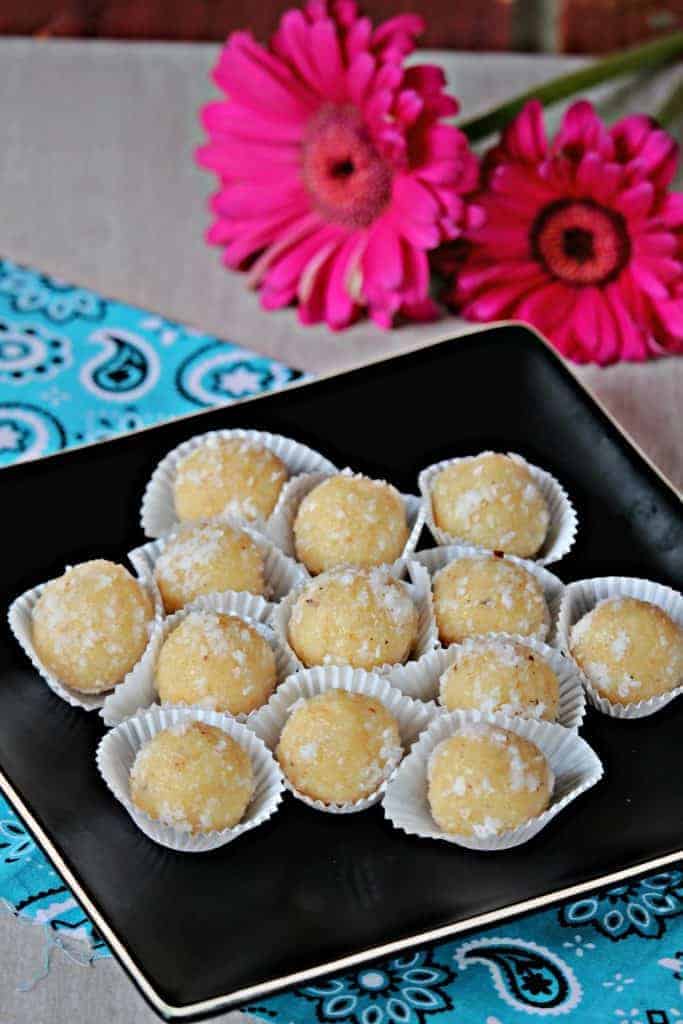 The last recipe under my theme for week which is Diwali sweets and savories is this Coconut Ladoo. I started the series with Rava ladoo and ending it with yet another ladoo that can be made in under 30 minutes. The best part about this coconut ladoo is that it uses only half a can of condensed milk. That means we get to lick and enjoy the remaining half can of the condensed milk. I don't know about you, but if there is one thing I cannot resist licking, that would be condensed milk. I often look for recipes that use a little condensed milk so I get a reason to open a can. If you want to make your own condensed milk, check out the recipe here.
This Ladoo is the easiest of all. If you have grated frozen coconut, just make sure to thaw it ahead of time and then the process is just a few minutes. The ladoos are very soft and chewy and the flavor lingers for a while in your mouth. I added a little bit of milk powder to add some richness to the ladoo. If you don't have any milk powder in hand, that could be totally skipped.
Mixed roasted nuts can be added to the ladoo as well, but I like mine as is and I decided to leave it plain. These ladoos are a great choice for giving away to friends and family. I placed mine on tiny cupcake liners and that made it easier to serve and store.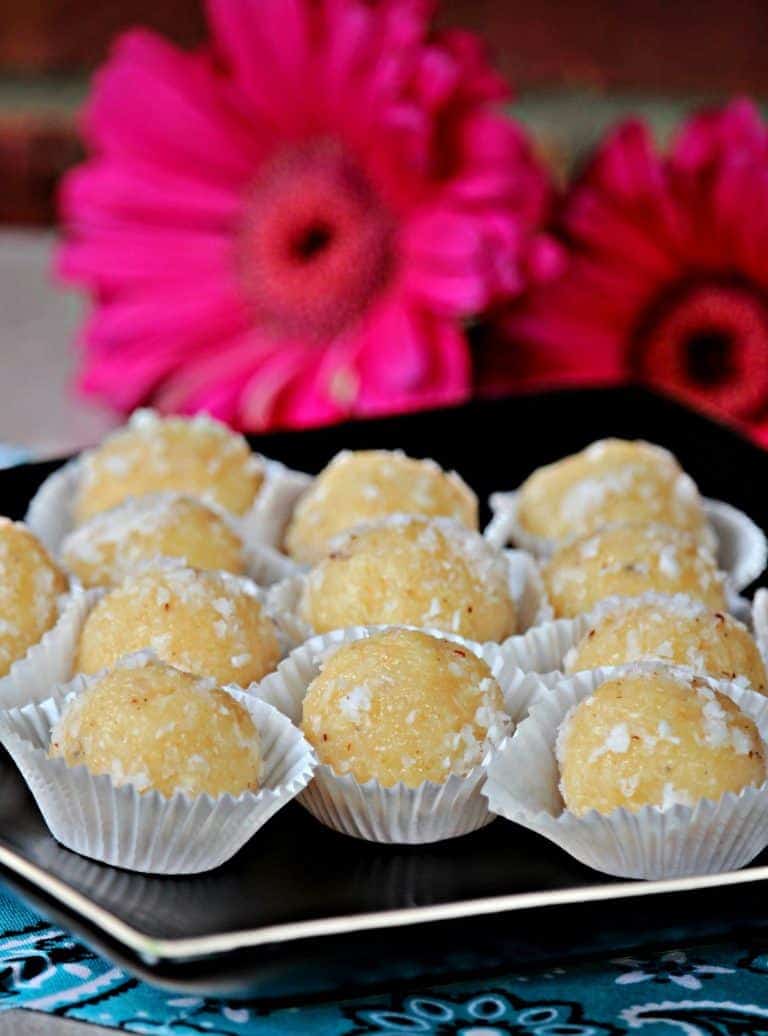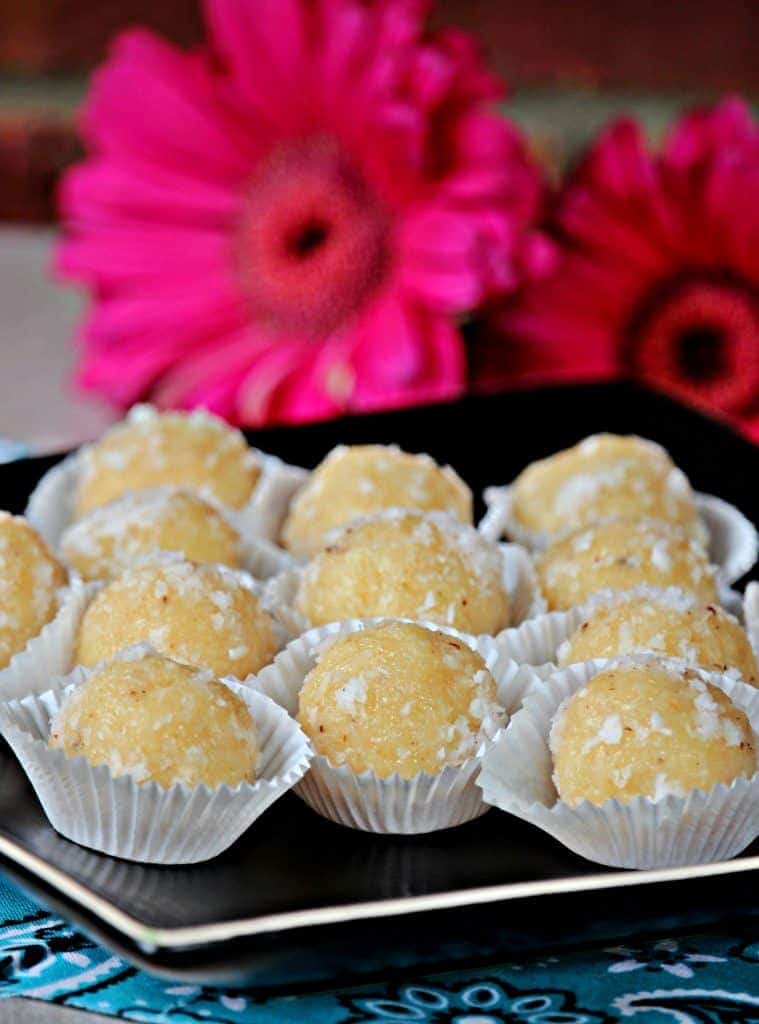 Preparation time - 5 minutes
Cooking time - 15 minutes
Difficulty level - easy
Ingredients to make Coconut Ladoo - makes about 15 small ladoos
Coconut - 1- 1/2 cups packed (freshly grated or frozen)
Milk powder - 2 tbsp
Condensed milk - 1/2 tin (7 oz or 200 g)
Cardamom powder - 1/4 tsp
Ghee - 1 tsp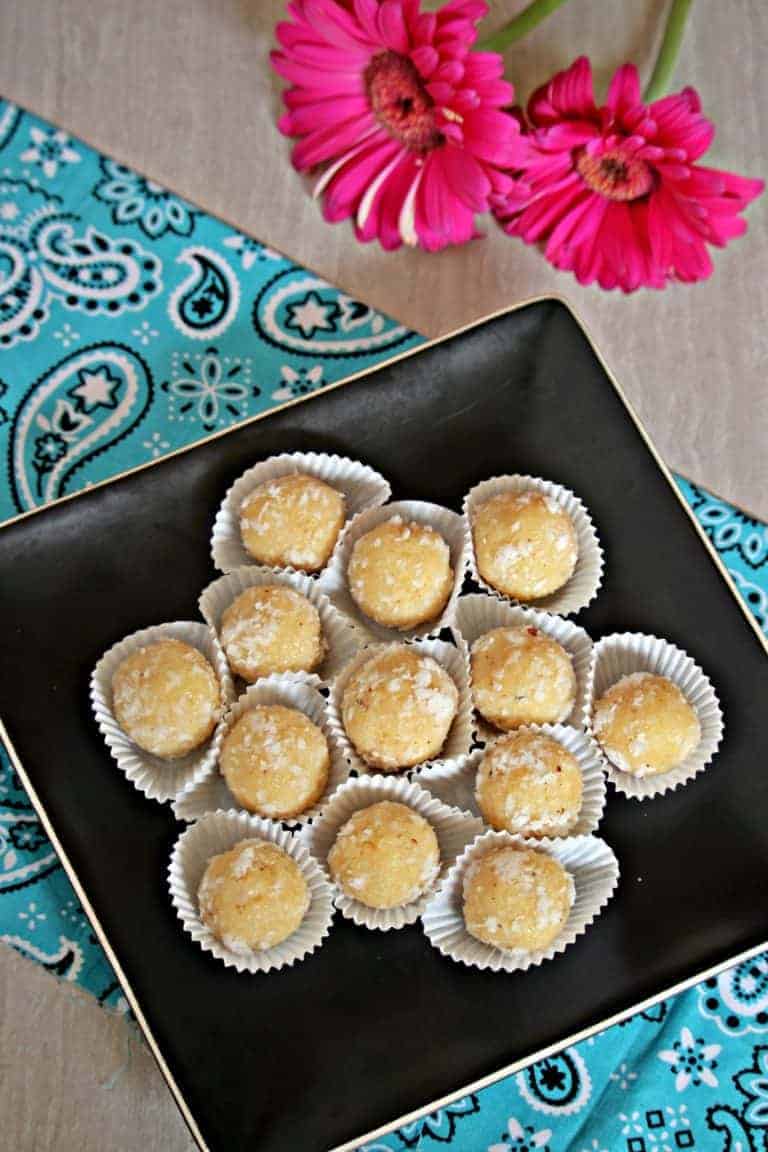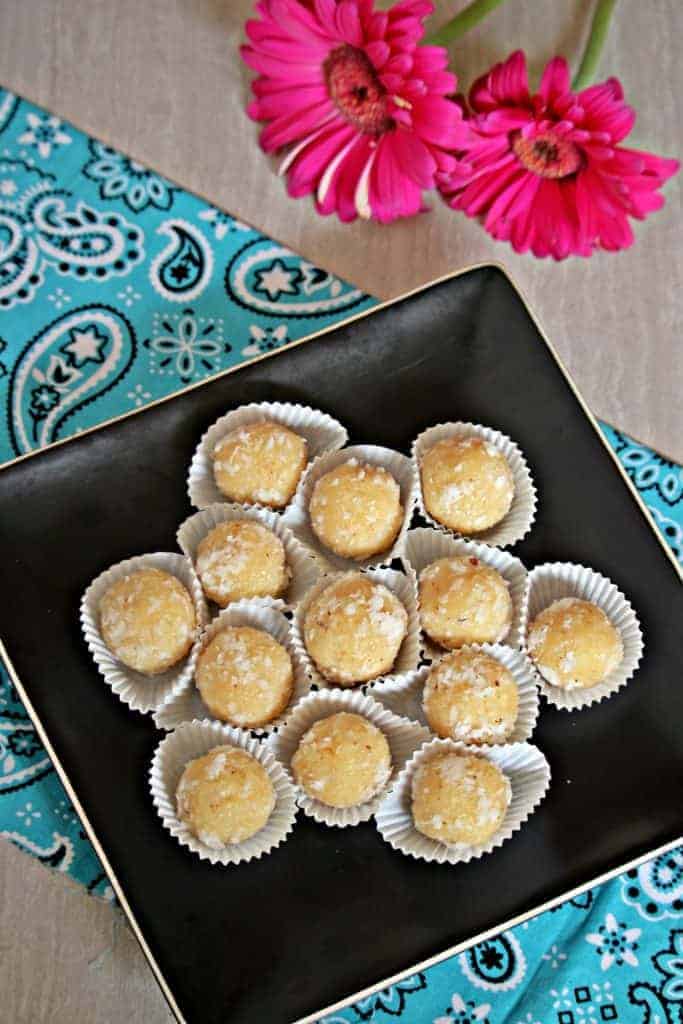 Procedure to make Coconut Ladoo -
I used frozen grated coconut to make the ladoo. If using frozen coconut, thaw the coconut and let it come to room temperature. I ran it in the mixer a couple of times to make it fine textured. If your coconut is not coarse, then you can make it as is and skip the grinding part.
If using fresh coconut, grate the coconut as fine as you can and measure it out.
Leave about 1/4 cup of coconut aside (optional) to roll the ladoos.
Heat a tsp of ghee in a pan and add the grated coconut. Fry the coconut in low to medium flame only until all the moisture is gone. We don't want to change the color of the coconut and hence it is very important to fry it on low flame. It needs only about 5 minuted of frying to get the coconut dehydrated.
Add the milk powder and the condensed milk and mix well. Keep cooking the mixture until it thickens and starts to form a mass. It takes anywhere from 6 to 8 minutes for the mixture to thicken.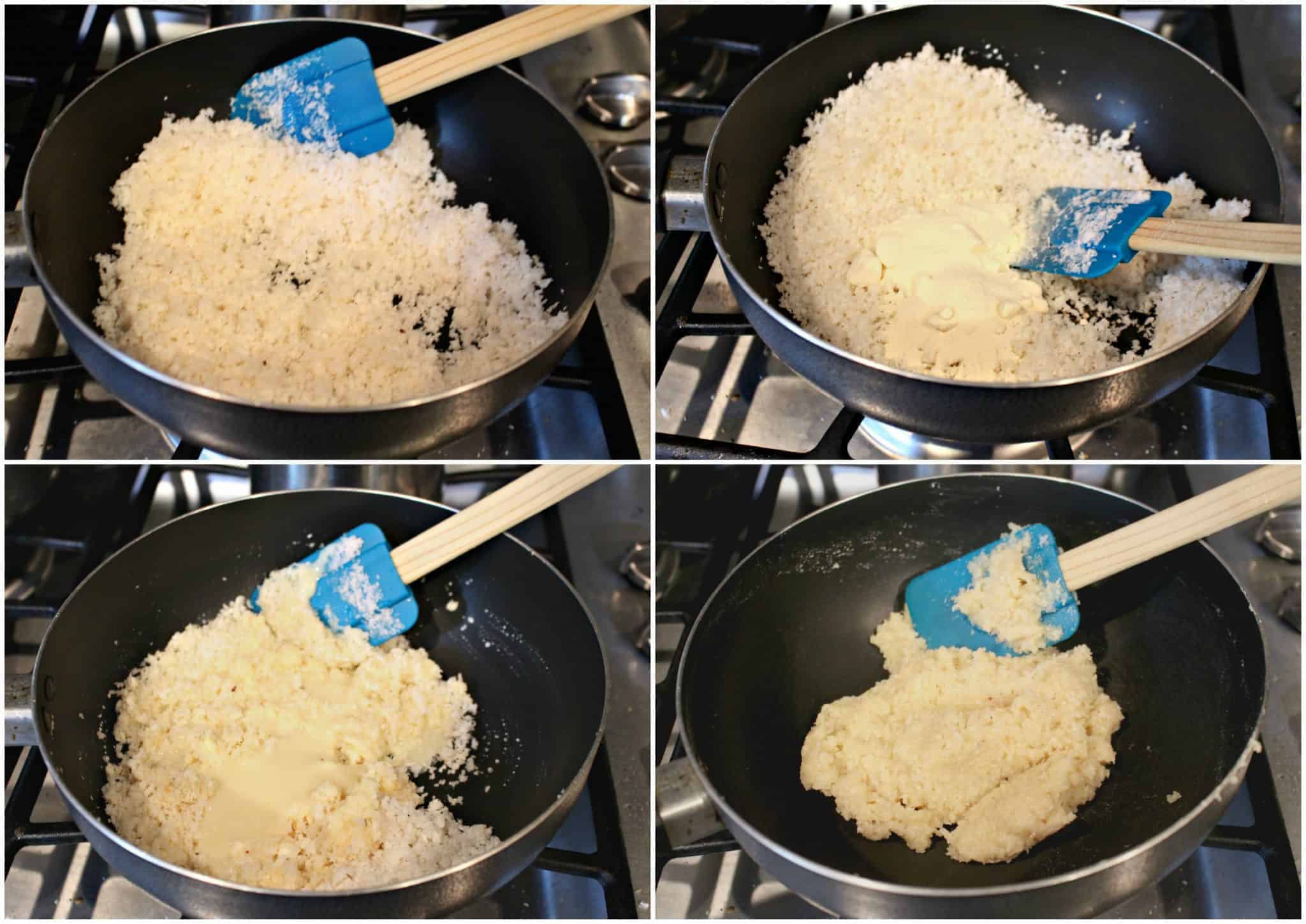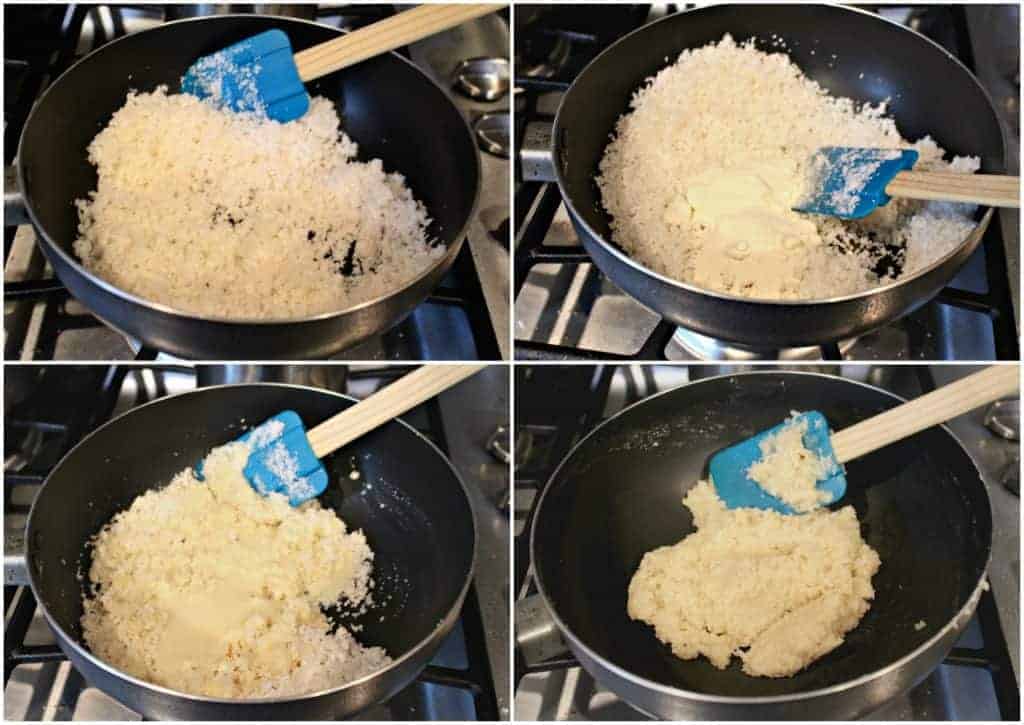 Add the cardamom powder, mix well to combine and turn off the flame. Transfer the mixture to a plate and let it cool down enough to handle and form ladoos.
Once the mixture is cool enough, pinch out a piece of the mixture and roll it between your palms to form ladoo. If you feel the mixture is sticking to your hands, grease your hand and roll.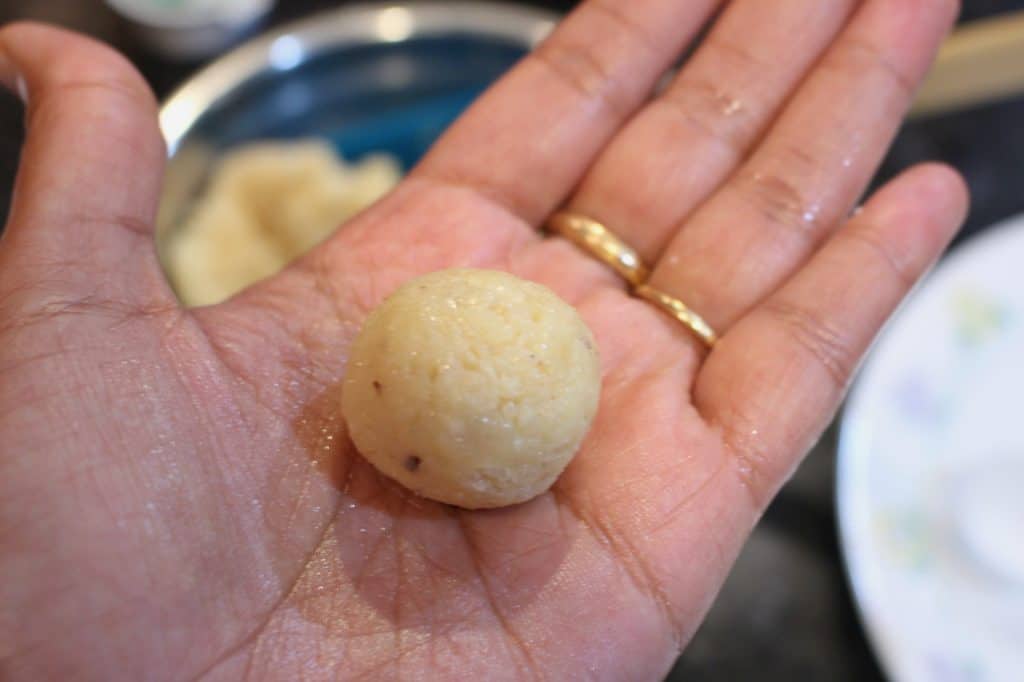 If preferred, roll the shaped ladoos over the reserved coconut.
Let it cool down well before storing. The ladoo can be left outside for couple of days and can be refrigerated for about 10 days.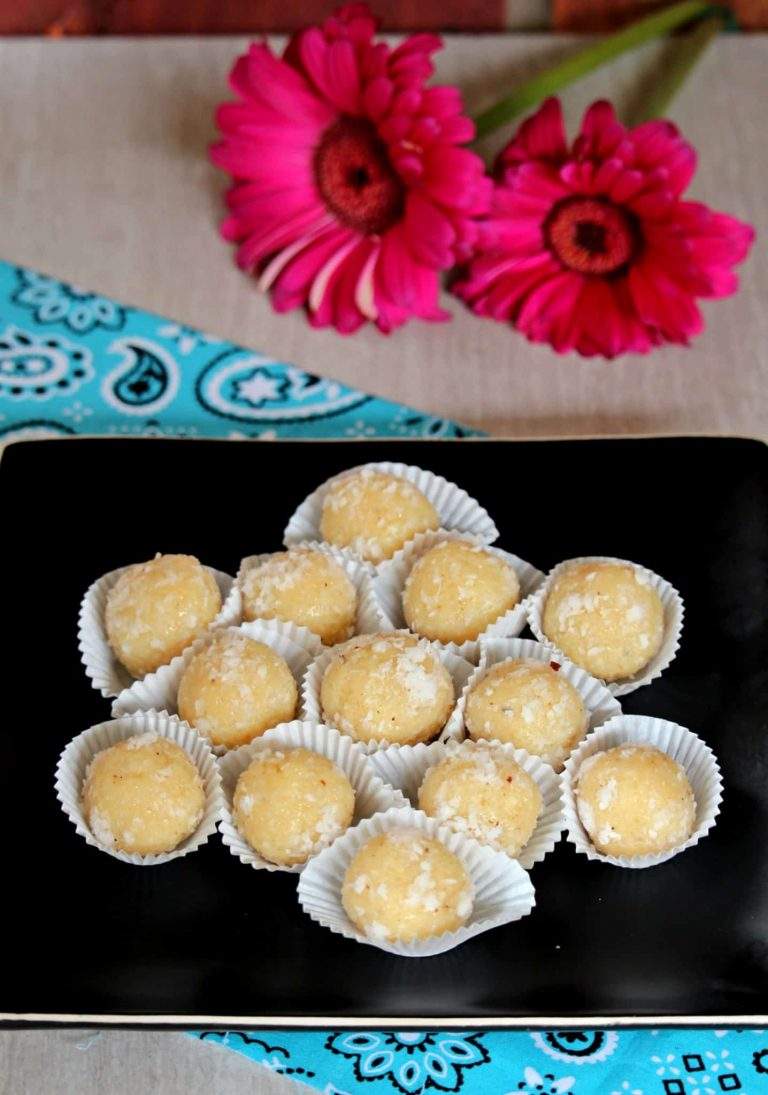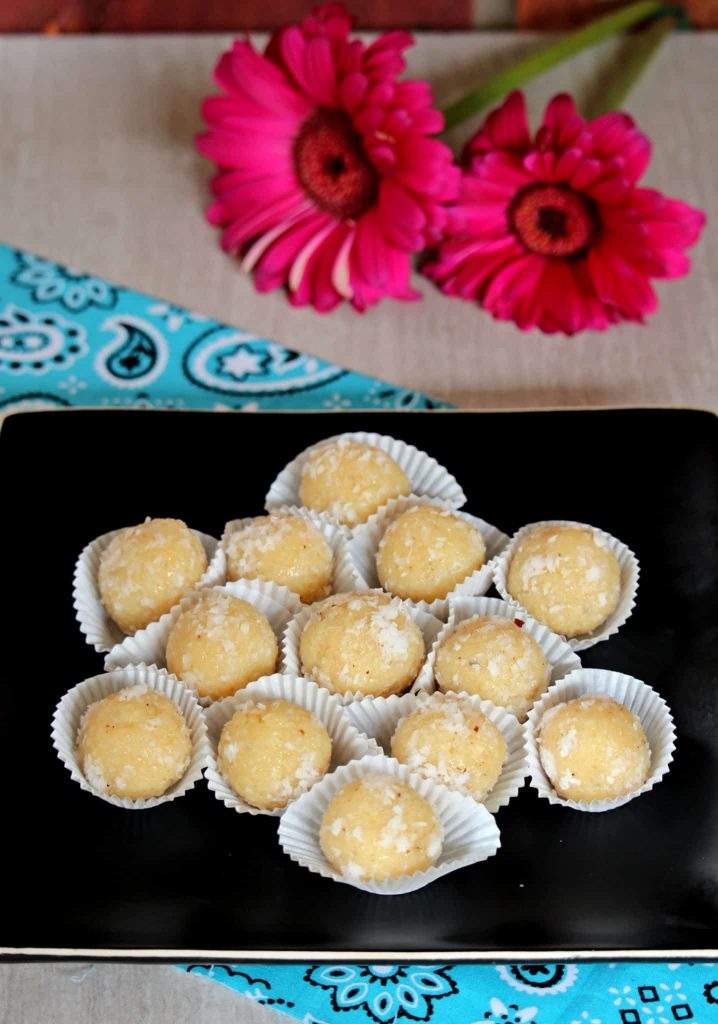 Pin the recipe here -