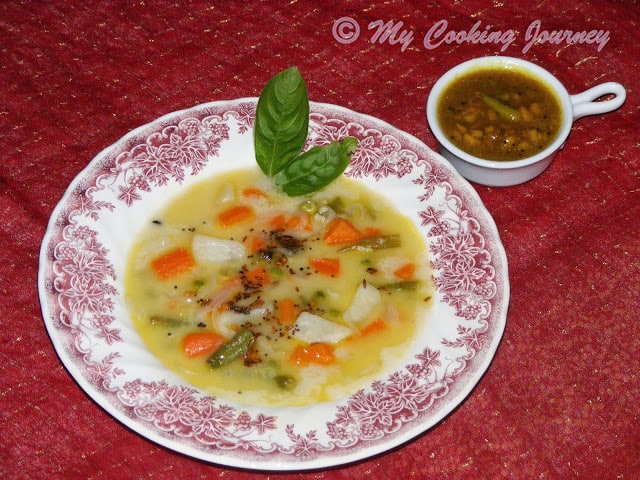 Sodhi, the Tirunelvelli specialty dish is something that I have not even heard of before. When Valli gave us the choice of combo dishes to choose from, I chose to work on recipes that I have never done before. In that series, this is my last combo for the week Sodhi with puli inji.
When researched in the internet, I learned that Sodhi is a dish that is prepared in Tirunelvelli district during the wedding. I also read that this is served to the groom when he first visits the brides house after wedding. This kuzhambu is entirely made with coconut milk and hence it is pretty rich. Eating this with puli inji cuts the richness from the kuzhambu and makes it a perfect a combination. The sweetness of the sodhi combined with the tanginess of the puli inji tasted absolutely out of this world. I have to thank Srivalli for introducing me to this wonderful combination.
When I was looking for recipe of sodhi, I asked my mother first. When I was describing to her about the sodhi, she immediately remembered that she recently saw this recipe in one of the Tamil magazine insert and the recipe was name Maapillai Sodhi. She found the book and gave me the recipe. The Puli inji recipe is also from my mother.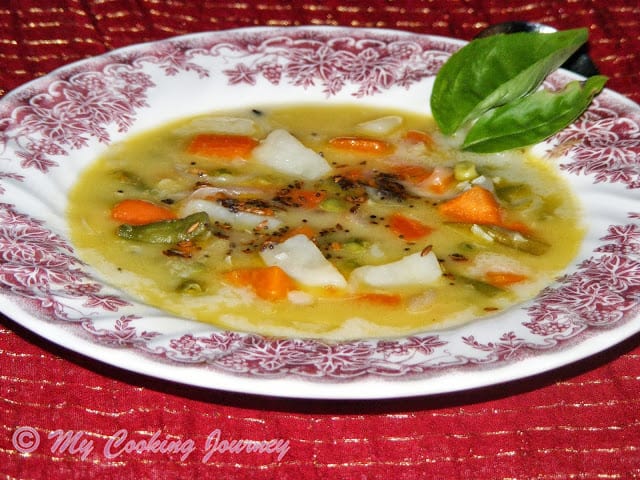 Sodhi / Coconut milk kuzhambu
Preparation time – 10 mins
Cooking time – 40 mins
Difficulty level - easy
Ingredients – (serves 6)
Coconut milk (1st milk) – 1 cup
Coconut milk (2nd and 3rd milk) – about 2 ½ cups
Onions– 2 (thinly sliced)
Ginger – 1 inch piece (grated finely)
Garlic – 3 (minced finely)
Potato – 1 large (cut into ½ inch cubes)
Carrot – 2 (cut into ½ inch cubes)
Beans – 10 (cut into 1 inch piece)
Peas – ¼ cup
Drumstick – 10 pieces
Green chilies – 4
Lemon juice – 2 tsp
Salt – to taste
Oil – 2 tsp
To season –
Oil – 1 tsp
Mustard seeds – 1 tsp
Cumin seeds – 1 tsp
Ullutham paruppu/urad dal – 1 tsp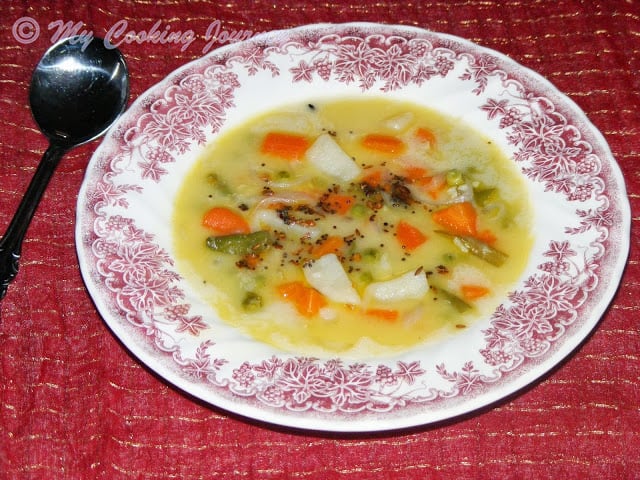 Procedure –
Extract the coconut milk from the coconut. If extracting the milk yourself, you would need one coconut. I used the canned coconut milk. I took out 1 cup of the thick milk from the can and then diluted the rest with about 2 cups of water to yield thinner milk.
Heat the oil in a sauce pan and sauté the onions until translucent. Now add the chopped ginger and garlic to the onions and sauté for 2 mins minutes.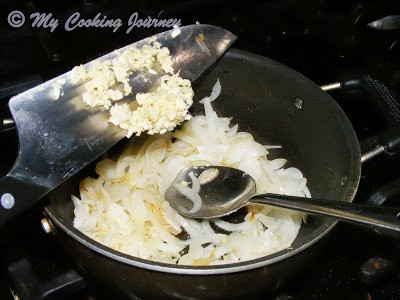 Add all the chopped vegetables and sauté them for about 10 mins in medium heat.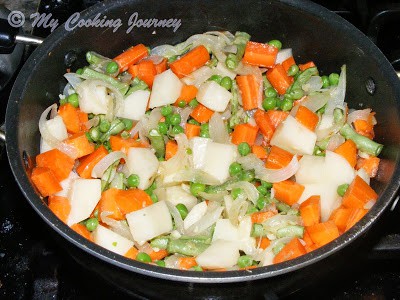 Once the vegetables soften up a little, add the thin coconut milk and cook the vegetables until they are tender and cooked through. This would take about 10 -12 mins. Keep stirring the Sodhi since the coconut milk has a tendency to separate. So cook it in low flame and stir it every now then in between.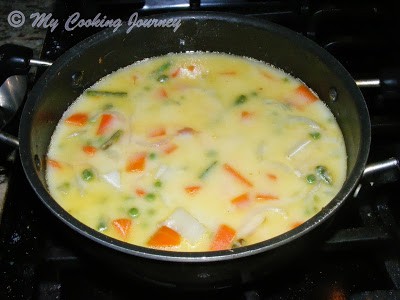 Meanwhile grind the green chilies with little water and add this to the cooked vegetables. Mix it well and add salt.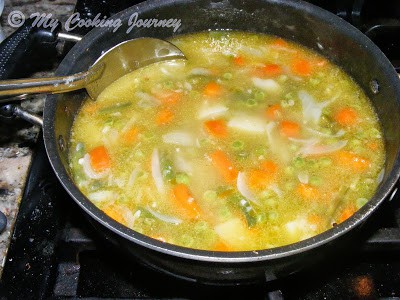 Now add the thick coconut milk and let it come to a boil. Once it comes to a boil, remove it from flame and then add the lemon juice to it. Mix it well.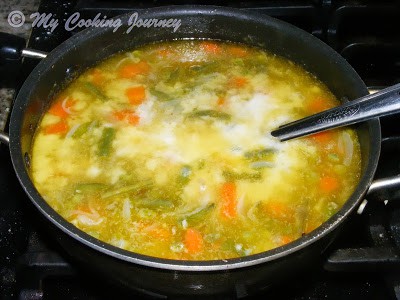 Heat a small pan and add the oil. Fry all the ingredients under the seasoning and then add it to the Sodhi.
Serve hot with rice and Puli Inji!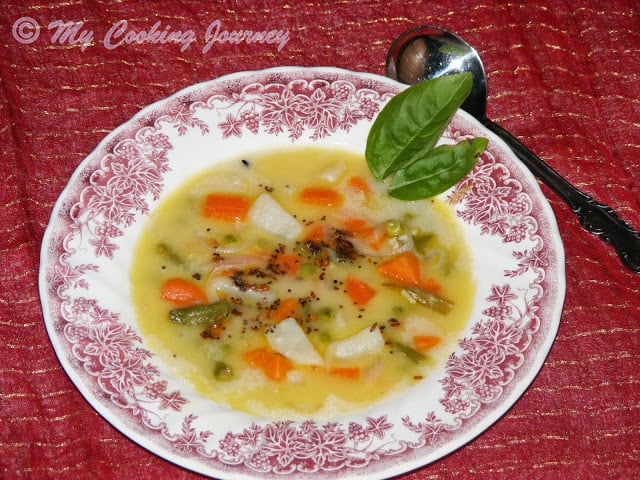 Puli Inji – (Ginger and Tamarind chutney/pickle)

Preparation time – 10 mins
Cooking time – 20 mins
Difficulty level – easy
Ingredients – makes about ¾ cup
Fresh ginger – ⅓rd cup (chopped finely)
Tamarind – as big as a small orange or a large lemon
Green chilies – 3 (slit lengthwise)
Salt – to taste
Mustard seeds – 1 tsp
Asafetida – ¼ tsp
Turmeric powder – ½ tsp
Gingelly Oil (or vegetable oil) – 2 tbsp
Jaggery/brown sugar – 2 tsp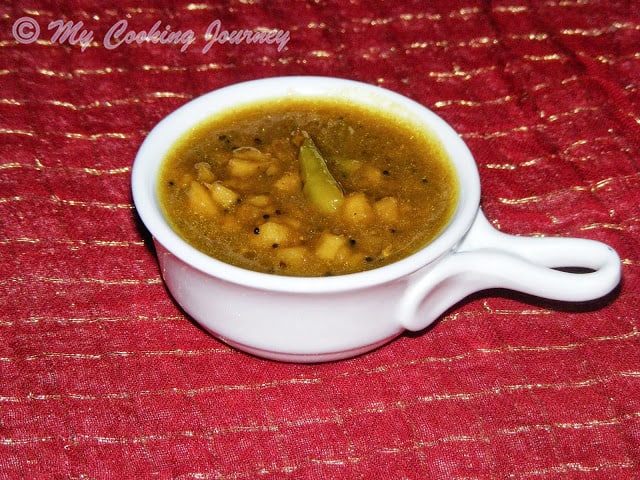 Procedure –
Clean the ginger and scrape the skin. Chop it into very fine pieces.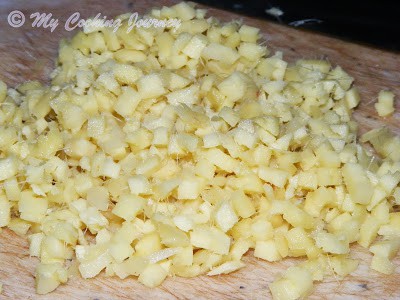 Soak the tamarind in about a cup of hot water. Once the tamarind softens up a bit squeeze it well and extract the juice. Do not add more water. We need thick tamarind extract to make this pickle. We need about 1 cup of thick tamarind extract.
In a heavy bottom sauce pan, heat the oil and add the mustard seeds and asafetida. Once the seeds crackle, add the chopped ginger and sauté for about 3-4 mins. Now add the green chilies and fry it for 2 more mins.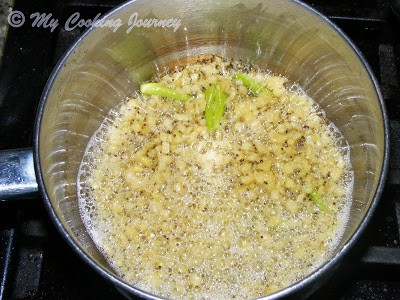 Add the thick tamarind extract along with turmeric powder and let it come to boil.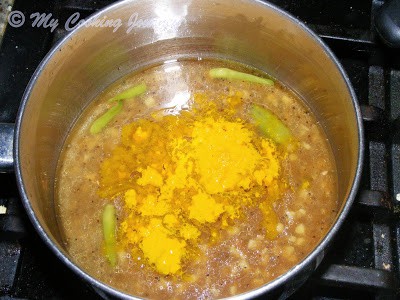 Simmer for about 15 mins and then add the salt. Mix it well and let it cook for 5 more mins or until the required consistency is reached. Add the jaggery or brown sugar and give it a stir.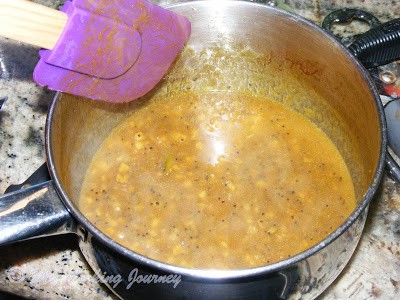 Remove from flame and cool it to room temperature.
Store in an airtight container in the refrigerator for up to 2 weeks.
Tastes great with Sodhi or curd rice!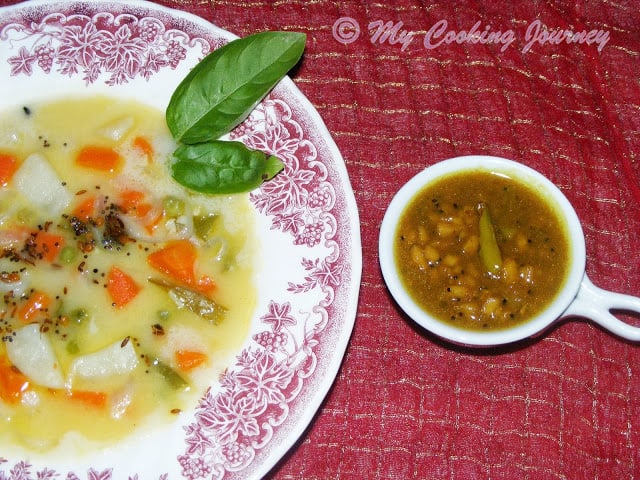 Check out the Blogging Marathon page for the other Blogging Marathoners doing BM#30