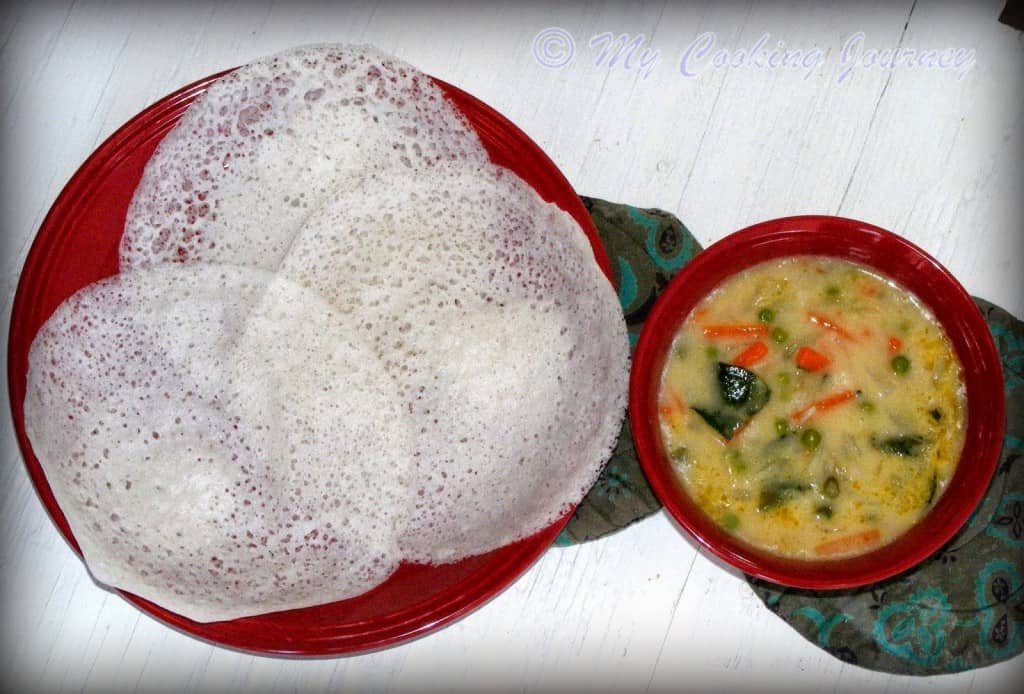 Kerala is a state in the South West region of India. It is bordered by Karnataka, Tamil Nadu and the Lakshadweep Sea. The state capital is Tiruvananthapuram and the language is Malayalam. Kerala has a heavy seasonal rainfall with almost 120-140 rainy days in a year. Kerala produces 97% of the nation's total Black pepper and also is one of the nation's largest rubber producers. They also grow many different spices like cardamom, vanilla, nutmeg and cinnamon along with coconut, tea and coffee.
Kerala cuisine has a large variety of Vegetarian and Non vegetarian recipes. Culinary spices are in high production in Kerala, and hence reflect in their cooking. Rice is the staple of the region and several dishes are prepared using rice as a major ingredient. Kerala cuisine has an extensive use of Banana and coconut. Coconut trees are found in abundant and hence the use of it is very high. You could see coconut, coconut milk, coconut oil used in almost every dish.
I have visited Tiruvananthapuram few times as my aunt lived there. During my last trip to India, we visited Munnar, which is very famous for its tea estates. I have also been to the famous Guruvayoor temple once. I am hoping that I will be able to take my kids in the near future and visit more places.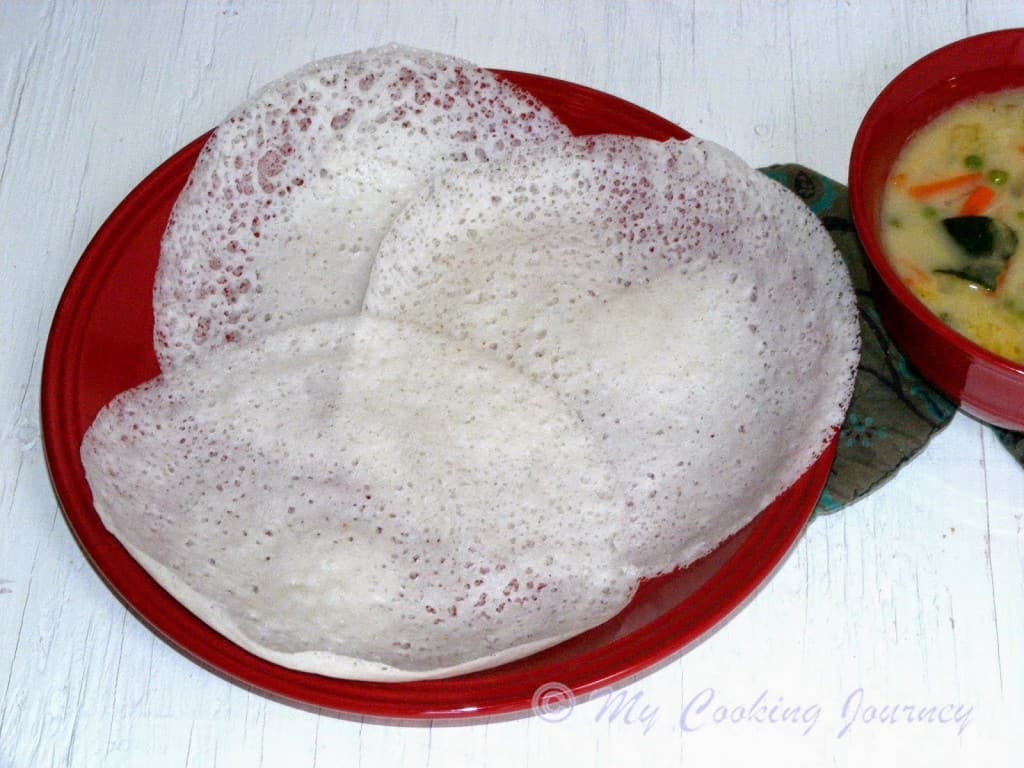 Coming to the recipe I chose today, Appam and Vegetable Stew, right from the beginning I knew I wanted to make this for couple of reasons. I have only eaten appam in my aunt's place and I loved it. For some reason I was always thinking that it is too much work and stayed away from making it. Every time I ate appam and vegetable Stew in my aunt's place, I would tell myself that I am going to make this as soon as I get a chance, but I never got to it. In fact, I ended up buying an appam pan almost 6 years ago, but never used it. So to use the pan, I saw this as a wonderful opportunity.
I got this recipe from my lovely senior back in college and one of my dear friends Sujai, who also happens to be a wonderful cook. Within hours of me asking him for the recipe, he emailed me back with all the details and also his aunt's recipe for the stew. I almost followed the recipe exactly and it was the most wonderful experience. Recently, my little one had eaten appam with stew in one of his friend's house and he loved it. The minute I told him what I had made for lunch, he was super excited. So, finally made the delicious Kerala special appam and vegetable Stew, while making the best use of my pan.
Appam

Appam is a fermented rice pancake which mainly consists of rice and coconut. It is very famous in the Kerala cuisine and eaten mostly as a breakfast or dinner. These are traditionally made using toddy to ferment the batter, but now mostly yeast is used for this process. There are many people who still use the traditional way as they do not like the flavor of the yeast. My friend mentioned that the recipe of appam varies from region to region and this is a Malabar recipe which is followed in areas like Palaghat and Trissur stretch.
The batter usually needs about 8 hours or overnight to ferment, but for whatever reason, within 2 ½ hrs my batter was entirely fermented and was overflowing. Not that I complain about the quick fermenting, but the clean up was sure a big process. Thankfully I had it prepared for the lunch. If I had left the batter to ferment overnight, I cannot even imagine the fate of my little cabinet (which serves as the heat spot for all my fermenting jobs).Preparation time – about 8 hours
Cooking time – about 40 minutes
Difficulty level – easy
Ingredients to make appam – (makes about 24 appams)
Raw rice – 2 ¼ cup (I used sona masoori)
Grated coconut – 1 cup
Cooked rice – 1 cup (my friend asked to use boiled rice for this, but I used the regular cooked rice)
Yeast - 1 tsp
Sugar – 4 tsp
Salt – to taste
Procedure to make appam –
Soak the rice for about 4-5 hours or overnight. Also cook either the puzhungal arisi/boiled rice or regular rice and keep it ready.
Drain the soaked rice and grind it well adding the coconut and the cooked rice along with it. Grind it to a smooth batter. The batter should neither be too thick or too thin.
In a bowl dissolve the yeast in about ½ cup of tepid water and 1 teaspoon of sugar. Let the yeast dissolve for about 10 minutes and then mix it well to avoid any lumps.
Add the dissolved yeast, sugar and salt to the batter and mix it well. Keep it covered to ferment for about 3-5 hours (depending on the conditions, it could take longer).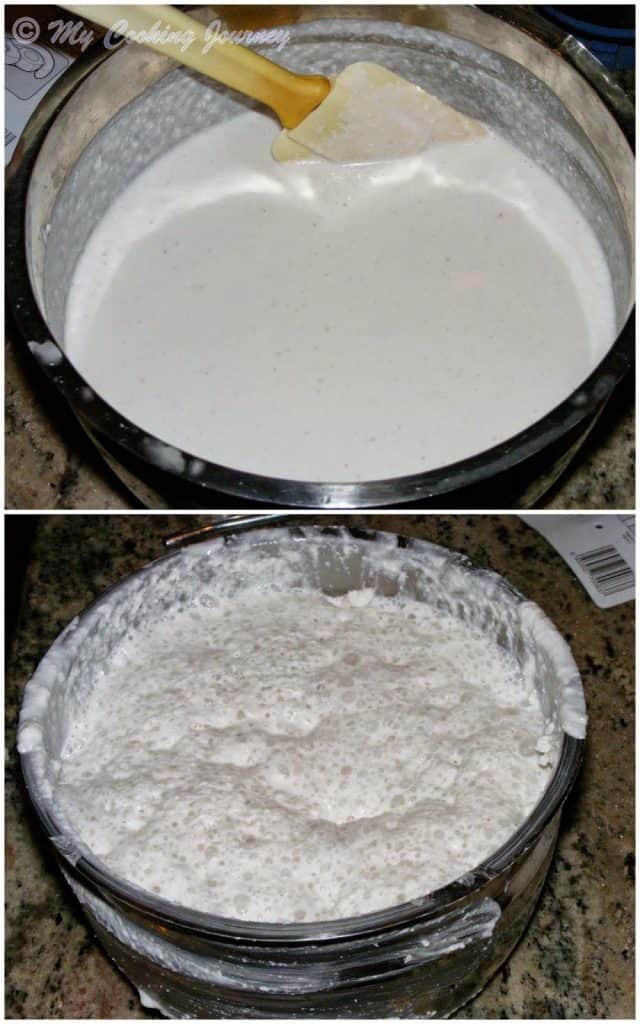 Once the batter is ready gently mix it.
Heat the appam pan and if needed grease it slightly. If it is a non stick pan, you will not need to grease it.
Pour a ladle full of batter in the center of the pan and then holding the handles of the pan, swirl the pan around to spread the batter. Cover the lid on the pan and let the appam cook in low heat for about 2-3 minutes. Once the bottom of the appam is crispy and the top looks cooked remove it and keep it warm. Repeat the same with the rest of the batter. My friend mentioned that the good appam shape will be thin on the outside with a thicker center that is well cooked and fluffy.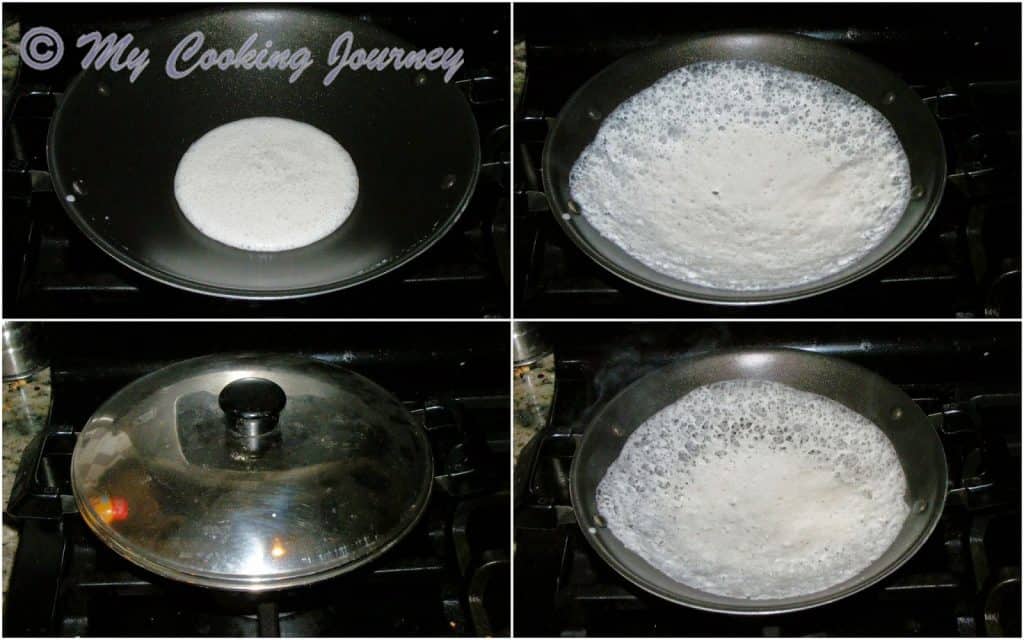 Serve it right away with a spicy curry or stew.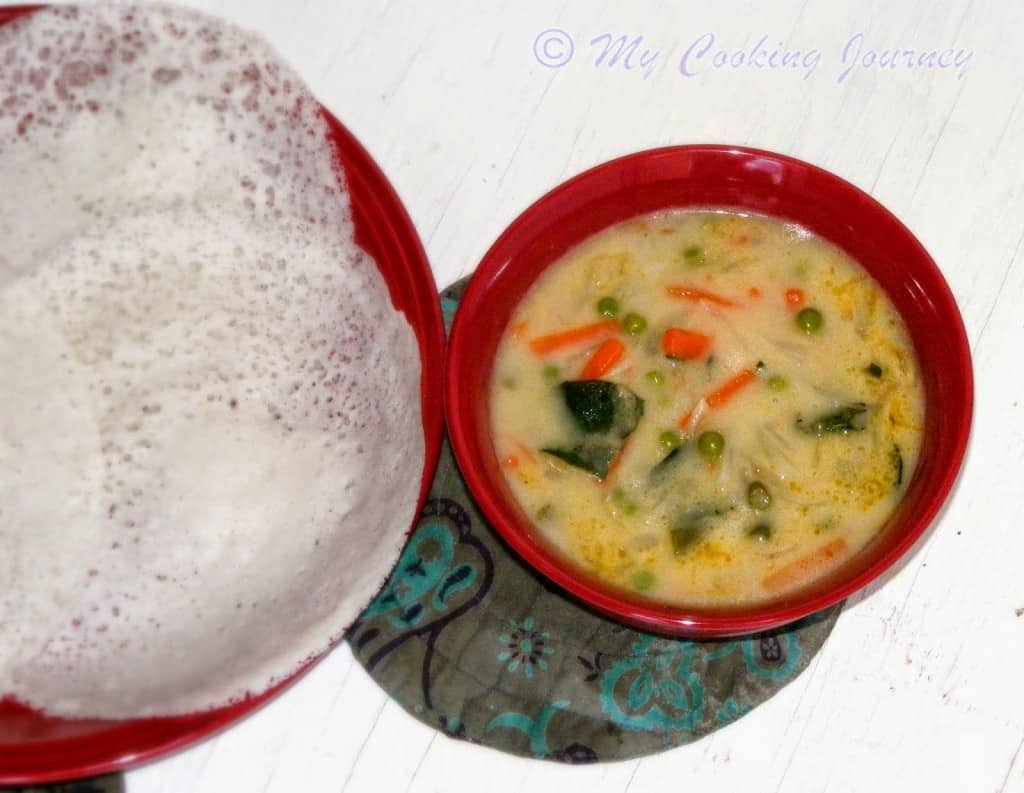 Vegetable stew/Ishtew

Vegetable stew is a quick and easy medley of vegetables cooked in coconut milk. My friend mentioned that usually appam is paired with a spicy curry like chicken curry, egg curry or kadalai curry. Stew is more a Christian influence from the Portuguese. The Syrian Christians make excellent chicken stew, mixed vegetable stew which is called Ishtew.
Preparation time – 10 minutes
Cooking time – 30 minutes
Difficulty level – easy
Ingredients to make Stew – serves 4-6
Potato – 2 (thinly sliced)
Carrot – 1 large (thinly sliced)
Onion – 1 (thinly sliced)
Peas – ¼ cup
Beans – 10 (thinly sliced)
Coconut milk – 1`can or about 2 cups of thin milk and 1 cup of thick milk
Ginger – 2 teaspoon (grated
Green chilies – 3-4 (thinly sliced)
Coconut oil – 1 tbsp
Curry leaves – few
Cardamom – 2
Cinnamon stick – 1 inch piece
Salt- to taste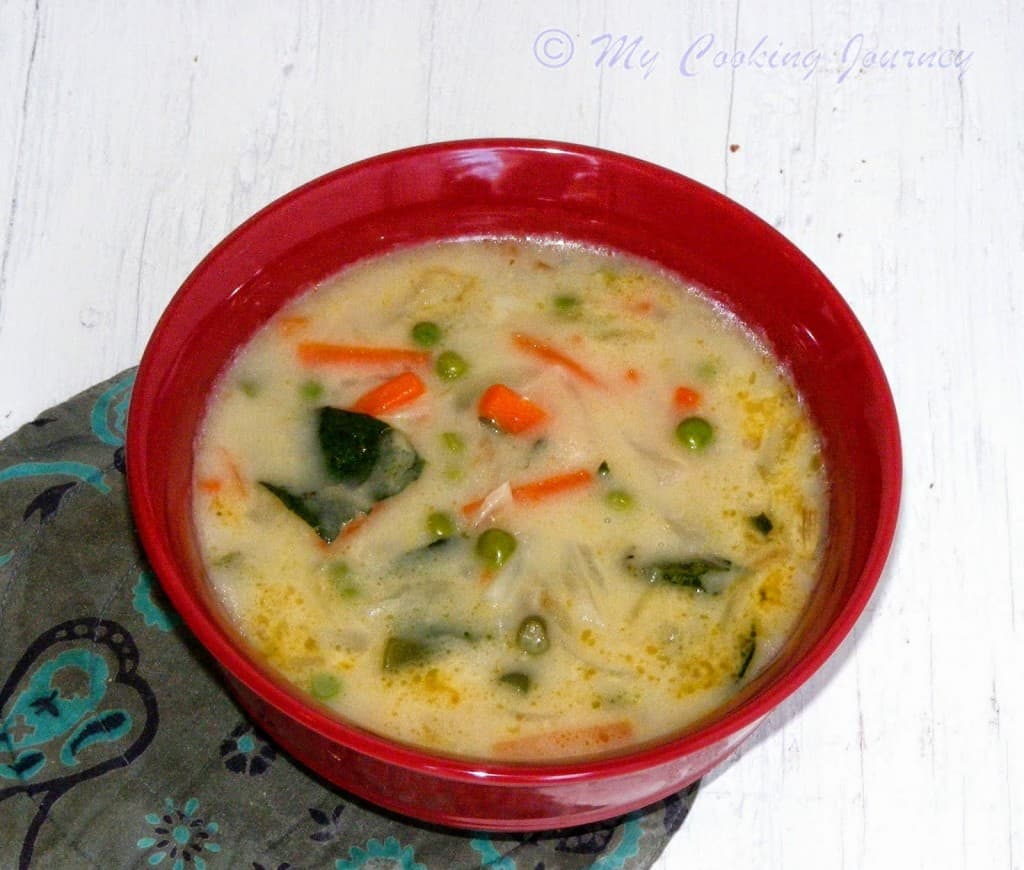 Procedure to make Stew –
If using fresh coconut extract the milk from it and keep it ready. Since I used canned coconut milk, I dissolved half the can of coconut milk in about 1 ½ cups of water to make the thin milk. Then I mixed the remaining ½ a can of milk with about ¼ cup of water and used it as my thick milk.
Chop all the vegetables and keep it ready.
Heat a pan and add the coconut oil. Fry the cardamom and the cinnamon stick for a minute and then add the green chilies and the ginger. Sauté for a minute and then add the onions. Fry for about 3 minutes and then add all the other vegetables. Fry for about 4-5 minutes.
Add the thin coconut milk to the vegetables and let them cook until soft. Now add the salt and mix well. Let it come to a boil.
Now add the thick coconut milk and cook on low flame. Once it comes to a gentle boil, turn off the flame and then add the curry leaves. Make sure not to boil the stew for a long time after the thick coconut milk is added, as it might curdle. Also keep the stew covered so that the flavors do not escape.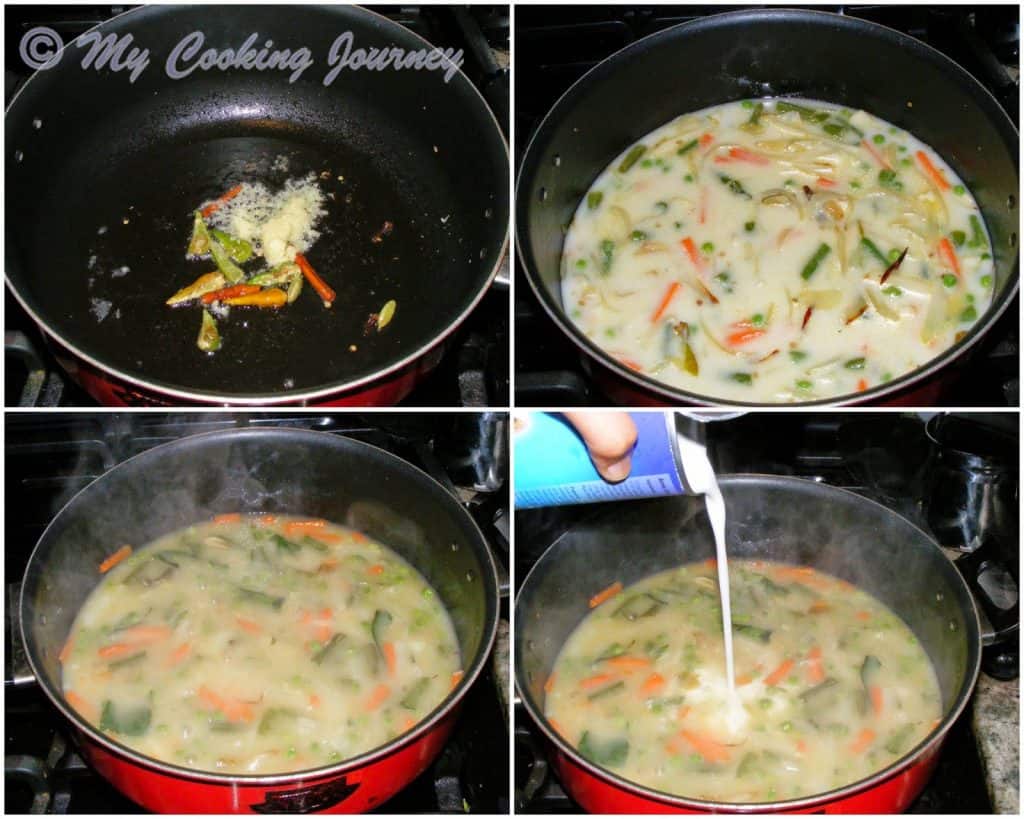 Serve warm with the appam. If reheating the stew, do it in a gentle flame and do not let it boil again.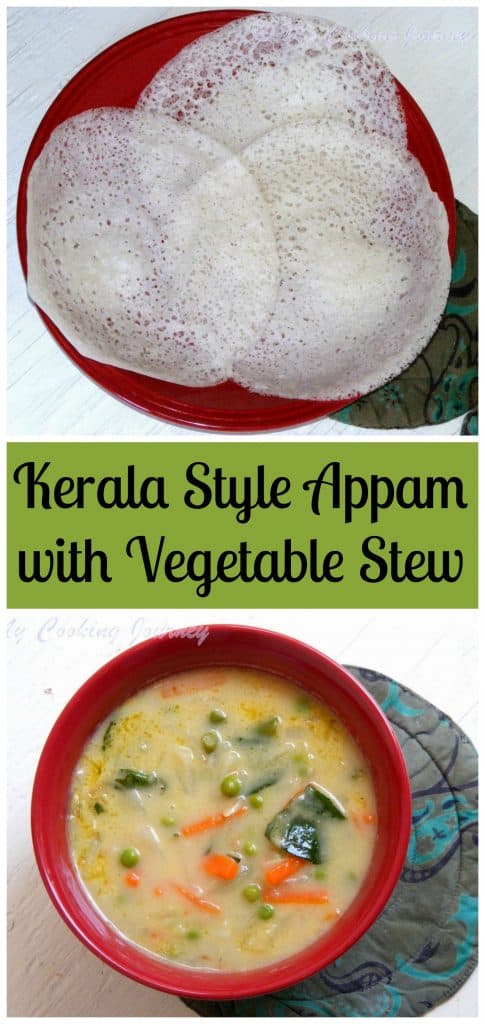 Check out the Blogging Marathon page for the other Blogging Marathoners doing BM# 39