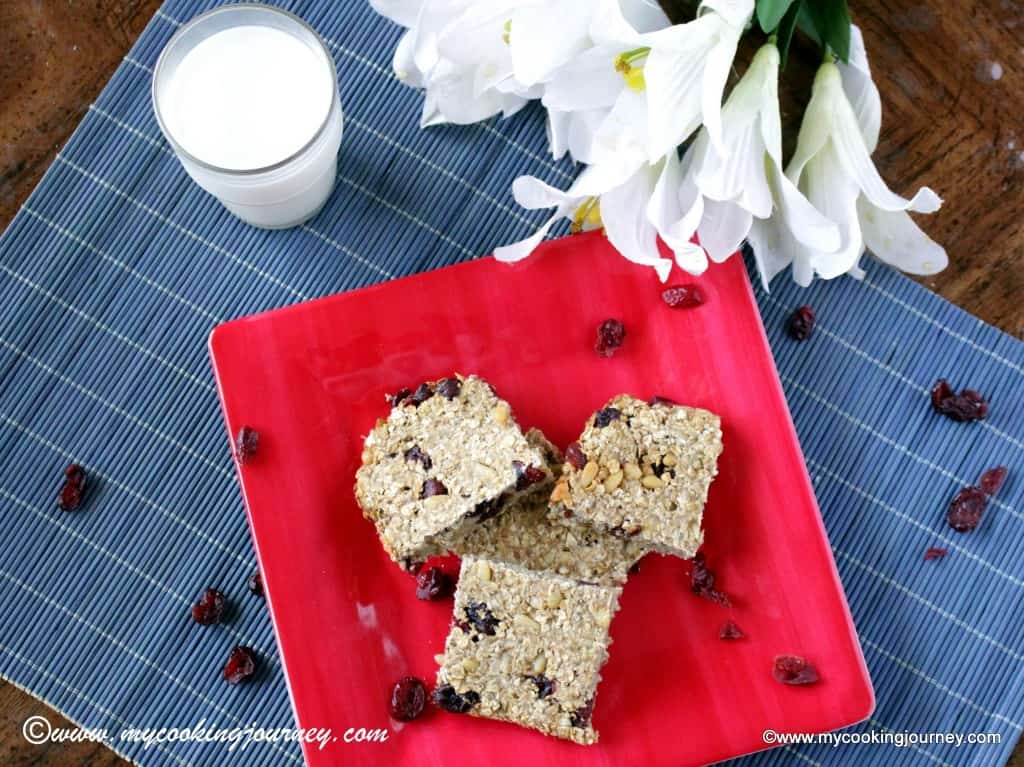 We are resuming our challenges for the group Home Baker's Challenge after a break and it is so good to bake with the group. Rafeeda of The Big Sweet Tooth selected the recipes for our October bake and the ingredient of focus was Oats. There were several lovely recipes suggested by her and I had bookmarked a couple to try out. I was intending on making them before the festival craziness starts but somehow missed out on the timing and was caught up in the festivities.
I baked them this afternoon and my boys had it for snack after they came back from school. Tuesdays are extremely busy for my older one and he has his snacks on the go between his activities. I had taken this Banana Oat Bars and a glass of milk for him and that kept him filled up for the next couple of hours.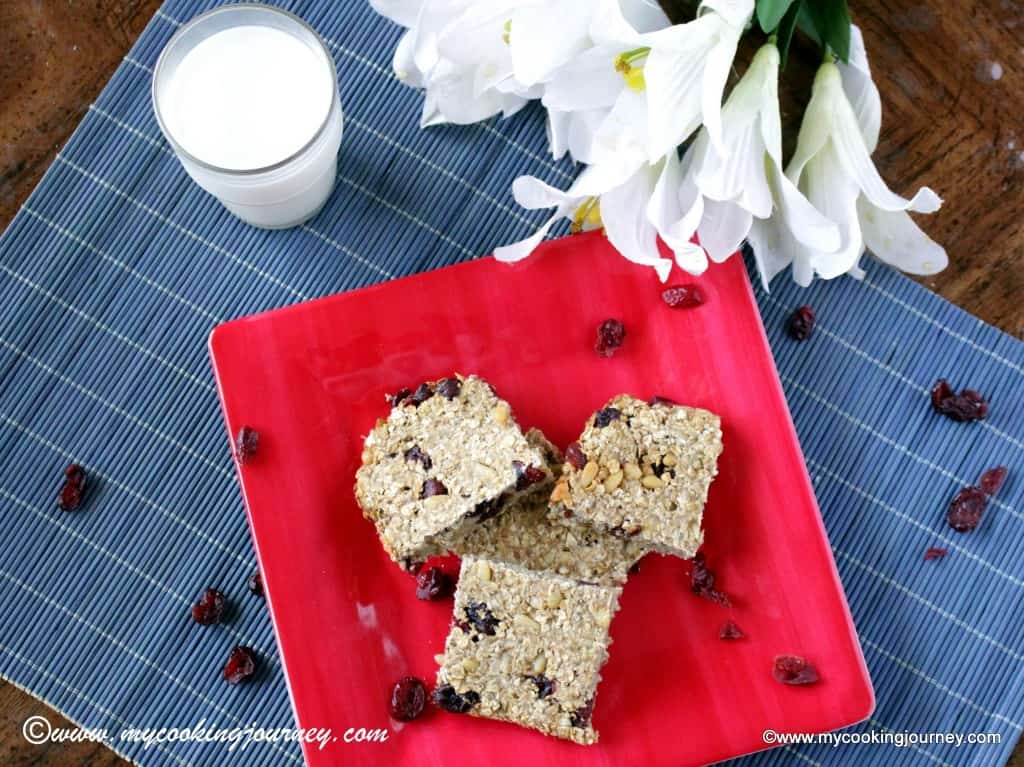 My little one who is a little picky tasted the bar and said nothing much about it. After we dropped his brother and came home, he asked me for another half of the bar. He ate that and then came back for the remaining half. That is a clear indication that he liked them. My older one said that they were alright but he misses the sweetness.
I have to agree that the bar is very mildly sweet and hence is perfect as a breakfast bar. The original recipe had dates and nuts which I substituted with cranberries and pine nuts. The only sweetness was from the bananas and the cranberries. There is no flour in the bars and it has only the rolled oats. The bar more or less reminded me of banana bread and tasted like out. It is a soft and slight chewy bar and is a good recipe to use up over ripe bananas.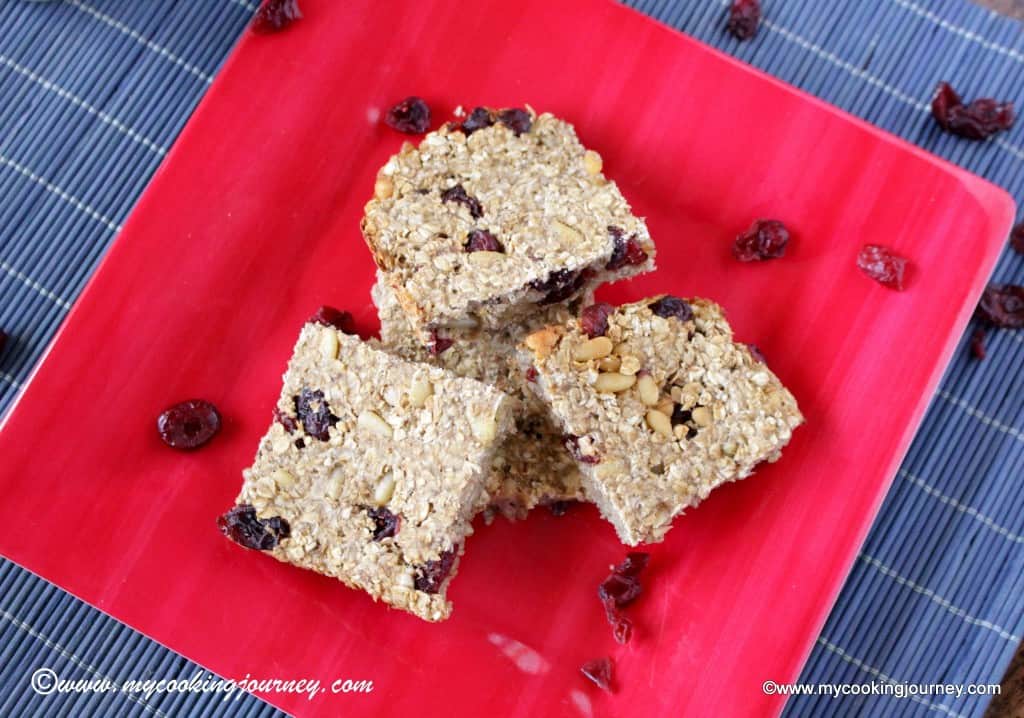 Preparation time – 10 minutes
Cooking time/baking time – 30 minutes
Difficulty level – easy
Recipe loosely adapted from – The Kitchn
Ingredients to make Banana Oat Bars – Makes 9 bars
Bananas (over ripe) – 2
Rolled oats – 2 cups
Cranberries – ¼ cup (can be substituted with dates)
Pine nuts – ¼ cup (can use any other nut)
Vanilla – 1 tsp
Cinnamon – ¼ tsp (optional)
Butter or olive oil – to grease the pan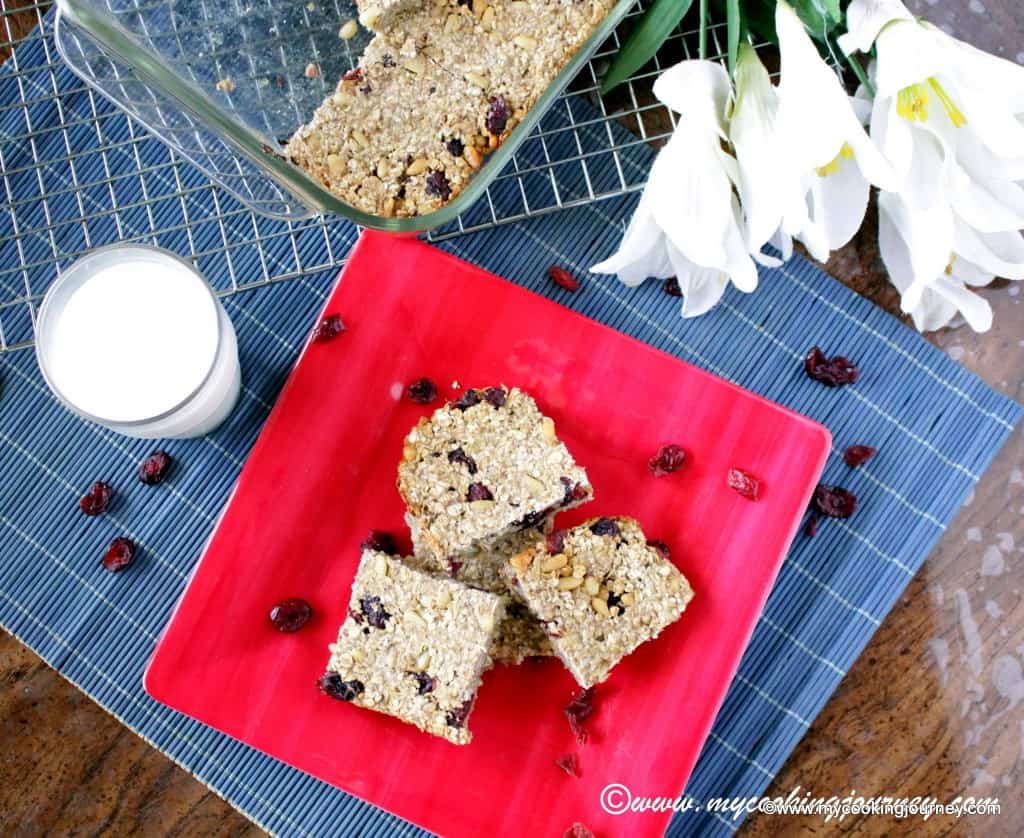 Procedure –
Grease an 8 x 8 pan with butter or olive oil. Preheat the oven to 350 F.
In a bowl, place the peeled bananas and mash them with a fork until it is very smooth. Make sure that there are no large chunks of the banana and it is mashed very well.
To this add vanilla and mix. Add the rest of the ingredients and mix them well together.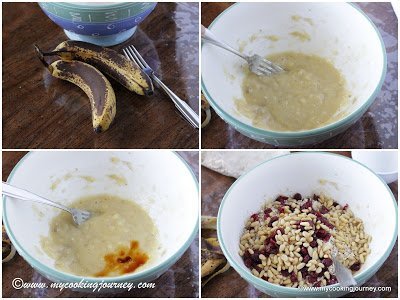 Place this thick mixture into the greased pan and pat it down well to make it even and smooth.
Bake for about 30 minutes or until the sides starts becoming golden brown.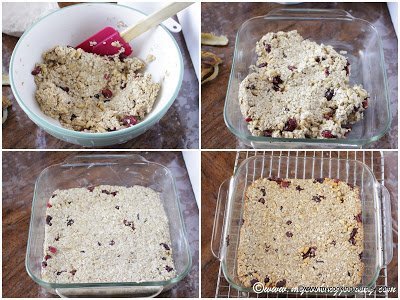 Cool the pan on a cooling rack. When it is almost cool, cut into squares and cool completely. Store the Banana Oat Bars in an airtight container.