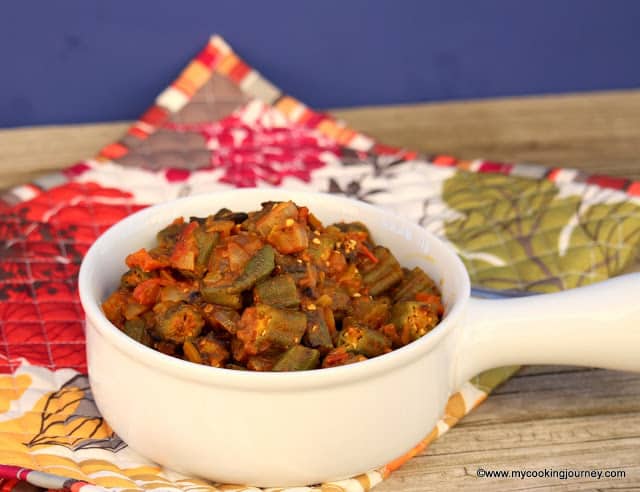 Happy Deepavali to all of you! Hope everyone had great celebrations and a fun festival. After all the festive treats, we are back to routine and my this week's theme for the BM is Dry vegetable curries. When we make a vegetable curry at home, it is either in a gravy form or dry form. Almost all the South Indian curries, also known as poriyal or thoran is in the dry form. Whereas many of the north Indian curries I make is in the gravy form.
My family personally like a gravy dish to eat with roti and hence I most of the time make gravy subzis. If I am making a dry subzi or bhaaji, like this Bhendi Subzi, I make a dal on the side. Okra is one of our favorite vegetables and the kids love it. It is also one of the expensive vegetable here in US, but that does not stop us from enjoying this vegetable.
Back in NY, we used to grow a lot of okra and thoroughly enjoyed it all through the summer. After we moved, our backyard gardening has come to a stop, but thankfully we get a lot of tropical vegetables here. Okra/vendakkai curry is the most often made recipe in my house. After that comes this subzi. I always make sure that I save a handful of okra to make Okra/vendakkai sambhar. Last year for one of our Mega marathons, I had tried a new dish with Okra from Assam and it as so good. Check out the Bhendir Sorsori (Okra in mustard paste), if you are looking for something different. Okra pachadi / Raita is also something that I ate a lot growing up.
The most complain about why many people do not cook with okra is its sliminess. If cooked the right way, there is absolutely no sliminess in the end product. Few things to remember is never to wash the vegetable after it is chopped. This makes the okra very slimy. Also after washing the okra, make sure that you wipe them clean and then chop them. Also chop them into lightly larger pieces with one sharp cut. The less it is handled, the less slimy it will be. Also when make subzis like this, pre roasting the okra helps in keeping them intact and not becoming mushy. I have pan fried the okra in medium high heat (without covering the pan) for this subzi.
Preparation time – 10 minutes
Cooking time – 30 minutes
Difficulty level – easy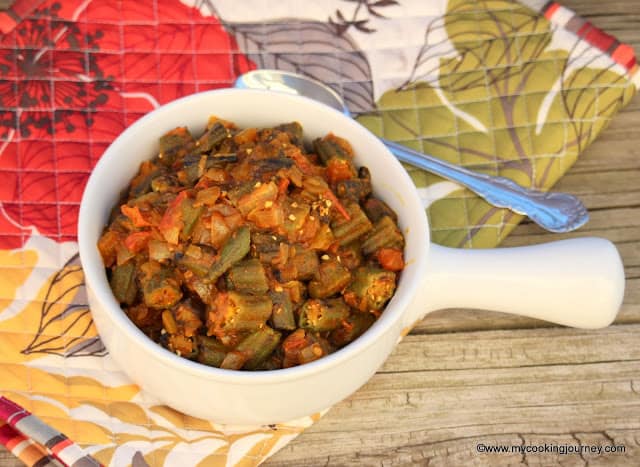 Ingredients to make Okra Subzi – Serves 4
Okra – 4 cups (chopped into ½ inch pieces)
Onion – 1 large (chopped)
Tomatoes – 2 (chopped)
Cumin seeds – 1 tsp
Turmeric powder – ½ tsp
Red chili powder – 2 tsp (adjust based on your spice level)
Dhania Jeera powder – 2 tsp
Garam masala – 1 tsp
Amchur powder – 1 tsp
Salt – to taste
Oil – 2 tbsp
Procedure –
In a wide sauté pan, heat about 1 tbsp of oil and add the chopped okras. Fry the okras on medium high heat until it is fried on all sides. Do not cook the okra covered. This will make it very slimy. Also when stirring, stir gently to avoid breaking the okra. Once they are fried, transfer it to a bowl.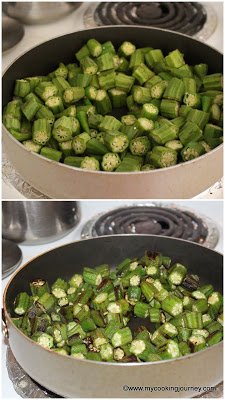 In the same pan, add the remaining oil. Add the cumin seeds and once they crackle add the chopped onions. Sauté the onions until it is translucent.
Now add the chopped tomatoes along with all the spices and salt. Cook the masala until it aromatic (about 5-7 minutes).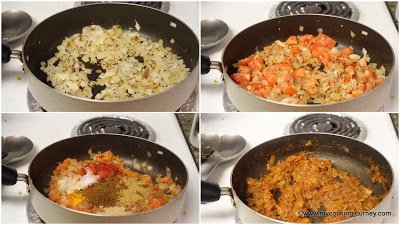 Now add the pan fried okra and cook for about 10 -12 minutes until the okra cooks completely and the subzi dried out.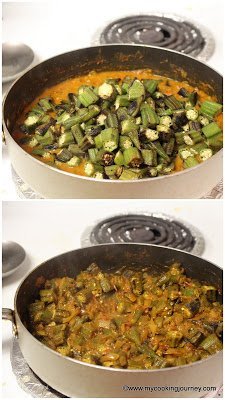 Serve hot with roti or rice.