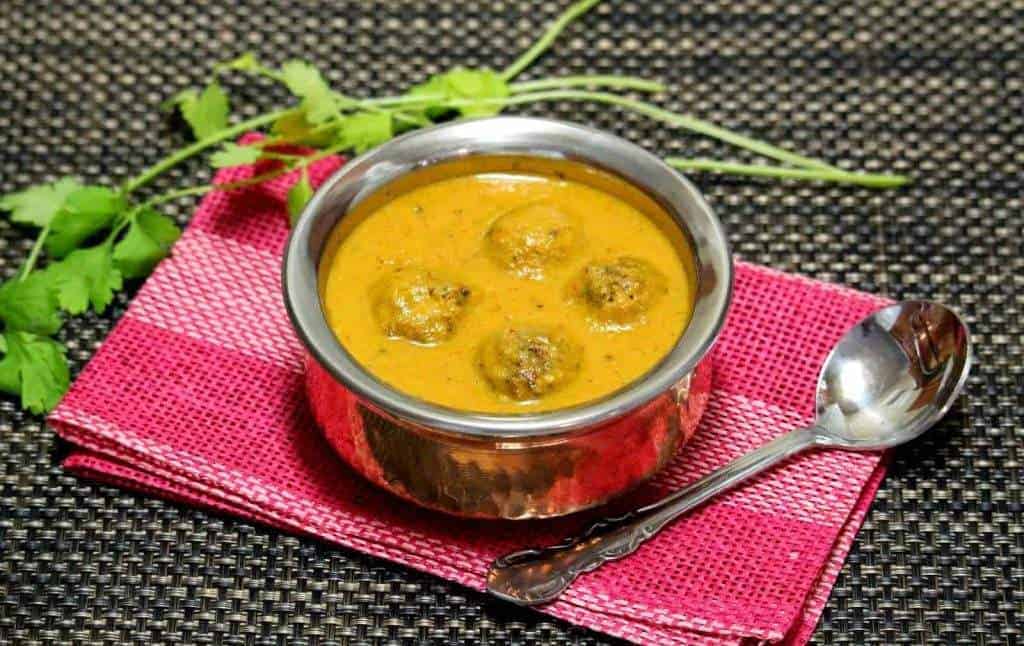 Kofta curry is my son's favorite any time of the year. The minute I ask him for suggestion to make a subzi, he comes up with malai kofta without fail. I have the malai kofta recipe and another kofta recipe called the Kofta Noor Jahani in the blog. I wanted to make something different and hence came up with the idea of making the cabbage and paneer kofta curry. I also had some paneer left after making Paneer fried rice (recipe coming soon) and hence decided to add that as well. These koftas were very yummy and they held their shape pretty well after adding it to the gravy.
I would highly recommend trying this recipe out for a party since the koftas hold their shape pretty well in the gravy. I did fry the koftas and kept them separately until ready to serve and then added them to the gravy, but when serving it for the second round, I added the koftas t the gravy first and then heated it. It still did not disintegrate in the gravy and was very juicy on the inside.
I loved the crunch that the cabbage gave to the koftas. Also, this is the first recipe that was photographed using my new toy. Yes!!! I got a new DSLR camera and it is the dream come true moment for me. I am still getting used to handling a very heavy equipment and hopefully will learn techniques to good photography soon.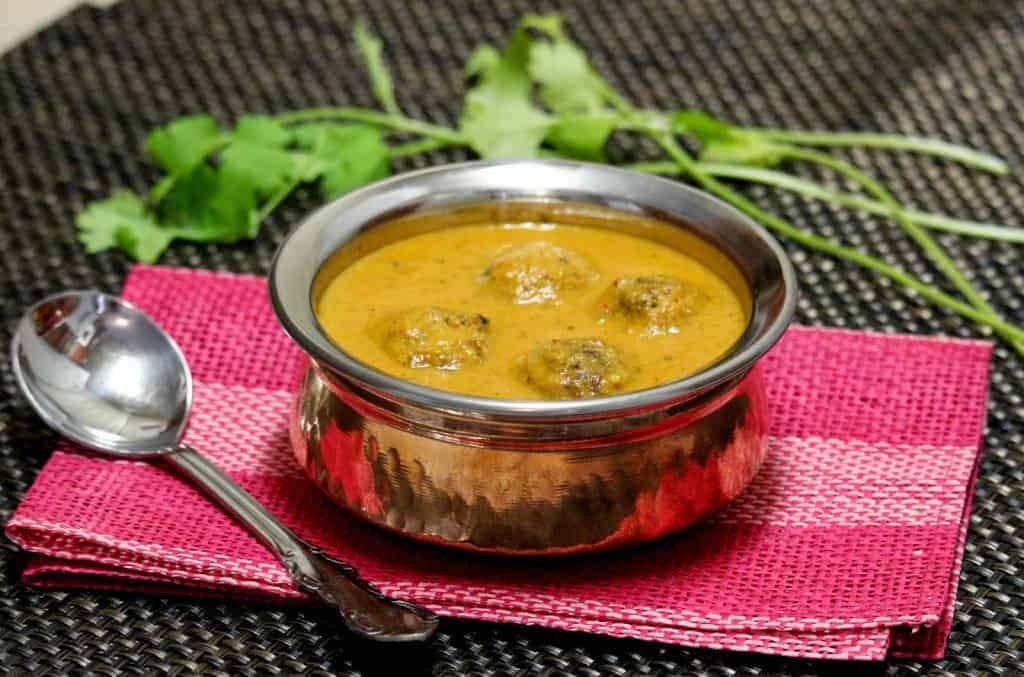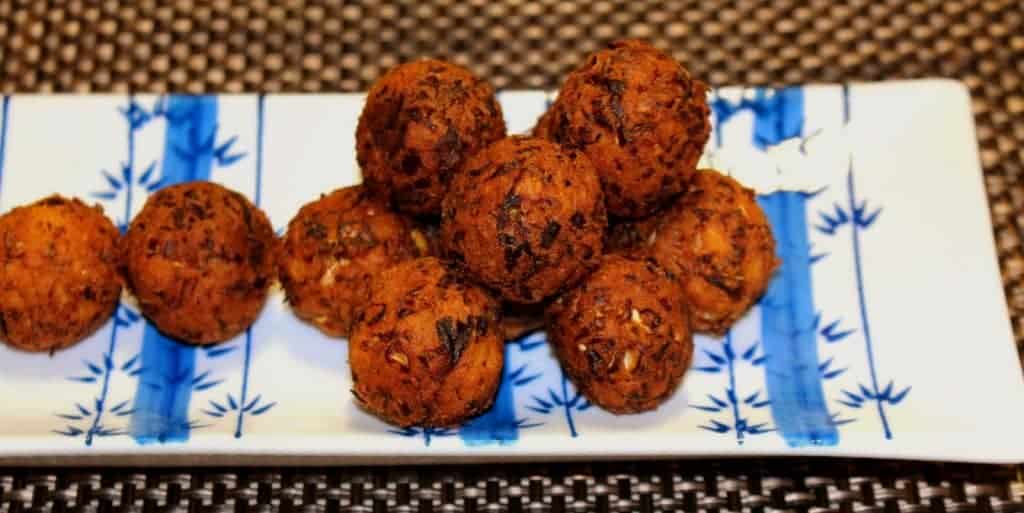 Preparation time – 20 minutes
Cooking time – 60 minutes
Difficulty level – Intermediate
Ingredients to make Cabbage and Paneer Kofta Curry – Serves 4-6
For the Kofta –
Cabbage – 2 cups (finely chopped)
Paneer – Finely grated – ¾ cup
Yogurt – 1 tbsp
Salt – to taste
Red chili powder – ½ tsp
Green chilies (finely chopped) – 1 tsp (optional)
Turmeric powder – ¼ tsp
Garam masala – ½ tsp
Ajwain (carom seeds) – ½ tsp
Gram flour / Besan – 3 tbsp
Corn flour – 1 tbsp
Cilantro (finely chopped) – 2 tbsp
Oil – to deep fry
For the Gravy –
Onion – 2 (chopped)
Ginger – ½ inch piece (chopped)
Garlic – 3 cloves
Tomato puree – 2 cups
Cashew paste – ¼ cup
Turmeric powder – ½ tsp
Red chili powder – 1 tsp
Garam masala – ½ tsp
Fresh cream – ½ cup (or 1 cup of full fat milk)
Kasuri methi / dry fenugreek leaves – 1 tsp
Bay leaf – 1
Cinnamon – 1 inch piece
Cardamom – 3
Nutmeg powder – a pinch
Cloves – 3
Oil/butter – 2 tbsp plus 1 tbsp
Salt – to taste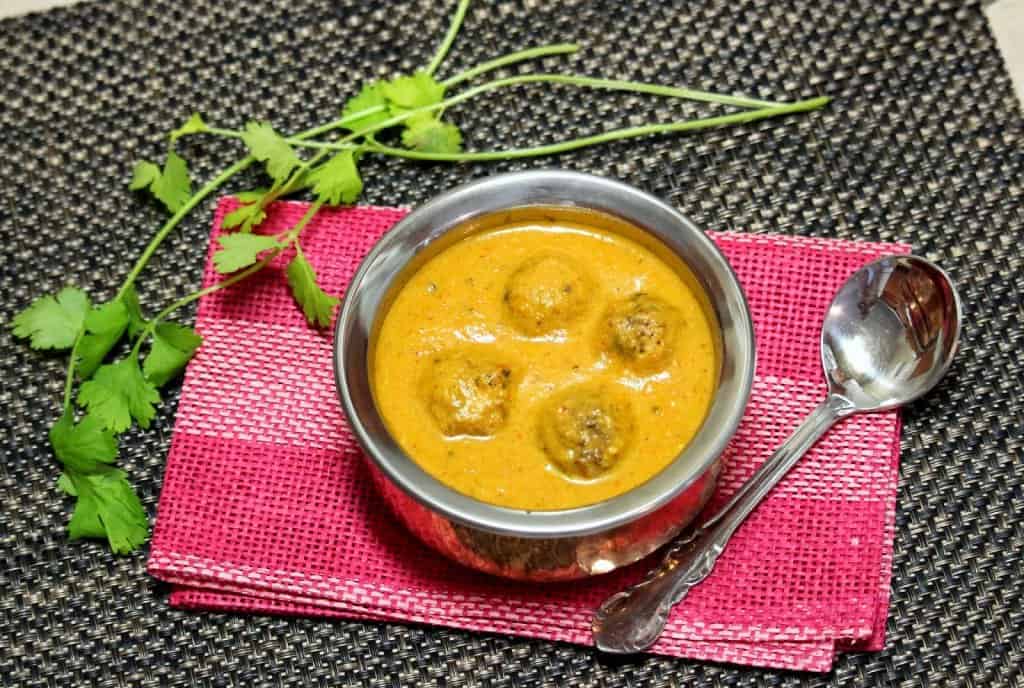 Procedure to make Cabbage and Paneer Kofta Curry –
To make the Kofta –
In a bowl, add the finely chopped cabbage, paneer, red chili powder, turmeric powder, garam masala, salt, ajwain, green chilies, cilantro and yogurt. Mix well and keep it aside for 15-20 minutes. This step helps to draw the moisture out of the cabbage and also gives it a chance to marinate and soften.
After 15 minutes, you will notice that the mixture is wet. Now add the besan and the corn flour and mix well. This amount of besan and corn flour was enough for me to make dough of the cabbage, but if you feel the mixture is too wet, add a little more corn flour. Adjust the quantity of the besan and corn flour depending on how wet your cabbage mixture is.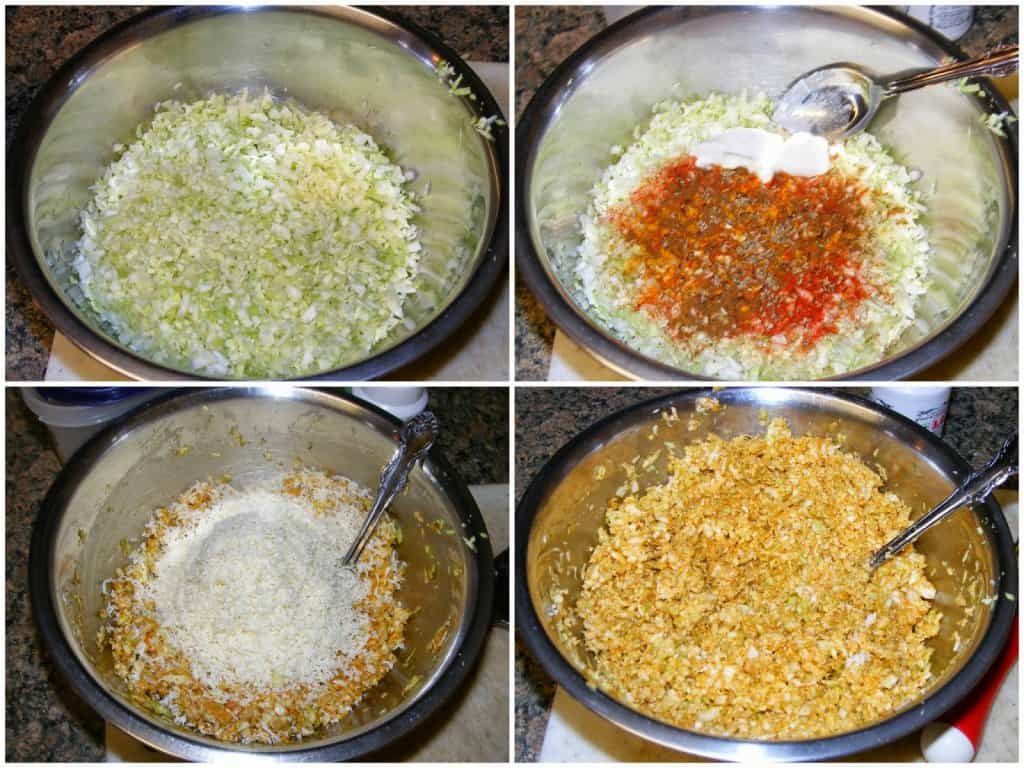 Make small balls out of the mixture and set it in a tray.
Deep fry the kofta balls in medium heat until golden brown and drain it on a paper towel.
Keep it aside until ready to serve.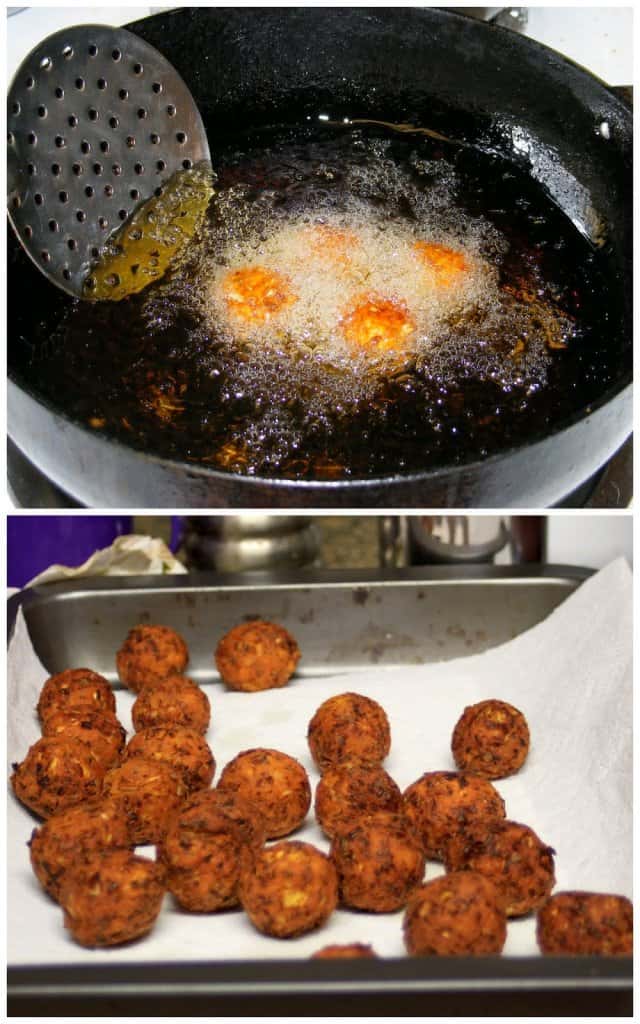 To make the gravy –
Soak about ⅓ cup of cashews in warm water for about 15 minutes and then grind it into a paste and keep it aside. This will be the cashew paste for the gravy.
Blanch about 4 tomatoes and peel the skin. Puree the tomatoes and this will be puree to be used in the recipe. I was lazy and used a can of diced tomatoes.
In a wide pan, heat 1 tbsp of oil or butter and add the whole spices (Bay leaf, cinnamon, cardamom, cloves and nutmeg powder). Fry for a minute until they are aromatic.
Now add the chopped onions, ginger and garlic and sauté until the onions turn golden brown. Let this mixture cool and then grind it in a blender to make a paste.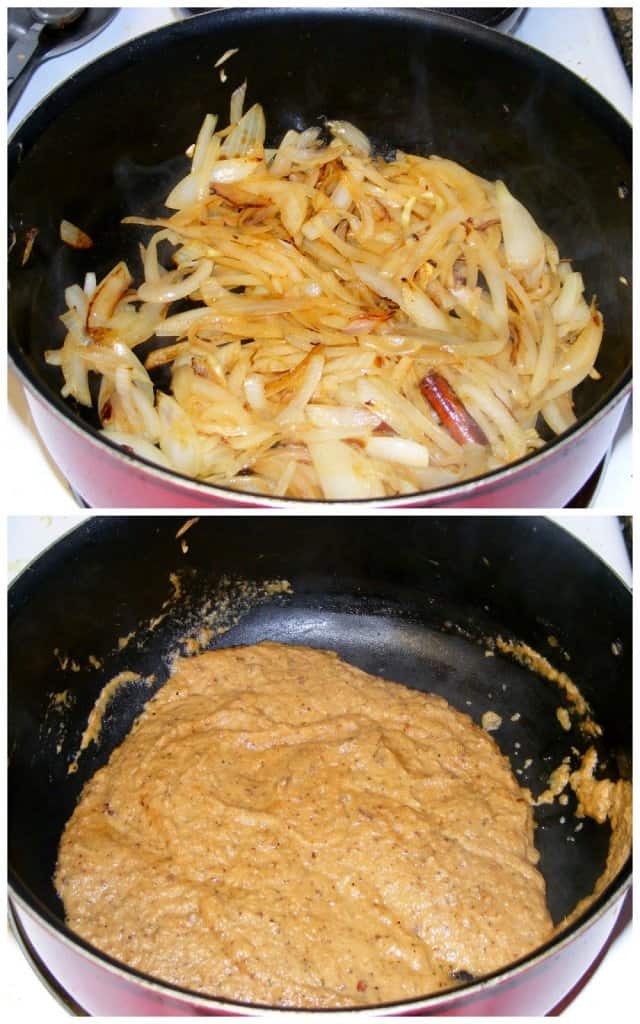 In the same pan, add 2 tbsp of oil/butter and then add the ground paste. Fry the paste for couple of minutes and then add the tomato puree. Cook the mixture for about 5 minutes and then add the turmeric powder, red chili powder and the garam masala and mix well.
Cover the pan and cook it for about 8-10 minutes. Then remove the lid and cook further for 5 minutes, until the oil starts to ooze out from the gravy.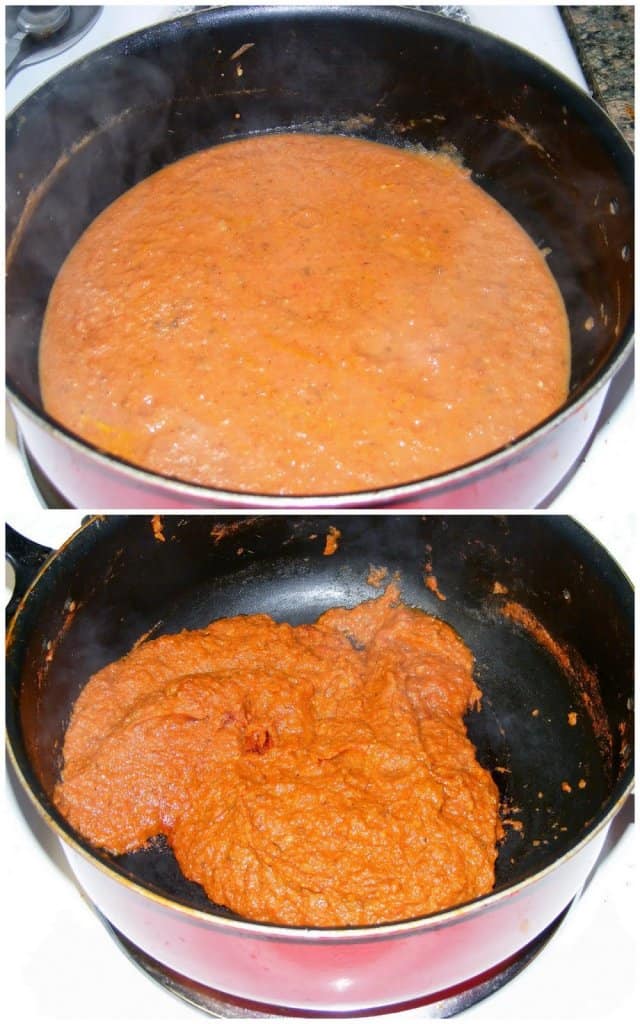 Now add the cashew paste and about a cup of water and bring it to boil. Let this simmer for 10 minutes until the gravy thickens to the required consistency.
Add the fresh cream or milk and cook in low flame for about 5 minutes to prevent the cream/milk from curdling.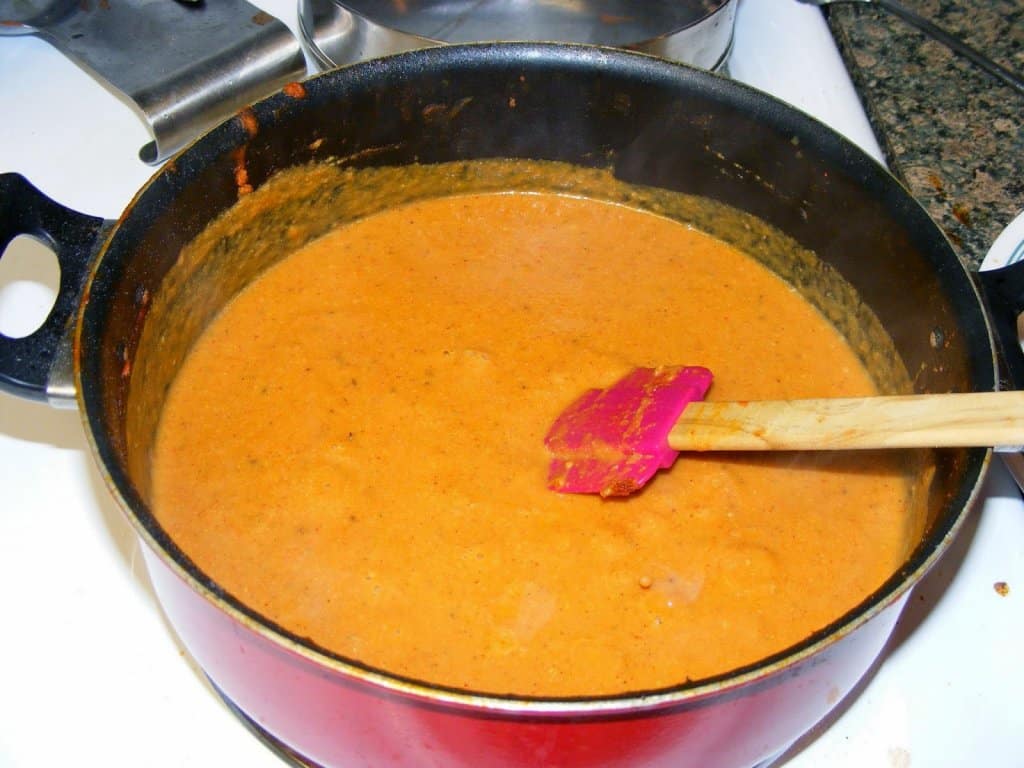 Add the kasuri methi and mix well.
Just before serving, heat the gravy gently. Place the koftas on the serving dish and then add the gravy over it.
It will be a good idea to add just enough koftas to the gravy that you are serving right away. Do not add more than needed as they will become soft and mushy. These koftas are a little forgiving than malai kofta and holds its shape pretty well in the gravy.