This picture was taken by my 2 yr old 🙂
When I was shopping at my local farm market, I came across these beautiful baby Cucumbers. They were so attractive that I immediately bought a few home thinking I would let my kids snack on it. Last night when rummaging through my refrigerator, thinking of what to make for dinner (What was I thinking, that ideas would pop out of the refrigerator), my eyes went on the cucumbers again. They traveled from the refrigerator to my counter top and I was still clueless about what I was going to do with them. That is when I thought of making a salad, but guess what I had no greens in the house.
This ChickPeas Cucumber Salad recipe is a perfect savior when you are ever in the mood to eat some salad without having greens in the house. It is a very simple recipe and a very versatile one. You can add any vegetables you like to eat raw and make it in a jiffy for a crowd. And the next biggest advantage is this recipe can be (has to be) made ahead of time when cooking for a party. The salad has to be refrigerated at least for an hour before eating to bring out its refreshing features.
Ingredients to make ChickPeas Cucumber Salad - (serves 4)
Chickpeas/garbanzo beans - 1 can (drained and rinsed)*
Cucumbers – 2 baby ones or 1 large (chopped into 1 inch cubes)
Tomatoes – 1 large (chopped into 1 inch cubes)
Red onion – ½ chopped finely
Cilantro/dhania leaves or parsley – few (chopped finely)
For the dressing –
Olive oil – 1 tbsp
Vinegar - 1 tsp (optional)
Lemon juice – Juice of one lime or lemon
Salt- to taste
Sugar – 1 tsp
Pepper – ½ tsp
Dried parsley – 1 tsp
Garlic powder – ½ tsp
Mustard powder – ½ tsp
Procedure –
In a small bowl, add all the ingredients mentioned under the dressing and mix it well using a whisk. Keep aside.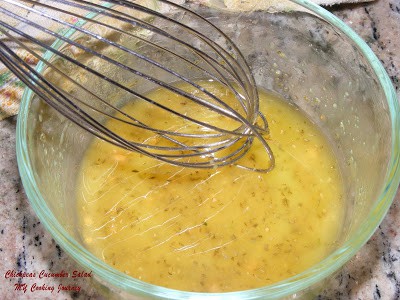 Drain the chickpeas and rinse them well under running water.
* If using fresh chickpeas, soak the overnight and cook it until they are tender and soft, but not mushy.
Start chopping all the vegetables and drop them in a large salad bowl. Add the drained/cooked chick peas to it and give it a good toss.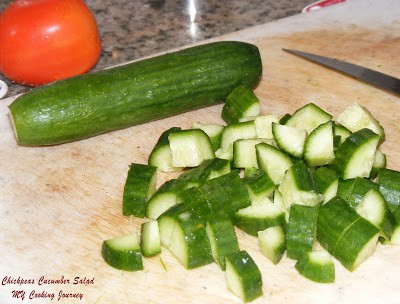 Now add the prepared dressing and mix it well to coat. Add the chopped cilantro/parsley to the salad. Cover it with a plastic wrap and leave it in the refrigerator for at least an hour.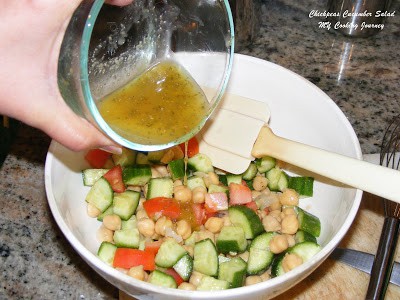 Enjoy with some fresh bread or warm soup or as is!