Chili Parotta aka Kothu Parotta is a spicy blend of shredded, fried parotta pieces mixed
with spiced gravy and served as a main dish with Raita on the side.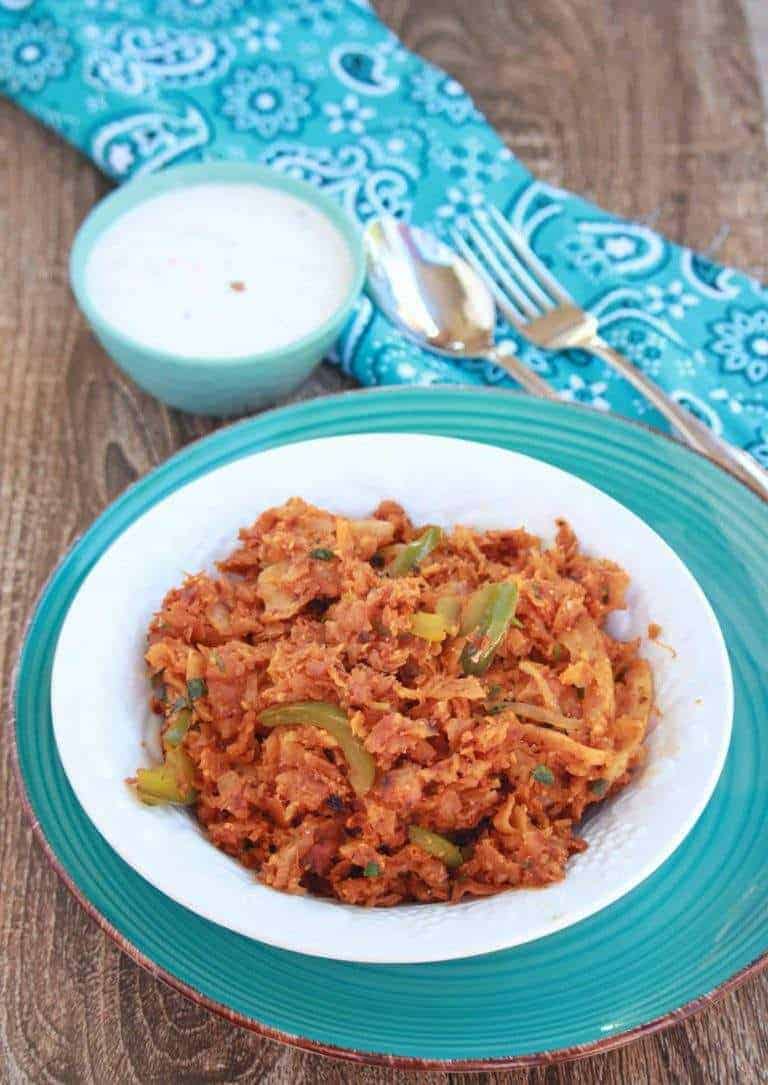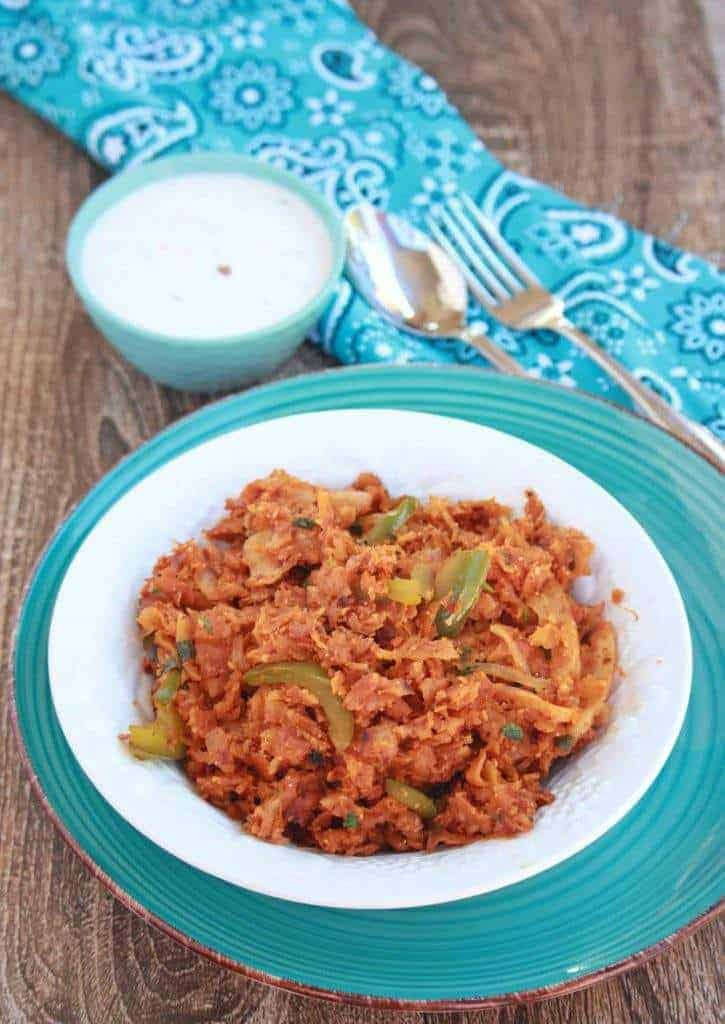 This week I am redoing few of my old posts that needs new pictures. One such recipe is this Kothu Parotta / Chili Parotta that is a very popular street food as well as one of my husband's favorite when we eat out. These days it is so hard to find some really good place to eat this Chili Parotta. the flavors are just not the same like it used to be and my husband really misses this. Also, the chili parotta is way too spicy for us when we eat out. The Kothu parotta is meant to be spicy, but since our heat tolerance levels have gone down, it is quite hard for us to eat it in the restaurants.
This week, we had our cousins visiting us for Thanksgiving break and that is when I decided to make it for lunch. Everyone thoroughly enjoyed it and my cousin mentioned that this was the best ever Kothu parotta he has ever eaten.
When I sat down to edit the post, I noticed that I had made it during the week of my dear blogger friend, PJ's Birthday. I was paired with her for one of the BM themes and this is one of the recipe that I had bookmarked from her page. It is such a coincidence that I had again made it exactly on her birthday and redoing the pictures in the exact same week. Once again, a very Happy Birthday PJ to you!
This is my old blog post and I am keeping it as is.
This is my husband's ever favorite dish when we eat out in a South Indian restaurant, especially in Saravana Bhavan. He orders this dish during our day out in to New Jersey and really relishes the flavors. But recently he feels that the quality of the dish has gone down and ever since has been asking me to make it at home. For the last week of BM, we are paired with a fellow blogger and have to cook dishes from their blog. I am paired with PJ of Seduce your taste buds and needless to say, I have several dishes bookmarked from her blog.It so happens that it is also her Birthday today. Wishing you a very Happy Birthday PJ! I will be making your lovely dishes for the next 3 days.
This is one such recipe that I literally drooled on when I saw her write about it. Hence I decided to make this dish as my first one from her blog. The recipe is really simple and is very flavorful. It is quite a fattening dish; hence I have to control myself from eating it just once in a while. Everyone loved this dish and I made minimal changes in it.
Kothu parotta or chili parotta is a spicy street food that is very famous in Tamil Nadu. It is a dish that has shredded pieces of parotta in it along with spicy gravy and vegetables. It also has scramble eggs in it, but there are versions without eggs as well. I have used frozen Malaysian Parotta's for the recipe.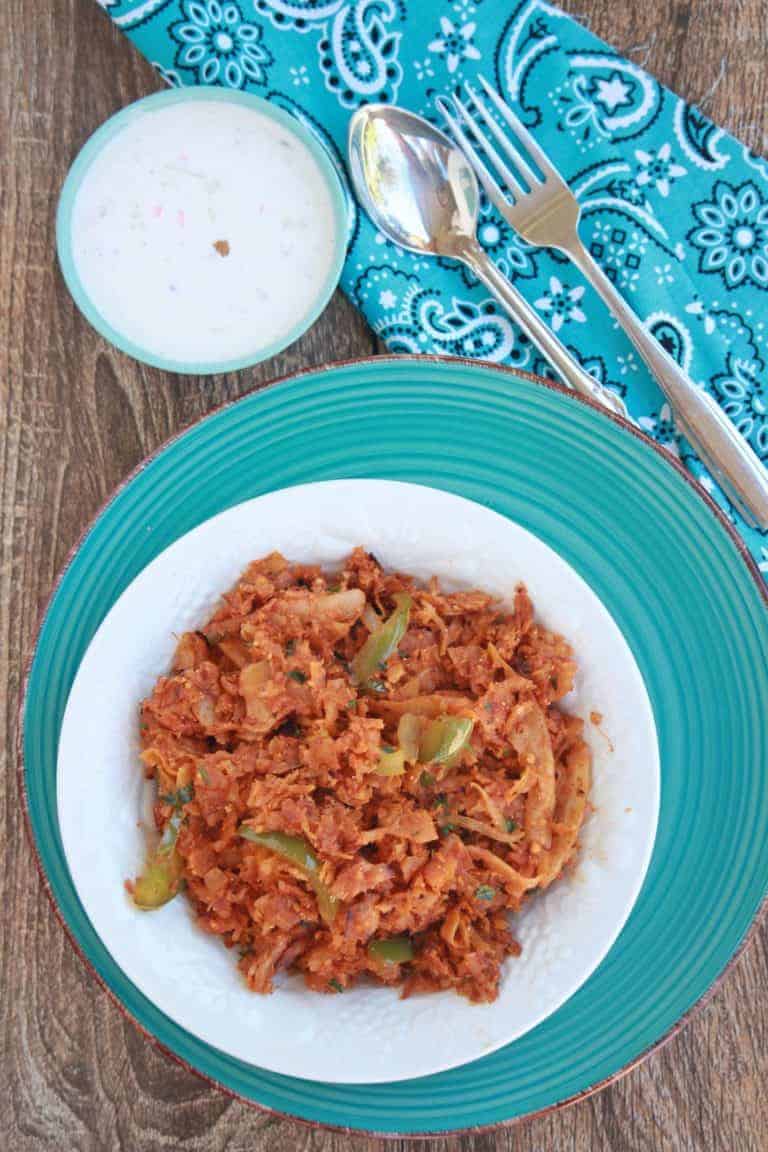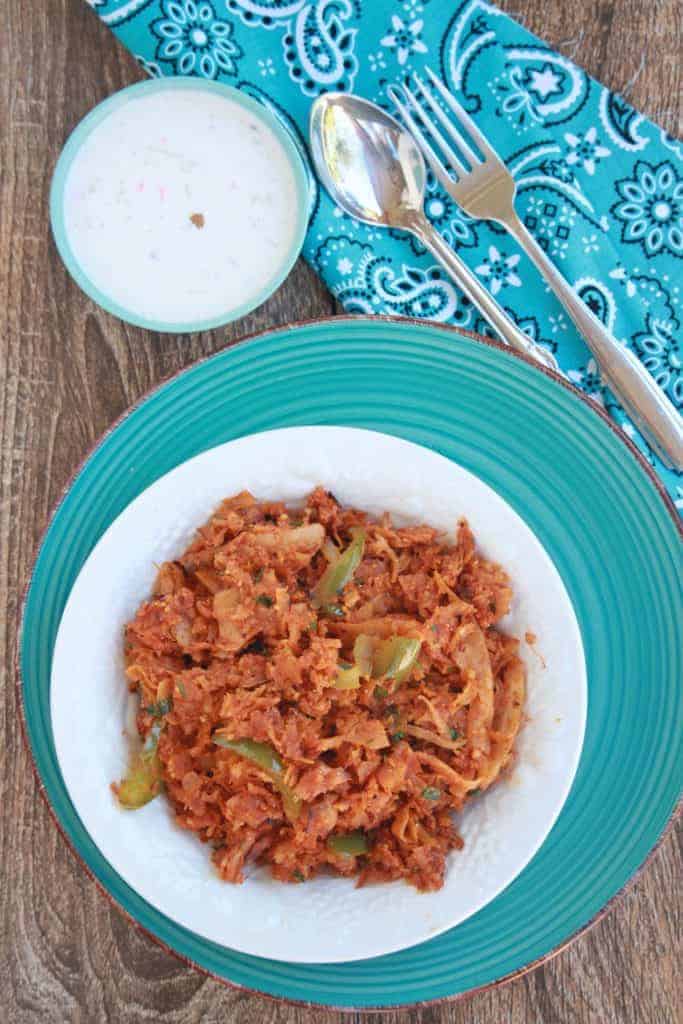 Preparation time – 10 mins
Cooking time – 30 mins
Difficulty level – easy
Ingredients to make Chili Parotta | Kothu Parotta | Mixed Parotta – Serves 2 to 3
Parotta (frozen) – 6
Onion – 1 (finely chopped)
Bell pepper – 1 large (finely chopped)
Tomato sauce – 1 tbsp (I used Ketchup)
Oil – 2 tbsp
Salt – to taste
Cilantro – to garnish
To sauté and grind to a paste – Masala
Onion – 1 (chopped)
Tomato – 2 (chopped)
Ginger garlic paste – 1 tbsp
Poppy seeds – 1 tsp
Cashew nuts – 5
Chili powder – 1 tsp
Dhania jeera powder – 1 tsp
Garam masala – ½ tsp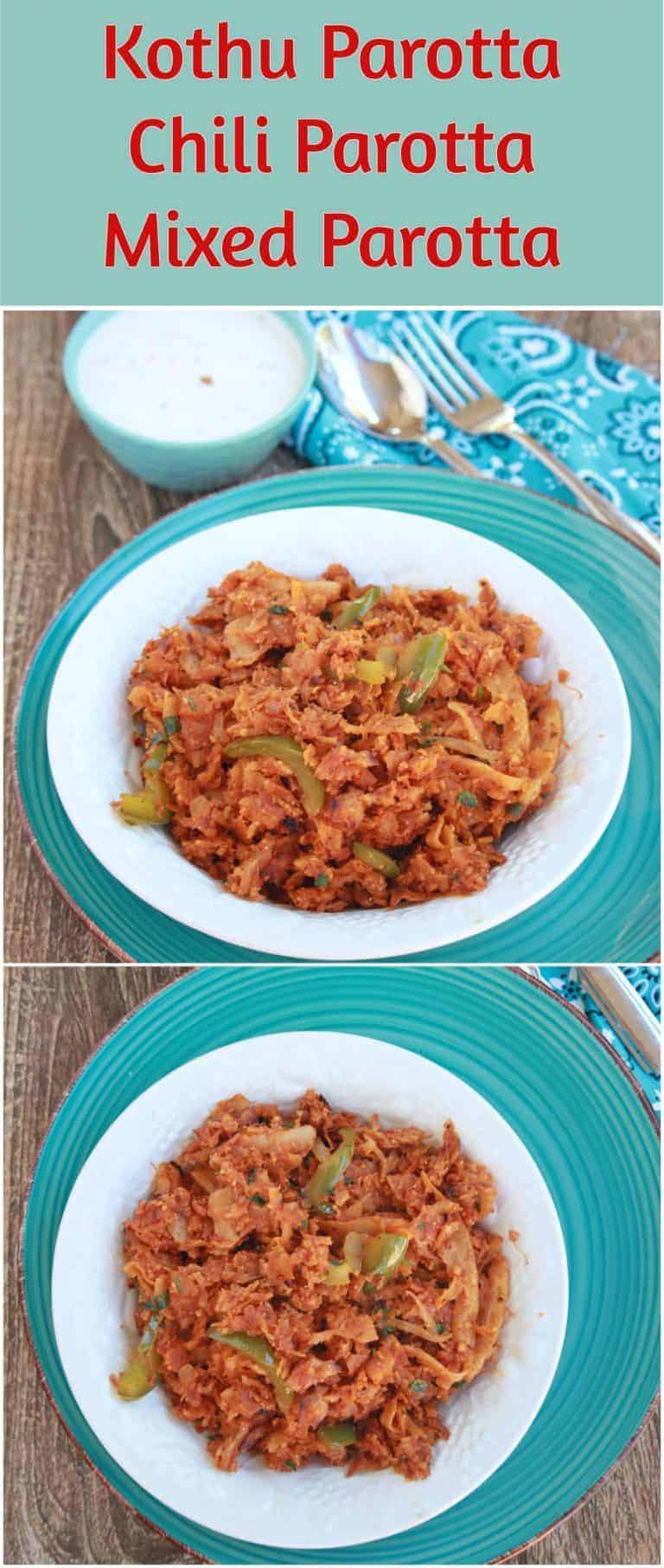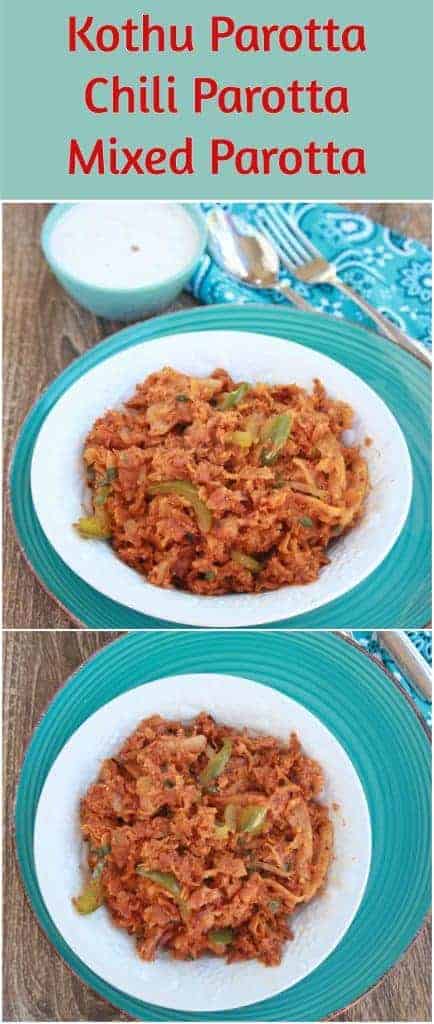 Procedure to make Chili Parotta | Kothu Parotta | Mixed Parotta –
Shred the parotta into small pieces. I have used frozen parotta, so I thawed it in Microwave and then used my food processor to shred it.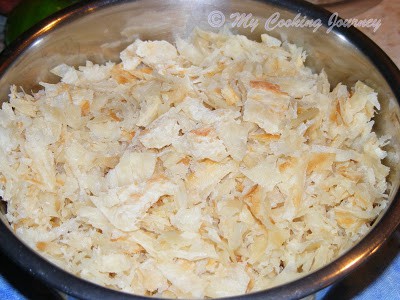 Heat a wide pan and add the shredded parotta in it. Now toast the parotta pieces until they are golden brown and slightly crispy. Traditionally the pieces are deep fried, but I skipped it and toasted the parotta instead. This did work very well!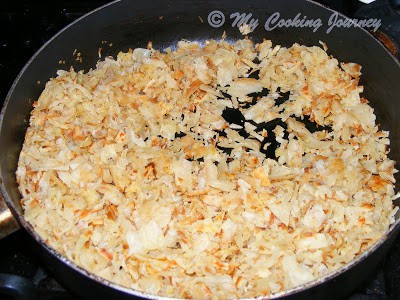 Transfer the pieces to a bowl and keep it aside.
In the same pan, heat about a tbsp of oil and sauté all the ingredients mentioned under the masala items. Let it cool down a bit and then grind it into a smooth paste adding no water or very little water.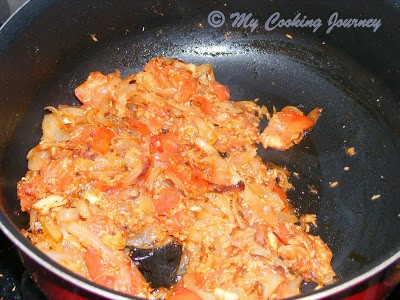 In the same pan heat the remaining oil. Sauté the chopped onions until translucent and then add the bell pepper. Fry it for about 5 minutes. Do not let the bell peppers becomes too soft. It needs to have a crunch to it.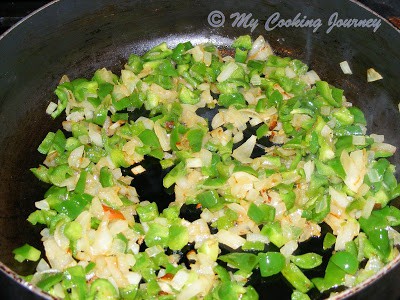 Now add the ground masala paste, tomato sauce/ketchup and the required salt and fry it until the masala becomes aromatic.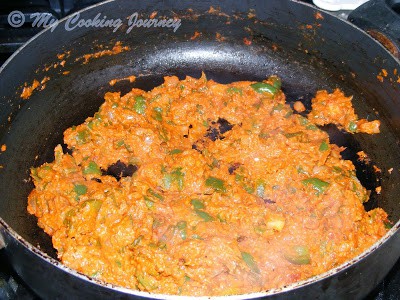 Now add the shredded parotta pieces and mix it well. Add a tbsp or two of water if the mixture appears too dry. Cook for 2 -3 more minutes and then garnish with cilantro.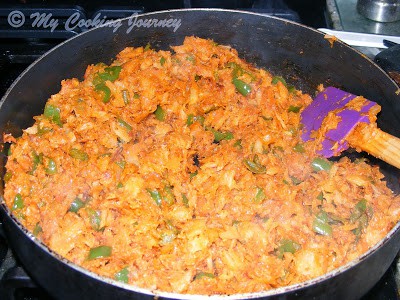 Serve hot with raita! Onion Raita pairs really well with this recipe, but I had made some cucumber raita to go with it.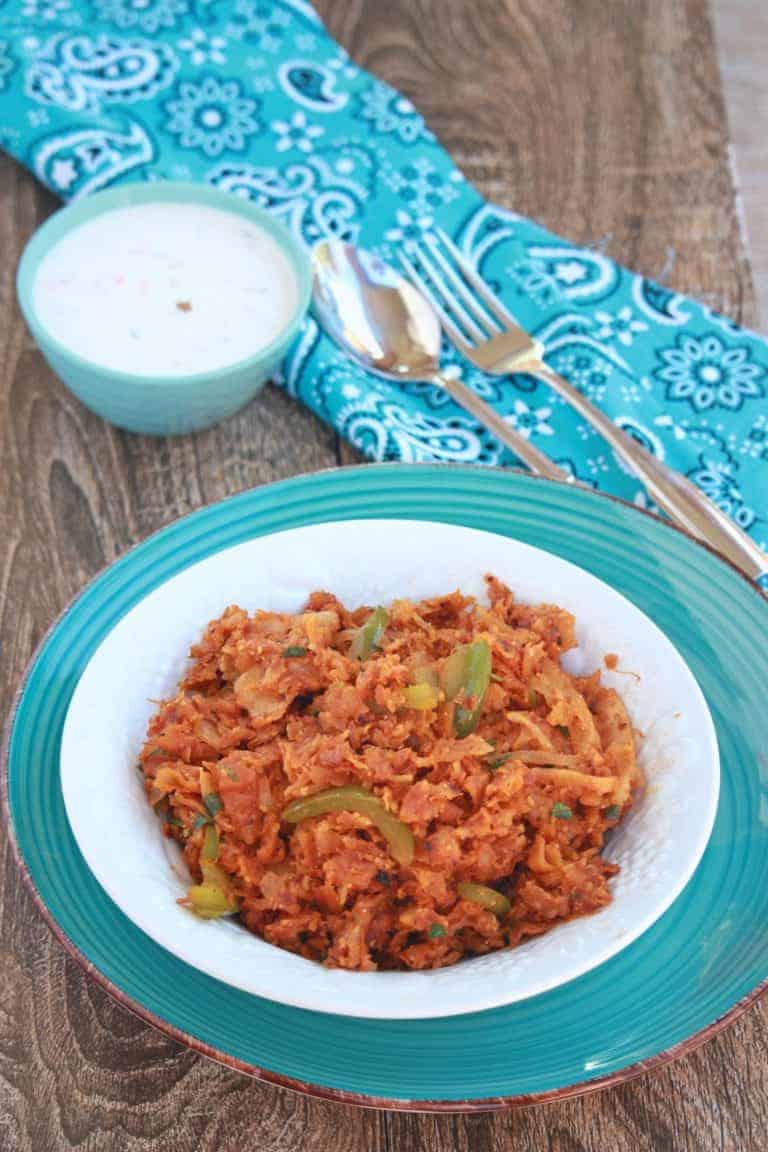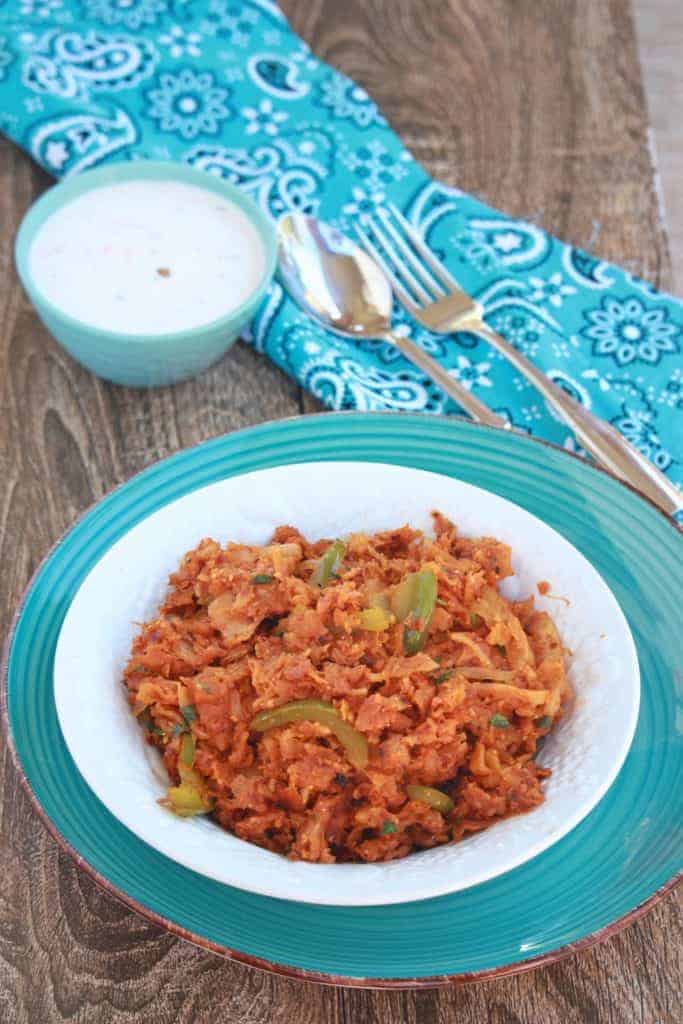 Notes and Observation –
This is a spicy dish. I had made it medium spicy, so change the spice level according to your liking.
PJ had added sambhar powder to the recipe instead of garam masala. Again this is based on your personal liking. If you like sambhar powder, then add it instead of garam masala.
I have used kashmiri red chili powder for the deep red color.
Also a couple of green chilies can be added to the recipe. I had omitted it because my boys also ate this and I did not want them to accidently eat one.
Restaurants add channa/chole/garbanzo beans to the dish. I ran out of canned beans the day I was making it.