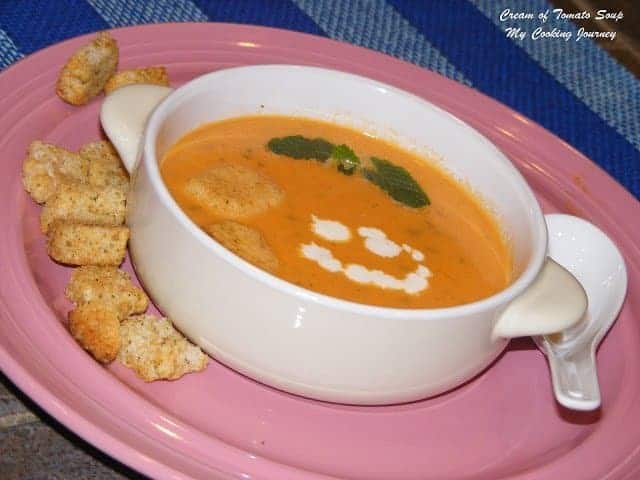 Nothing can warm you up on a cold day as a bowl of piping hot soup. This is my kind of comfort food, for which I look forward to cold rainy days. I already have a Tomato soup recipe in the blog. This is another version that I found from here and thought will make it this way. I made this soup with mint and it was very flavorful. Just adding few leaves of mint when the soup was cooking bought an immense freshness to the soup. This is sort of my twist to the Tomato basil soup. It was a very rich soup and the flavors were right on.

Preparation time – 10 mins
Cooking time – 30 mins
Difficulty level – easy
Ingredients to make Cream Of Tomato Soup – (serves 4)
Tomatoes – 5 (chopped)
Onion – 1 (chopped)
Garlic – 2 tbsp (chopped finely)
Butter – 2 tbsp
Salt – to taste
Pepper – 1 tsp (or to taste)
Cream – 5 tbsp
Mint – a handful (about 10-15 leaves)
To garnish –
Mint leaves – few
Cream – as needed
Procedure to make Cream Of Tomato Soup –
Heat a heavy bottom stockpot with butter. Add the chopped garlic and fry it for a minute.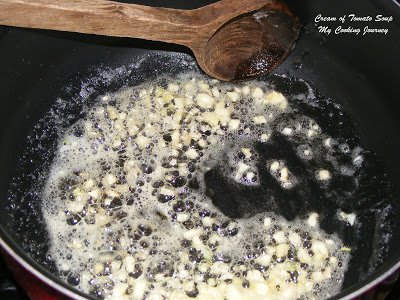 Now add the chopped onions and sauté until the onions are translucent.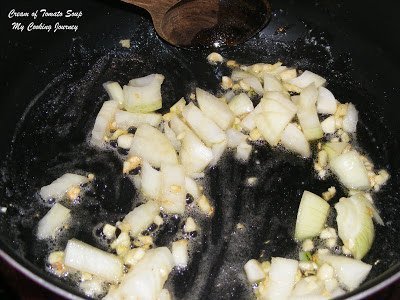 Add the chopped tomatoes and mint leaves along with salt and pepper. Give it a good mix.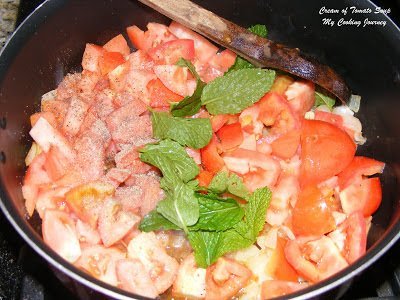 Now add about 2 cups of water and bring it to boil. Simmer for about 10 minutes.
With an immersion blender, get that into the hot mixture and blend it until smooth. If you like your soup chunky, blend it until you get your preferred consistency. If you do not have an immersion blender, wait for few minutes until the mixture cools down a bit, then transfer it to a blender and blend it.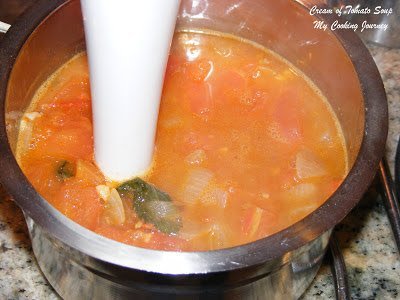 Bring it back to the pot and whisk in the cream. Let it simmer until you are ready to serve.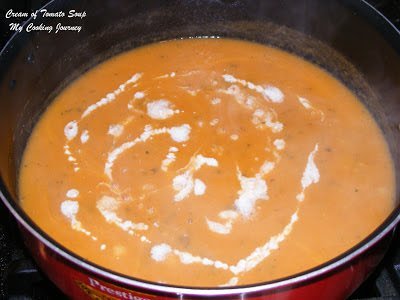 Garnish with mint and cream and serve hot!!!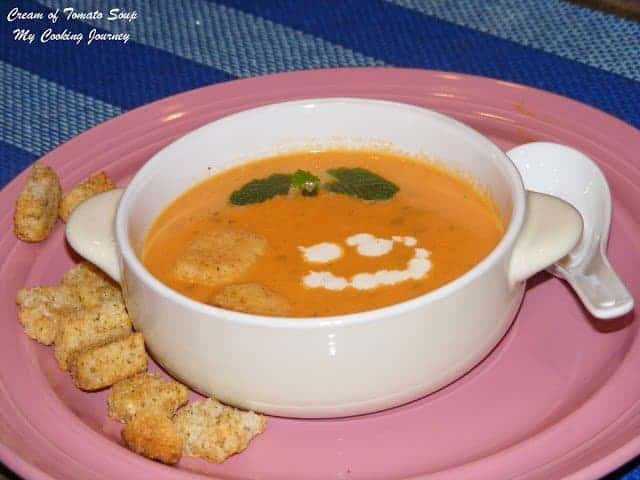 Notes and observation
The skin of the tomato was a little annoying when slurping the soup. Next time when I make it I would blanch the tomatoes, peel the skin and then add it to my soup.
Also, adding the mint is optional. If you do not like the mint, skip it or replace it with basil.
If deciding to make the soup low fat, skip the heavy cream and use low fat milk instead.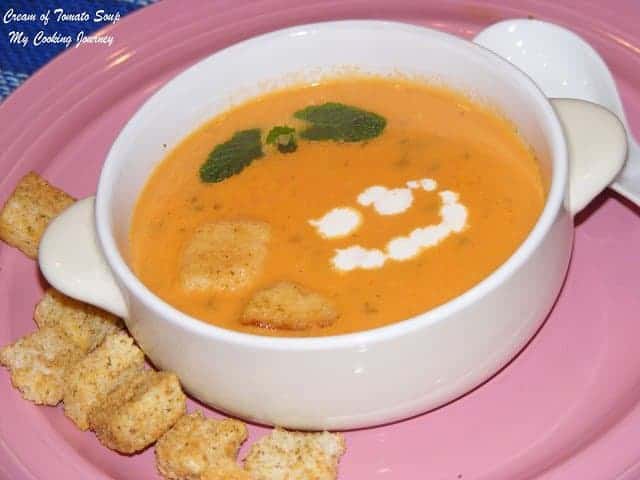 Happy Slurping!