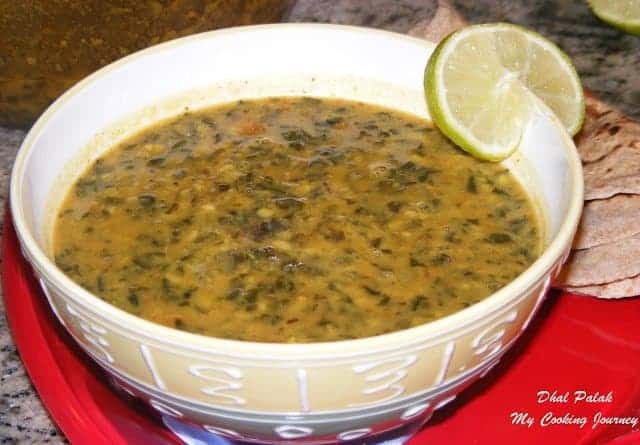 This is yet another recipe that is filled with protein. If you are trying to get greens into your diet, this is The Recipe to go for. This dhal has mild flavors and is perfect for weeknight dinners to serve with rice or roti's!!
Preparation time – 10 mins
Cooking time – 40 mins
Difficulty level – easy
Ingredients to make Dhal Palak – Serves 4
Palak/spinach – 1 cup (chopped)
Moong dal/Yellow split lentil/green gram dal – ¾ cup
Onion – 1 (chopped)
Tomato – 3 (chopped)
Green chilies – 4 (slit lengthwise)
Oil/ghee – 1 tbsp
Turmeric powder – ½ tsp
Cinnamon – 1 stick
Cloves – 4
Cumin seeds – 1 tsp
Ginger garlic paste – 1 tsp
Salt – to taste
Lime juice – 1 tbsp
Procedure –
Wash the Moong dal and cook with enough water. I usually used to cook the dal in the pressure cooker. But for the past few times, I have been cooking moong dal in a sauce pan and I am in live with the flavor in gives out. If cooking over the flame, add enough water to the dal and bring it to boil. Then bring the heat to medium and cook for about 20 mins, until the dal is cooked and tender.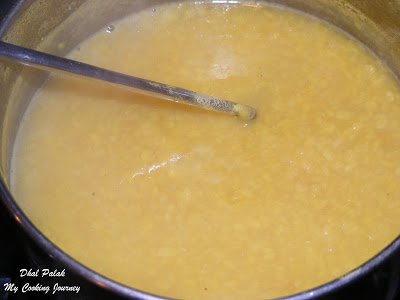 Wash the spinach and chop it finely. If using frozen spinach thaw it in the microwave and keep aside.
Add oil/ghee in a pan and when heated, add cumin seeds, cinnamon and cloves. Fry it for a minute.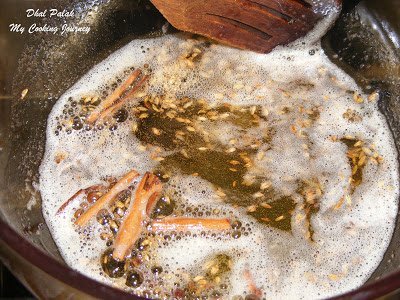 Then add the onions, turmeric powder and green chilies.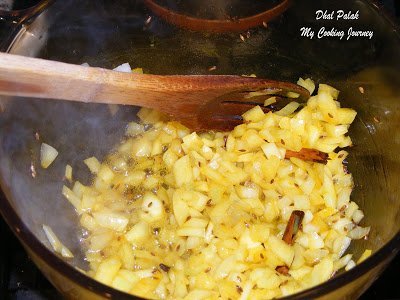 Once the onions are fried, add the ginger garlic paste. Sauté for a minute and then add the tomatoes along with salt. Cook until the tomatoes are mushy.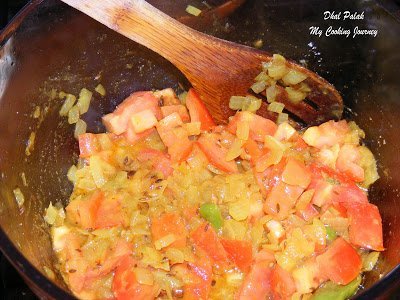 At this stage add the spinach and mix well. Let it cook for about 10 mins or until the spinach is tender.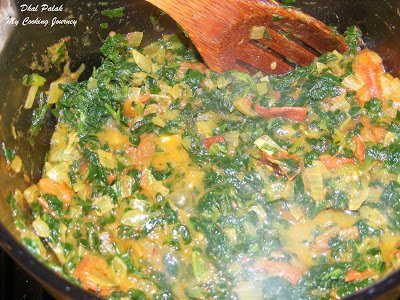 Now add the cooked dal. If needed, add water to bring the dal to the required consistency. Let it come to a boil and then simmer for about 10 mins.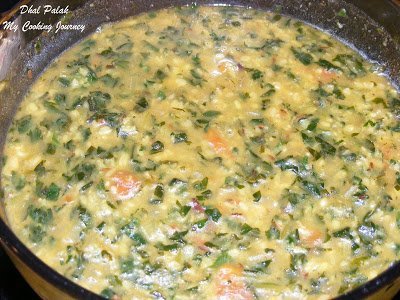 Turn off the flame and just before serving add some lime juice.
Serve the Dhal Palak with rotis, pulkas or rice!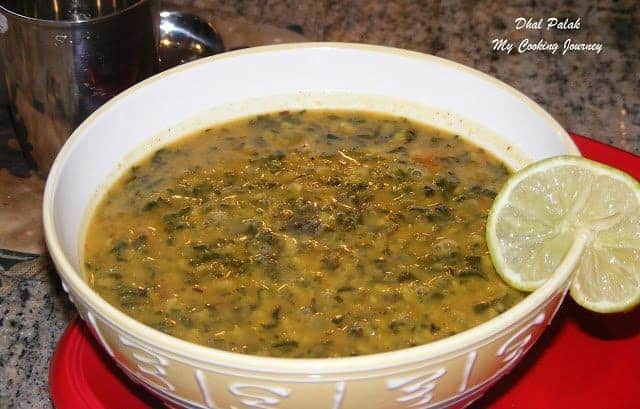 Variations –
Instead of just moong dal, a combination of tuvar dal and moong dal could be used. Also this can be made just with tuvar dal.