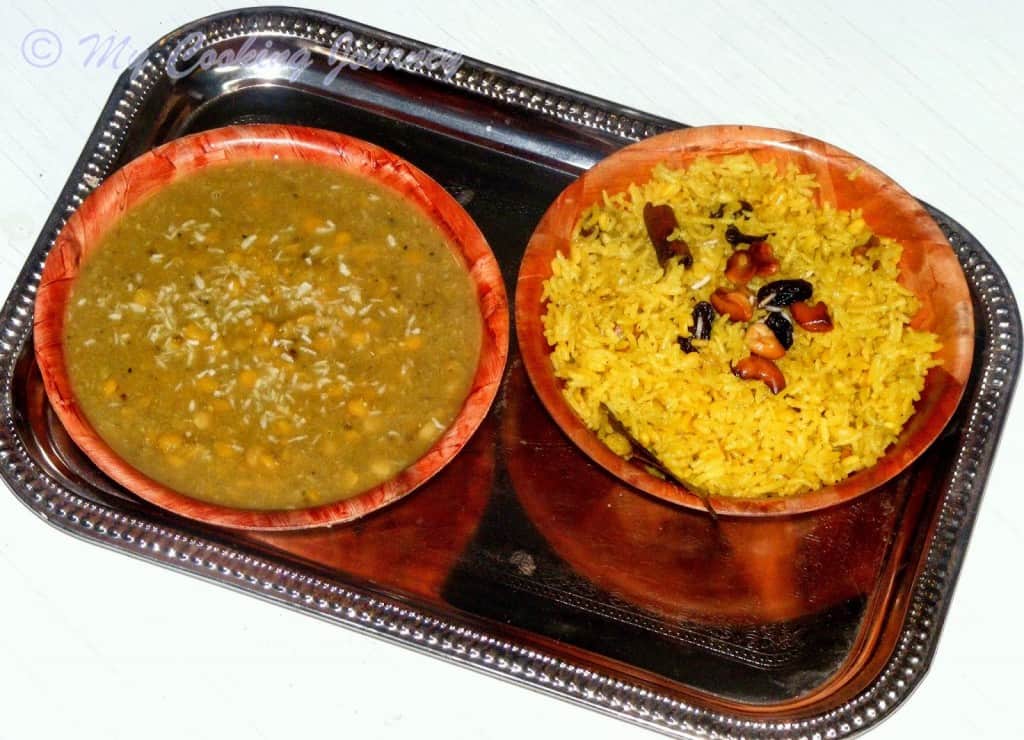 Odisha formerly known as Orissa is a state in the east coast. Odisha shares its borders with West Bengal, Jharkhand, Chhattisgarh and Andhra Pradesh. Bhubaneswar is the capital of the state. Oriya (now officially called Odiya) is the language spoken in the state. The Puri Jagannath temple and the Konark Sun temple are something that I am familiar with about the state. Though I have never visited, this is one more place in my list that I want to visit soon.
The Jagannath temple in Puri has the world's largest kitchen, with about thousand chefs working around 752 wood burning hearths (chulas) and they feed about 10,000 people each day. That would be some sight to see. Rasgulla (my favorite) and kheer (pal payasam) are few of the dishes that originated in odisha.
The dishes I made today, Mitha Khechudi and Mitha Dali, are very authentic to the region. I referred to the blog 'The Turmeric Kitchen', which has many authentic Oriya dishes.
Mitha Khechudi

Mitha Khechudi or sweet kechudi is a mildly sweet kichadi made with rice and moong dal. The sweetness can be adjusted based on one's liking. I had made it mildly sweet since I paired it with Mitha dal. This is a dish that is a part of Chhapanna Bhog – 56 offerings (Maha Prasad) in the Puri Jagannath temple. These dishes are made without onions and garlic. The spices used in this dish make it very aromatic.
Preparation time – 20 minutes
Cooking time – 30 minutes
Difficulty level – easy
Ingredients – Serves 4
Rice – 1 cup (I used basmati rice)
Moong dal / payatham paruppu – ¼ cup
Ghee / oil – 2 tsp
Cinnamon – 1 small stick
Cloves – 3
Bay leaf – 1 small
Cardamom – 2
Sugar – 1 tbsp
Turmeric powder – ½ tsp
Nutmeg powder – ¼ tsp
Salt – to taste
Cashew and raisins – 1 tablespoon each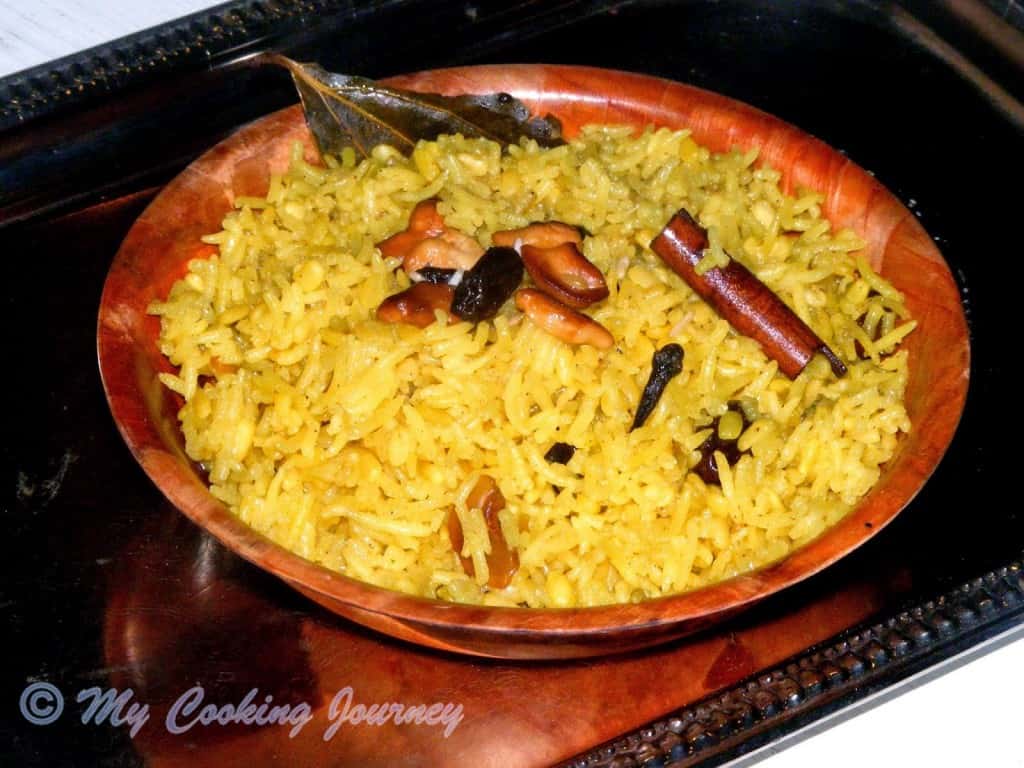 Procedure –
Wash and soak the rice and moong dal together for about 20 minutes.
In a pan, heat the ghee or oil and fry the seasonings; cinnamon, cardamom, bay leaf, cloves.
Then add the cashews and the raisins and fry them until golden brown. Immediately add the drained rice and lentil and fry them until light brown.
Now add the water needed to cook the rice and lentil (about 2 ½ cups) and then add the sugar, salt, turmeric powder and nutmeg. Mix well and let it cook covered in low flame until the rice is done.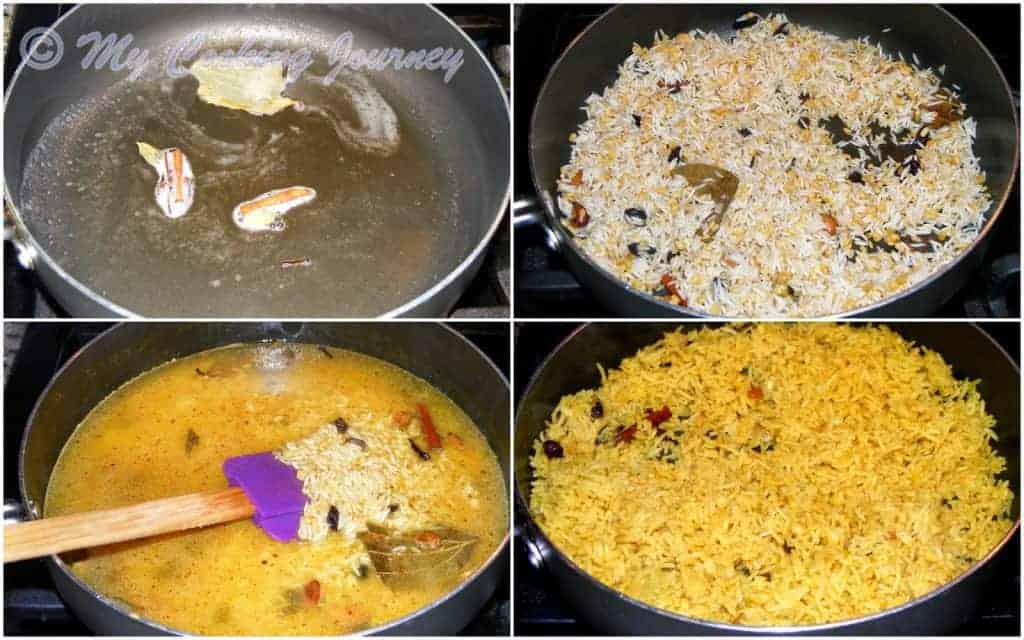 The same dish can be made in the pressure cooker as well.
Serve with Mitha Dali!
Mitha Dali

This mildly sweet dal is also a Prasad that is offered to lord Jagannath in the Puri temple. I cooked the dal on stove top, but you could make it in the pressure cooker as well.
Preparation time – 30 minutes
Cooking time – 40 minutes
Difficulty level – easy
Ingredients – (serves 4)
Channa dal – 1 cup
Masoor dal – ¼ cup
Turmeric powder – ¼ tsp
Salt – to taste
Sugar – 1 tbsp
Ginger – 1 teaspoon (grated)
For the paste –
Desiccated coconut – ¼ cup (or fresh coconut - 4 tbsp)
Cinnamon – ½ inch stick
Cardamom – 2
Cloves – 3
Black pepper – 1 tsp
Coriander seeds – 1 tsp
Cumin seeds – ½ tsp
Fenugreek seed – ½ tsp
Fennel seeds – ½ tsp
Procedure –
Wash and soak both the dals for about half an hour. This helps in cooking them quicker.
Soak the ingredients mentioned for paste in hot water for about 10 minutes and then grind it into a paste and keep aside.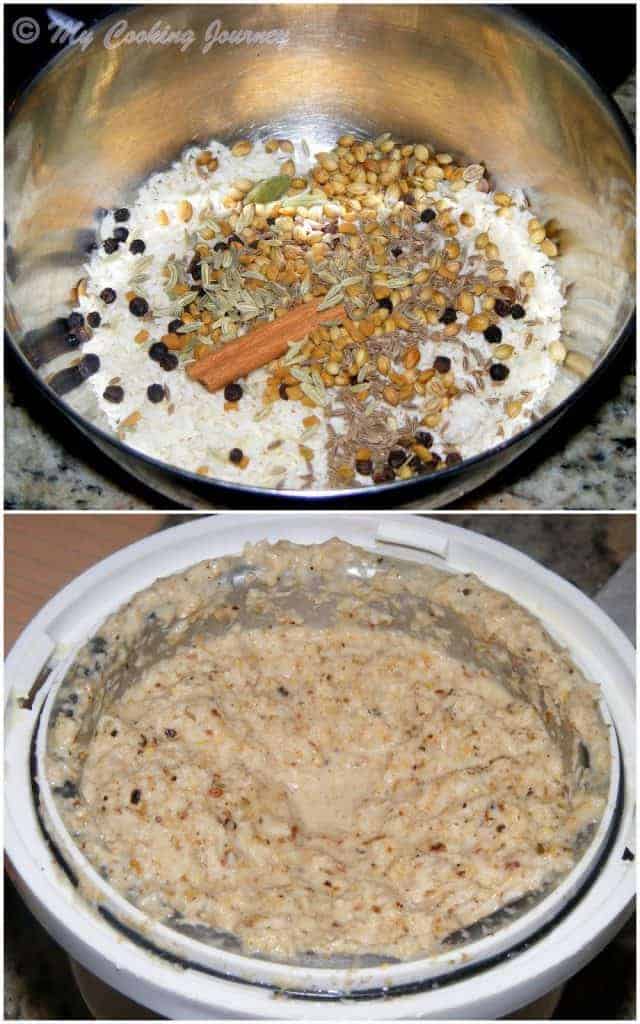 Cook the dals in about 3 cups of water until they are soft.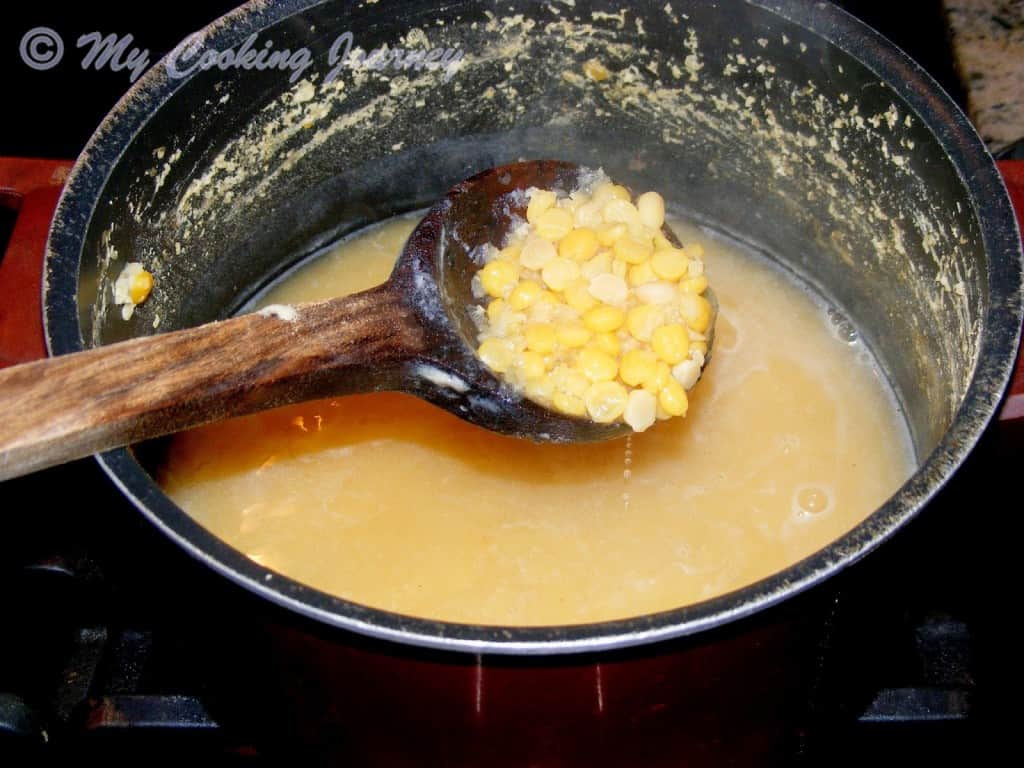 Now add the paste, turmeric powder, salt, sugar and ginger and cook it further until it cooks completely. Let the dal thicken and then turn off the flame.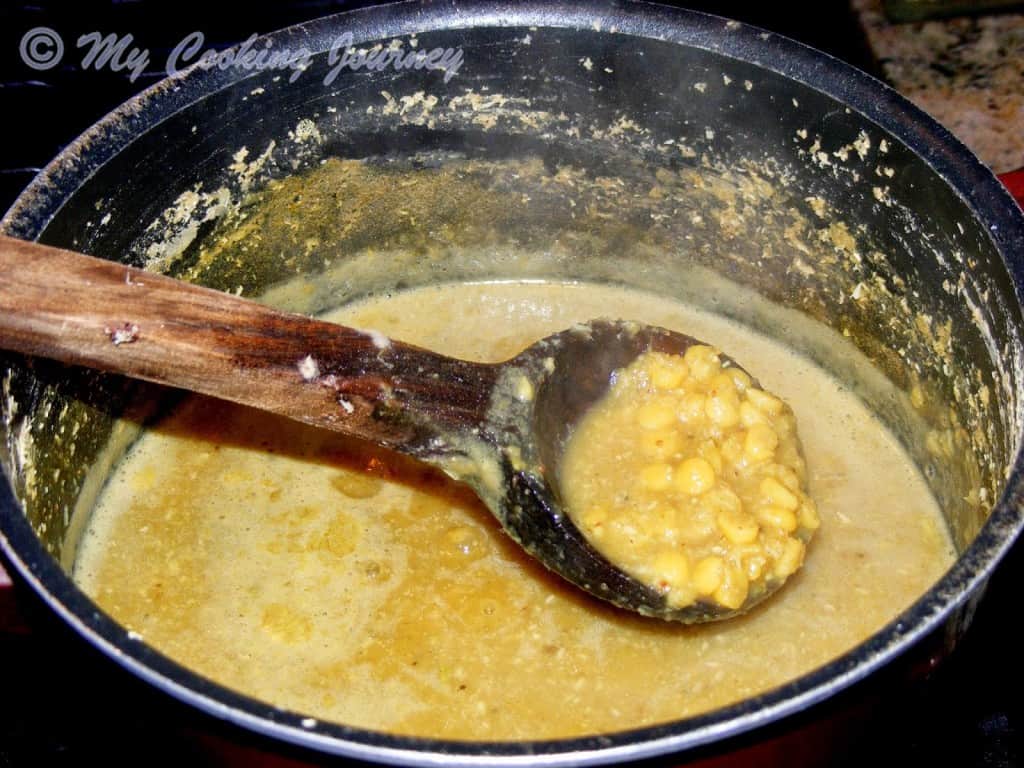 Serve Mitha Khechudi and Mitha Dali!!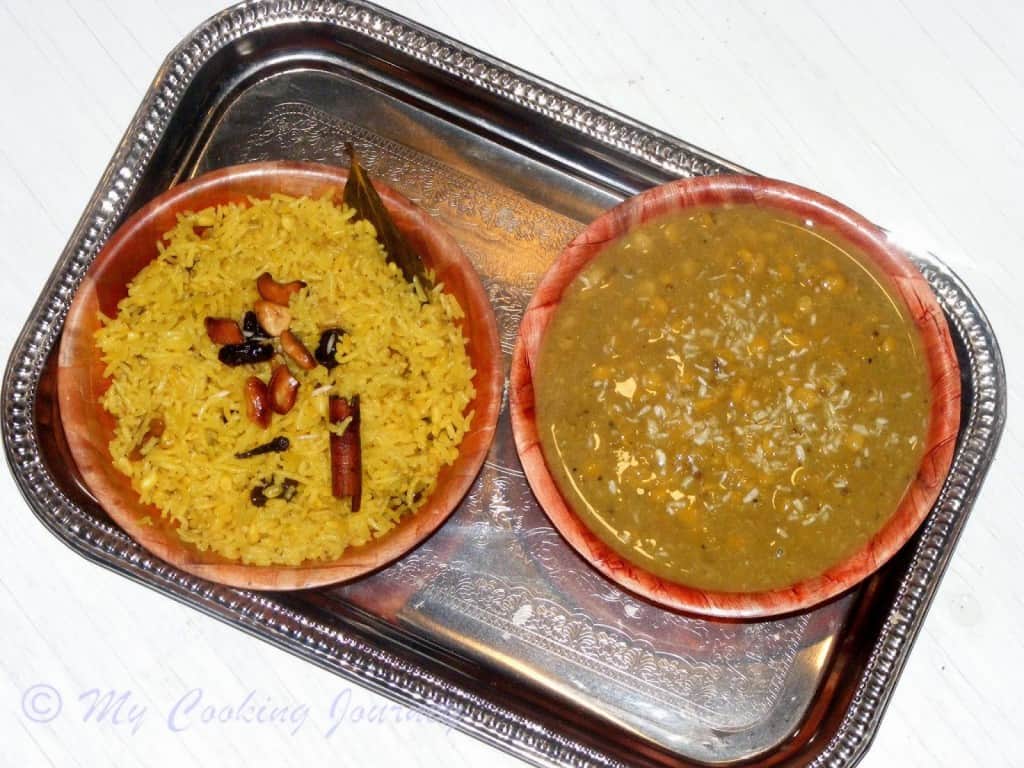 Check out the Blogging Marathon page for the other Blogging Marathoners doing BM# 39