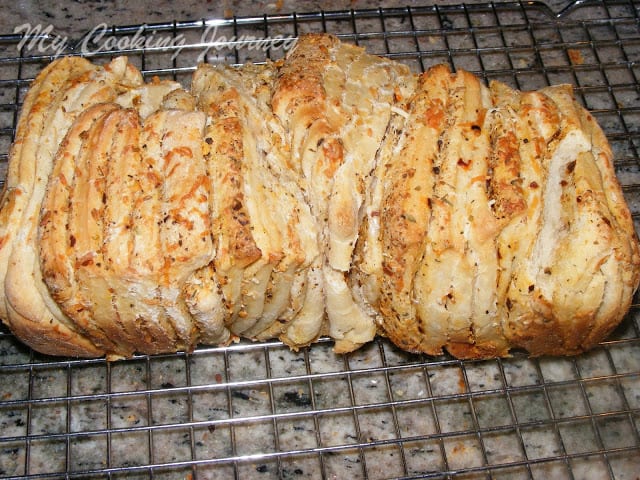 Couple of days back, I joined a baking group called 'We Knead to Bake' which was started by Aparna of My Diverse Kitchen. She has decided to make one bread a month for the whole of 2013 to end up with twelve different breads in a year. She had sent out a message on face book asking friends and fellow bloggers if we would like to join her on this journey. Who could resist baking breads? And that, one different bread a month. I wrote to her right away asking permission to join and as a result this Herb And Cheese Pull Apart Bread is our first bread together.
This bread is really soft and the fillings used could be endless. I used mixed herbs and cheese, but lot of other bakers in this group used pesto and other savory fillings. I sure have loads of idea to try this bread again in the future. December being the month of sweets, I am so glad that Aparna chose a savory bread for this month.
If you wish to make this as sweet bread, omit the salt and garlic in the dough and use sugar. Also use cinnamon sugar as a filling.

Preparation time – 15 mins plus 3-4 hrs for resting the dough
Cooking time – 30-40 mins
Difficulty level – medium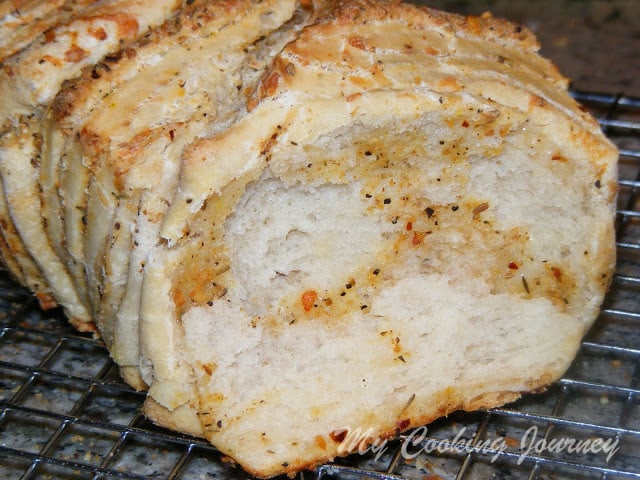 Ingredients to make Herb And Cheese Pull Apart Bread – Makes one 9 X 4 inch loaf
For the dough –
All Purpose flour – 2 ¾ – 3 cups
Milk (warm) – ½ cup
Active dry yeast – 1 sachet (2 tsp)
Sugar – 1 tsp
Butter (softened) – 2 Tbsp
Garlic powder – 1 tsp (substitute with 1 tsp of garlic paste)
Salt – 1 tsp
Milk – ¾ cup plus couple of tbsp to brush the top of the bread)
For the filling –
Melted butter – 1 ½ tbsp
Provencal or mixed herbs – 2 tsp
Crushed black pepper and cumin – 1 tsp
Crushed red chili flakes – 1 tsp (optional)
Grated cheese - ½ cup (I used gruyere cheese, you could add cheddar too)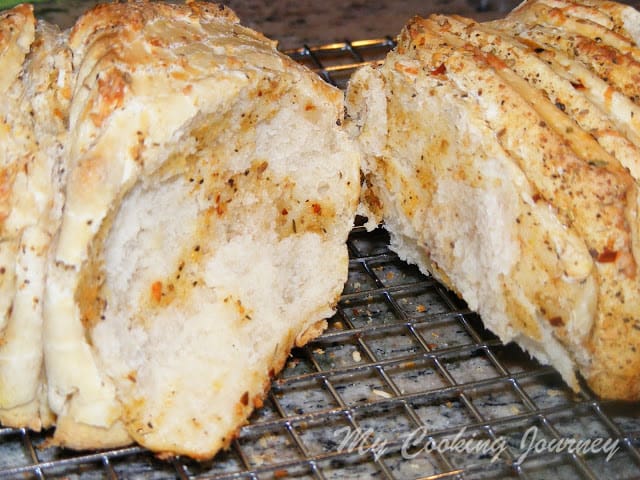 Procedure to make Herb And Cheese Pull Apart Bread –
In a small bowl, dissolve the yeast in ½ cup of warm milk and sugar. Leave aside for about 5 mins, until the yeast gets activated and froths up.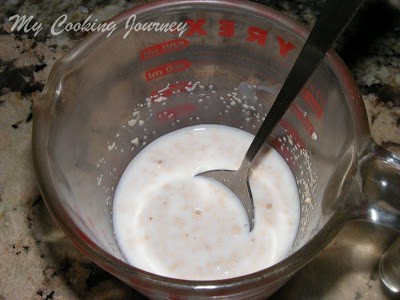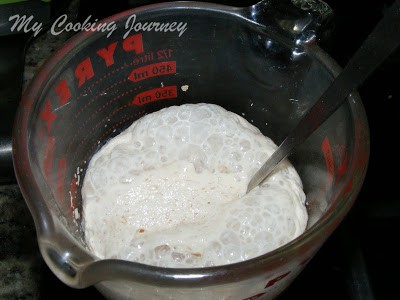 In the bowl of a stand mixer, add 2 ¾ cup of flour, salt, garlic powder (or paste) and softened butter. With the dough hook on, mix it for couple of minutes.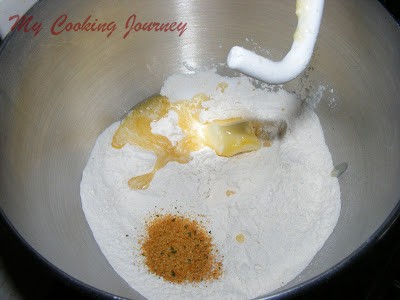 Now add the frothed up yeast mixture and the remaining ¾ cup of milk and knead it to form a smooth, soft, elastic dough. Make sure the dough is not sticky. If the dough appears sticky add the remaining ¼ cup of flour in batches until it forms a elastic dough. Do not dump all the remaining flour, just add enough until it forms a soft dough.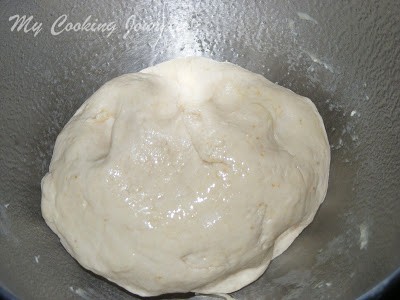 Shape the dough into a ball and then place it in a well oiled bowl. Turn the dough over in the bowl, so that it is evenly coated with oil. Cover the bowl with plastic wrap and let it rise for about a hour to 1 ½ until it is doubled in size.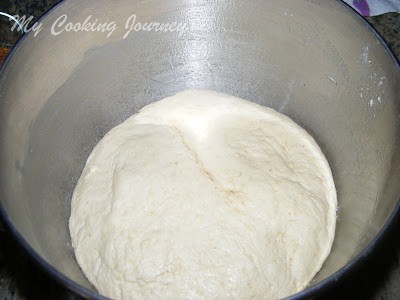 Dust the work surface lightly with flour and dump the raised dough. Deflate the dough and form a square with it. Now roll it out to form a 12 x 12 square.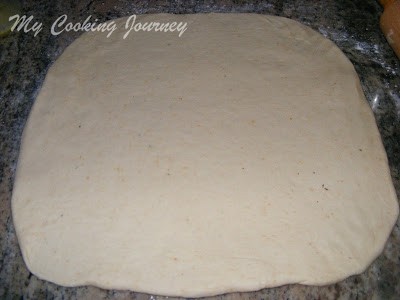 Brush the surface with melted butter and evenly add the herb, cumin, pepper mixture over it. Also spread the cheese over the dough and using a rolling pin, slightly roll on top of the dough, so that the filling sticks better to the dough.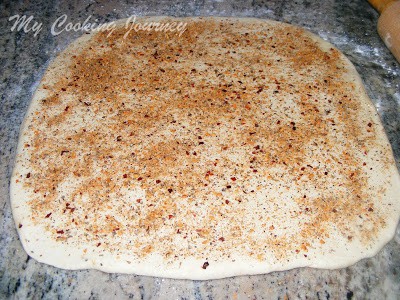 Using a pizza cutter, slice the dough into 6 even strips.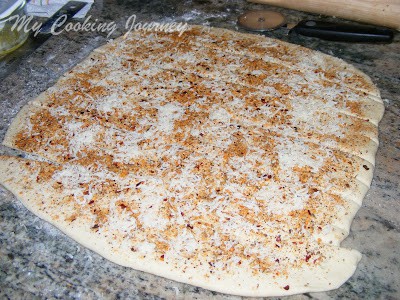 Lay each strip on top of another with the topping facing up. The strips need not be perfect, just make sure you evenly try to stack them.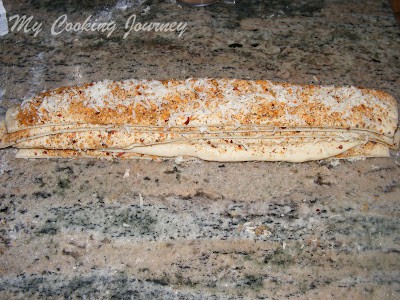 Now with a very sharp knife, cut straight down the stack dividing it into 6 equal squares.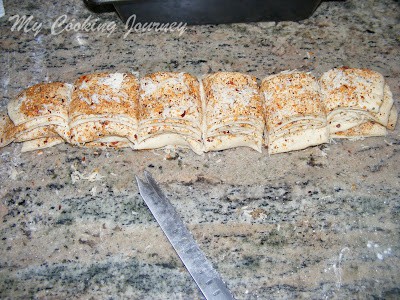 Grease and lightly flour a 9 x 4 loaf pan. Layer the square slices, cut side down into the loaf pan.
Wrap the loaf pan with a towel or plastic wrap and let it rise again for about an hour.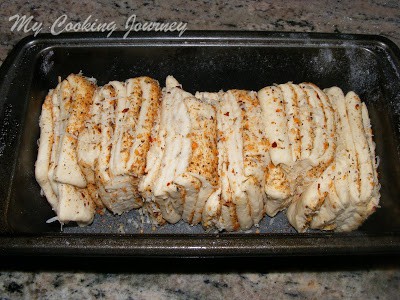 Lightly brush the top with milk and bake it in a preheated 350 F oven for about 30 – 40 mins, until it is done and the top is golden brown. It took me around 45 mins.
Let it cool on a wire rack and then start pulling it apart the and eating!