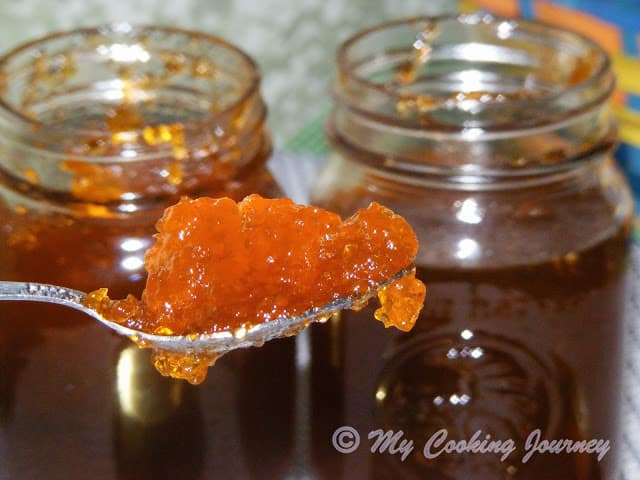 When there is abundance of something our imagination goes beyond and over and we try out things that we have never even thought of before. That is usually my case at the end of every summer. I plant so many peppers (different varieties though) during the beginning of the season that by the end of summer I have an abundance of every kind. Though I freeze lot of peppers I still end up having a lot to use up.
Last spring when we went on a vacation to Florida by road, I had an opportunity to visit several small farm stores on our way back. At one such place, we bought a jar of jalapeno jelly. We instantly fell in love with the jelly. It was very hot and it was very sweet at the same time. It fits the Indian palette very well (at least those who still like their food spicy). After tasting the jelly, I decided that I can use this jelly in several recipes. So that is exactly what I did. I made couple of jars of this jelly from peppers that I had frozen from last year.
This jelly would work great as a spread on bread sandwiches, but other than that we could use this jelly in stir fries and also as a marinade on paneer, tofu or vegetables. I love this as a side for my parathas, dosai etc. The sweet and spicy with a little bit of sourness from the cider vinegar works great.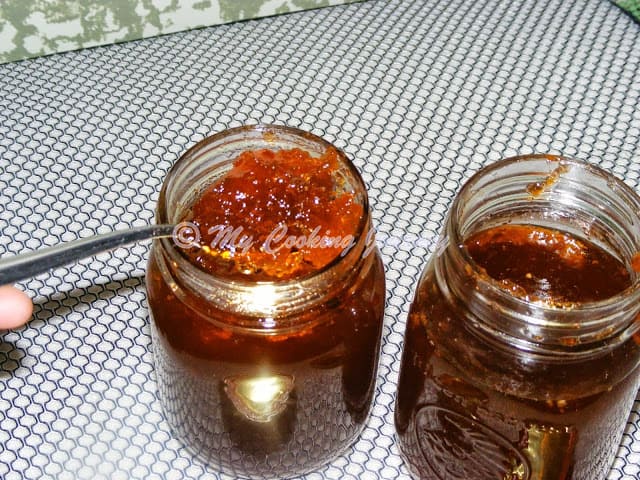 A-Z Marathon – Alphabet J
Category – Condiments
Preparation time – 30 mins
Cooking time – 30 mins
Difficulty level – medium
Recipe source – Ball blue book – guide to preserving
Ingredients to make Jalapeno Jelly Recipe – (makes 2 pints)
Jalapeno peppers – about 1 cup (stems removed and de seeded)
Cider vinegar – 1 cup
Sugar – 3 cups
Liquid pectin – 1 pouch
Red food coloring – optional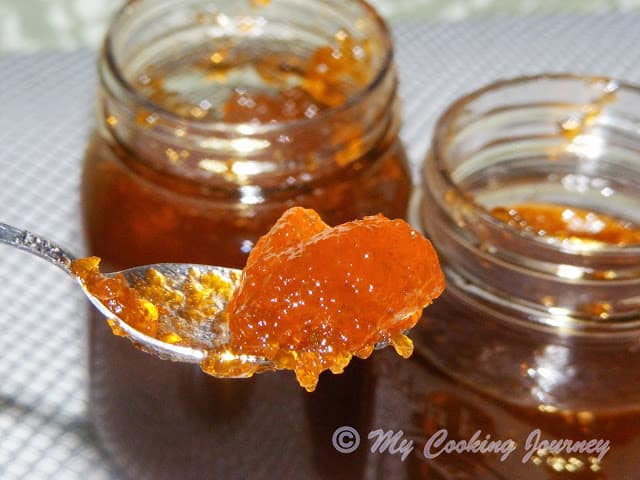 Procedure –
Wash and drain the peppers. Remove the stem and de seed them. You could leave few seeds if you like your jelly a little bit extra spicy. I skipped this step, since I used peppers from last year that were frozen. So I never had a chance to remove the seeds. The peppers were frozen with the seeds and hence in mu jelly they went in with the seeds (the jelly ended up being quite spicy though). So I would highly suggest that you remove the seeds at least for the most of the pepper. Also do wear gloves when working with the peppers, especially if you have kids around you. We might be tempted to lift them or wipe their face and forget that our hands dealt with hot peppers (been there, done that).
Puree the peppers with the cider in a blender.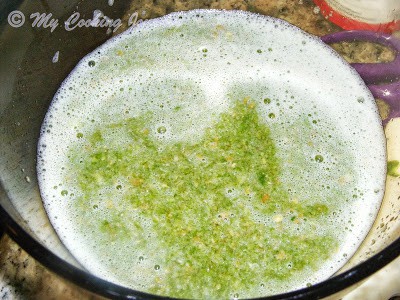 Combine the puree and the sugar in a large sauce pan. I would use a non aluminum sauce pan just because the vinegar is acidic.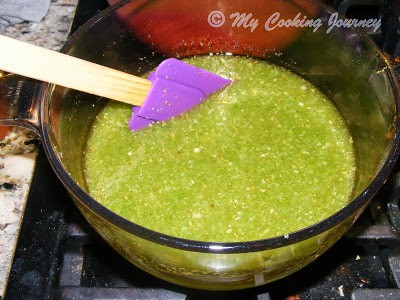 Bring the mixture to a boil, stirring frequently. Let it boil for 10 minutes.
Now stir in the liquid pectin and bring it to a rolling boil again. Boil hard for 1 minute then stirring constantly. At this stage add the food coloring, if using to bring it to your desired color.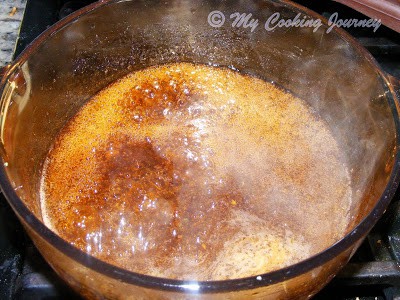 Ladle hot jelly into jars. If canning the jellies, follow your manufacturer's instructions to can them. But from my experience this jelly remains fresh in refrigerator for about 6 months.
Allow the Jalapeno Jelly to cool entirely so that they can set well.