This spiced Mixture of puffed rice, nuts and raisins
makes a great evening snack with a cup of coffee or tea.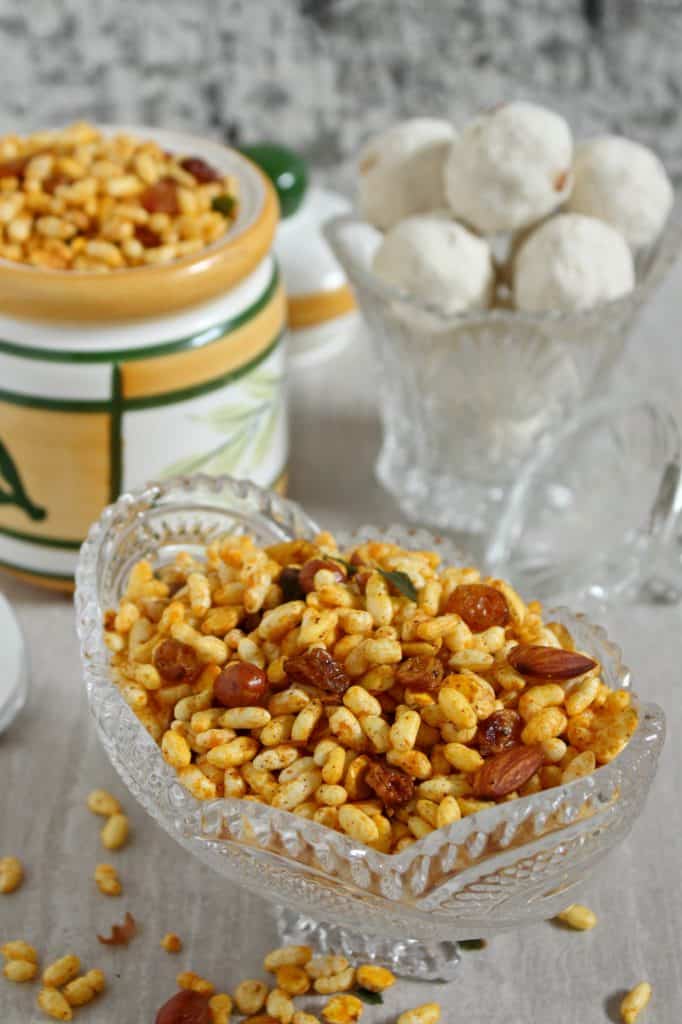 Diwali is never complete without mixture. The traditional South Indian mixture has many individual components that are then combined. Making the traditional mixture is quite time consuming and hence many times I just end up making the kara boondhi by itself or the Oma podi / sev by itself. This Kara pori mixture /Murmure mixture is the perfect alternate to the traditional mixture without being too time consuming.
When I went to one of my good friend's house recently, she had made a big batch of this kara pori mixture to snack on. I fell in love with it and had to ask her the recipe to make it. So, this recipe is given to me by my dear friend Ranganayaki. The recipe fit right into my theme for this week, which is Diwali sweets and savories. I chose to make quick and easy recipes that can be made under 30 minutes.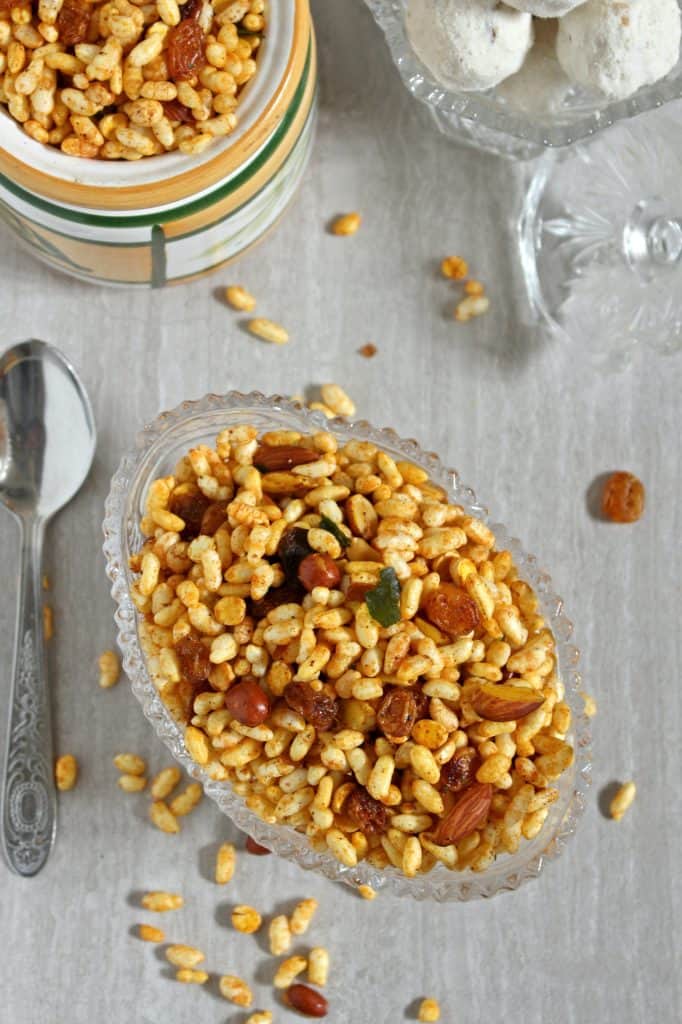 I had bought a big batch of traditional South Indian mixture when I came from India, and just recently we finished the whole batch. My son was missing the mixture really bad as he loved to munch on them right after he got back from school. He was very excited when I made these Kara Pori Mixture yesterday and had been happily munching on it after school. He loved the addition of the raisin and asked if I could add a little more. Then comes my little one from school and when he ate the murmure mixture, he said that he loved it except for the raisins and asked me, If I could make it next time without the raisins.
I came up with the perfect solution that made both of them happy. I picked out the raisins from my little one's bowl and added it to the older one's bowl. They both got what they asked for. Don't we mother's have the perfect solution to all the problems?
When making this Kara Pori Mixture, use a large pot. It makes it easier to stir as there could be a lot of spilling otherwise. Also make sure that you have all the ingredients measured and lined up as they go in quickly one after the other into the pot. Sliced dehydrated coconut could also be added to the Kara pori mixture. I did not use any as my little one is not a big fan of coconut.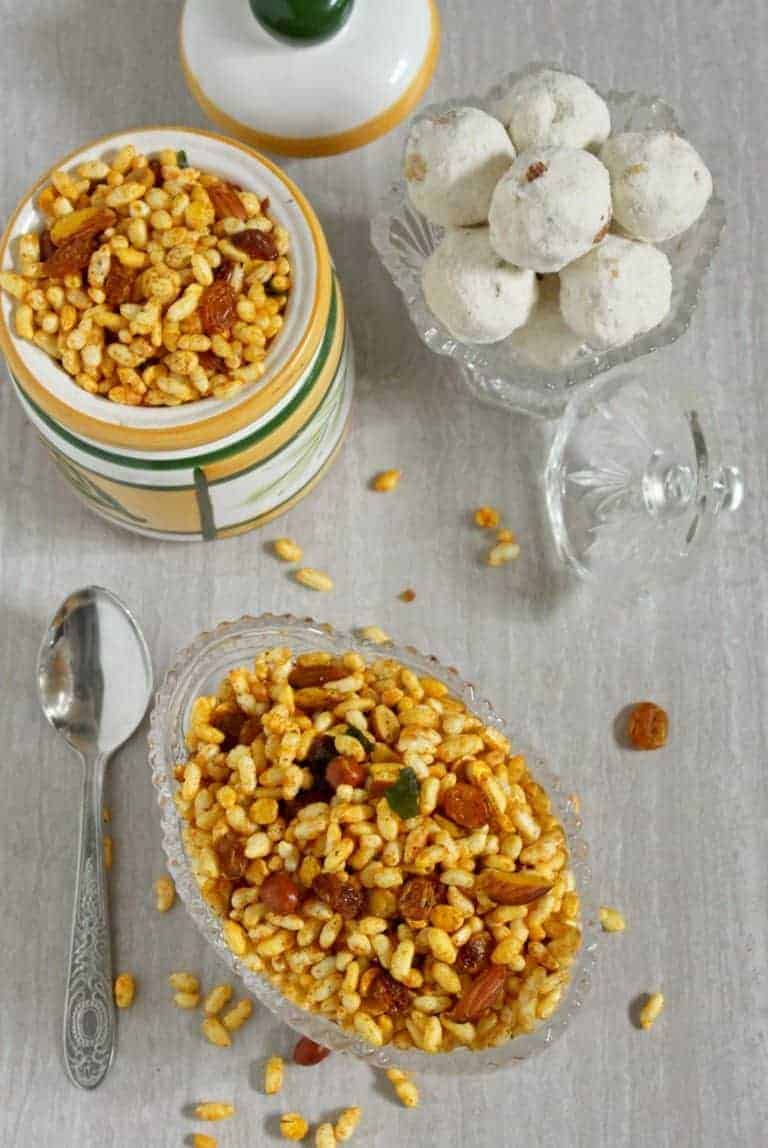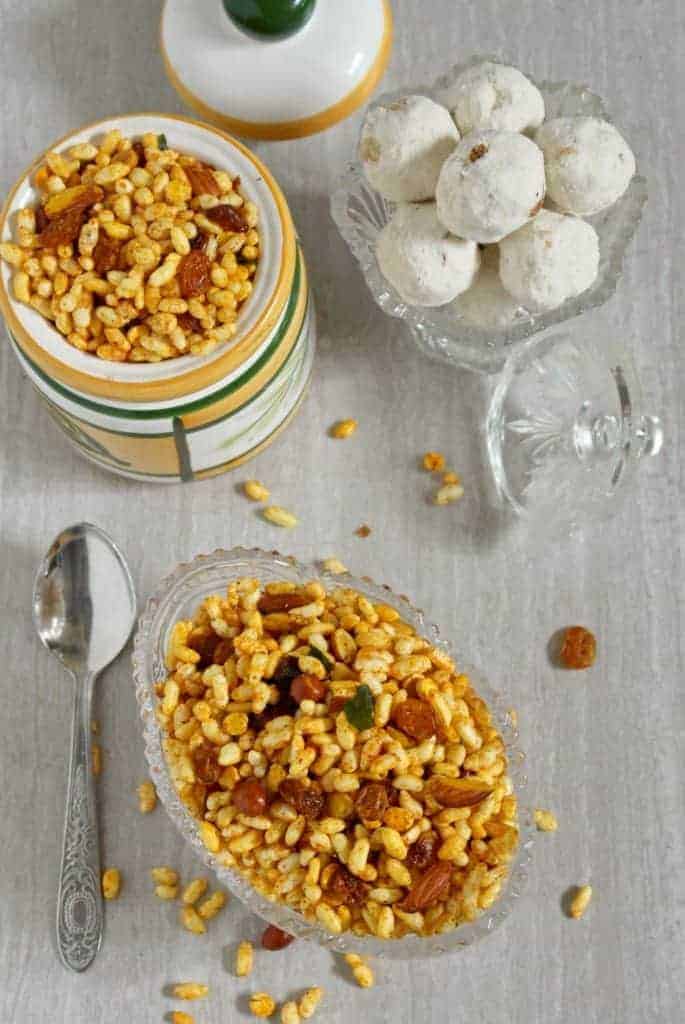 Preparation time – 10 minutes
Cooking time – 15 minutes
Difficulty level – easy
Ingredients to make Kara Pori Mixture – Makes about 8 cups
Puffed rice / pori / murmure – 6 cups
Pottu kadalai / roasted gram / dalia – 1/2 cup
Peanuts – 1/2 cup
Almonds – 1/2 cup
Raisin – 1/2 cup
Oil – 4 tbsp
Mustard seeds – 1 tsp
Turmeric powder – 1/2 tsp
Asafetida – 1/4 tsp
Red chili powder – 2 tsp (adjust based on your spice level)
Salt – to taste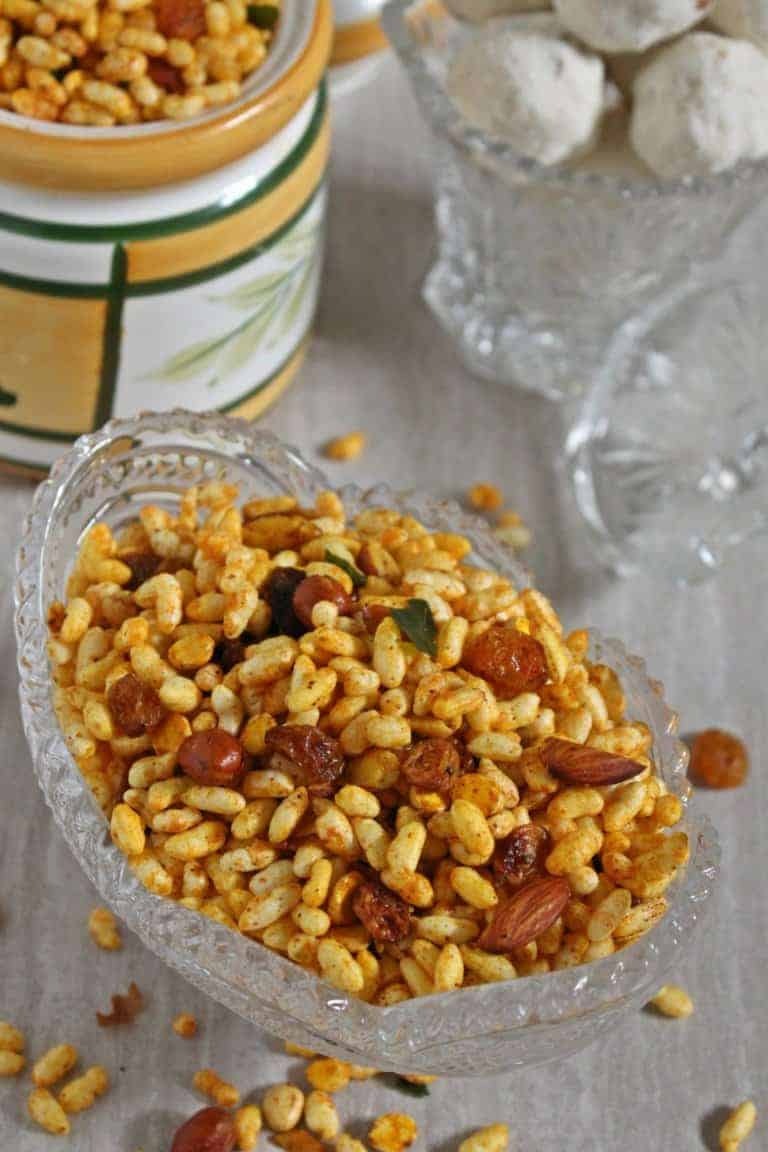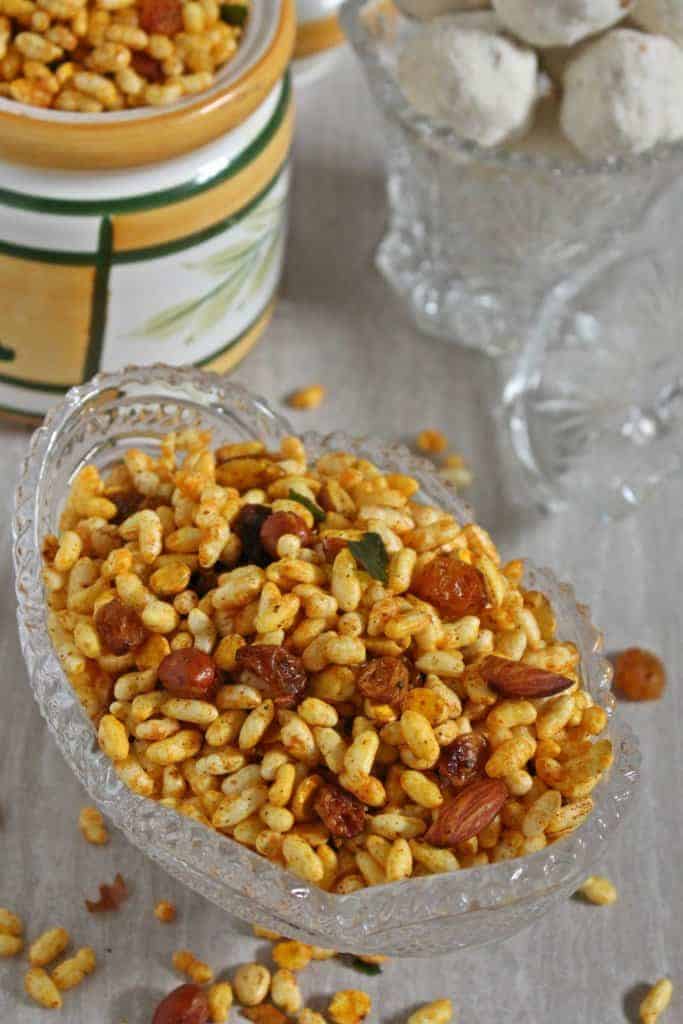 Procedure –
Measure all the ingredients and keep them ready before we start making the mixture. ll the ingredients go in one after the other in a quick order and hence keeping everything measured and ready helps.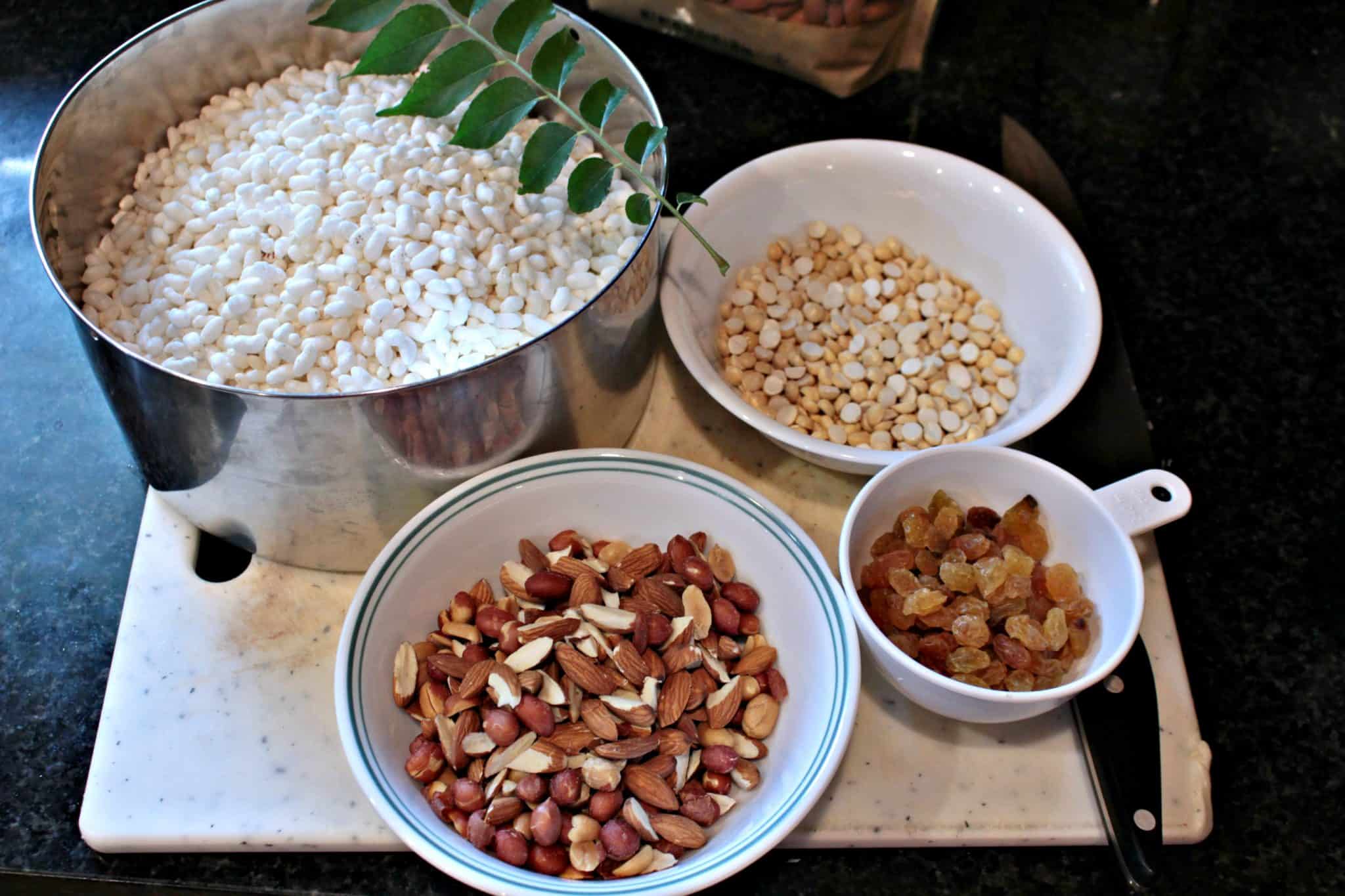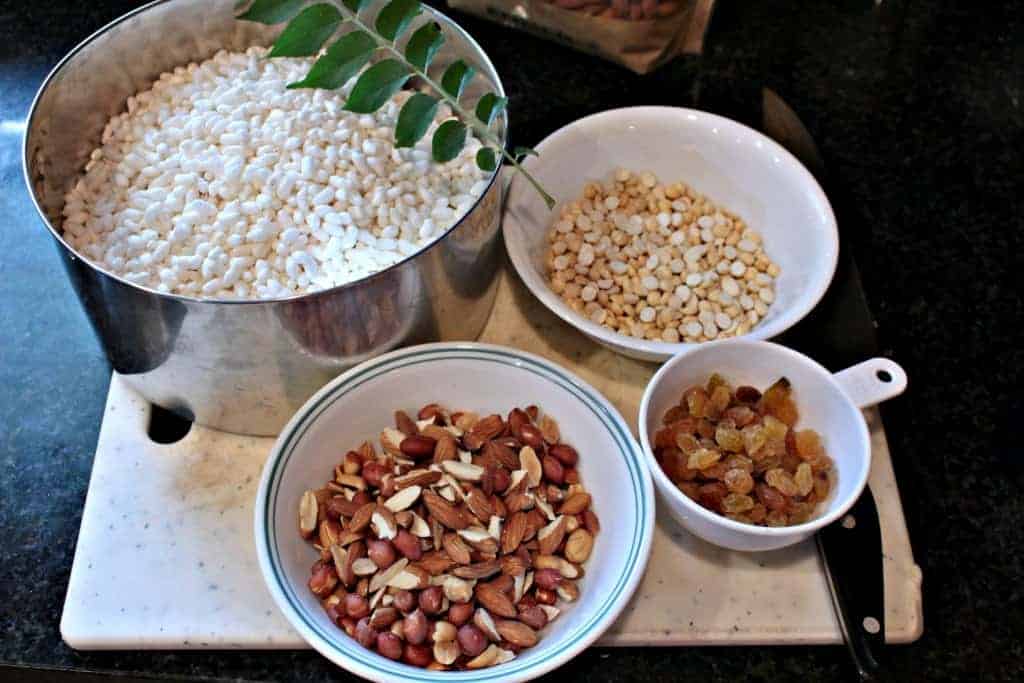 We need a large (tall) pot to make the mixture as mixing would be a easier. Heat the oil and add the mustard seeds. Once the mustard seeds crackles, add pottu kadalai/roasted gram and fry until it is lightly roasted and light brown in color.
Next add the almonds and the peanuts and let it fry as well until lightly brown. Now add the curry leaves and let it fry.
Add the raisins and fry for couple of minutes until the raisins are puffed up.
Now add the asafetida, turmeric powder, salt, and give a good mix.
Add the red chili powder and right after add the puffed rice and mix well. It helps to hold the handles of the pot and shake the pot to help thoroughly mix.
Let the puffed rice remain in low heat for 4 to 5 minutes to make it crunchy. Keep mixing the mixture to avoid burning.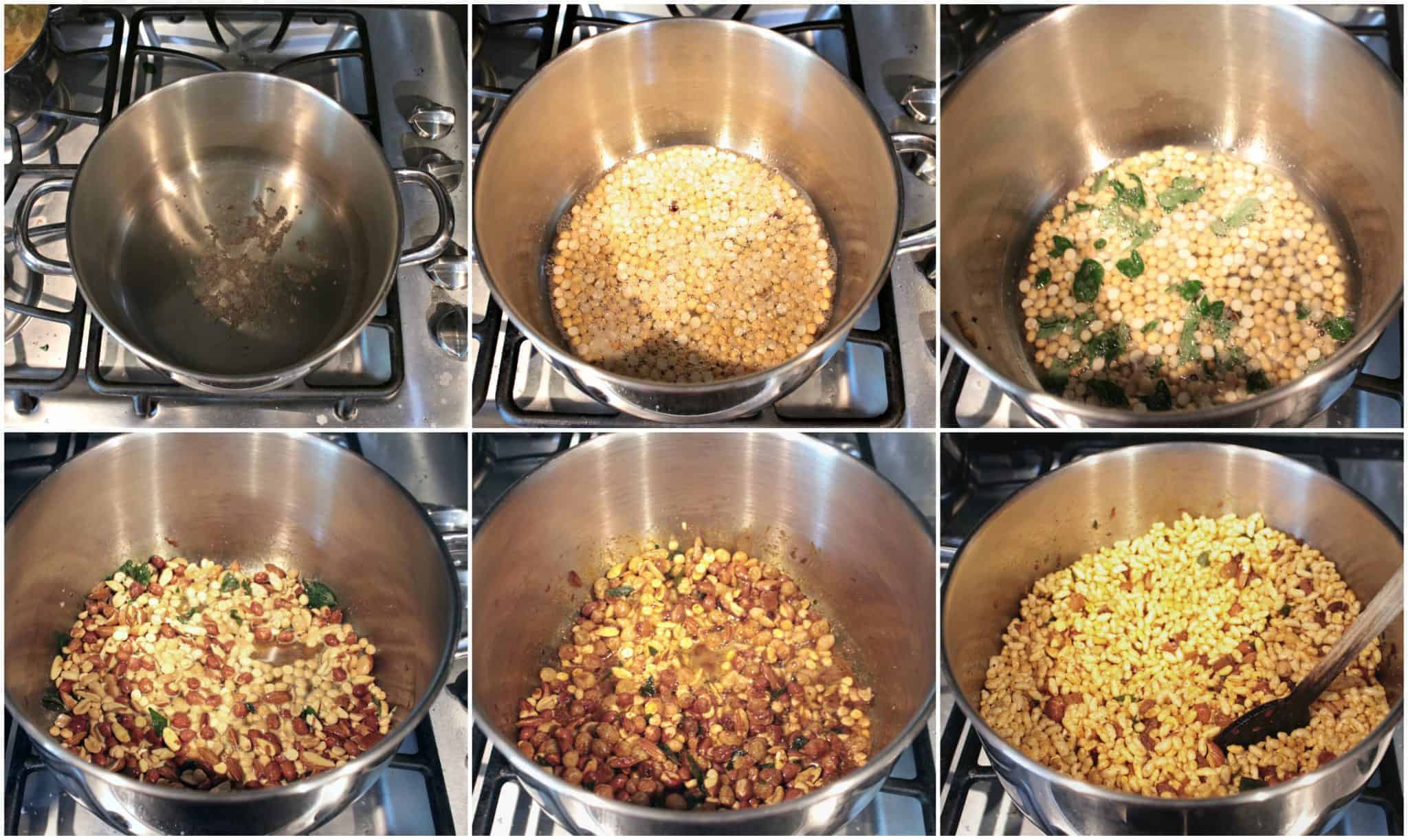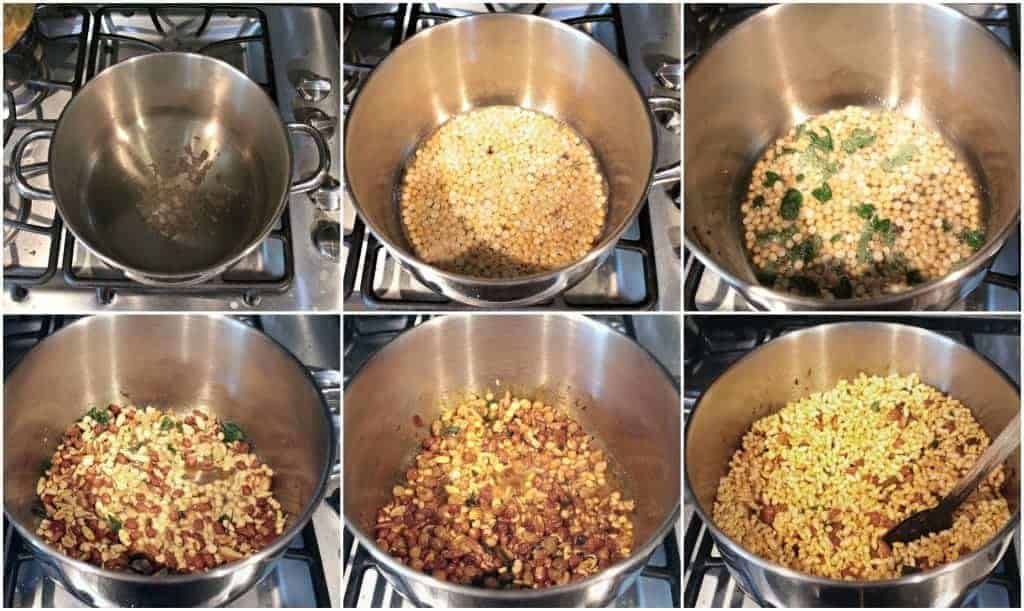 Let the mixture cool down entirely before storing in an airtight container.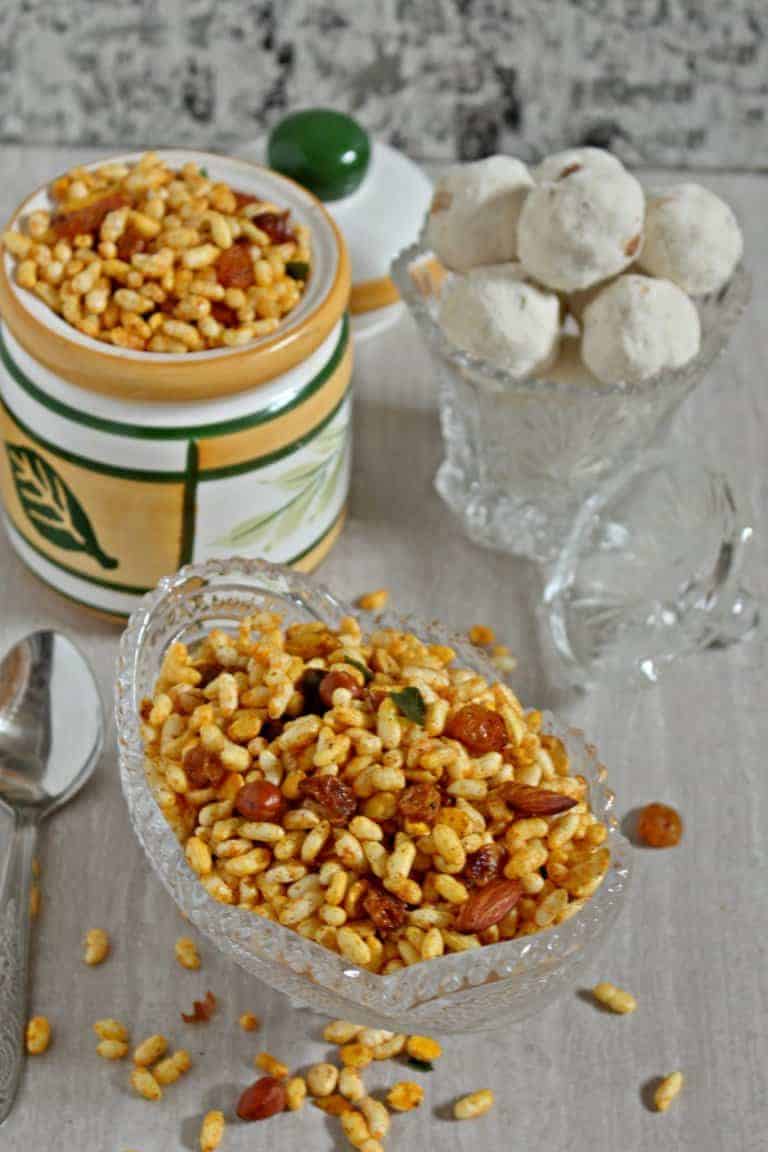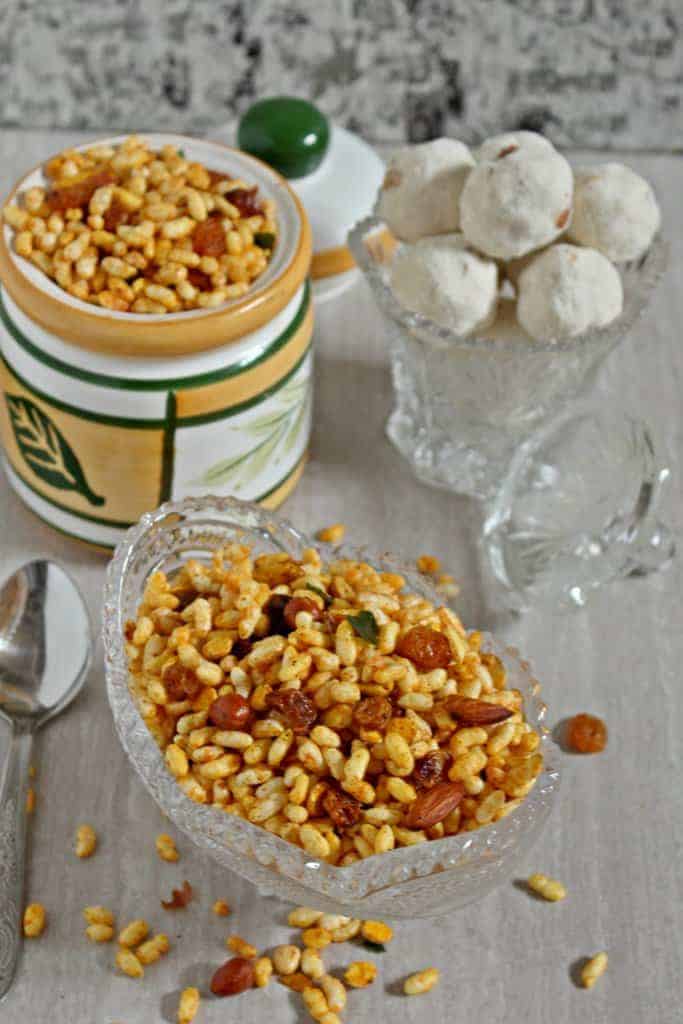 Pin the Recipe here –