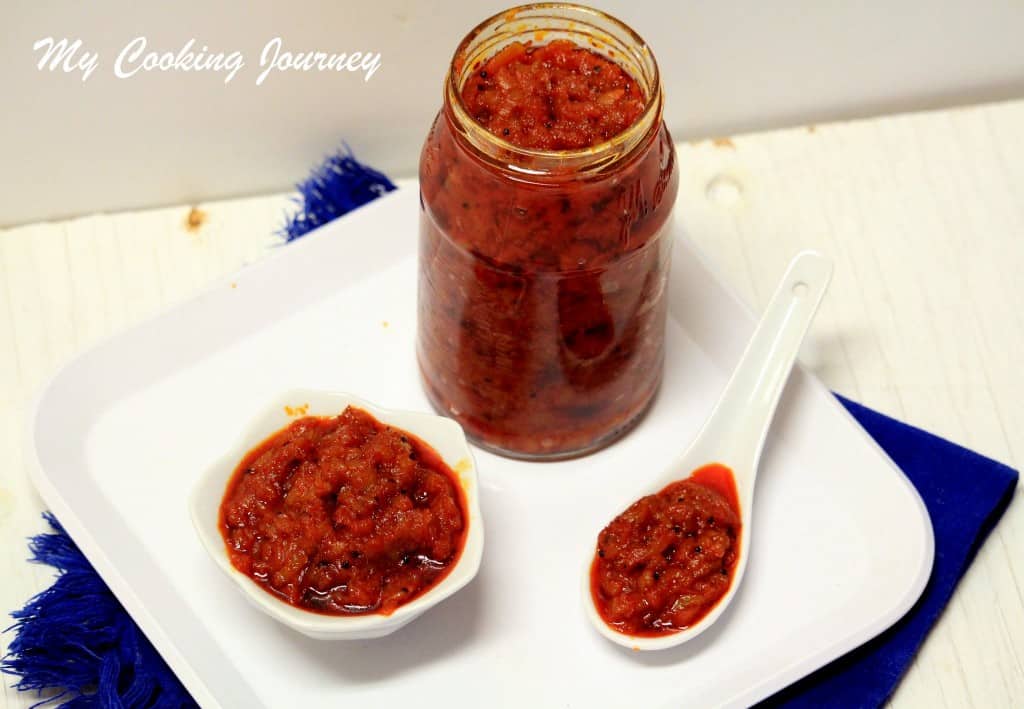 Summer is almost over and today is the first day kids are back in school. Summers in India always means fresh homemade pickles that are made and stored for the entire year. Avakkai and Maavadu are my two favorite mango pickle and my mother always makes a large batch of it and sends it back to US every year. In India, mangoes are quite seasonal and pickles are made only during the season. Back here in US, mangoes are available year around for the same cost and simple pickles like this Mango thokku, or the cut mango pickle (Menthiya Manga) can be made anytime of the year.
I made this pickle last month when I found a really huge raw mango in the stores. I initially thought of using half the mango to make Mango Pachadi, which happens to be everyone's favorite at home and then using up the rest to make the cut mango pickle. But my mother suggested I make the Mango Thokku and store it. It turned out to be a great idea as ever since then my little one has been requesting curd rice only to be eaten with this pickle. I realized that I had made the thokku a little less spicy and that turned out well as the kids are able to enjoy it without complaining.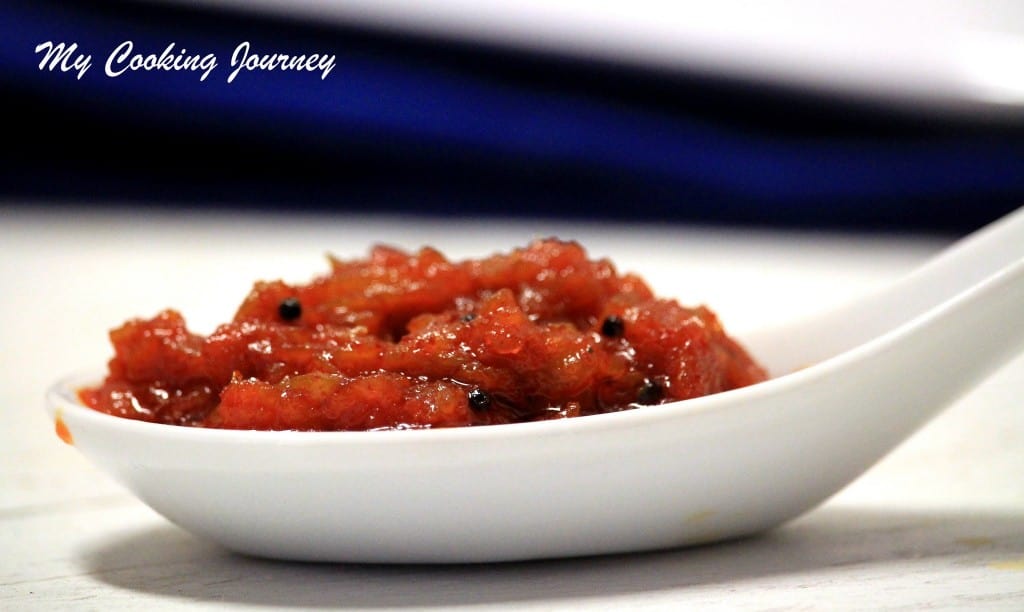 Preparation time – 20 minutes
Cooking time – 50 minutes
Difficulty level – easy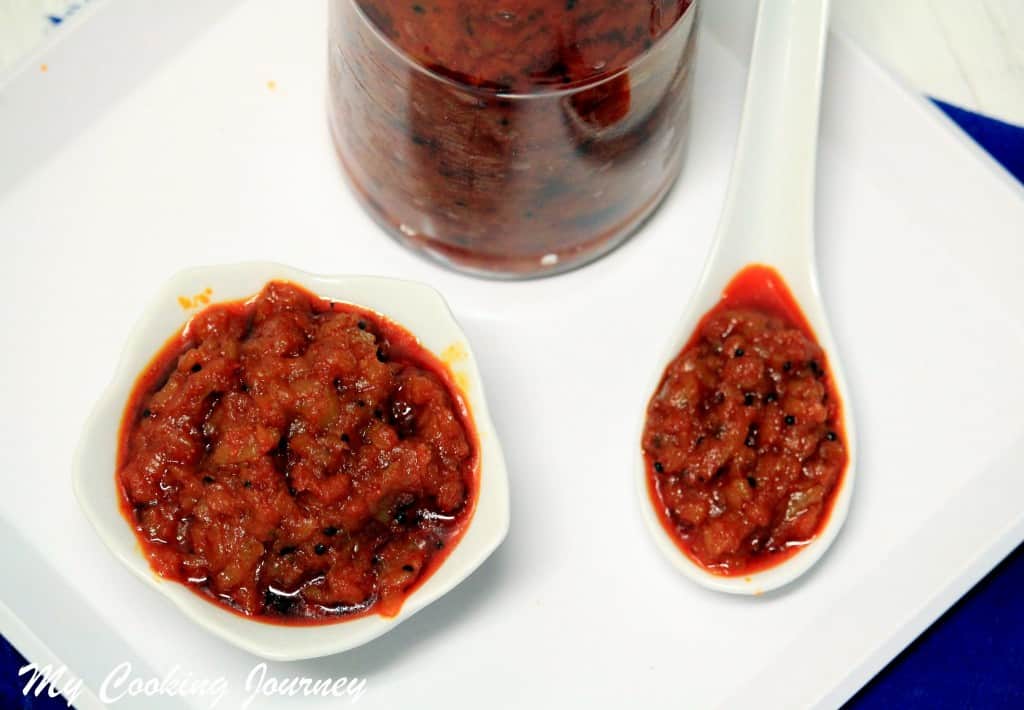 Ingredients to make Mango Thokku – Makes a little more than 16 oz / About 2 cups
Raw Mango – 1 large or 2 medium or about 4 cups grated
Sesame oil / Gingelly oil – ¼ cup
Red chili powder – ⅓ cup (I used Kashmiri red chili powder which is mild)
Mustard seeds – 1 tsp
Turmeric powder – ½ tsp
Asafetida – ¼ tsp
Fenugreek powder – 1 tsp
Salt – to taste
Jaggery / Brown sugar – 1 tbsp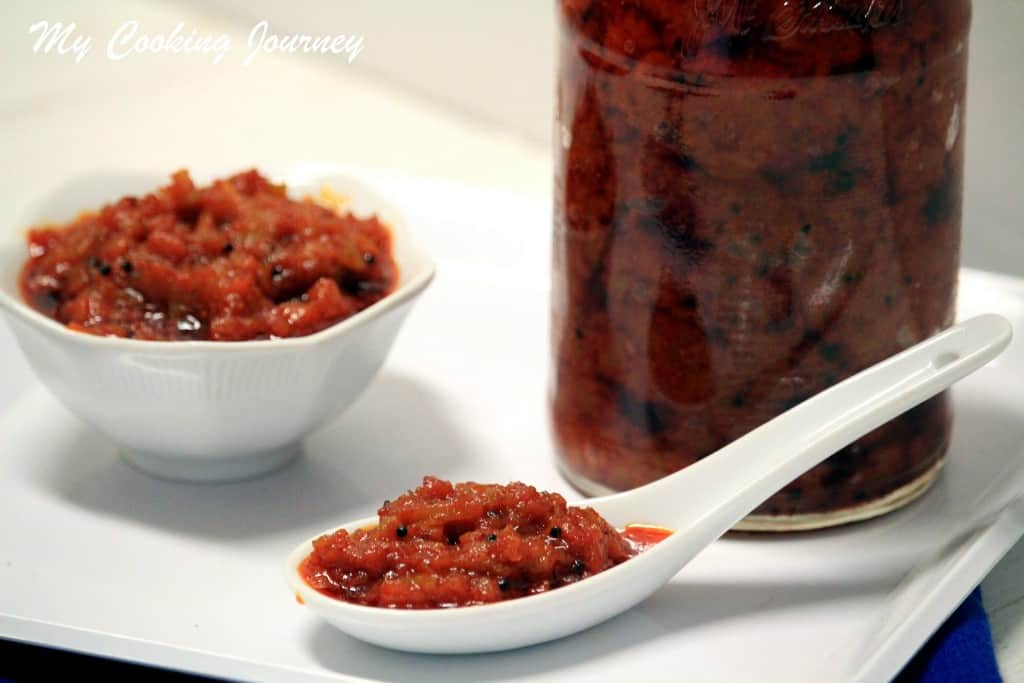 Procedure –
Make the fenugreek powder – Fry about 1 tbsp of fenugreek/ methi seeds in a pan until golden brown and aromatic. Let it cool down to room temperature and then grind it into a smooth powder. You could make a large batch of it and store it in an airtight container to use.
Wash and wipe the mango and peel the skin. Grate it using a grater. Since my mango was very big, I sliced it into large pieces and then grated it. This way it was easy for me to hold down on the mango. If using medium or small ones, peel the skin and grate it until you reach the seed.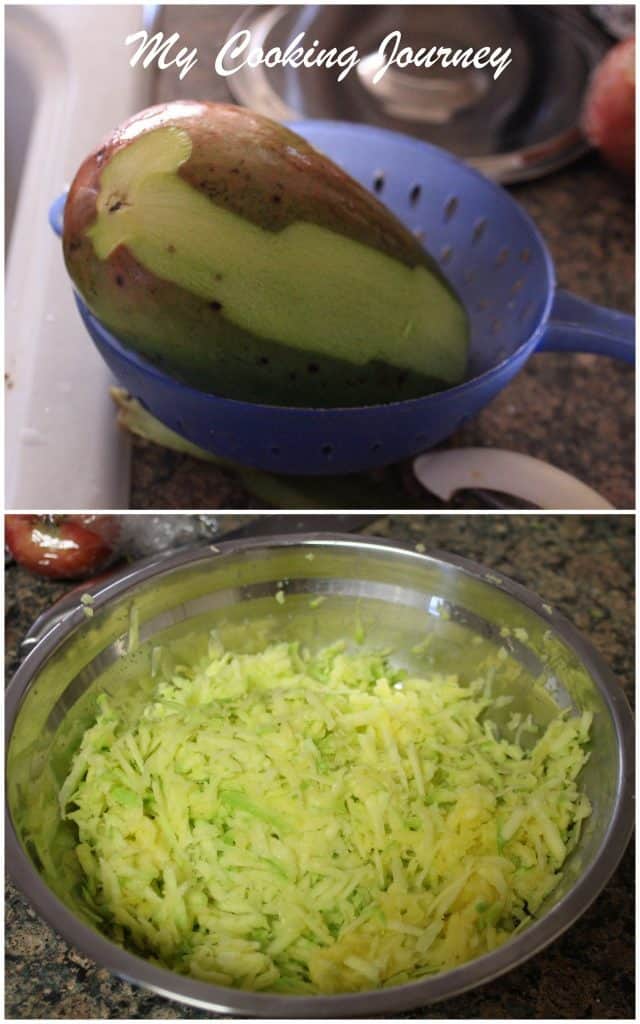 In a heavy bottom pan / Kadai, heat the oil. Be liberal with the oil as it helps preserve the pickle. If making small quantity that you might not store longer, you could go a little easy on the oil. Add the mustard seeds, turmeric powder and asafetida. Let the seeds splutter.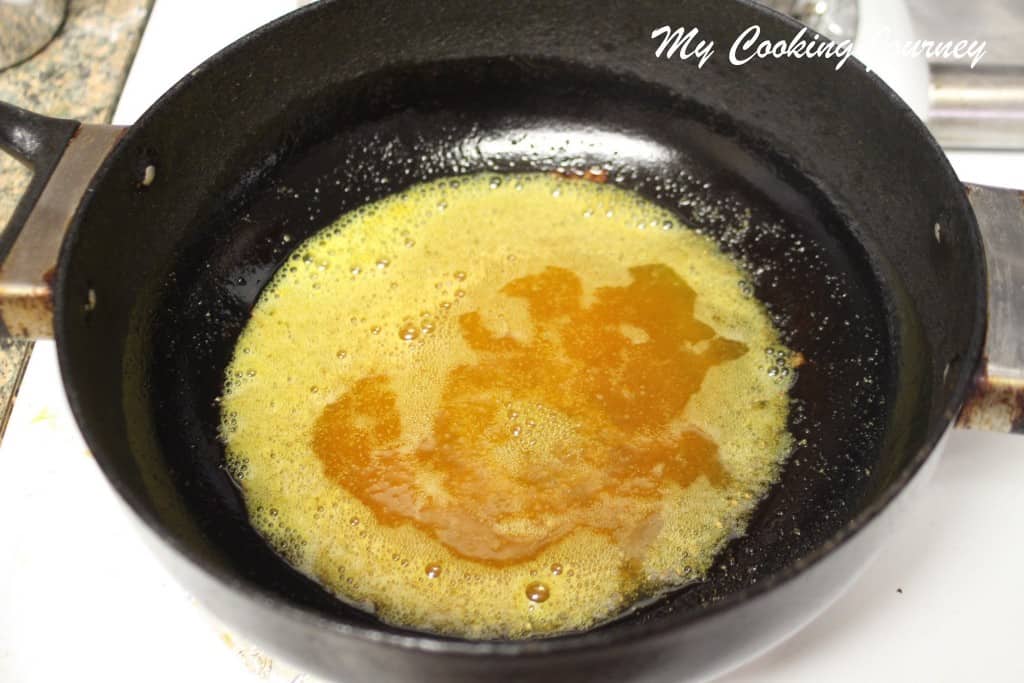 Add the grated mango and mix well. Fry the mango in medium heat for about 5 minutes. Now cover the pan and let the mango cook in low to medium heat for about 15 minutes. Keep stirring every now and then. At the end of the cooking time, you will notice that the mangoes are much softer and you could mash them with the back of the ladle.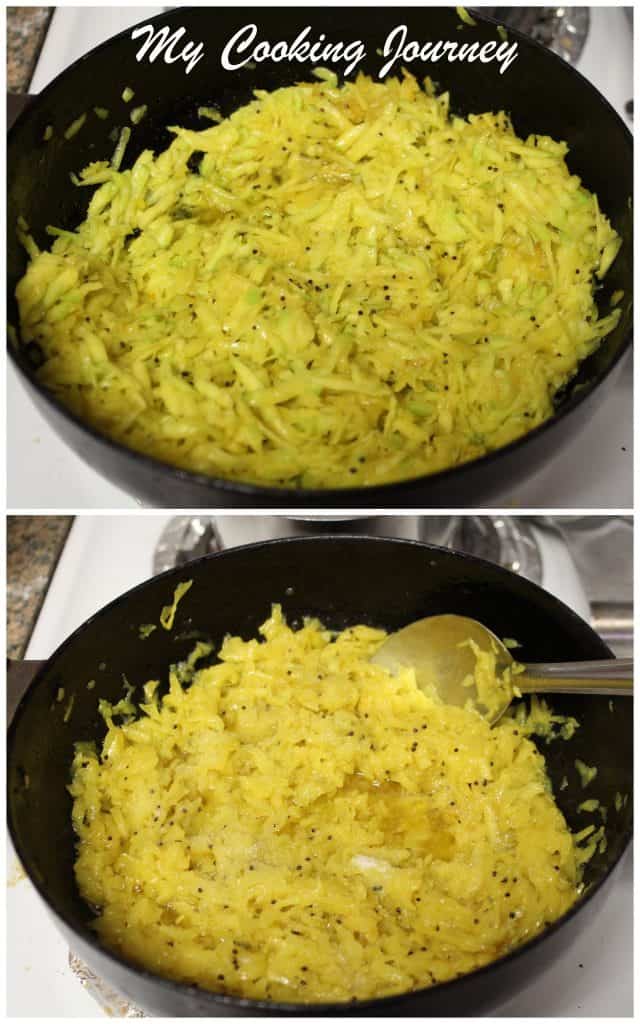 At this stage add the salt and red chili powder and mix well. Cook again in low heat until the mangoes are further cooked, and the oil separates from the pickle. This could take about 15 to 20 minutes.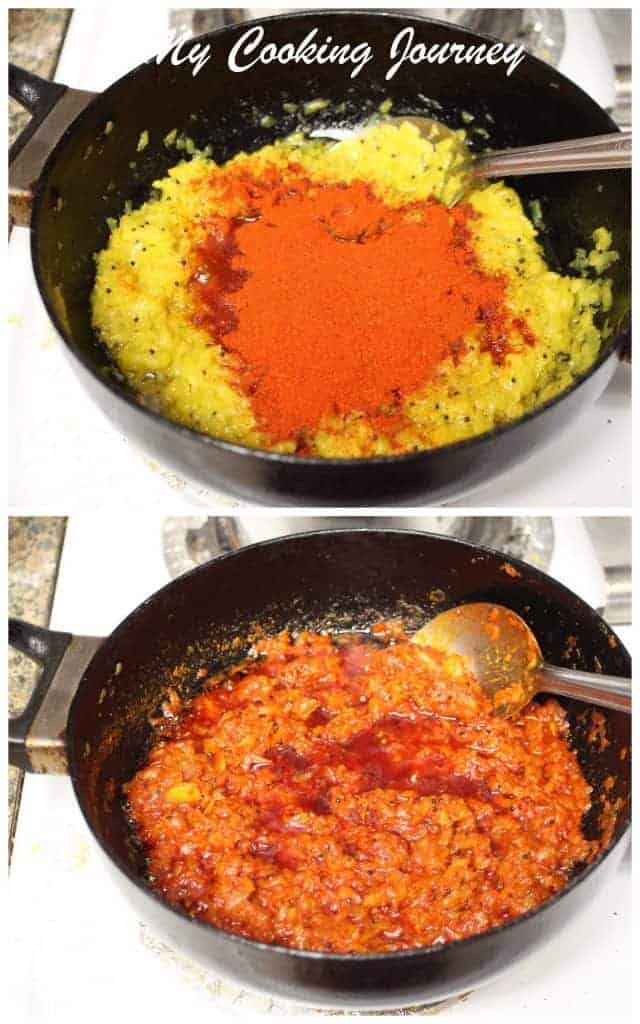 Add the jaggery and mix well. Cook for about 5 more minutes. At this stage the pickle would have thickened to the required consistency.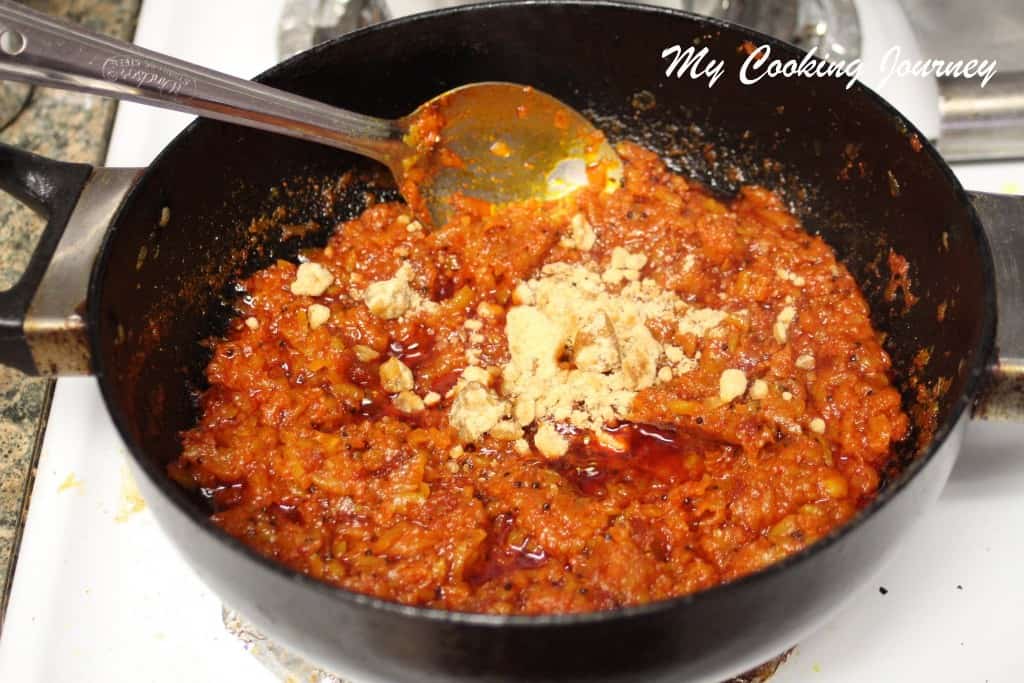 Add the fenugreek powder and mix well. Turn off the flame and let the pickle cool down to room temperature. After adding the fenugreek powder, make sure you don't cook any further as it could make the pickle taste bitter.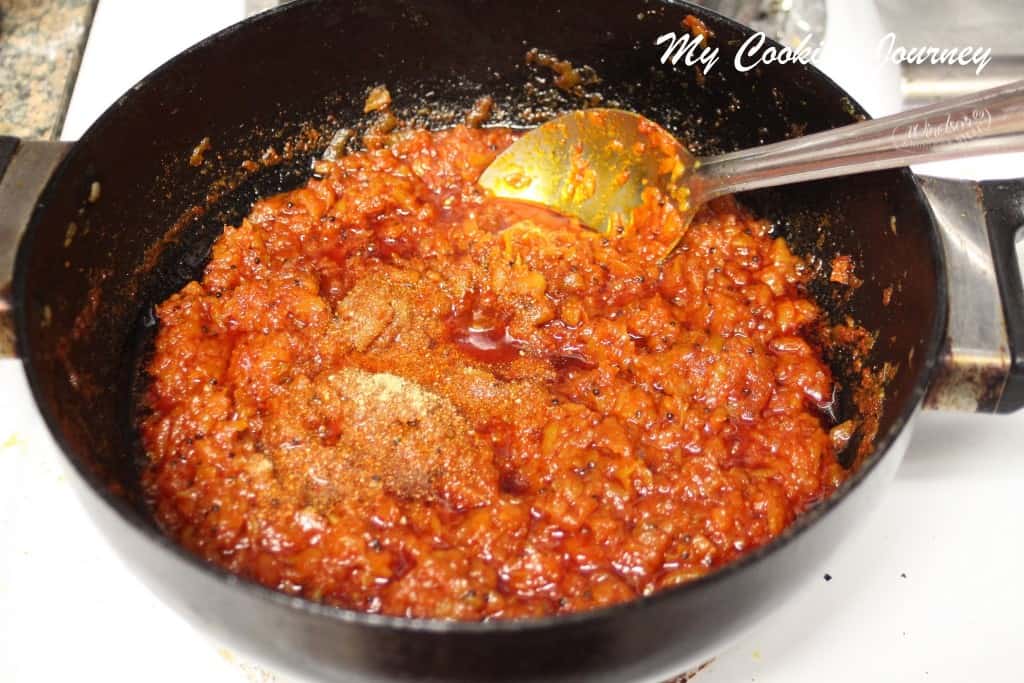 Once the pickle cools down, transfer it into glass jars. The pickle can remain outside if it is not too hot. Store in refrigerator during summers and always use clean and dry spoon when taking the pickle out. Any moisture in the pickle will cause it to spoil sooner. The pickle should remain good for at least a month in the refrigerator if stored with care. If more oil is used, it acts as a preservative and forms a film on top of the pickle that keeps the atmosphere moisture away.