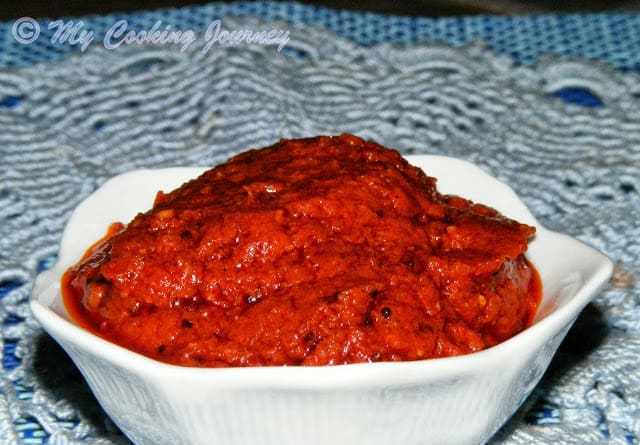 The tomato season is coming to an end soon. This month's blogging marathon had been a wonderful way for me to show my readers what I do with my tomatoes every year. Thakkali thokku or Tomato Pickle is an excellent way to use up soft or slightly over ripe tomatoes. This spicy pickle works great with idli, dosa and roti's apart from its best accompaniment, curd rice.Just a synopsis of the way I use up the tomatoes. There are three different things that I do every year with the tomatoes.1.
Freezing tomatoes
– In this post I have explained how I freeze the tomatoes to use up during the winter months. This process utilizes the tomatoes that firm without any external blemishes.
2.
Marinara Sauce
– I make big quantity of marinara sauce and I either can them or freeze them in individual serving sizes. Works very well for a quick weeknight dinner.
3.
Thakkali thokku
– This pickle uses up a large amount of tomatoes and like I mentioned overripe or soft tomatoes can be used to make this.I usually make this tomato pickle is few small batches through the season. The shelf life is not great for this pickle when compared to the other pickle like bitter gourd pickle. If used with care, this pickle will stay fresh for up to a month in the refrigerator.Few things to remember when trying to increase the shelf life of pickles – always use fresh spoon to take out the pickle. Make sure the spoon is dry when you put it in. Also make sure that your hands are dry when dealing with the pickle. The more moisture free they are kept the better they last. Also using slightly more oil than usual will increase the shelf life. For this reason I make several small batch and then store them airtight in the coldest part of the refrigerator. Open only one jar at a time and use it up before you use the next jar. Also if you have more than one refrigerator like me, store the pickle in the refrigerator that is not opened frequently.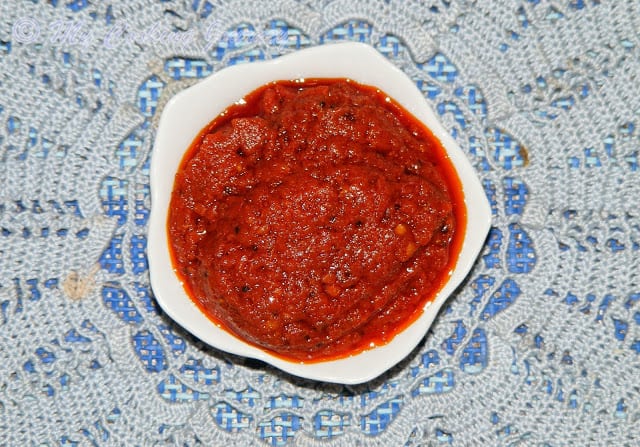 A-Z marathon – Alphabet T
Category – Regional
Preparation time – 5 mins
Cooking time – 40 mins
Difficulty level – easy
Ingredients to make Thakkali Thokku - To make a ½ a pint pickle
Tomatoes – 1 kg
Gingelly oil – 4 tbsp
Mustard seeds – 1 tsp
Turmeric powder – ½ tsp
Red chili powder – 2 tbsp (medium spicy)
Asafetida – ½ tsp
Fenugreek powder – ½ tsp
Salt – to taste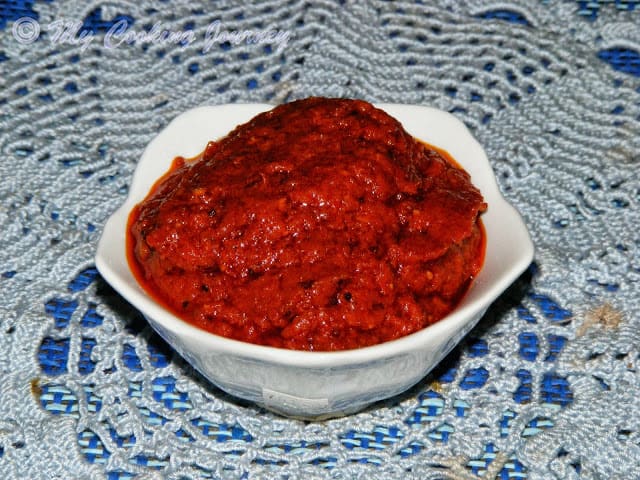 Procedure –
To make the fenugreek powder – Dry roast the fenugreek seeds until golden brown and aromatic. Cool down and grind it in to powder using a spice blender.
Chop the tomatoes into large pieces and grind them in a blender. Do not use water when grinding.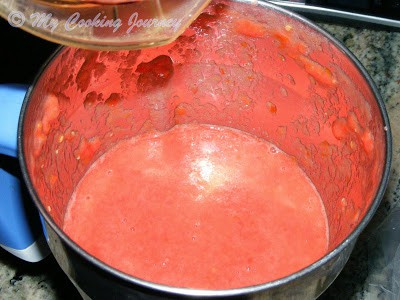 In a deep pan, heat the oil and add the mustard seeds. Once the seeds sputter, add the turmeric powder, chili powder and asafetida. Fry for 30 seconds.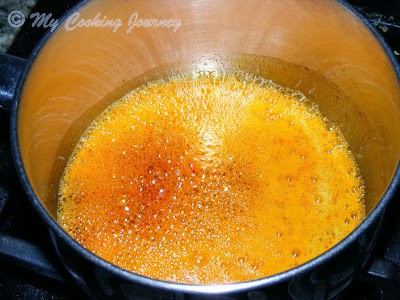 Now add the tomato puree and bring it to a boil.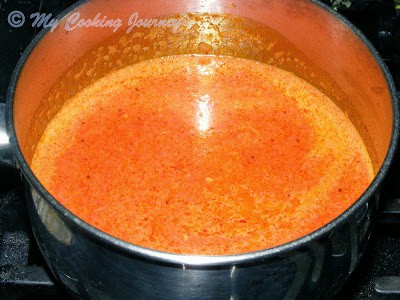 Cover the pan with a little gap and simmer until the tomato cooks. Stir every now and then.
Once the tomato pickle has reduced well and has thickened to almost the right consistency, add the salt and mix well. Also add the fenugreek powder and mix well. Let it simmer for 5 more minutes and then take it off the flame.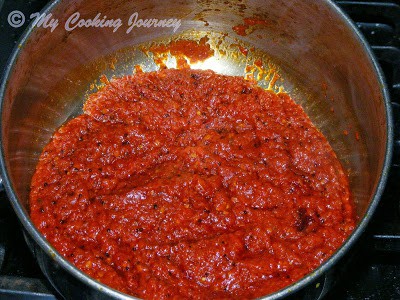 Let it cool down completely and then store the tomato pickle in an airtight container.