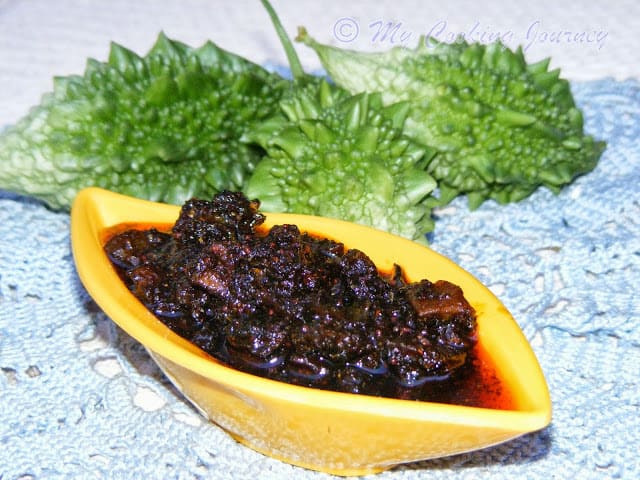 Pavakkai Urukkai is yet another recipe that I had changed at the last moment for the alphabet P. Like I mentioned earlier, this is a very busy time for me in the kitchen. The vegetables are being harvested at full force and I am constantly chopping, preserving and cooking them. Lot of recipes that I made for this marathon was based on what is growing in my backyard.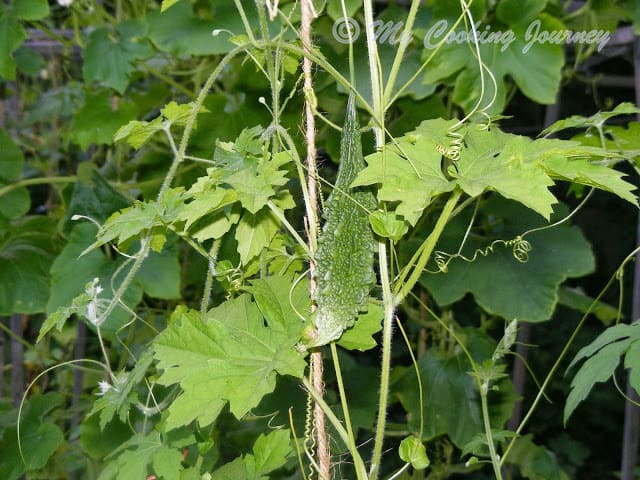 This year among the seeds of bitter gourd that we planted, we found that few were seeds of the small tiny variety, which is also called the midhi Pavakkai in Tamil. They were so cute to see on the vine. The usual recipe that I make with the bitter gourd is pavakkai Pitlay and pavakkai curry. Thinking of a different recipe to make, I remembered a pickle that I had eaten made of bitter gourd. I think Priya pickles have the bitter gourd variety.
The recipe is pretty straightforward and my mother suggested that I had a little bit of sesame powder at the end to give it a different flavor. So I chose this recipe for my letter P under the regional category.
A-Z Marathon – Alphabet P
Category – Regional
Preparation time – 10 mins
Cooking time – 30 mins
Difficulty level – easy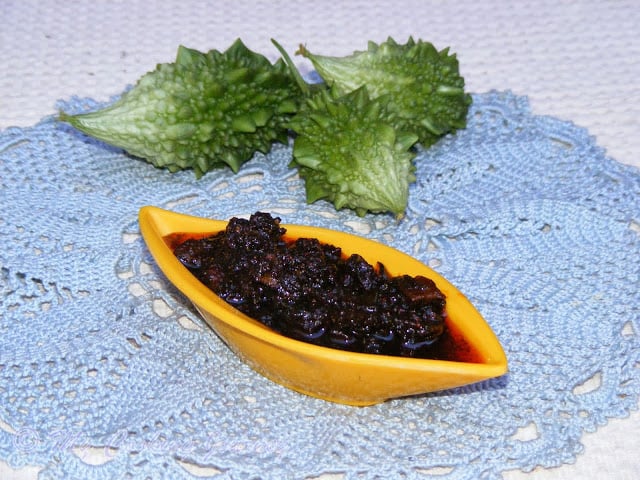 Ingredients to make Pavakkai Urukkai – (makes about 1 cup of pickle)
Pavakkai/ bitter Gourd/ bitter melon – 2 cups (chopped)
Oil – 2 tbsp plus about ½ cup to fry the bitter gourd
Tamarind paste – 1 tsp dissolved in about ½ cup of water (or thick tamarind extract ½ cup)
Jaggery or brown sugar – 2 tbsp
Mustard seeds – 1tsp
Turmeric powder – 1 tsp
Red chili powder – 2 tsp (this was medium spicy for us, adjust based on your spice preference)
Asafetida – ¼ tsp
Roasted fenugreek powder – ½ tsp
Roasted sesame powder – 2 tsp
Salt – to taste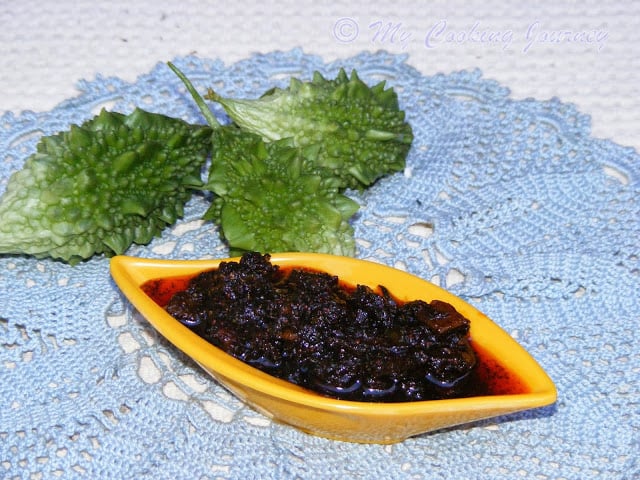 Procedure –
Fenugreek powder – Dry roast the fenugreek seeds and once cooled grind it into a smooth powder. Store in an airtight container and use as needed.
Sesame powder – dry roast the white sesame seeds until golden brown and then grind it into a smooth powder.
Cut the bitter gourd vertically and remove all the seeds from the center. Use a spoon to scrape the flesh and the seeds. Now chop the bitter gourd finely and wash it well.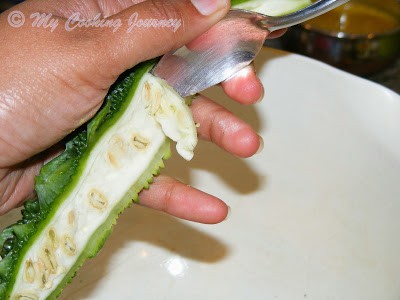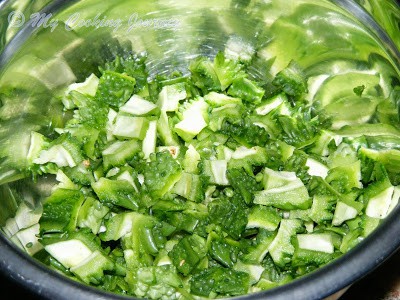 To the chopped bitter gourd add about ½ tsp of turmeric powder and 1 tsp of salt and mix well. Keep it aside for about 30 mins.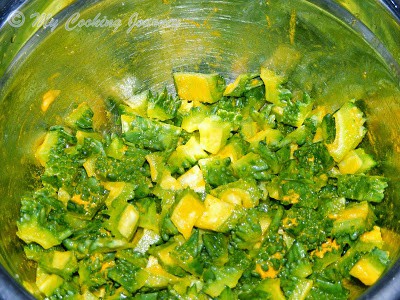 After 30 mins, you will notice that the bitter gourd has let out lot of water. Squeeze the water out of the melon.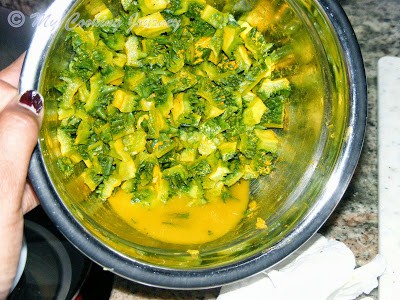 Heat about ½ cup of oil in a pan and fry the chopped pavakkai. Make sure that you don't use more oil, since this oil cannot be reused and has to be discarded.
Fry the pavakkai until it is golden brown. Drain it and keep aside.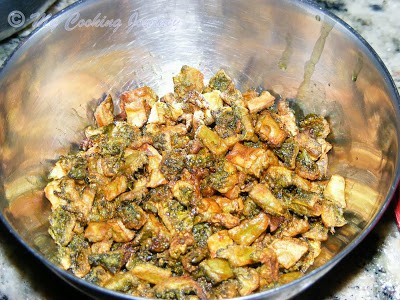 In another pan, heat about 2 tbsp of oil. Season with mustard seeds, asafetida and ½ tsp of turmeric powder. Also add the red chili powder.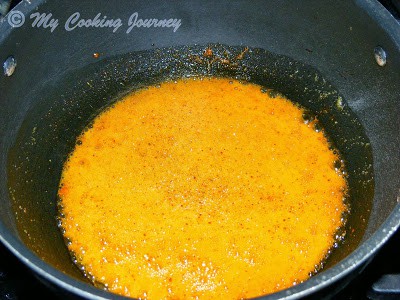 Now add the fried pavakkai, tamarind extract, brown sugar and salt. Let it come to a boil and then simmer until the pickle thickens.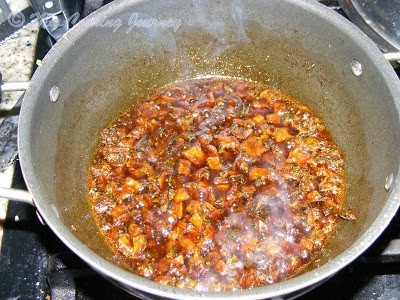 Add the sesame powder and fenugreek powder mix well and take it off the flame. Do not cook too long after the fenugreek powder is added, since it will become bitter.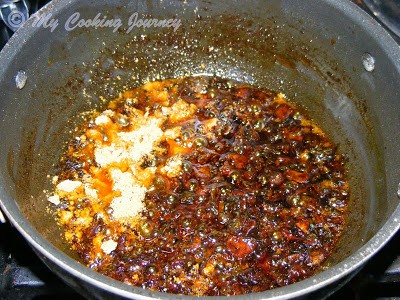 Let it cool down and then store in an airtight container.
Enjoy the Pavakkai Urukkai with curd rice, idli, dosa or roti!