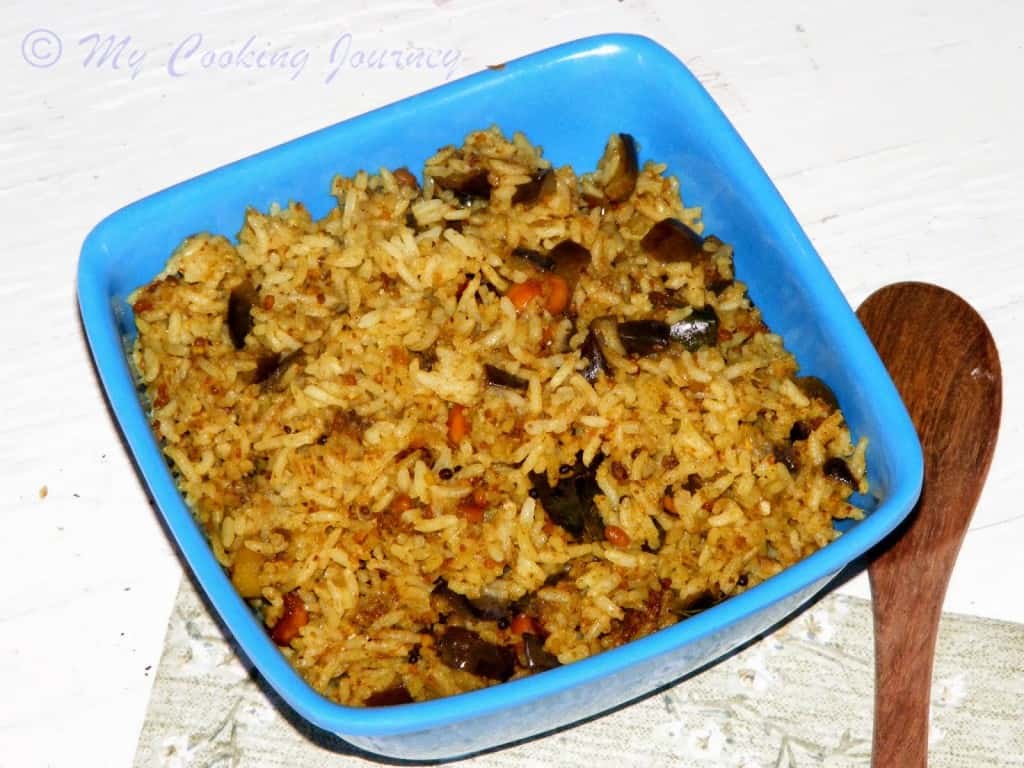 People who know me often say that I go out of control when shopping fresh produce. It is true that I have very less self control when I am surrounded by fresh fruits and vegetables. After many days or is it months or years, due to my knee injury, my husband volunteered to do my bi weekly shopping trip. I was so worried sitting at home, and thinking if he is going to bring back enough to get through the next few days. It clearly showed after his trip that it had been a while since he had gone shopping by himself. He had brought back loads of vegetables (thankfully it was this way and not the other way around) that I had to use them in couple of different dishes. After making eggplant curry couple of days back, I still had quite a bit eggplant left. So I made Vaangi Bhaat for my second day of blogging marathon under the theme Rice dishes.
I already have a Vaangi bhaat recipe in the blog, but this one has a different spice powder with more spices and I liked this a lot. So I thought I will share this version of it as well. It had been a while since I made it and my little one really liked it. I had made just enough spice powder to last for a day, but if you like the recipe, you could make a big batch of it and it stays fresh in the refrigerator for couple of months. This powder can also be used as a curry powder for different vegetables.
Preparation time – 15 minutes
Cooking time – 40 minutes
Difficulty level – easy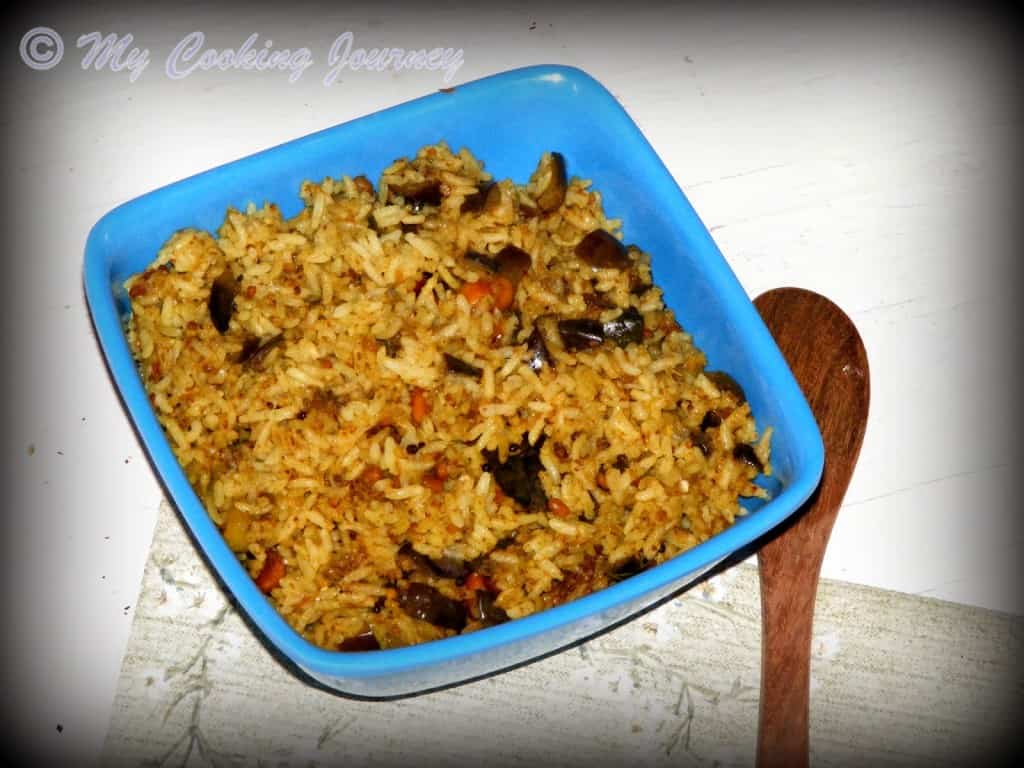 Ingredients to make Vaangi Bhaat– Serves 4
Rice – 1 cup (I used sona masoori)
Eggplant/small brinjal – about 10 (chopped into ½ inch cubes)
Masala powder – about 4 tbsp
Turmeric powder – ½ tsp
Tamarind – small marble size piece soaked in ¼ cup of water and then extracted or about ½ tsp of paste in ¼ cup of water
Salt – to taste
For seasoning –
Oil – 2 tbsp
Mustard seeds – ½ tsp
Ullutham paruppu /urad dal – 1 tsp
Red chilies – 2 (or you could substitute green chilies)
Asafetida – ¼ tsp
Roasted peanuts – ¼ cup
Curry leaves – few
For the masala powder – (makes enough to make 1 batch of rice)
Coriander seed – 1 tbsp
Kadalai paruppu/channa dal – 1 tbsp
Ullutham paruppu /urad dal – 1 tbsp
Red chilies – 4
Sesame seeds – 1 tbsp
Fenugreek seeds – 1 tsp
Cinnamon – ½ inch piece
Cloves – 6
Desiccated coconut – 2 tbsp
Procedure to make Vaangi Bhaat –
To make the masala powder –
Dry roast all the ingredients mentioned above individually and let them cool down. Grind it into a smooth powder and use it in the recipe.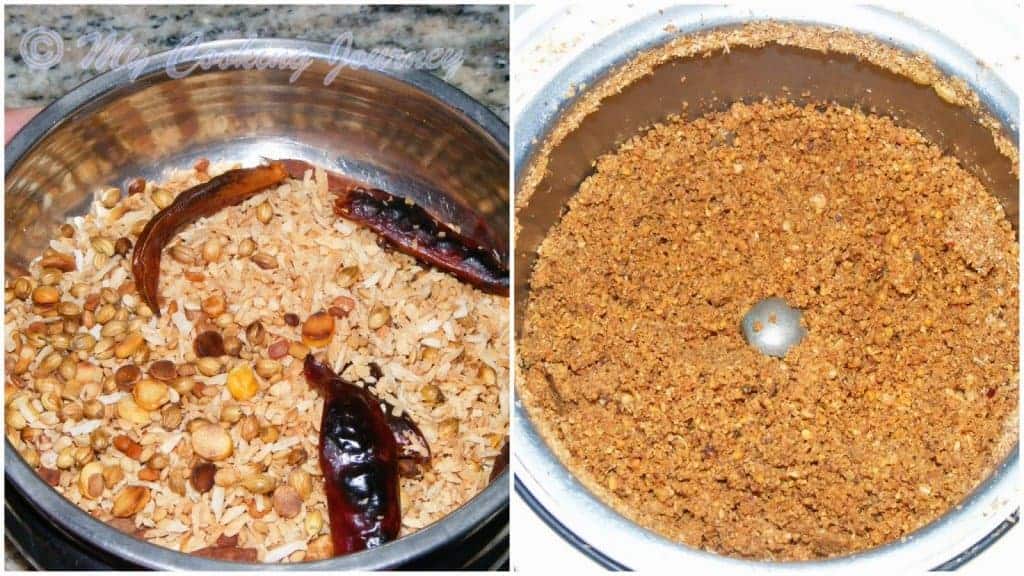 To make the rice –
Cook the rice and let it cool down. Make sure that the rice is cooked in such a way that all the grains are separate and it is not mushy. Add about a teaspoon of oil to the cooked rice and mix it well to ensure that the grains are separate.
In a large sauté pan, heat 2 tbsp of oil and add all the seasoning ingredients. Let them fry until the lentils are golden brown.
Now add the chopped eggplant, turmeric powder and salt and fry it for about 4-5 minutes in medium flame. Make sure that the eggplants do not get mushy.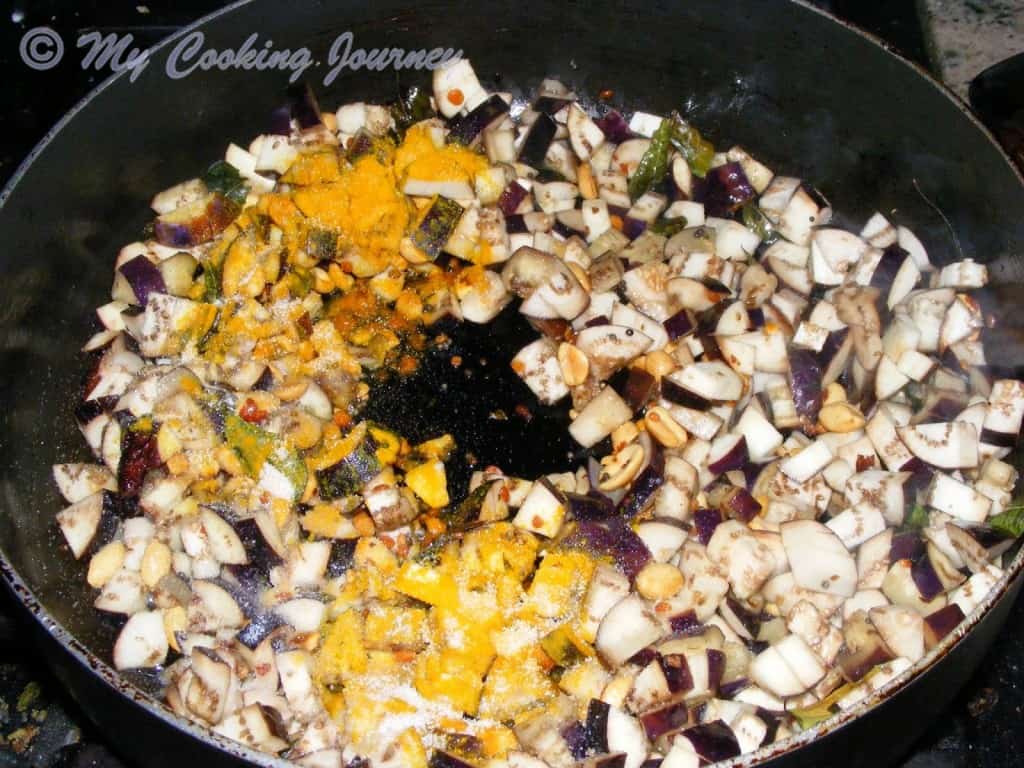 Next add the ground masala powder along with the tamarind extract. Cook it covered for about 5-6 minutes until the eggplants are well cooked but still remain intact.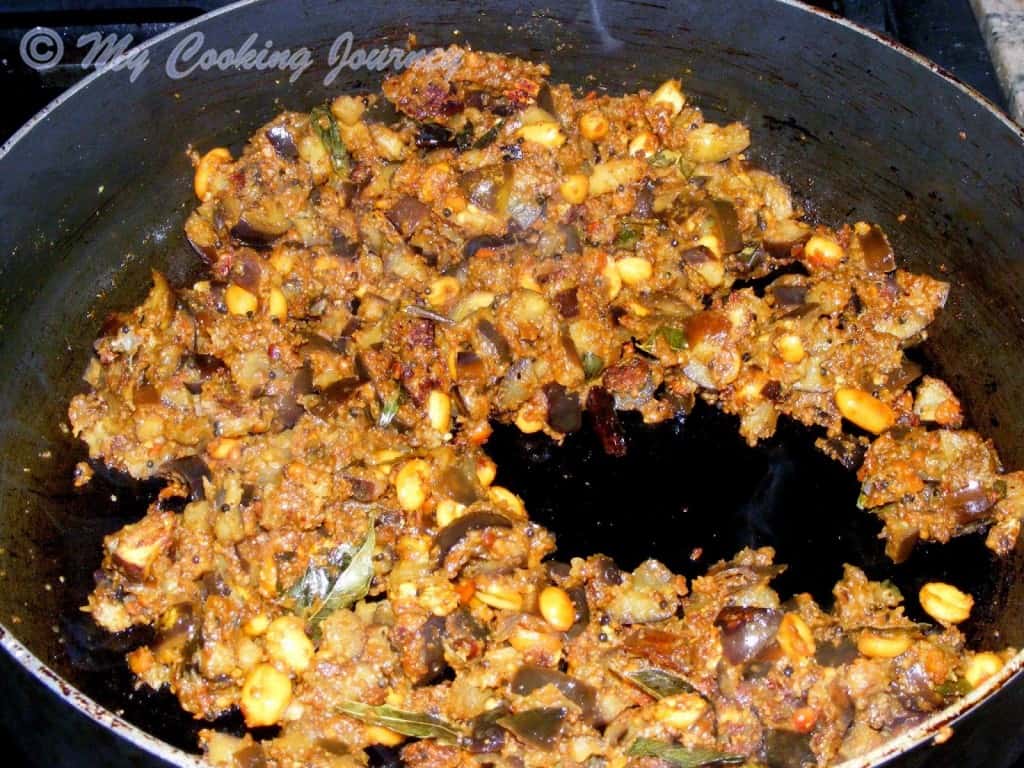 Add the cooked rice to the eggplant mixture and gently mix to coat. Let it cook for about 2 more minutes and then serve warm. I served the Vaangi Bhaat with some plain yogurt and that is all it really needed!