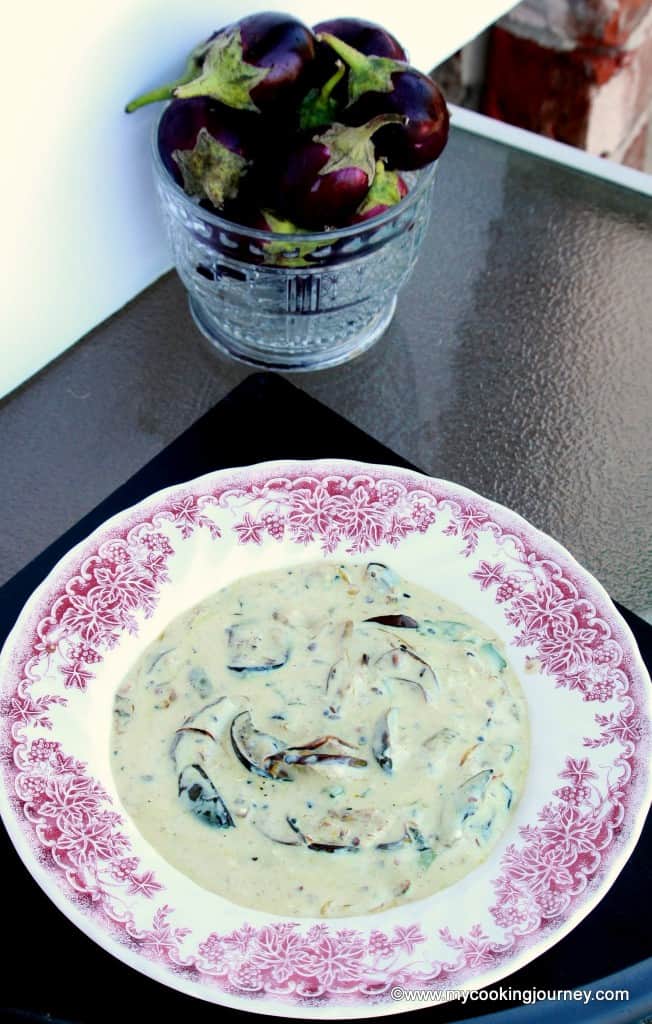 Dahi Baingana is a very delicious Orissa recipe that is made during their feasts. I was researching on few different recipes with eggplant and that is when I came to the Wiki page about this recipe. There were many versions of the recipe online, but I really liked this one from the cookbook, Classic Cooking of Orissa. Luckily the book (at least few pages) was available on Google books and that is where I bookmarked this recipe.
This recipe here is made with onions and on festival days when onions are omitted, this dish can very easily be made by skipping the onion. Also the recipe uses Panchphoran also known as a blend of five spices – Mustard seeds, cumin, fenugreek, fennel seeds and nigella seeds. I fell in love with this spice after we did a mega Marathon on Indian states. That was the first time I ever used the blend of spice and ever since then, I have been using it a quite often.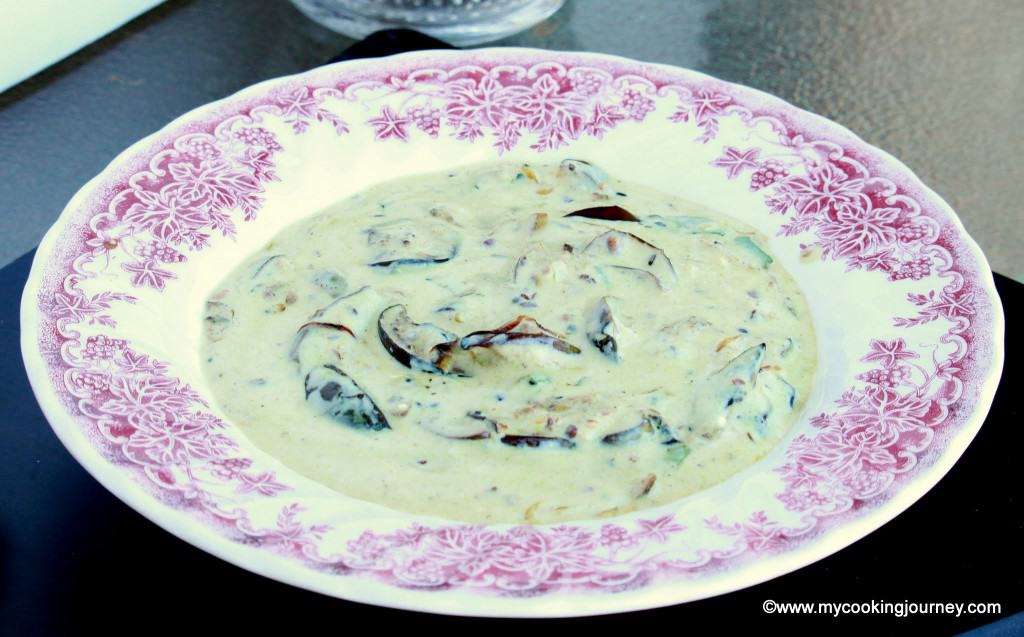 We love eggplant in our house and this was a very different recipe. The original recipe uses deep fried eggplants, but I have just pan fried them and it worked just fine. I would not exactly call it a raita, but was very close to one. Because of the spices, this paired really well with rotis. Next time though, I will make it with some stuffed parathas as it would pair really well. This is my first recipe under bookmarked theme for week 3 of Blogging Marathon.
If you are looking for more recipes to make with eggplant, then you have to absolutely try this Kathirikkai Podi curry made with freshly ground spices.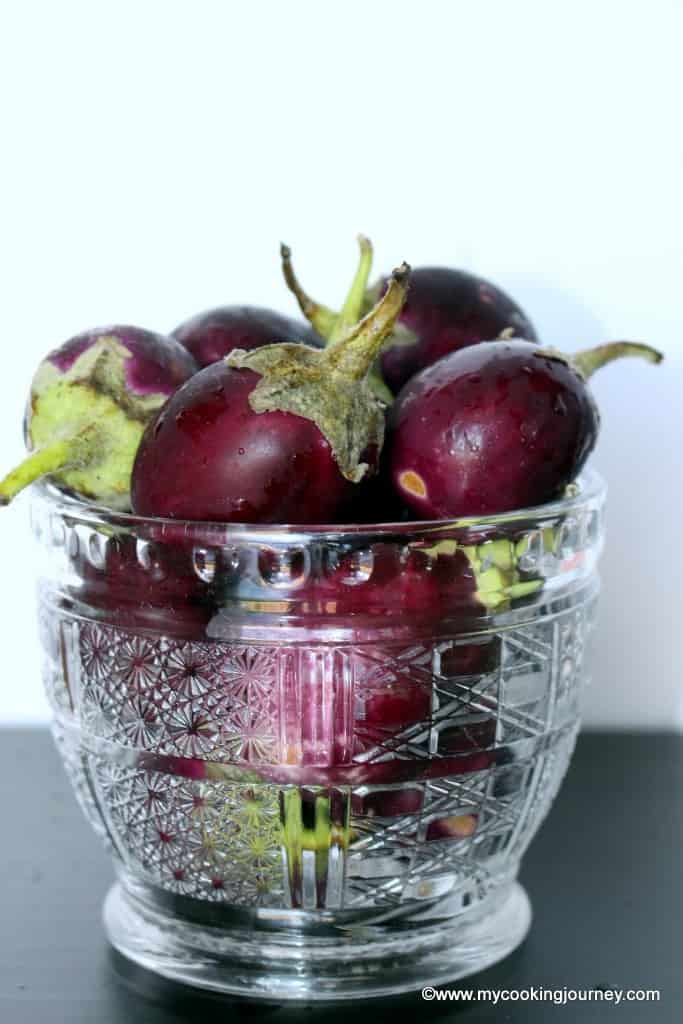 Preparation time – 15 minutes
Cooking time – 30 minutes
Difficulty level – easy
Recipe adapted from – Classic Cooking of Orissa
Ingredients to make Dahi Baingana – Serves 4
Eggplant / Brinjal / Kathirikkai / Baingan – 4-6 small ones or 1 long one (thinly sliced into 2 inch pieces)
Onion – 1 medium (thinly sliced)
Green chilies – 3 or 4 (thinly sliced)
Yogurt – 2 cups (whisked)
Panchphoran – 1 ½ tsp
Turmeric powder – ½ tsp
Ginger – ½ tsp (finely grated)
Asafetida – a pinch
Curry leaves – few
Cilantro – few
Oil – 2 tbsp
Salt – to taste
Sugar – ½ tsp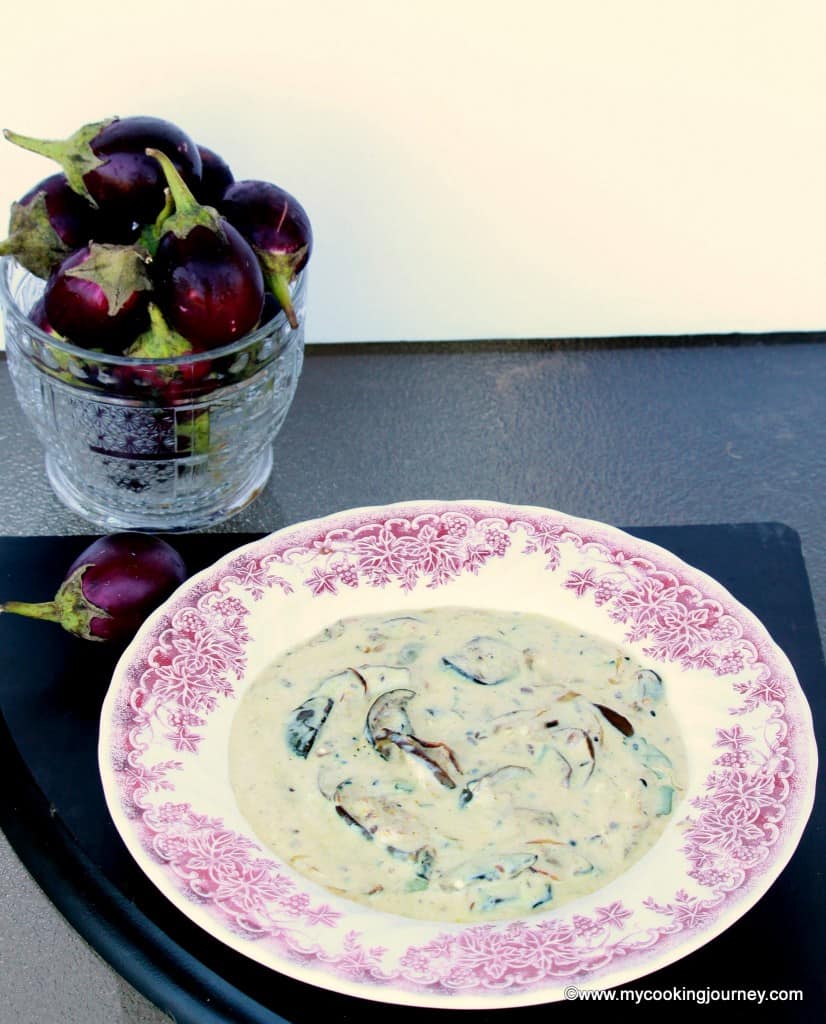 Procedure –
Whisk the yourt well along with sugar and salt and keep it aside.
Wash and trim the eggplant and slice them. Add the turmeric powder and salt needed for the vegetable and let it marinate for about 10 minutes.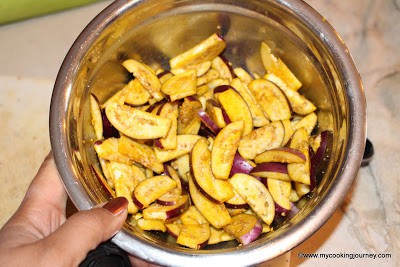 Heat a wide pan and add 1 tbsp of oil. Let the oil heat up and then add the panchphoran and let it fry for about 10 seconds. Now add the asafetida, sliced onion, green chilies, curry leaves and ginger to the pan and let it fry in medium heat until the onions turn golden brown.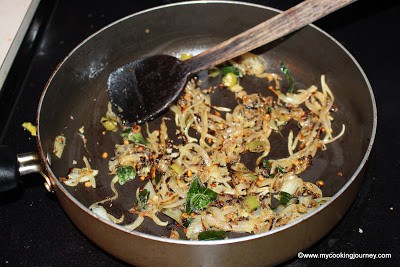 Add the onion mixture to the whisked yogurt and mix.
In the same pan, add the rest of the oil and fry the eggplant slices until it is cooked and browned.
Add this to the yogurt mixture and garnish with chopped cilantro.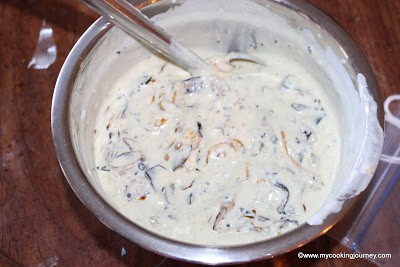 Let the mixture sit for about 15 minutes before serving so that the flavors combine.