Jaisalmeri Chana | Black Chickpeas in yogurt gravy is a  side dish that is very flavorful
and made with simple ingredients. It is a delicacy from the state of Rajasthan in India.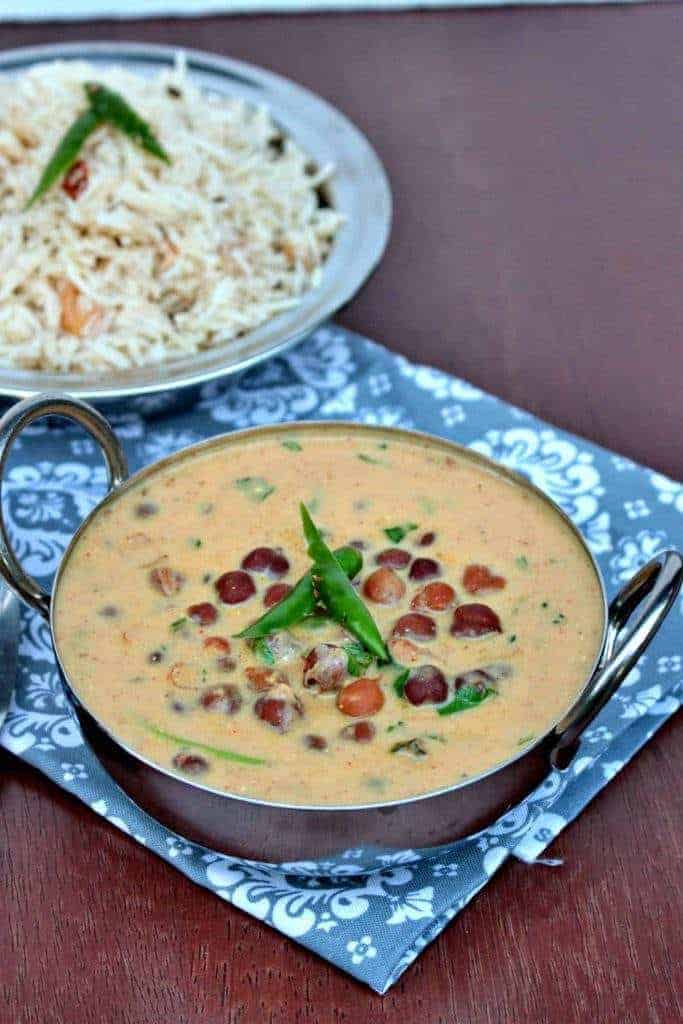 Jaisalmeri Chana, is such flavorful side dish for roti or rice made with very basic ingredients. This a very famous recipe from the state of Rajasthan. Rajasthan has arid climatic conditions and most of the delicacies from this state is made with ingredients that is easily available in the region and also would not spoil quickly in the hot weather.
This recipe uses black chickpeas which is very high in protein. Being vegetarian I am always looking out for protein sources. This recipe not only has one but two sources of protein, the yogurt which is the base for the gravy. This can also be called the Kala chana kadi as it resembles very closely to the kadi. This recipe is my first for this week's BM under the Lentil sides and salads theme.
I saw this recipe in a group on Face book and had it bookmarked from there. After Navarathri, there is always an excess of dried beans in my house and that keeps me busy for the next few months. This Jaisalmeri chana recipe was the perfect one to use up a little bit from my stock. I also have an affinity to Rajasthani Cuisine for its simplicity and flavor. I have made an extensice Rajasthani Thaali, which has many delicious dishes from the state. My thaali consisted of Goond Ki laddu, Baati, Dal, Panchmel Subzi, Gatte ki Kadhi with rice, Dhana wadi/Moong wadi curry, Bajiri ki roti, Makkai ki roti, Matta/Boondi chaas and Kesar malai Lassi.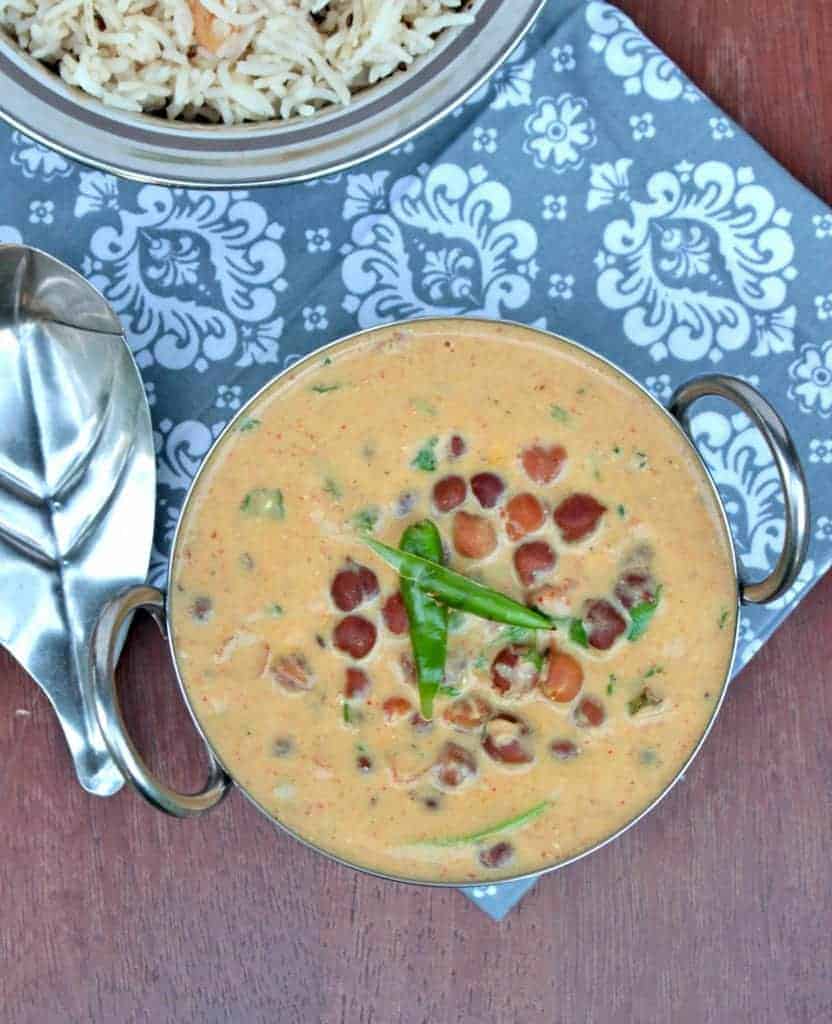 My other personal favorite is the Bikaneri Chana dal Paratha. It is a meal in itself and a very protein filled recipe. When we are checking out the recipes from Rajasthan, let's not miss on the Moong dal vada. It is a very quick and easy appetizer made with Green gram lentil. Again it is a protein packed recipe. We should not be forgetting the dessert and it happens to be a very flavorful one. Lapsi, made with broken wheat and jaggery is very famous in the region and is known for its long shelf life in the hot weather.
Preparation time – 10 minutes plus overnight soaking time
Cooking time – 45 minutes
Difficulty level – easy
Recipe adapted from – Cooking Carnival
Pin the recipe here –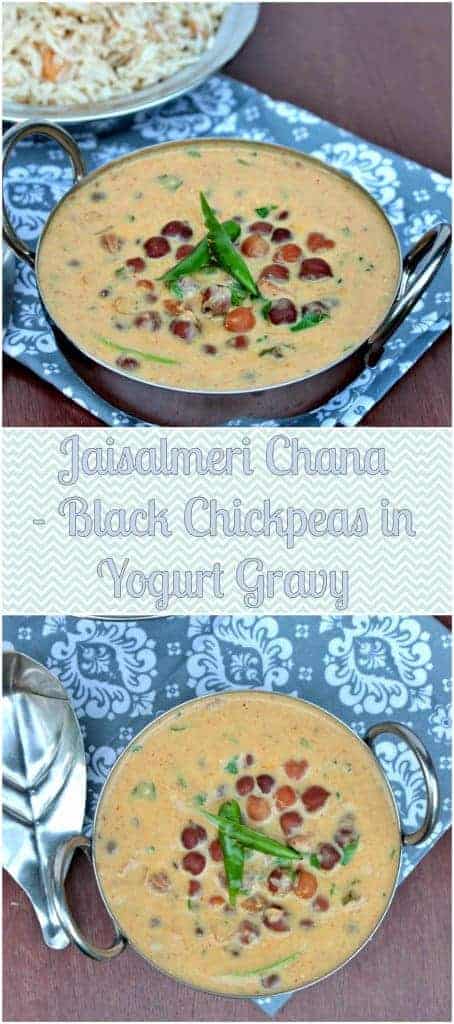 Ingredients to make Jaisalmeri Chana – serves 4
Black Chickpeas / Kala Chana – 1 cup
Yogurt – 2 cups (whisked)
Chickpea flour / Besan – 3 tbsp
Oil and/or ghee – 1 1/2 tbsp
Cumin seeds – 1 tsp
Green chilies – 3 (thinly sliced)
Asafetida – 1/4 tsp
Red chili powder – 2 tsp ( I use Kashmiri chili powder)
Turmeric powder – 1/2 tsp
Cumin and coriander powder / Dhania Jeera powder – 1 tbsp
Salt – to taste
Cilantro – for garnish
Procedure to make Jaisalmeri Chana – 
Wash and soak the black chickpeas for 6 to 8 hours. Change the soaking water and add fresh water to immerse the beans.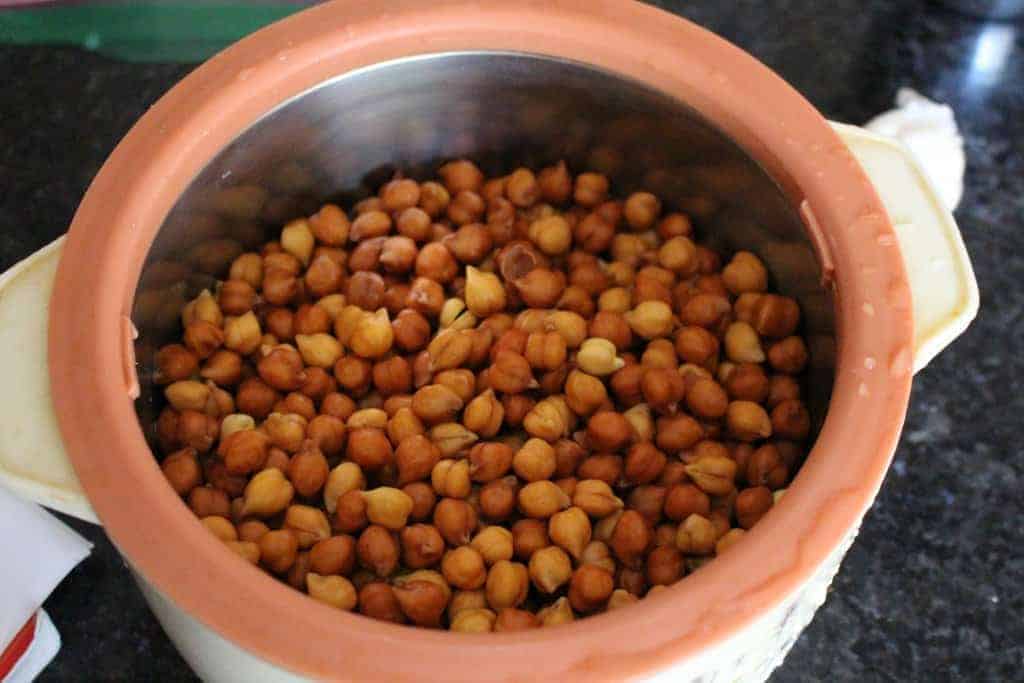 Cook the chickpeas in a pressure cooker with enough salt for 4 to 5 whistles. The black chickpeas takes longer time than the white ones to cook.
Whisk the yogurt and add about a cup of water to it. Add all the dry ingredients; besan, red chili powder, dhania jeera powder, turmeric powder, and just enough salt. Remember that the chickpeas is cooked with salt, so just add enough salt for the yogurt.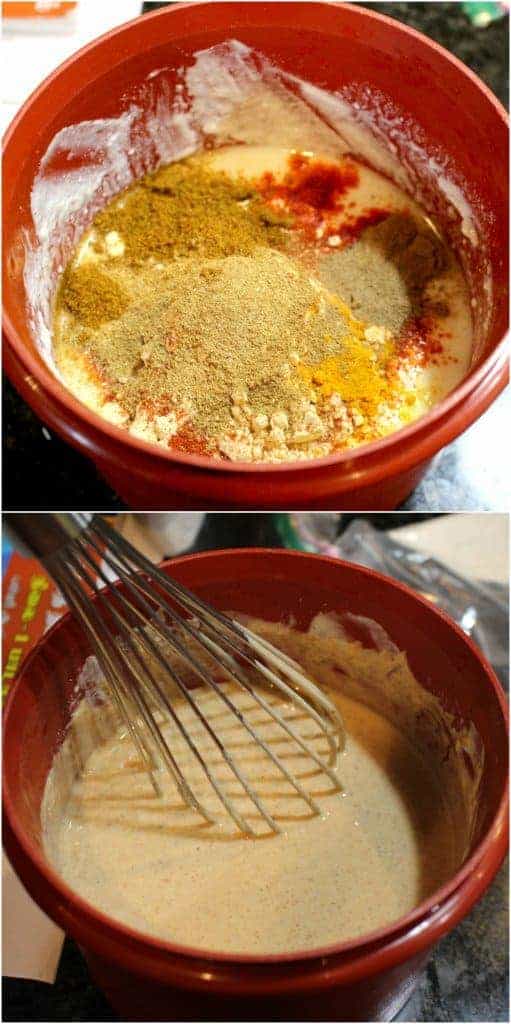 Whisk it well to clear any lumps and keep it aside.
In a pan, heat the ghee/oil and add the cumin seeds. Let it crackle and then add the asafetida and green chilies. Let it fry for about 15 seconds.
Add the whisked yogurt mixture to the pan and mix well. Let it come to a boil and then simmer for about 10 minutes.
Now add the cooked chickpeas and mix well. Adjust the consistency of the gravy by adding more water if needed.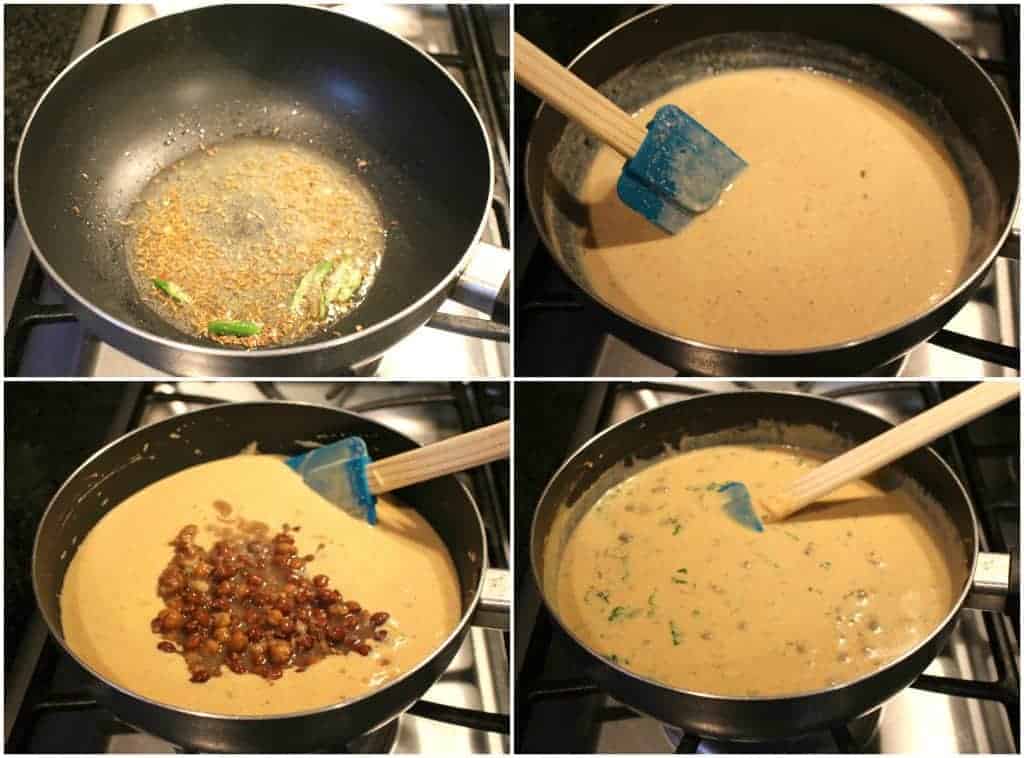 Let the subzi simmer for 10 more minutes for the flavors to combine. Garnish with cilantro and serve hot with roti or rice.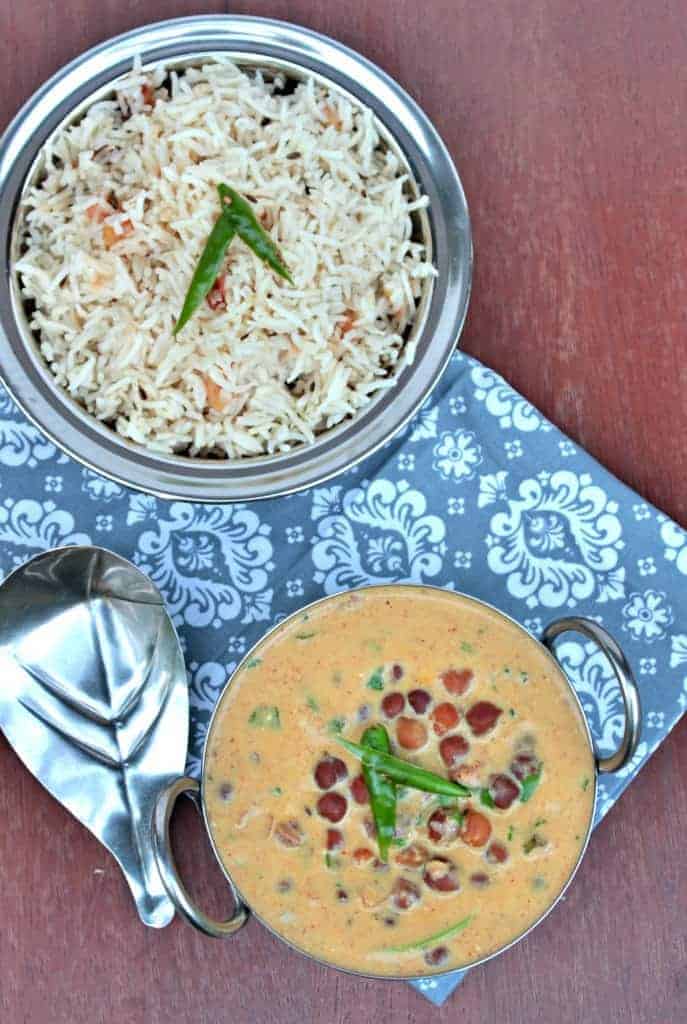 Check out the Blogging Marathon page for the other Blogging Marathoners doing this BM#81