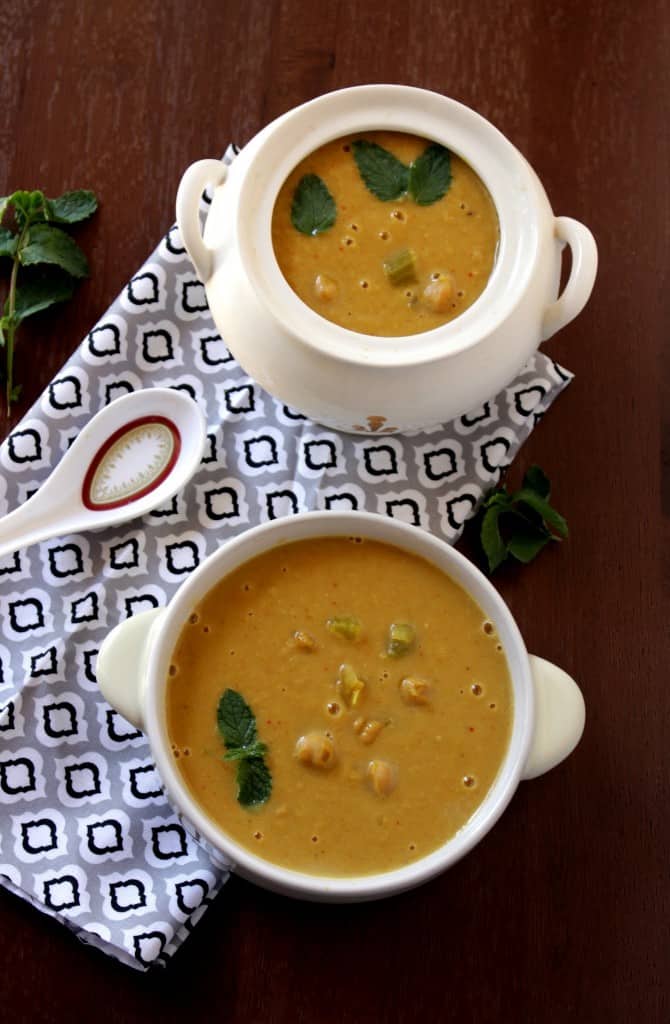 My family loves Lentil Soup. So thinking on the same lines, I wanted to make something different and that is how I landed on this Middle Eastern Chick Peas Soup. The flavors are very simple and can be made in less than 30 minutes (if using canned beans). Middle Eastern Chick Peas Soup was perfect for weeknight dinner and I had 2 happy kids who went to bed sating that they want to eat this soon again.
Feeding proteins is where I struggle quite a bit with my boys. They are really good with any vegetables and fruits and I have no problem incorporating loads of that in their diet, but I get quite stuck with protein. I do feed them eggs occasionally and they also eat their portion of dal and sambhar, but I always question myself about feeding them enough proteins. Soups like this are a wonderful dinner solution, as they have beans, vegetables and are quite filling.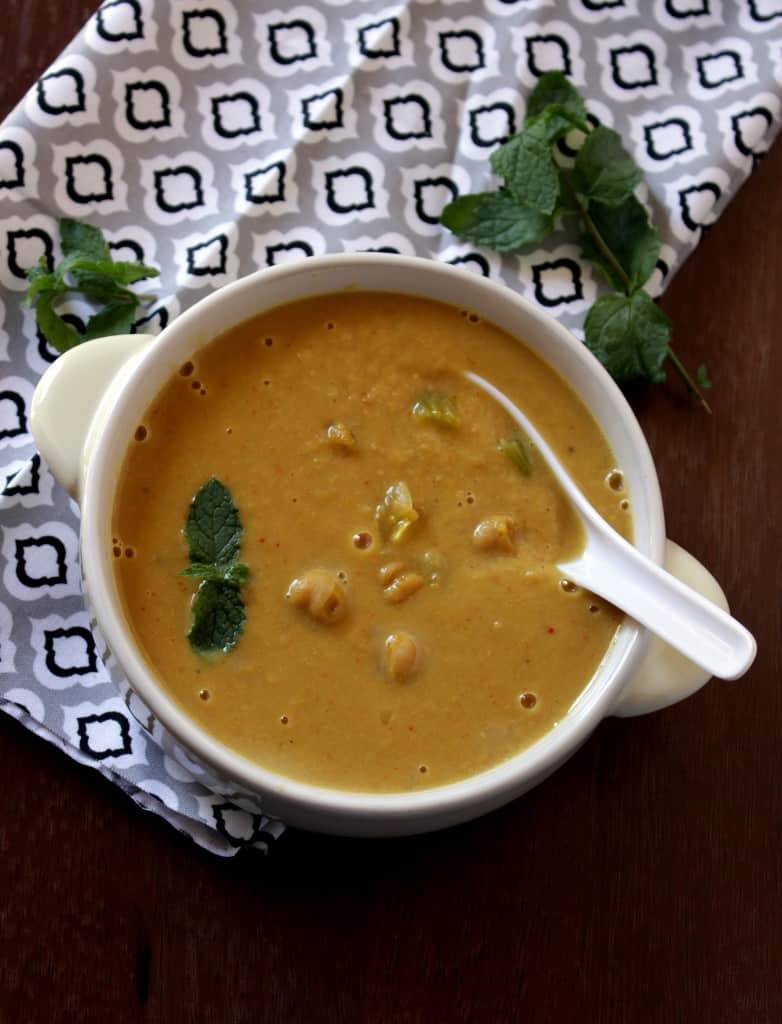 I made the Middle Eastern Chick Peas Soup early in the evening, as we had couple of classes in the evening and knew I would not have enough time to cook and then click the pictures. Both my boys came in from school trying to figure out what was cooking and wanted to eat the soup as snack. They were my first taste testers and gave it a five star. One more indication that they really liked it was that they did not complain when they had to eat it again in few hours for dinner.
I used canned chick peas to make the soup and I had no complains what so ever. If you are not too crazy about using canned products, use soaked and cooked chick peas for the recipe. I used cumin and coriander to spice the soup, but the soup can also be flavored using garam masala or curry powder.
Middle Eastern Chick peas soup is my day 2 post under the 'Soups' category. I am excited to add one more recipe to my collection of Middle Eastern recipes.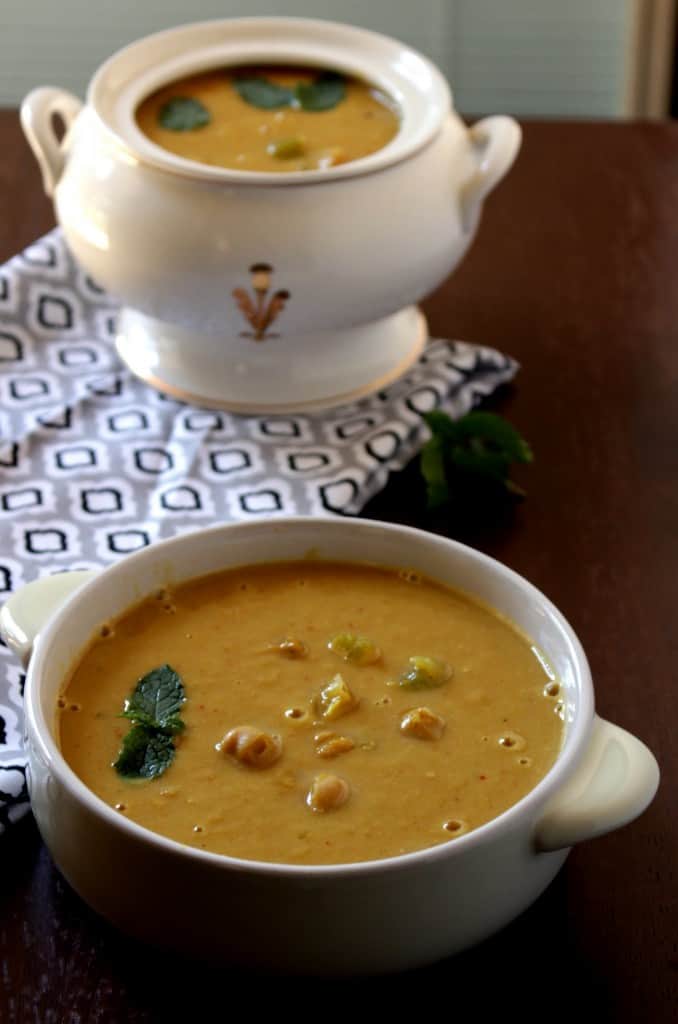 My other recipes this Marathon –
Soups
Preparation time – 10 minutes
Cooking time – 30 minutes
Difficulty level – easy
Recipe adapted from – here
Ingredients to make Middle Eastern Chick Peas Soup – (serves 6)
Chick peas / garbanzo beans – 2 cans (15 oz)
Onion – 1 large (chopped)
Celery – ¾ cup (chopped)
Garlic – 2 large cloves (chopped)
Vegetable broth – 2 cups
Water – 2 cups
Cumin powder – 2 tsp
Coriander powder – 1 tsp
Turmeric powder – ¼ tsp
Bay leaf – 1
Cayenne pepper – 1 tsp
Salt – to taste
Olive oil – 2 tbsp
Fresh mint leaves – for garnish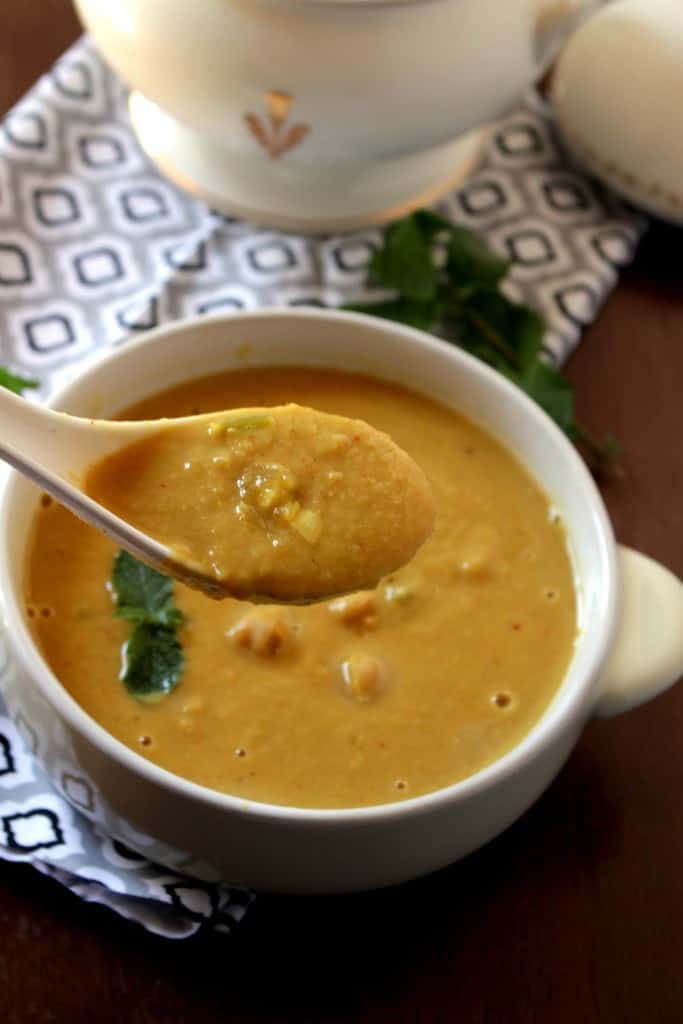 Procedure to make Middle Eastern Chick Peas Soup –
Drain the chickpeas and rinse them well under running water. If using dried beans, soak them overnight in plenty of water and then cook it until soft and mushy. You would use about 3 cups of cooked chickpeas.
In a pot, heat the olive oil and sauté the onions and celery until softened. Add the garlic and cook for a minute more.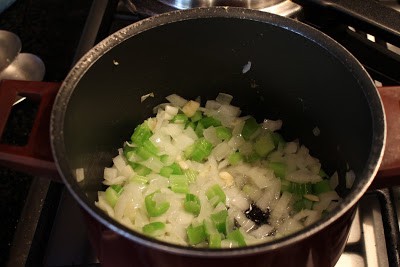 Add the bay leaf, cumin powder, coriander powder and turmeric powder and stir.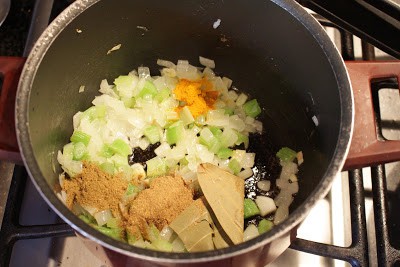 Then add the vegetable broth, 1 cup of water and the chickpeas and stir. Let it simmer for about 20 minutes.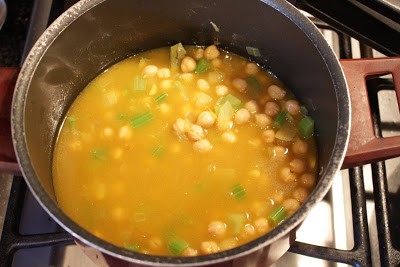 Remove the bay leaf and using an immersion blender, grind the mixture. You could leave it as chunky as you like or make it smooth. I went almost smooth with mine and reserved from chickpeas to garnish.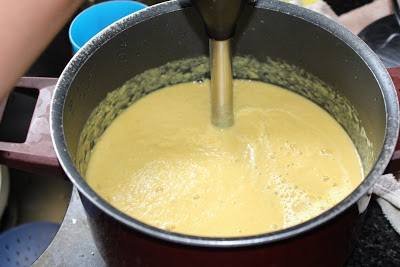 If using a blender, I would wait until the mixture cools down before processing it.
Return the soup to the pot and add the cayenne and salt to taste and let it come to a gentle boil. If the soup is too thick, add more water and bring it to the required consistency. I used about a cup more of water at this stage.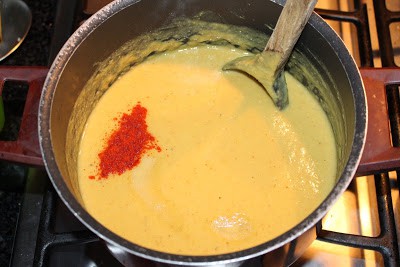 Ladle the soup into bowls and garnish with fresh mint leaves.