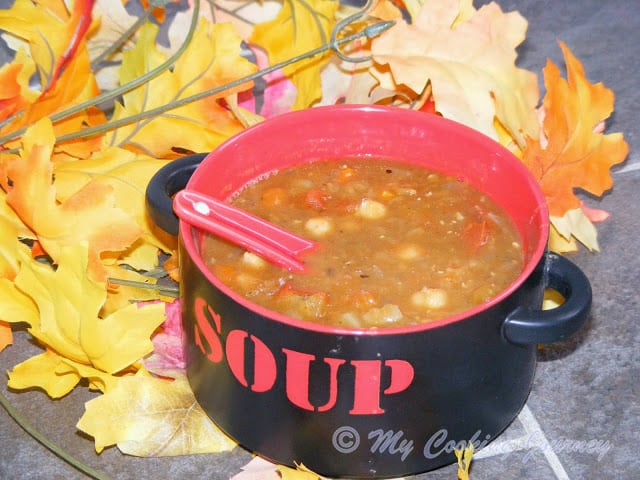 When looking for a recipe to make for the alphabet X, my husband came up with this soup which is a classic Libyan Beef and Vegetable soup with lentils and chickpeas. The name was very fascinating and above all the soup had a five spice blend in it which made it very aromatic. I skipped the meat from the soup and added vegetable broth instead of meat stock to make the soup flavorful.
This was a very filling soup and it closely resembled the Lentil Soup that I had made earlier this month. Fall has begun for us and I am all set with few new soup recipes that are right up my alley.
The soup had a liberal quantity of the five spice also called Hararat. This is a very classic Libya Five Spice blend that is used in many soup recipes. I found the recipe from here and when you get a chance, check out their vast collection of African recipes. I will be making a few in the coming days.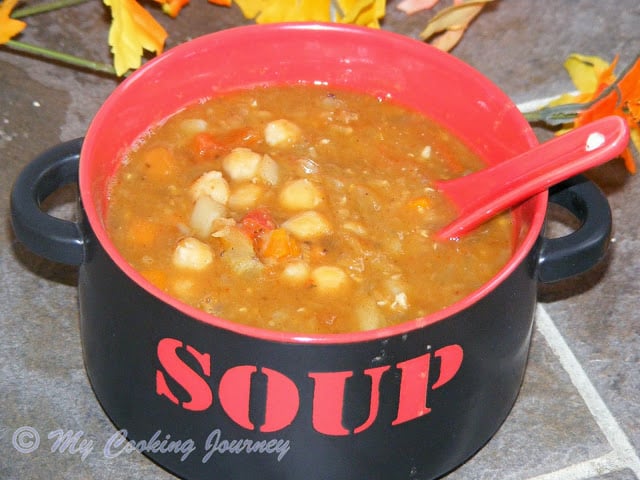 A-Z Marathon – Alphabet X
Category – International
Preparation time – 15 mins
Cooking time – 1 hr 20 mins
Difficulty level – easy
Ingredients to make Xarba Arbija – (Serves 6)
Red lentils / masoor dal – ½ cup (washed and drained)
Chick peas (cooked or canned) – 1 can (drained and rinsed) or about 200 gms cooked
Vegetable broth – 500 ml or about 2 cups
Water – 500 ml or about 2 cups
Onion – 1 (finely chopped)
Garlic – 2 cloves (minced)
Carrot – 1 large (finely chopped)
Potato – 1 large (skin removed and finely chopped)
Tomato – 3 (chopped)
Hararat – 2 tbsp (see below for recipe)
Chili powder – ½ tsp
Oil – 2 tsp
Sugar – 1 tsp
Salt – to taste
To make the Hararat or the Libyan Five spice blend –
Red chilies – 2
Coriander seeds – 4 tsp
Cumin seeds – 4 tsp
Cinnamon – 2 stick (broken into pieces)
All spice - 1 tsp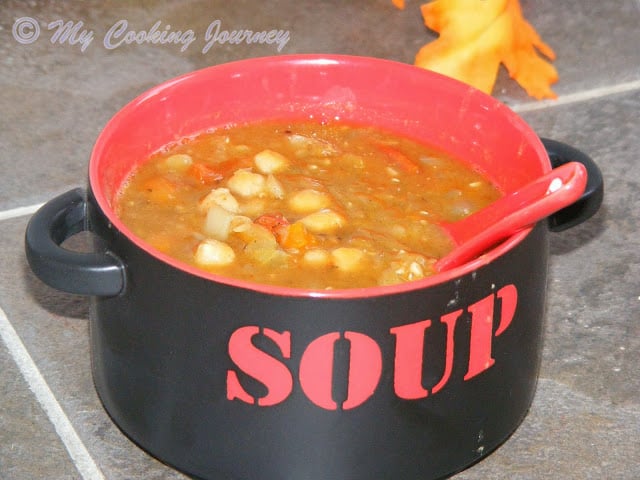 Procedure to make Xarba Arbija –
To make the Hararat –
Dry roast the red chilies, cinnamon, cumin and coriander seeds until fragrant (about 2-3 mins). Once the spices are roasted add the all spice and then give it one stir. Turn off the flame and let it cool down.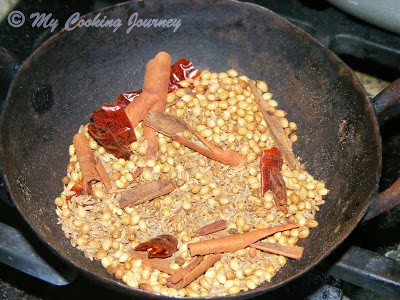 Grind the roasted spices into fine powder using a spice blender and store in an airtight container for future use.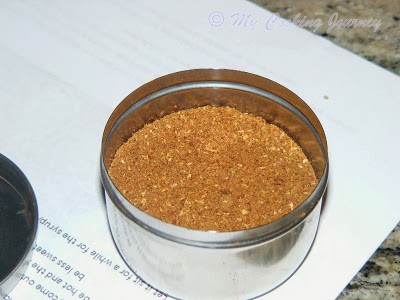 To make the soup –
Heat oil in deep pot and add the chopped onions and garlic. Saute until softened (for about 5 mins).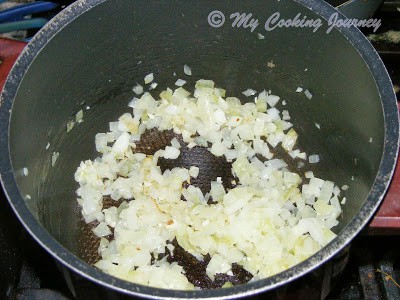 Add the chopped vegetables and fry it for 5 more minutes.
Now add the hararat spice, chili powder, salt, sugar and the tomatoes and mix well. Let it cook for about 5 mins more. Add the salt carefully since the broth will have some salt in it.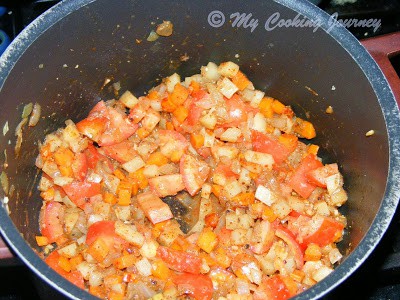 Add the washed and drained lentils and mix it well. Add the vegetable stock and water.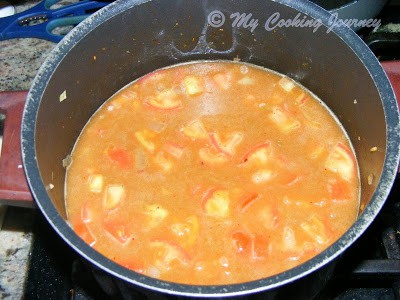 Bring it to a boil and then simmer for about 40 mins or until the lentils are cooked.
Now add the cooked or canned chickpeas and let it cook for 15 more mins.
Check for the consistency of the soup and add more water if it is too thick.
Serve hot with lemon wedges on the side or with some crusty bread.