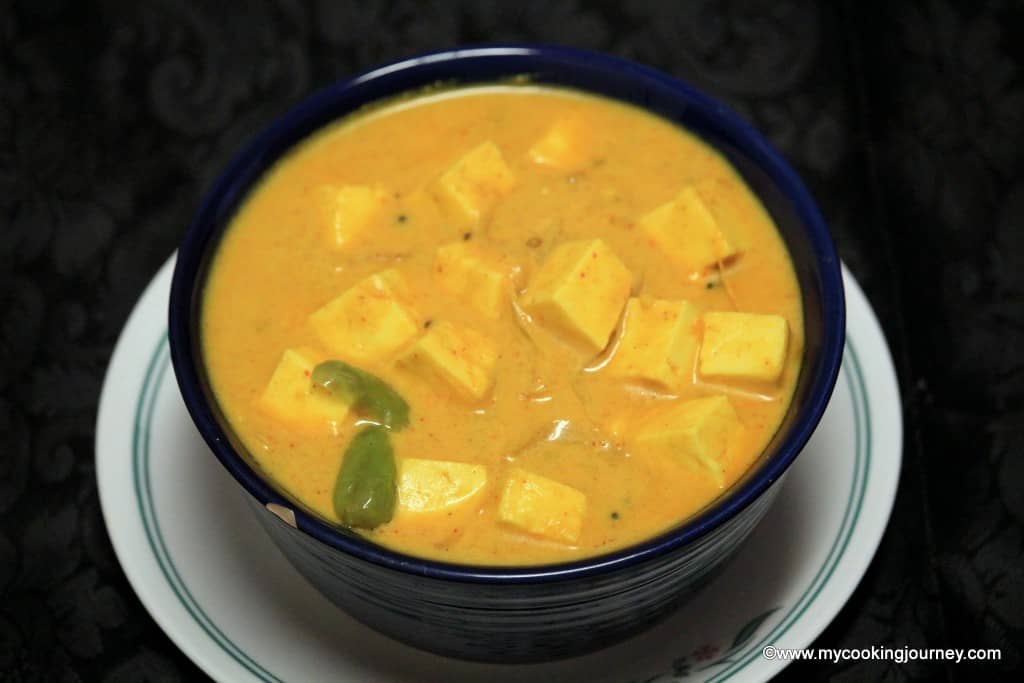 This week I am with an exciting theme of Gravies without tomatoes and the first one I have is Dahi Paneer – Dahi Wala Paneer – Paneer Subzi in Yogurt Gravy. After my last week's 'walk through the memory' street foods, this week took a lot of time thinking about what I was going to make without tomatoes in it. I have often made subzi without any onions or garlic, but in all of those gravies, tomato was the star. There are many kurmas that do not have any tomatoes in them, but I have many of those recipes in the blog.
That is when this recipe that I had bookmarked a while ago came to my mind. This is one subzi that can be made in a jiffy. I am always a little scared when cooking yogurt as the base for the gravy as we have to be quite careful. The yogurt could curdle very easily if not cooked properly and in low heat and that would be a disaster. The most common dish that I make with yogurt as the base is the More kuzhambu.
I had made a very delicious Dahi Baingana few weeks back and it was a major hit in my family. Although it did not involve cooking the yogurt, but it still was yogurt based gravy. We do use quite a bit of yogurt at home and I am so thankful that I make my own yogurt instead of spending a lot of money on store bought yogurts. If you want to see my detailed post on how to make yogurt at home, jump to this post here.
Homemade yogurt tastes just so much better than store bought ones and is definitely the economical way to go if your family consumes lot of yogurt like mine does. We use yogurt everyday for curd rice / yogurt rice and apart from that variety of raita or lassi.
This subzi is very mild and is flavored using panch phoran. Panch phoran is nothing but a blend of five different spices that is very popularly used in Eastern states of India. I learned and cooked quite a bit with this spice when we did our Regional Marathon last year called the Indian Food Odyssey. The Eastern states were the hardest to cook as it was very difficult to find vegetarian recipes from those states. We as a group did so much of research that we can write a book as a team.
Preparation time – 10 minutes
Cooking time – 30 minutes
Difficulty level – easy
Recipe adapted from – Samayal 2 Impress

Ingredients to make Dahi Paneer– Serves 4
Paneer – 250 gms
Yogurt (whisked) – 2 cups
Gram flour / Besan – 2 tbsp
Onion – 1 (thinly sliced)
Panch Phoran* – 2 tsp*
Asafetida – ⅛th tsp
Ginger – 1 tsp (grated)
Green chilies – 2 (slit lengthwise)
Turmeric powder – ½ tsp
Red chili – 1 tsp
Dhania jeera powder / cumin coriander powder – 2 tsp
Garam masala – ½ tsp
Salt – to taste
Sugar – 1 tbsp
Cilantro – to garnish
Oil – 1 tbsp
Procedure to make Dahi Paneer –
*Panch Phoran – Panch phoran is a mixture of 5 different spices in equal quantity. It consists of mustard seeds, fennel seeds, cumin seeds, methi seeds (fenugreek) and nigella seeds.
In a bowl, whisk the yogurt well and add the besan / gram flour. Whisk the besan well until there are no lumps.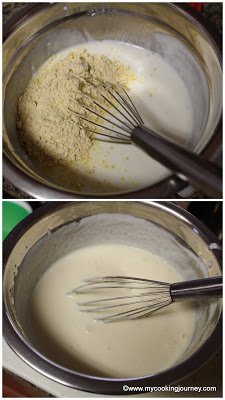 Cube the paneer and keep it soaked in warm water for about 10 minutes.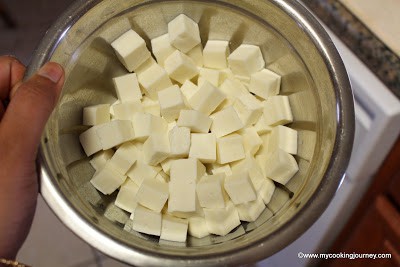 In a pan, heat the oil and add the panch phoran and let it splutter. Add the asafetida and mix. Add in the grated ginger and green chilies and fry for few seconds.
Now add the sliced onions and sauté until it is translucent.
Add the dry spice powders (red chili powder, turmeric powder, Dhania jeera powder, garam masala and salt). Sauté for about 2 minutes.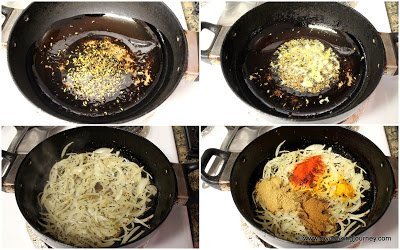 Add the curd – besan mixture to the sautéed onions and mix gently. Reduce the flame and let the mixture come to a gentle boil. Add water if needed to adjust the consistency of the gravy.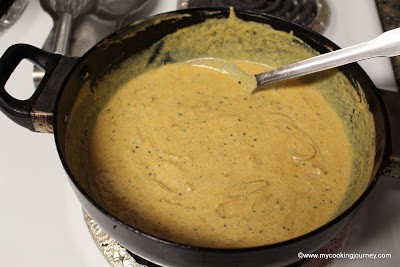 Add the soaked paneer to the mixture along with the sugar. Mix gently and let it simmer for about 5 minutes.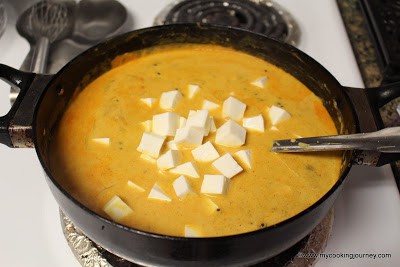 Garnish with cilantro and serve.