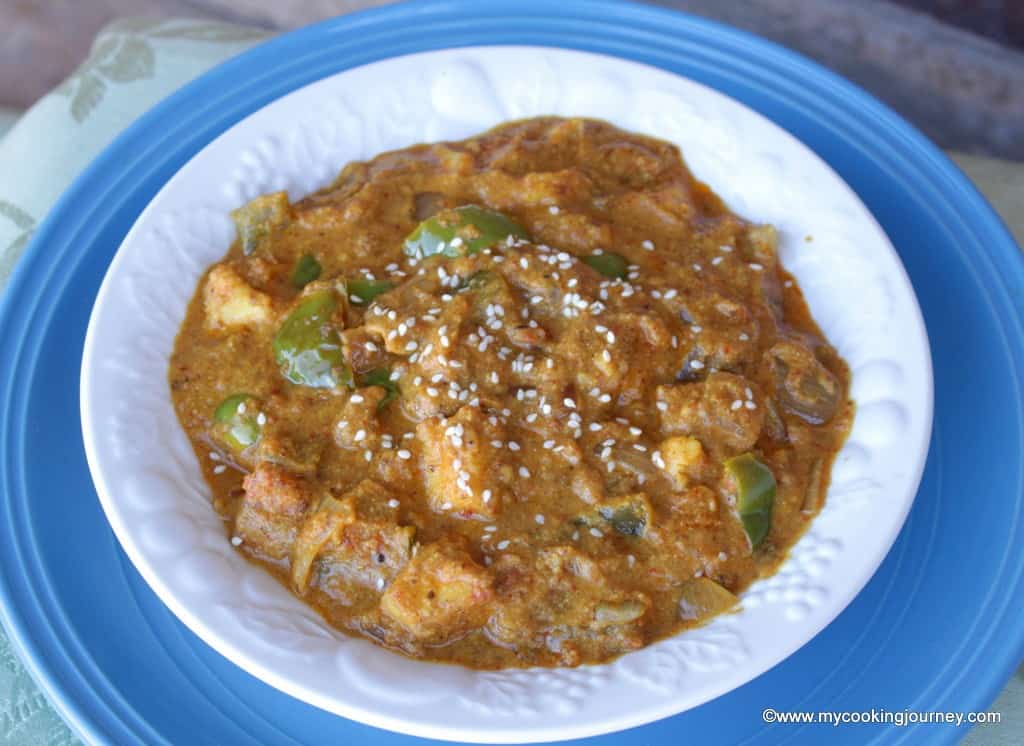 When I was short listing the recipes to make for this week's Bookmarked theme, I was surprised that I had come up with all subzis and all of them were very different from each other. The first one I chose was the Dahi Baingana, which was yogurt based gravy and was sort of in between a subzi and raita. The second subzi, Methi Malai Mutter, was a cream/milk based recipe. The third one that I chose for today is onion-tomato based gravy, but has many different flavors and spices to make it very different from the rest.

I had accidently landed on this recipe and as a paneer lover, immediately looked at how different was this subzi from the other paneer subzis that I make. I did have to do some further research and finally I came up with this recipe that was perfect. This subzi is very creamy that comes from the peanut that we use in the recipe. Also I love sesame seeds in any dish and I simply loved how the peanuts and the sesame gave a very nutty flavor to the subzi.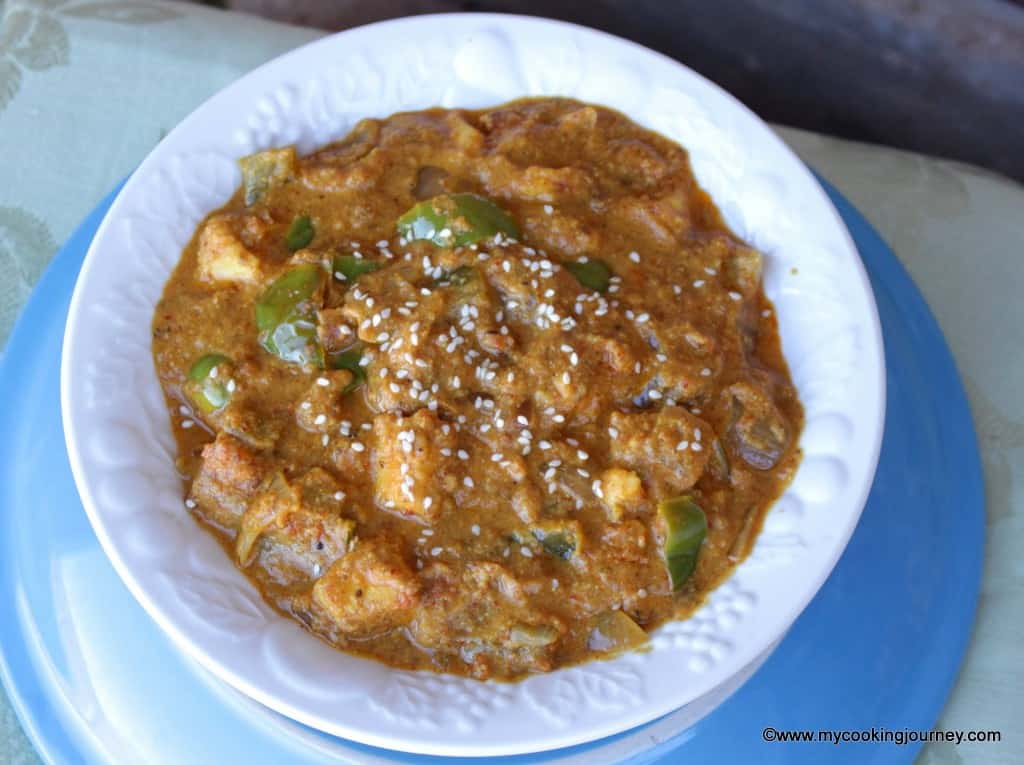 Preparation time – 15 minutes
Cooking time – 40 minutes
Difficulty level – easy
Recipe adapted from – here and here
Ingredients to make Hyderabadi Paneer – (serves 4)
Paneer – 250 grams
Onion – 1 large (cubed)
Bell Pepper – 1 (cubed)
Tomatoes – 3 (pureed)
Turmeric powder – ½ tsp
Red chili powder – 1 tsp
Garam masala – ½ tsp
Salt – to taste
Oil or butter or both – 3 tbsp
To grind together –
Dhania / Coriander seeds – 2 tsp
Sesame seeds – 2 tsp
Cumin seeds / Jeera – 1 tsp
Dry red chili – 1
Garlic – 3 cloves
Ginger – 1 inch piece
Onion – 1 small
Roasted peanuts – ½ cup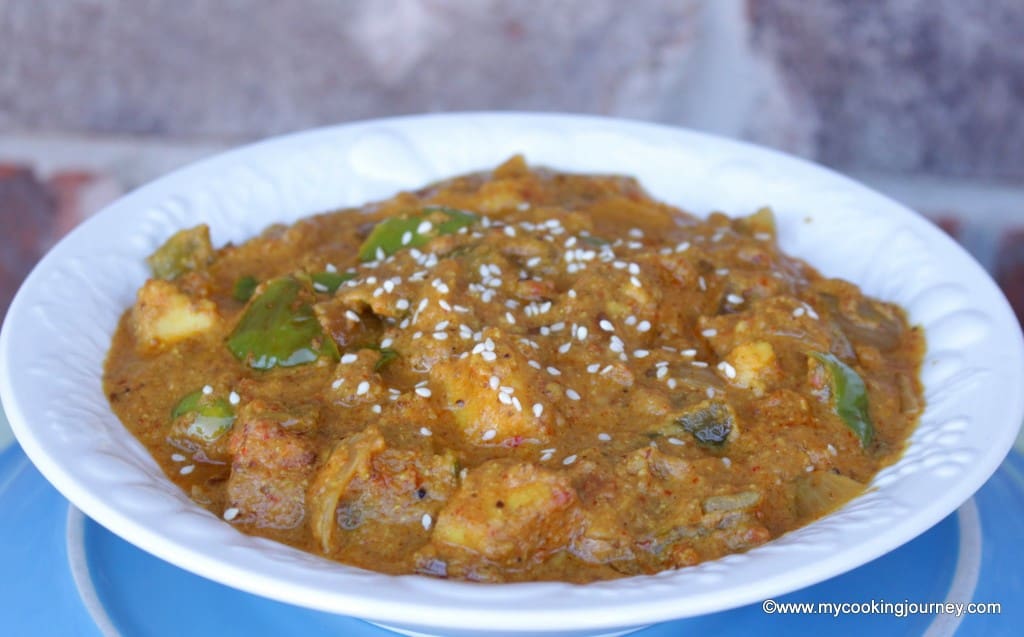 Procedure to make Hyderabadi Paneer –
In a pan, dry roast coriander seeds, sesame seeds, cumin and red chili. Once it cools down a bit, transfer it to a blender jar and add the rest of the ingredients mentioned under 'To Grind' and grind it to a smooth paste. Add a little water if needed.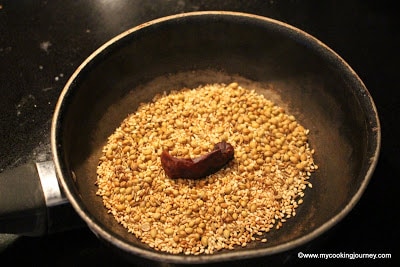 Cube the paneer into ½ inch pieces and pan fry them until light brown in about 1 tbsp of oil. Remove the paneer from the pan and keep it aside. I sometimes also keep the fried paneer soaked in warm water to keep it soft.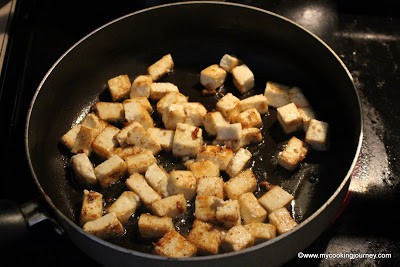 In the same pan, heat 1 tbsp of oil and sauté the cubed onion and bell pepper. Make sure that they still have a crunch in them. Remove from the pan and keep it aside.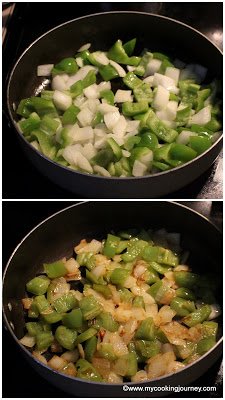 Again, in the same pan, heat the remaining oil and add the ground paste. Cook the ground paste in low medium flame until the raw smell disappears and it turns aromatic. Also, the paste would thicken and the oil will start leaving the sides of the pan. This will take about 10-12 minutes, but cooking it patiently in low flame ensures a very flavorful subzi.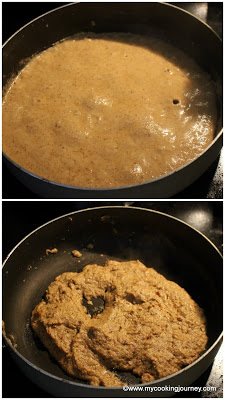 Now add the pureed tomato and the masala powders (red chili powder, turmeric powder and garam masala) and mix well. Cook for 3-4 minutes for the flavors to combine and then add the salt. Do not add salt in the beginning as it will cause the gravy to splatter all over.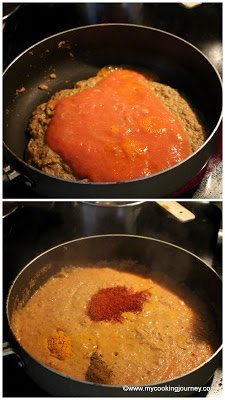 Add the sautéed onions, bell pepper and paneer pieces. Mix gently and simmer for about 5-7 minutes.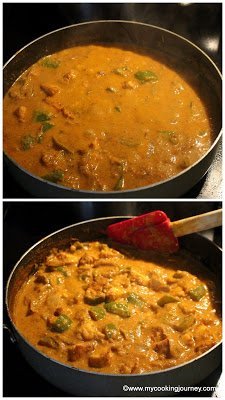 Serve the Hyderabadi Paneer hot with rice or chapatti.