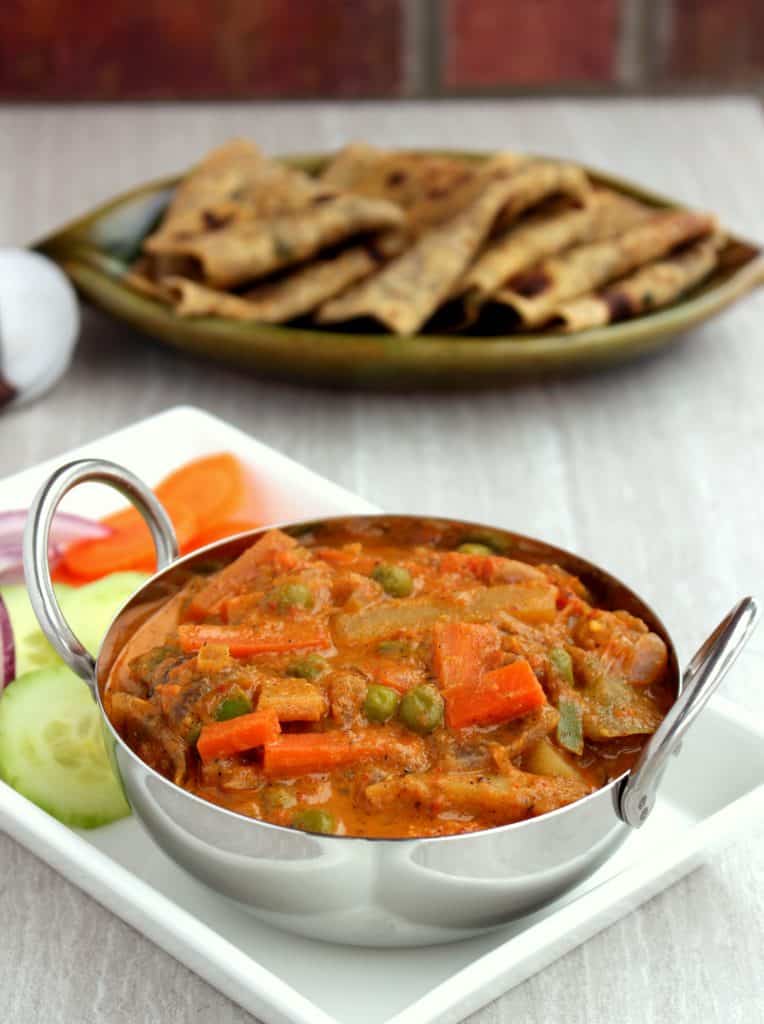 When I am thinking of what to make for lunch on dinner, especially on weekends, my mind always wanders towards food that are restaurant style. I love eating out right from when I was a young kid and that has not changed a bit. Being a vegetarian has never been a problem for us and we always find something to eat in every place. Restaurant style subzis are my weakness and I just love the texture of them. If I can make the same at home with less oil and get the same flavor, then it is a winner recipe. This Kadai vegetable gravy was exactly that this is by far one of my favorite. We never order Kadai vegetable in restaurant as we mostly get the dry variety. I like my subzi with gravy and this one worked great that way.
I always prefer mixed vegetable subzis as I can add many vegetables to the recipe and that way can include a variety of vegetables in my kid's meal. My personal favorite though is Paneer Butter Masala and that would definitely be one of the dishes that I would order when I ate out back in India. My boys like Malai koftas and hence that has become one of our regular. It really excites the boys when I can make their favorites at home and they looks forward it.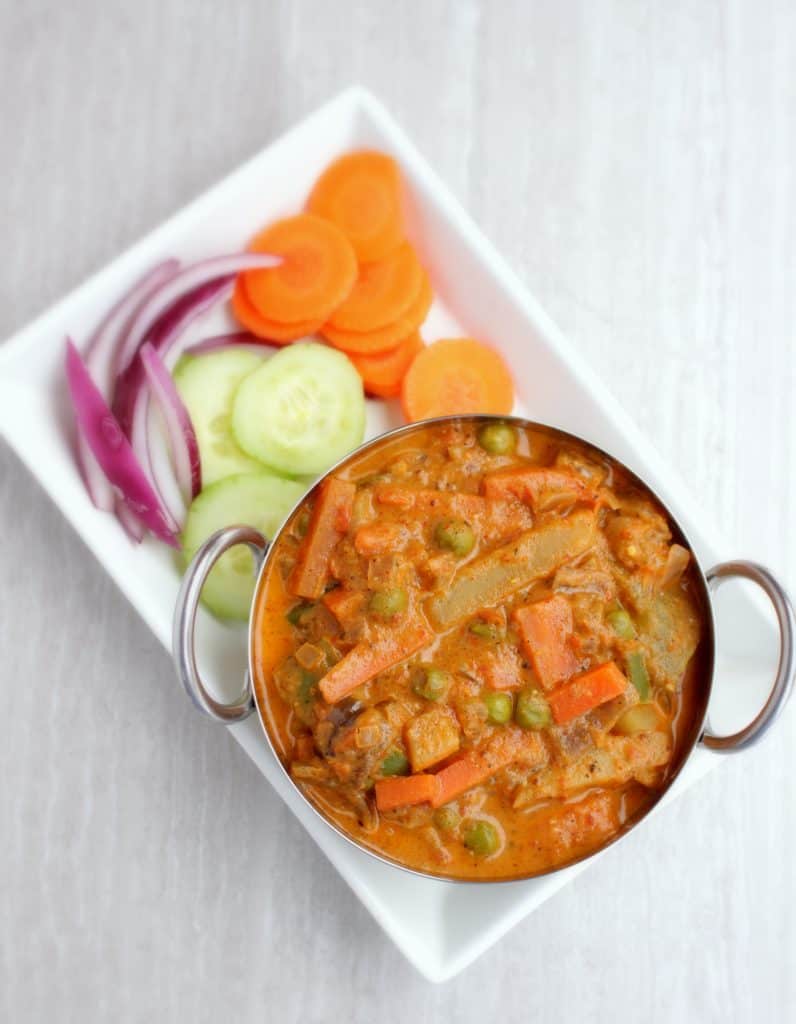 These days I have also started to make many of these dishes without onion and garlic. One such is this version of Paneer Butter Masala without onion and garlic that everyone loves in my house. If you are looking to make a Thaali without 'No Onion and garlic', check out my Mini Thali from Uttar Pradesh. I have each and everyone of my favorite dishes that I grew up eating. Also check the complete list of 'No Onion and Garlic' recipes here.
This dish is a little time consuming but worth every minute. The freshly ground masala makes a big difference in the recipe and I would highly recommend making it from scratch. I served this on a Saturday afternoon with some Avocado Paratha. I served the dish in my new kadai that my chitti and mami (aunt's) bought for me when I went to India in November.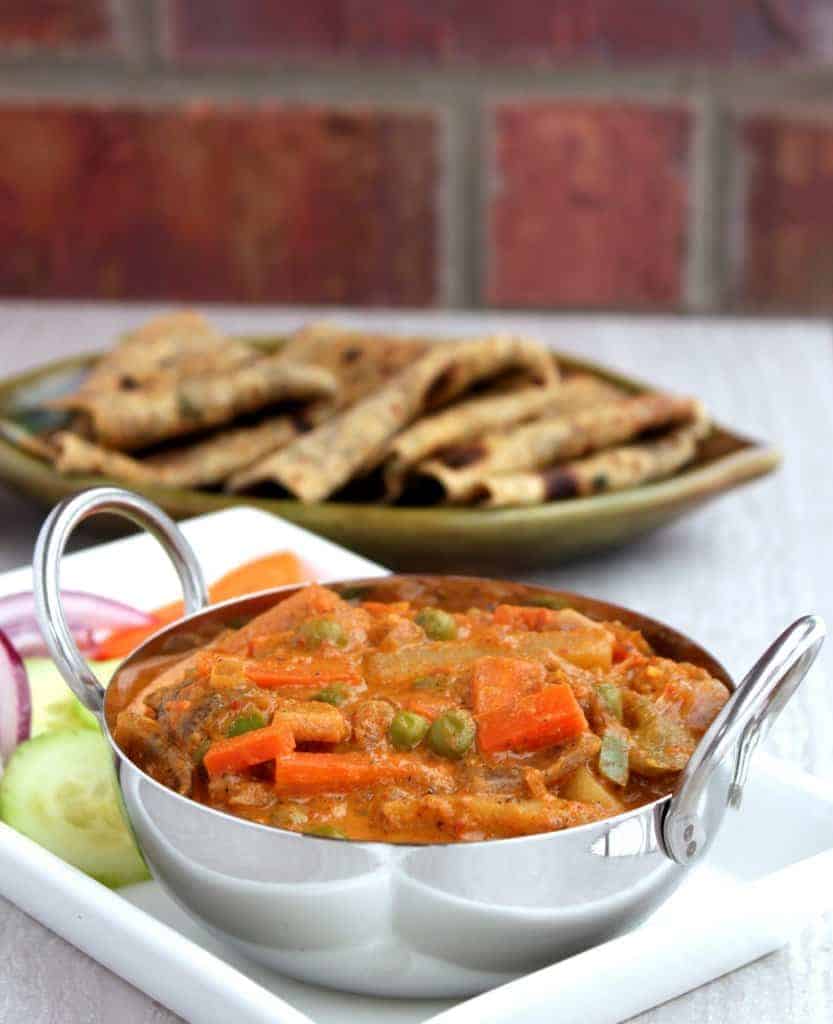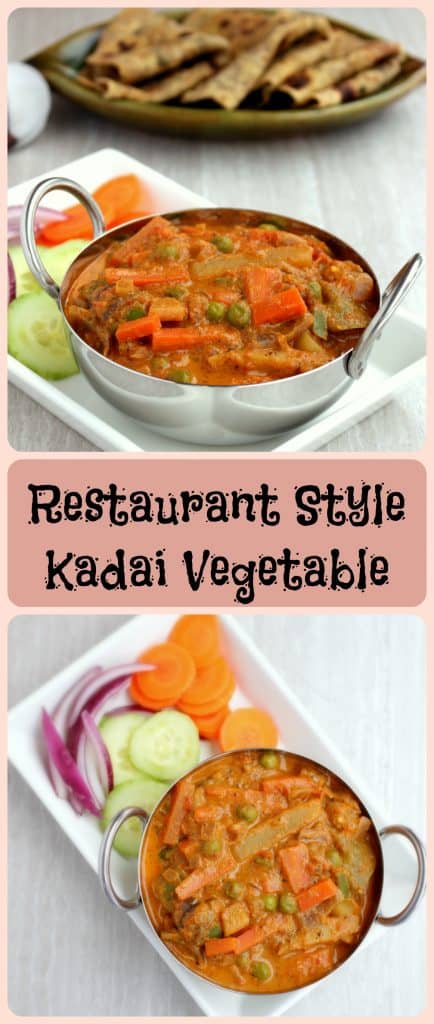 Preparation time – 20 minutes
Cooking time – 45 minutes
Difficulty level – Intermediate
Recipe adapted from – Veg Recipes of India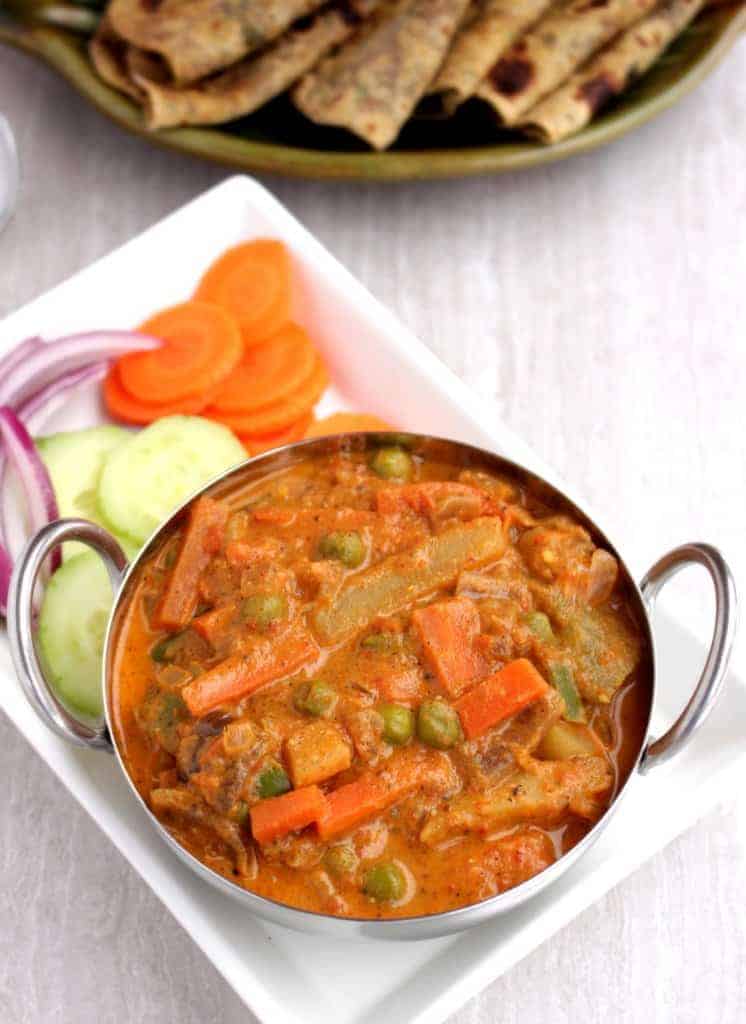 Ingredients – Serves 4 to 6
For the Kadai Vegetable Gravy – 
Onion – 3/4 cup (cubed) + 1/2 cup (finely chopped)
Bell pepper – 1 (thinly sliced)
Tomato puree – from 4 tomatoes
Carrot – 2 medium (thinly sliced)
Potato – 2 (thinly sliced)
Green peas – 1/2 cup
Ginger garlic paste – 1 1/2 tsp
Turmeric powder – 1/2 tsp
Red chili powder – 1 tsp
Whipping cream – 2 to 3 tbsp
Salt – as needed
Oil – 3 to 4 tbsp (divided)
For the Kadai Vegetable Masala Powder – 
Coriander seeds / Dhania – 1 tbsp
Cumin seeds / Jeera – 1 tsp
Peppercorn – 6 to 8
Cinnamon – 1 inch piece
Cloves – 8
Cardamom – 3
Red chilies – 6
Cashew nut – 10
Dried fenugreek leaves / Kasuri methi – 1 tsp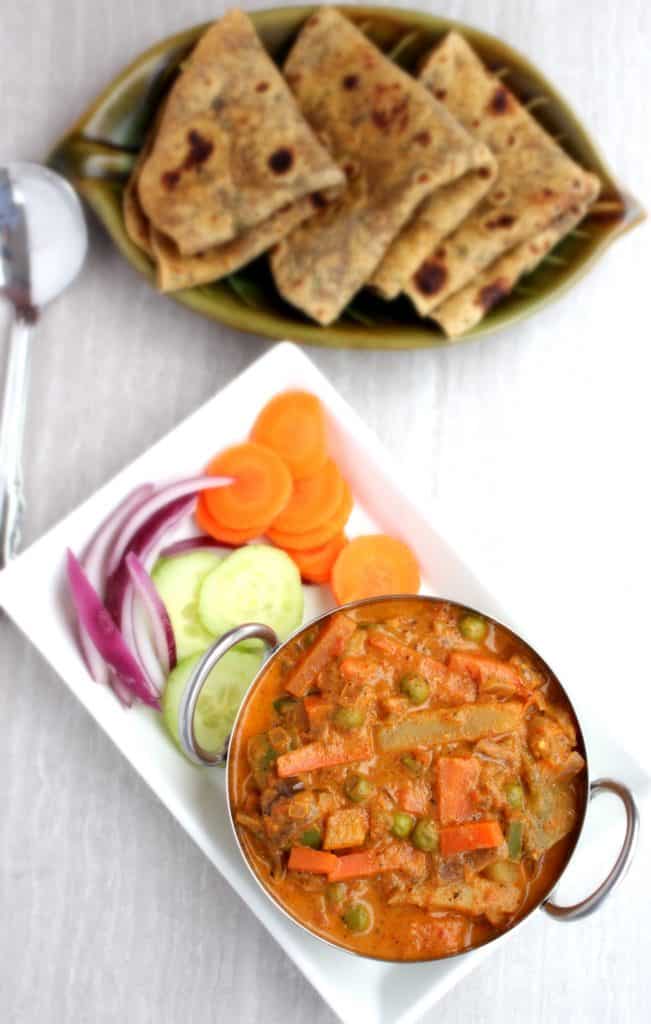 Procedure – 
To make the Masala powder – 
Dry roast all the ingredients mentioned under masala powder until they are aromatic. Make sure you fry them on low to medium heat. Keep stirring when roasting the spices.
Remove the roasted ingredients in a bowl and let them cool down to room temperature. Grind them into a fine powder and keep it aside.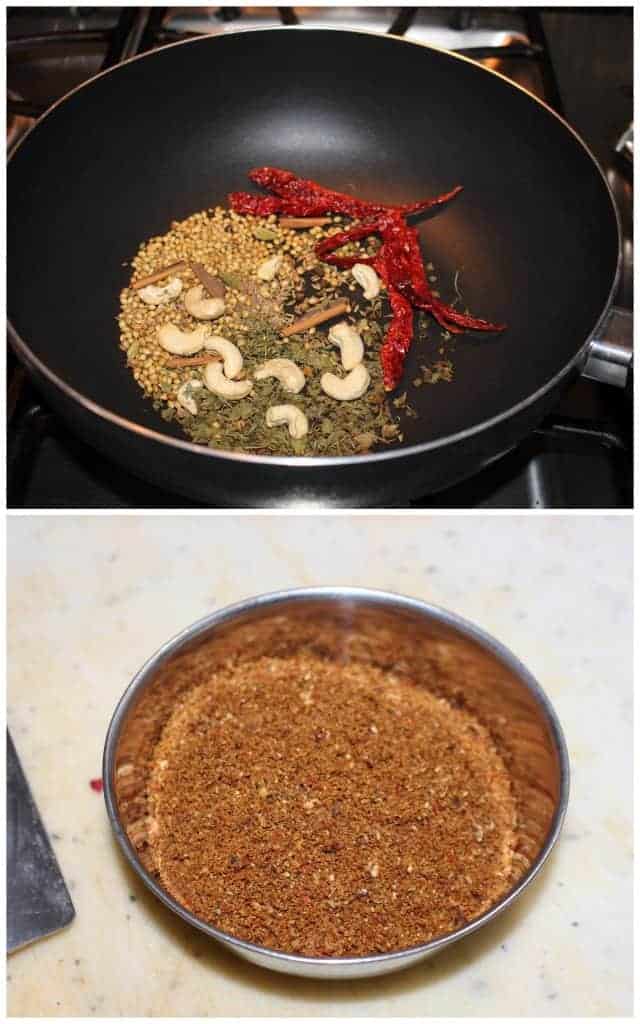 To make the Kadai Vegetable Gravy – 
Clean and slice the potatoes and carrots and place them in a microwave safe bowl. Add the green peas to the bowl and sprinkle some water. Cook them until they are halfway done in the microwave. Mine takes about 6 minutes to cook the vegetables half way through. The time can vary depending on the microwave. Make sure that the vegetables are not mushy as they will cook further in the gravy. This step helps in making the cooking process faster.
Cube the onions and slice the bell pepper. In the pan or kadai that we are going to make the subzi, add 1 tbsp of oil and saute them until they half cooked. Make sure the bell pepper still has some crunch to it. Remove this on a plate and keep it aside. We will add this at the end to the subzi.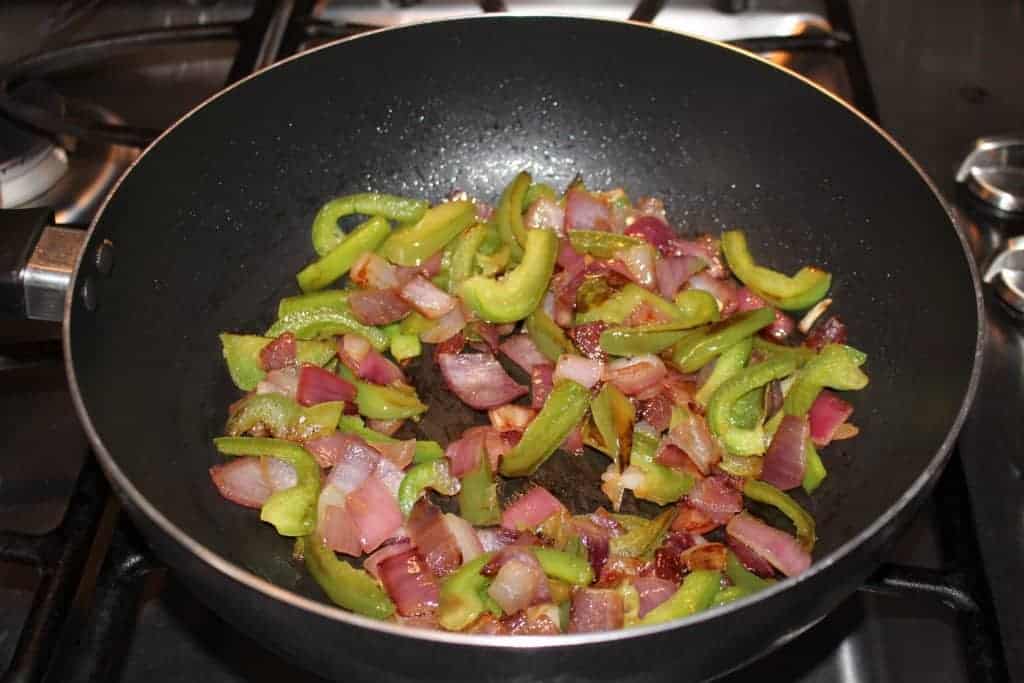 Puree the tomatoes and keep them aside.
In the same pan, heat the remaining oil. Add the finely chopped onions and saute until translucent. Now add the ginger garlic paste and fry for a minute more.
Add the tomato puree and mix well.
Next add the turmeric powder and the chili powder and mix well. Cook the masala on medium heat until the oil separated from the sides of the pan. This will take a good 10 minutes. Don't rush this step.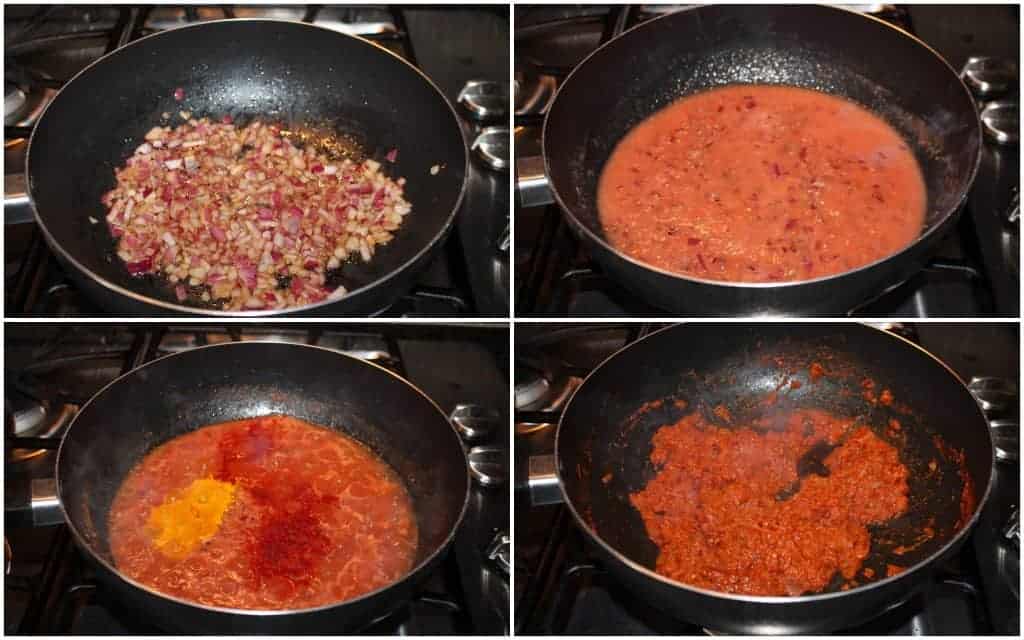 Now add the semi cooked vegetables to the pan and mix.
Add about 2 cups of water and salt and mix well. Let the subzi cook in medium heat for about 5 minutes and then simmer further for 5 minutes. Make sure that the vegetables are cooked well by now.
Add the kadai masala along with the bell pepper and onions that we had kept aside and mix well. Let it simmer further for 5 minutes. Adjust the consistency of the gravy at this stage. Add water if the subzi appears too dry.
Just before switching off the flame, add the cream to the subzi and mix. Turn off the flame.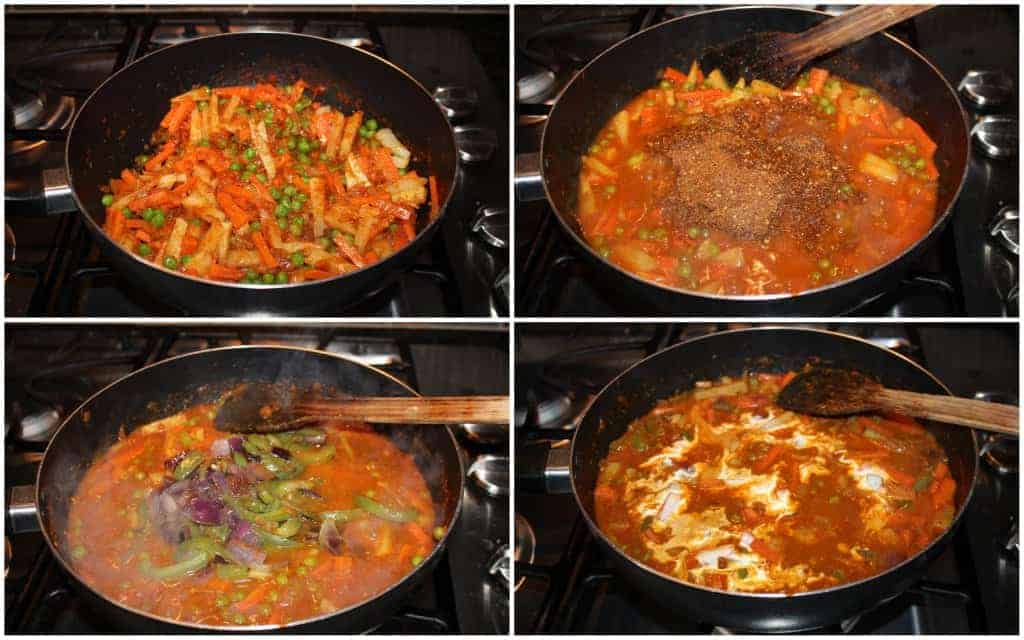 Serve hot with paratha, naan or rice.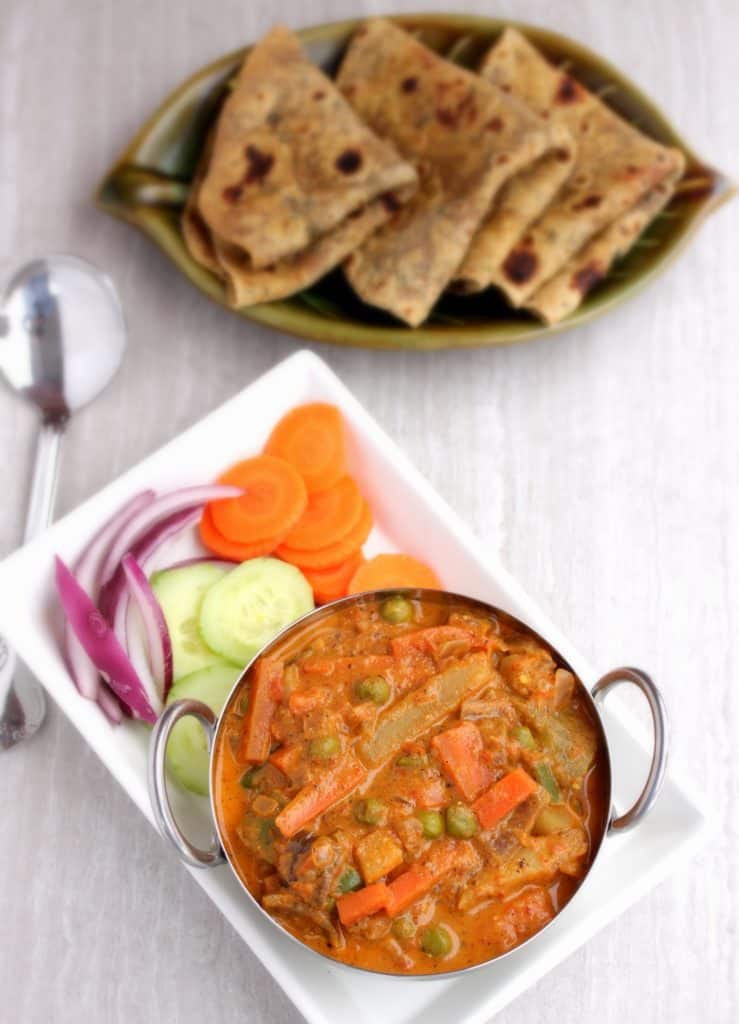 Check out the Blogging Marathon page for the other Blogging Marathoners doing this BM#72