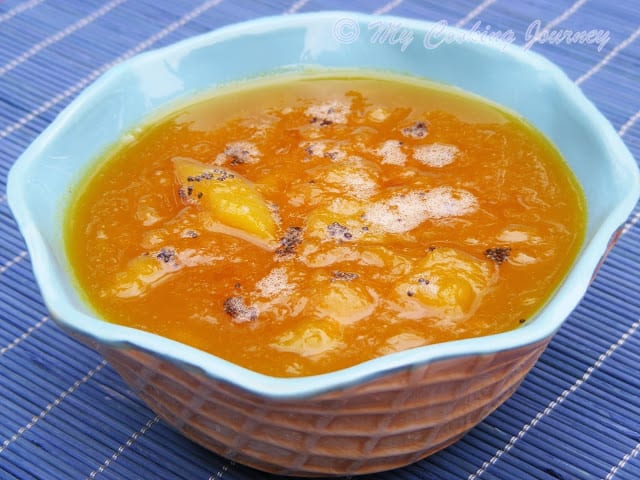 For this week's Blogging Marathon, I chose to work with the topic, cooking from a cookbook. There is a little twist to the theme though. Srivalli has given us a choice of few ingredients out of which we have to choose two ingredients and work with them in a recipe. The ingredients that I am working with today are raw mango and Jaggery (brown sugar) and I decided to do mango pachadi with it..
Mango pachadi is my kid's favorite pachadi and it is my favorite pachadi as well. In fact I don't know any one is my family who does not like it. In India, we always had to wait for the summer to enjoy this sweet pachadi. But now back here in US, we get raw mangoes year around. The preparation is so simple and it pairs well with any main dish. Mt kids enjoy this as is and I love this with curd rice. I know it sounds a little weird, but if you have not tried eating this pachadi with curd rice, do try it.
The recipe I follow is from the very famous author Meenakshi Ammal's 'Cook and See' or 'Samaithu Paar'. This is sort of a cooking bible for all the Tamil speaking amateur cooks. I came to US with her 3 books and till this date I follow her recipes for many traditional South Indian dishes.
Preparation time – 10 mins
Cooking time – 30 mins
Difficulty level – easy
Ingredients to make Mango Pachadi – Makes about 2 cups of pachadi
Raw mango – 1 large (2 cups scraped)
Jaggery (brown sugar) – 3/4th cup
Sugar – 2 tbsp
Turmeric powder – 1/4th tsp
Salt – 1/4th tsp
Oil – ½ tsp
Mustard seeds – ½ tsp
Procedure –
Choose raw mangoes that are slightly soft and not too sour. Mangoes that are neither too sweet nor too sour work very well for this recipe. Scrape the skin and then slice the mangoes into thin pieces. The recipe actually uses the mango with the skin on, but I generally remove the outer skin.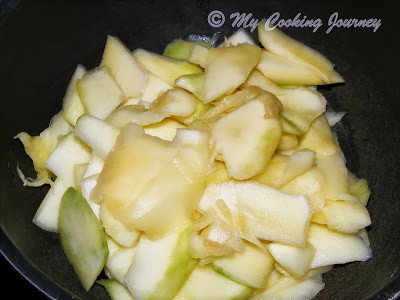 Cook the mangoes in just enough water to cover with the salt and turmeric powder.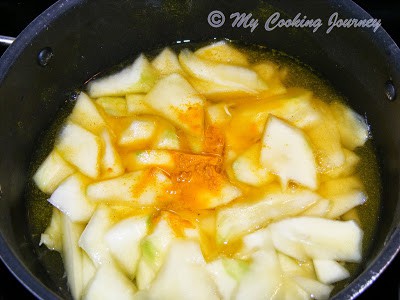 Once the mangoes are cooked well, mash them with the back of the spoon and then add the jaggery and sugar. Do adjust the amount of sweetness depending on how sweet or sour your mangoes are.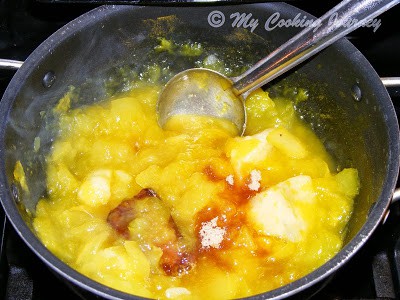 Let the jaggery dissolve and then bring the pachadi to boil. Simmer for about 5-7 mins until everything combines well and thickens.
Season with mustard seeds and serve. The original recipe also includes green chilies in the seasoning, which I omitted since it is hard to take it out when serving to the kids.