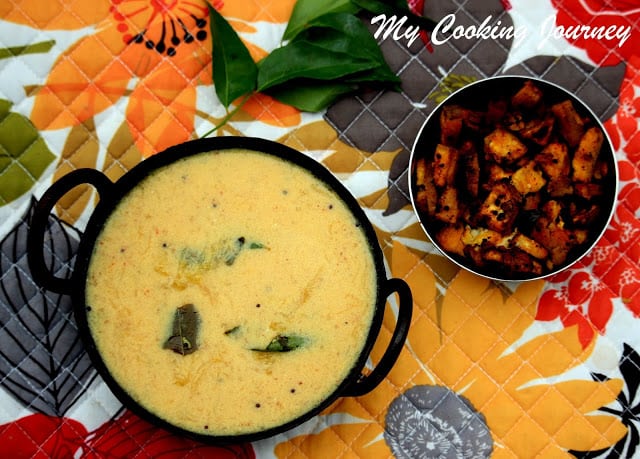 I love mangoes and now that the mango season is here, I am totally enjoying the fruit. After moving to South, I found out a couple of different varieties of mango and I have been taste testing them. During one such buy, the mangoes looked very ripe from outside, but when I cut them they were quite sour. Not knowing what to do, I kept the sliced mangoes inside a container and put it in the refrigerator.
Couple of days later, the mango was intact and tasted just like when I had left them inside. So I knew that they could not be consumed as is it and needed to be transformed into something else. They were pretty squishy to be made into mango pickle and too ripe to be made into Mango pachadi. That is when I came across this Maambazham Morkuzhambu recipe on Subbu's kitchen and decided to give it a try. The kuzhambu had a very intense flavor of the mango minus the sweetness. Once I knew this recipe, I have no fear to venture out and buy mangoes as I know what to do with the not too sweet ones.
This recipe needs ripe mangoes, so make sure you use the ripe fruit and not raw mangoes. Also increase the spiciness of the kuzhambu as that will help neutralizing the sweetness of the fruit.
Preparation time – 10 minutes
Cooking time – 30 minutes
Difficulty level – easy
Recipe adapted from – Subbu's Kitchen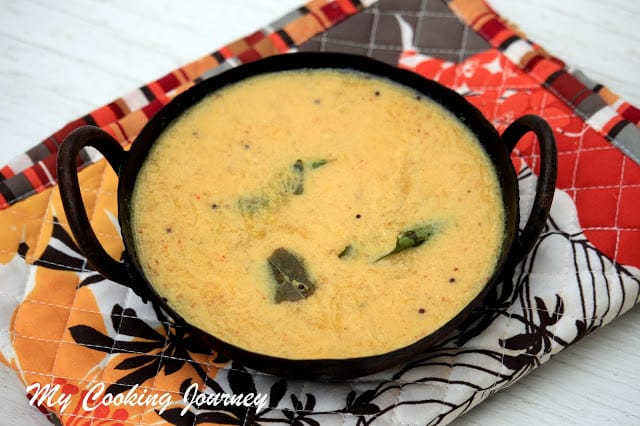 Ingredients to make Maambazham Morkuzhambu – Serves 4-6
Mango (ripe) – 1 large or 2 small (skin removed and chopped)
Buttermilk – 2 cups (sour)
Turmeric powder – ½ tsp
Red chilies – 4 (adjust based on your preference)
Fenugreek seed – ½ tsp
Coconut (grated) – ½ cup
Rice – 1 tbsp
Coconut oil – 1 tsp
Salt – to taste
To temper –
Coconut oil – 2 tsp
Mustard seeds – 1 tsp
Curry leaves – few
Procedure –
Soak the rice in a little water for about 10 minutes.
Remove the skin of the mangoes and chop into 1 inch pieces. In a small sauce pan, add the chopped mangoes and about a cup of water along with a pinch of turmeric powder and cook until the mangoes are soft. It does not take too long as the mangoes are ripe. Turn off the flame and let it cool down. You can mash the mangoes with a ladle or leave it as chunks if preferred.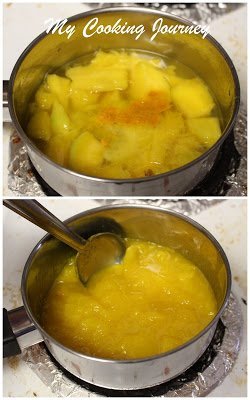 In a small pan, heat 1 tsp of oil and fry the fenugreek seeds and red chilies until brown and aromatic. Turn off the flame and then grind it along with the soaked rice and coconut to a smooth paste.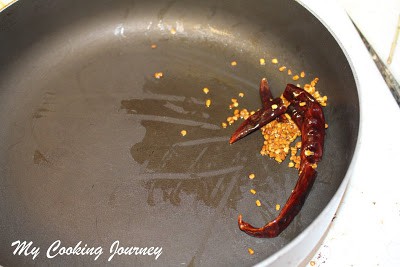 Mix the paste with the sour buttermilk and whisk it well. Now add the cooled down mango pulp and heat it on flame. Make sure you cook the morekuzhambu in low heat or else the buttermilk will curdle. Add turmeric powder and salt and let the mixture come to a boil. You will notice that the morkuzhambu has thickened by now. Do not let the morkuzhambu boil for too long.

Heat the coconut oil to temper and add the mustard seeds and curry leaves. Add it to the morkuzhambu and mix well.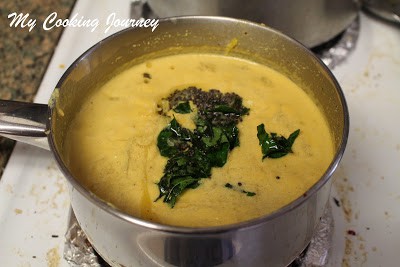 I served the Maambazham Morkuzhambu with rice and vazhakkai (raw banana) curry.