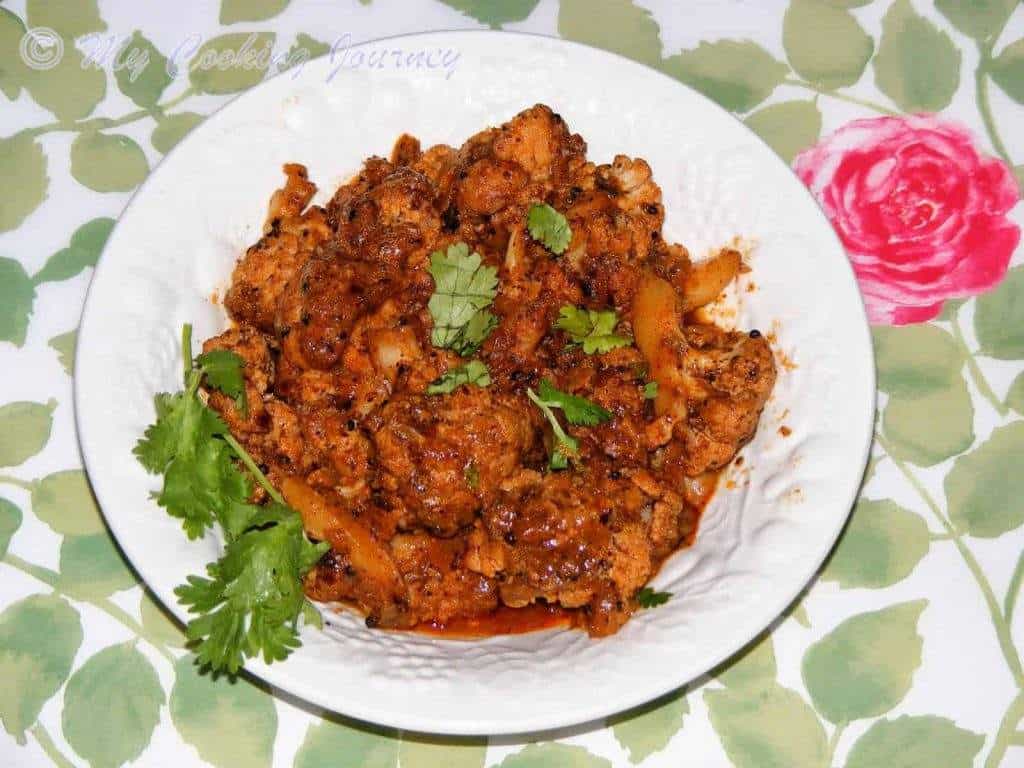 Cauliflower is a vegetable liked by all in my house and I cook with it frequently. This specific Subzi though is something that I have never heard of until I made it this time. When discussing various recipes to cook with cauliflower in one of the online forums, someone had mentioned Achari Gobhi. Since this was something that I have never heard before, I researched online and found that this a tangy spicy masala in which the cauliflower is cooked in.
It is sort of a dry subzi/masala and goes really well with roti or Dal Chawal (rice and lentils). The star of the dish is the pickling masala in which the cauliflower is cooked. When I saw the recipe for it in playful cooking, I wanted to try it our right away.
Preparation time – 20 minutes
Cooking time – 40 minutes
Difficulty level – easy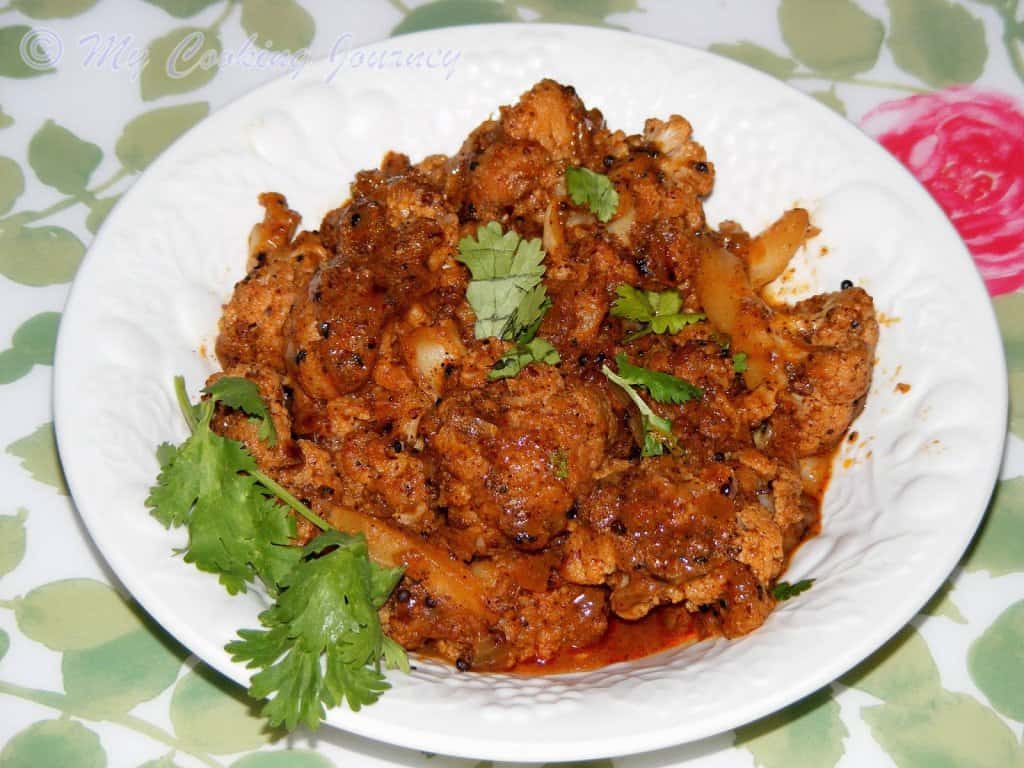 Ingredients to make Achari Gobhi – serves 4
Cauliflower – 1 medium (florets separated)
Onion – 1 (finely chopped)
Tomato puree – 1/2 cup (I used 3 tomatoes and made it into puree)
Garlic – 2 cloves (minced)
Ginger – 1/2 inch (grated finely)
Yogurt – 4 tbsp
Chili powder – 1 tsp
Sugar – 1 tbsp
Oil – 4 tbsp
Mustard seeds – 1/2 tsp
Nigella seeds – 1/2 tsp
Cinnamon stick – 1 inch piece
Salt – to taste
Cilantro – to garnish
For the Pickling Masala –
Red chili – 3
Fenugreek seeds – 1/2 tsp
Nigella seeds – 1/2 tsp
Mustard seeds – 1/2 tsp
Cumin seeds – 1/2 tsp
Lemon juice – 2 tbsp
Procedure to make Achari Gobhi –
To make the Masala –
In a pan, dry roast all the spices mentioned for the masala until aromatic. Let it cool down and then grind it to a powder. I used my spice powder to grind the masala.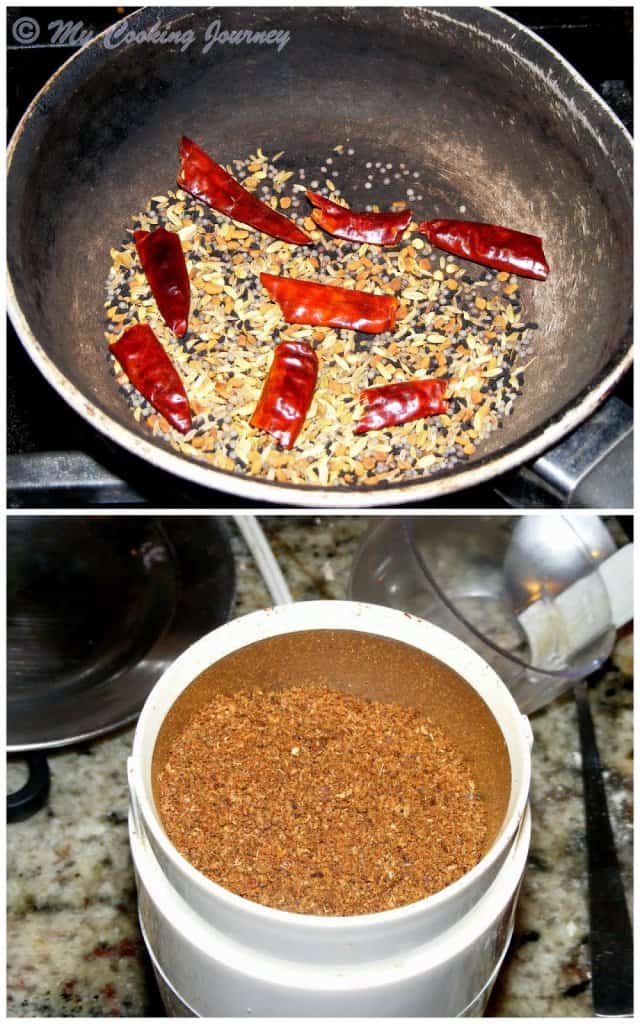 Transfer the masala into a bowl and then add the lemon juice to it. Mix well and keep it aside.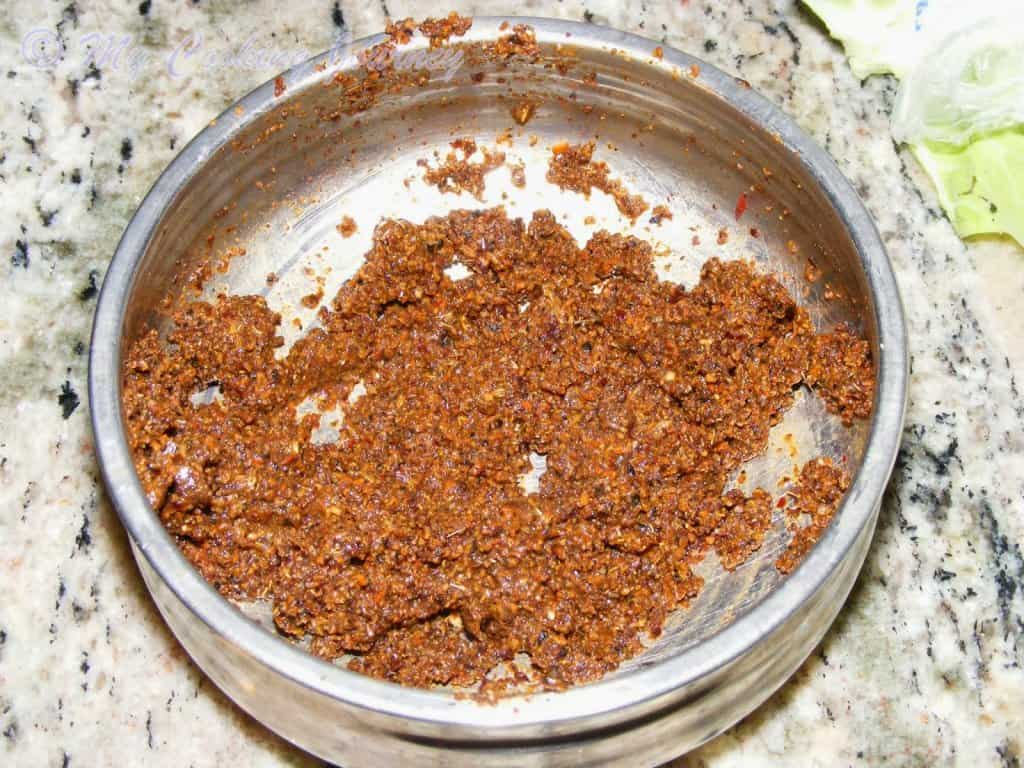 To make the Subzi –
Separate the florets from the cauliflower and clean them. In a pan, heat about 2 tablespoons of oil and then sauté the florets with some salt until they are half cooked and slightly starts to change color. Transfer the florets to a bowl.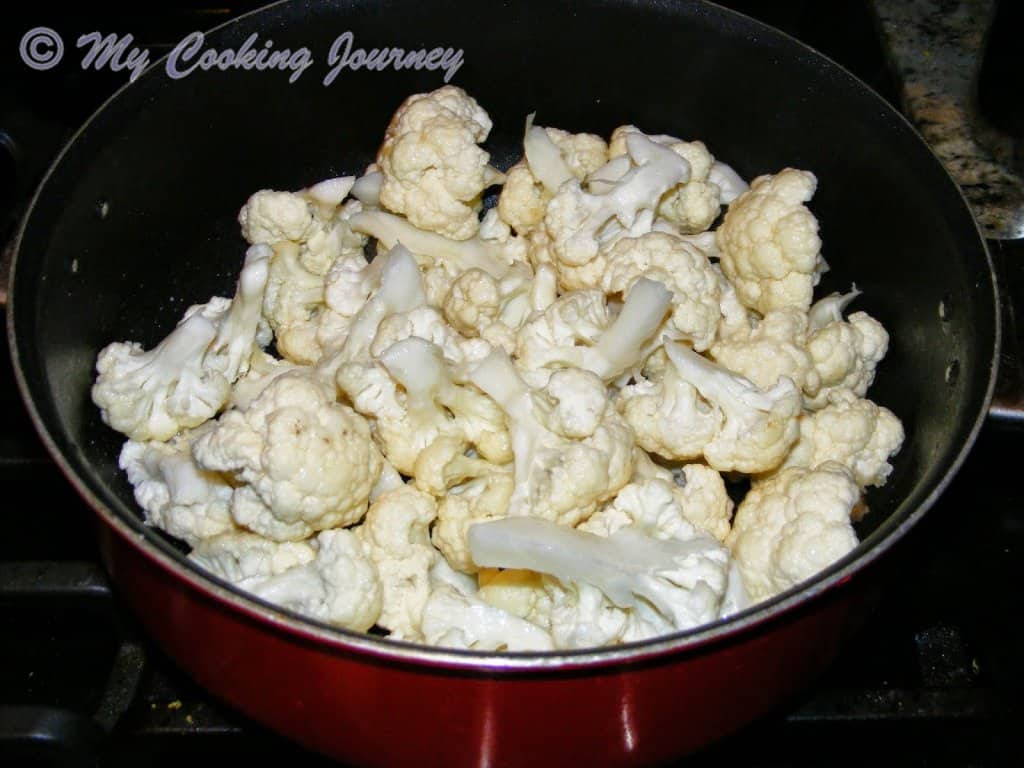 In the same pan, add the remaining oil. Add the mustard seeds, nigella seeds and cinnamon stick and fry for a minute until aromatic.
Now add the ginger, garlic, chopped onions and salt and sauté until the onions are translucent.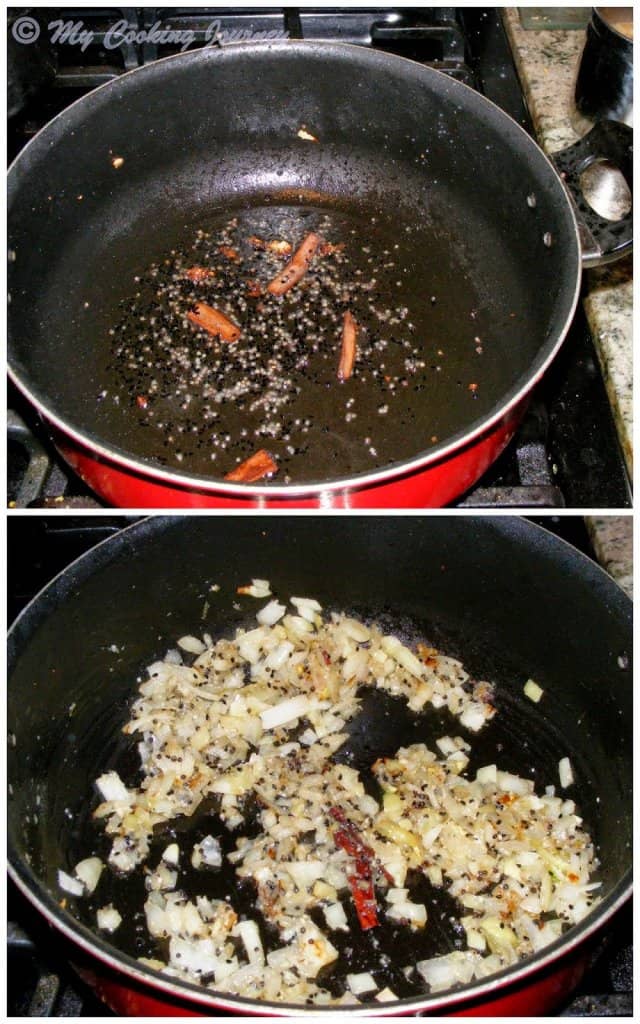 Add the prepared pickling masala to the onions and mix well. Cook the masala in medium heat until the spices are cooked through and the oil starts to separate. This should take a good 10 minutes, so keep stirring the masala to avoid burning them.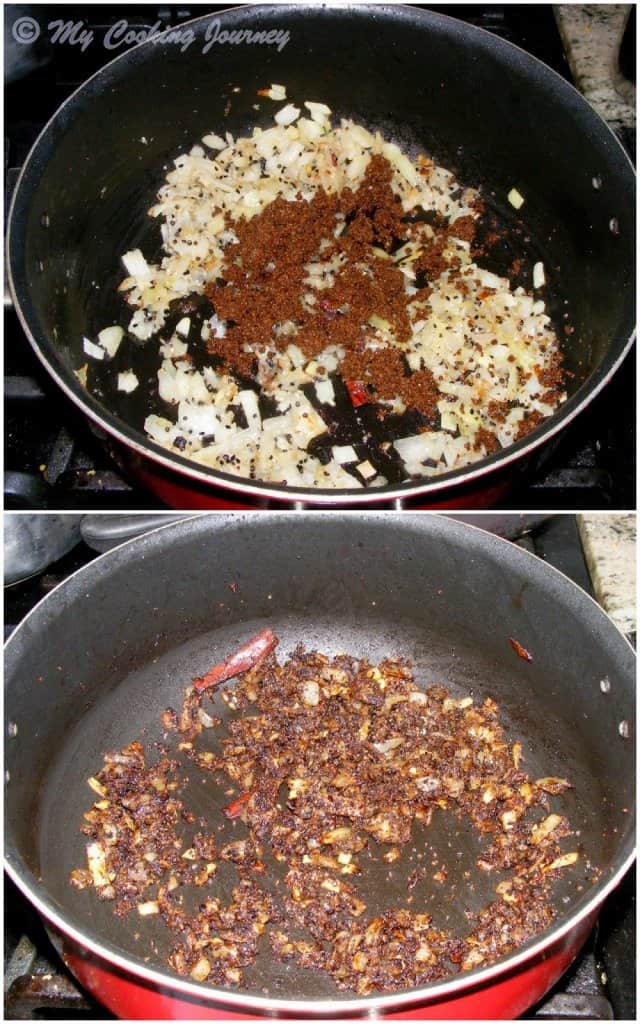 Add the tomato puree and the sugar and cook the gravy until everything comes together (for about 5-7 minutes).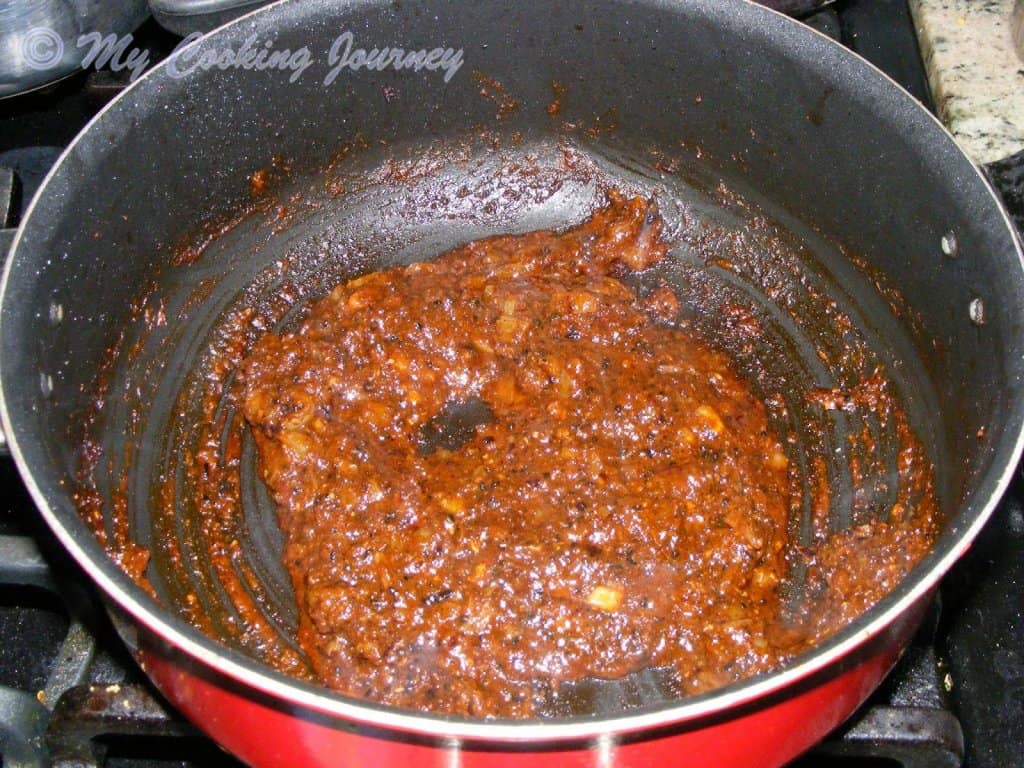 Add the cauliflower florets, chili powder and yogurt and mix well. Continue to cook on low-medium heat and check for seasonings. Make sure that the heat is low, otherwise the yogurt will curdle and separate.
Once everything comes together, turn off the flame and garnish with cilantro.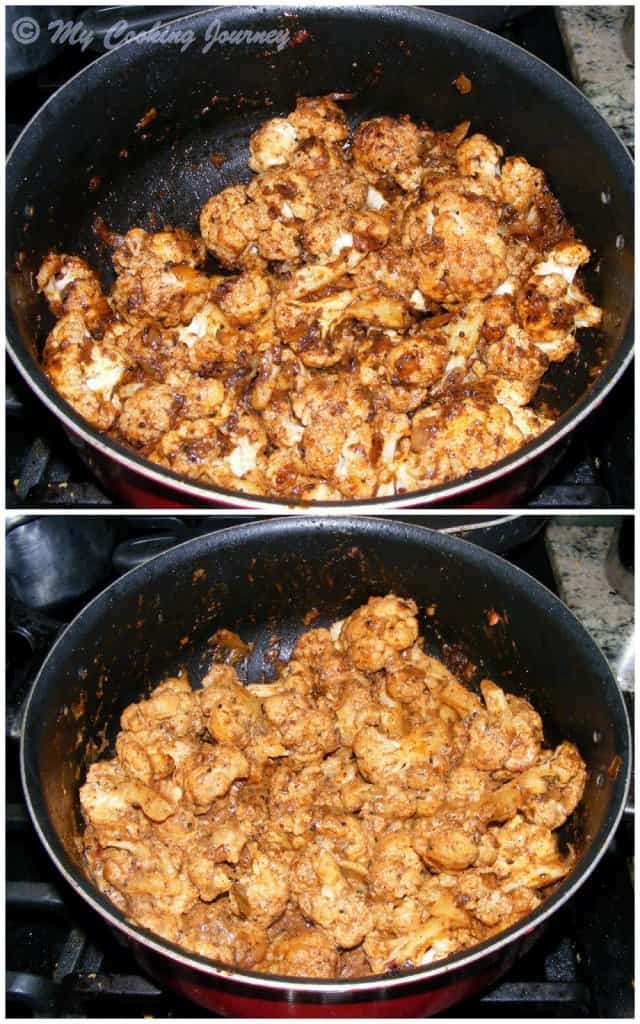 Serve the Achari Gobhi hot with rice or roti!