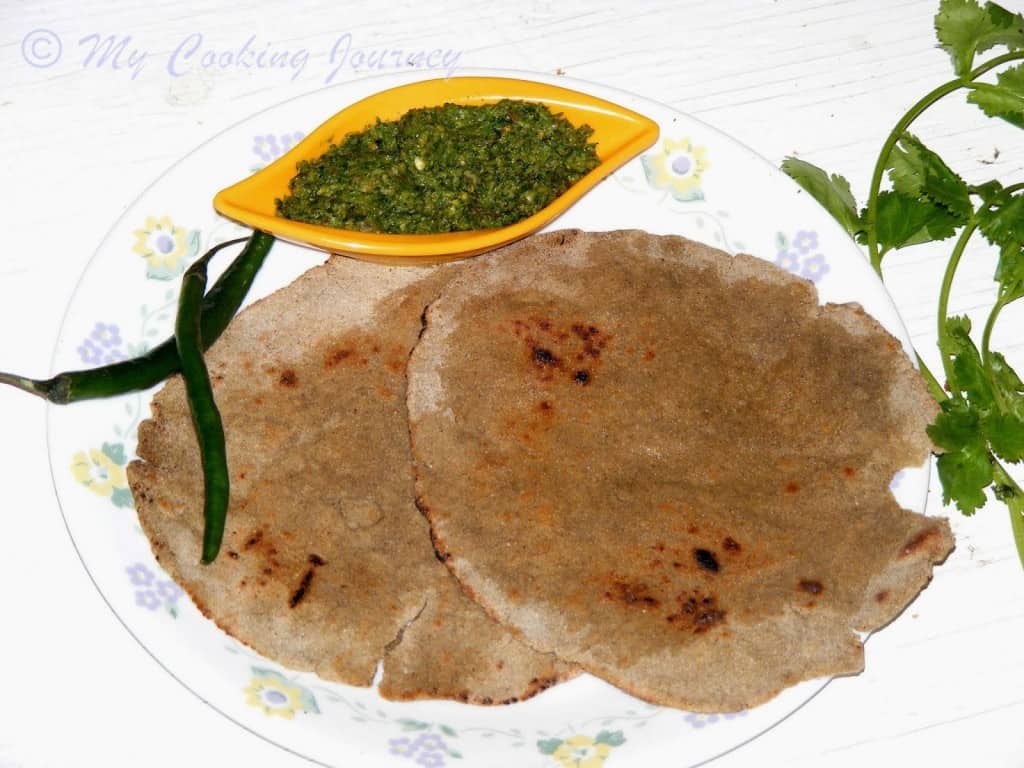 The Maharashtra cuisine also known as the Marathi Cuisine ranges from dishes that are very mild to dishes that are very spicy. Rice and bread is the staple of the cuisine. Bhakri, which is a flatbread made out of millets like jowar or bajra (Pearl Millet), are very common and a part of the daily food in the rural areas. It is mostly accompanied by a bhaaji (vegetable) or spicy chutney like Thecha (green chili and garlic chutney). Again like many states in India, the Marathi cuisine is largely influenced by the landscape and the crops grown in different regions.
For the Marathi cuisine's recipe, I asked my chitti (aunt) who lives in Pune and has lived there more than half her life. She immediately came up with a list of authentic Marathi recipes and I chose to make this delicious combo, Bajyrya Bhakri and Harvi Mirchi Thecha. I am so glad I made it, because my many attempts in making the Bajra roti also known as the bhakri has been a failure. My texture of the roti used to be so hard that it was almost impossible to eat more than half of a roti. Based on my chitti's tips, I was able to make a very decent Bhakri. Eating a roti made out of millets is definitely an acquired taste. It does takes a couple of try's before one could like it. Also, after eating the bhakri with the spicy thecha, I realized that it needs a very spicy side dish. This you tube video helped me lot to make the bhakri.
Thecha is traditional spicy chutney eaten with the bhakri. It does use a lot of green chilies and hence use it very sparingly when eating. This was the best combination ever that I have eaten with the millet roti's.
This recipe also is my submission for the Shhh Cooking secretly challenge, which is a monthly event happening at Priya's versatile recipe. The mission of this event is to know the fellow bloggers more mutually and share the cooking experience with them. Priya chooses a pair of bloggers randomly and we as a pair give each other two secret ingredients to cook with for that month. This month I am paired with Saraswathi of Saras Kitchen . Saraswathi chose Bajra flour and green chili as my ingredient for the month and this is the recipe I came up with the ingredients.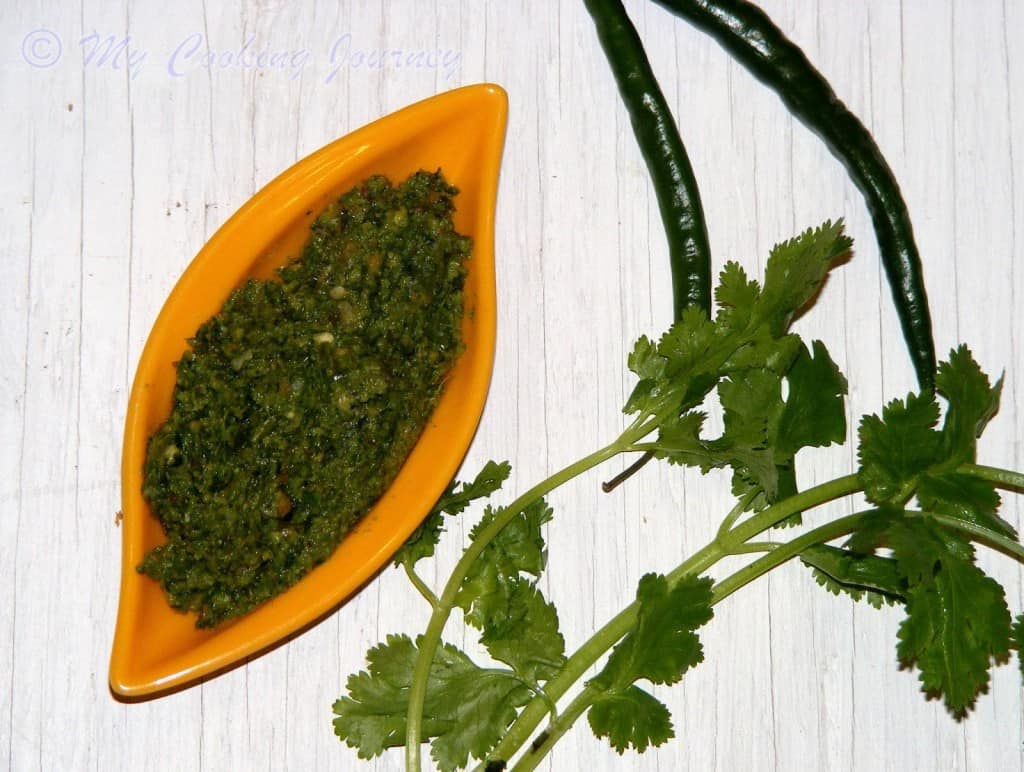 Preparation time – 15 minutes plus 15 minutes to rest the dough
Cooking time – 10 minutes for thecha and about 30 minutes for bhakri
Difficulty level – Medium for Bhakri and easy for thecha
Ingredients to make Bajyrya Bhakri and Harvi Mirchi Thecha –
To make the Bhakri - (makes about 8 large bhakris)
Bajra flour – 2 to 2 ½ cups plus more to dust when rolling the dough
Water – to make the dough
Oil – 2 tsp
Salt – to taste
Butter – to apply on the bhakri's after cooking
To make the Thecha – (makes half a cup of thecha)
Green chilies – 12 (I used the long dark green variety)
Garlic cloves – 6
Roasted peanuts – ¼ cup (crushed)
Salt – to taste
Cilantro – 1 cup (loosely packed)
Cumin – ½ tsp
Oil – 2 tsp
Lime juice – to squeeze when serving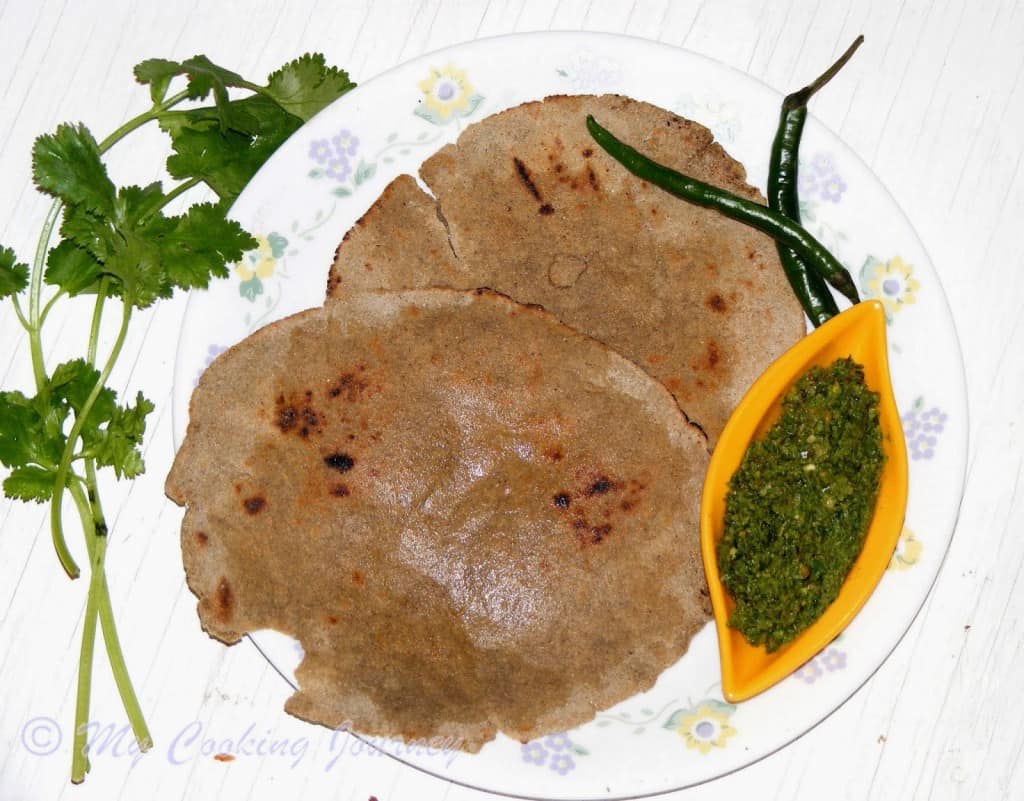 Procedure to make Bajyrya Bhakri and Harvi Mirchi Thecha –
To make the Bhakri –
In a large bowl add the bajra flour, salt and oil and mix it well.
Heat water until it is close to boiling and then slowly add it to the bajra flour mixture. Using the handle of a wooden ladle, mix it to form dough. This dough needs to be stickier than the wheat flour dough that we make for regular roti's. Once the temperature of the dough is bearable, use your hands and knead it for some time. Cover the dough and let it rest for about 15 minutes.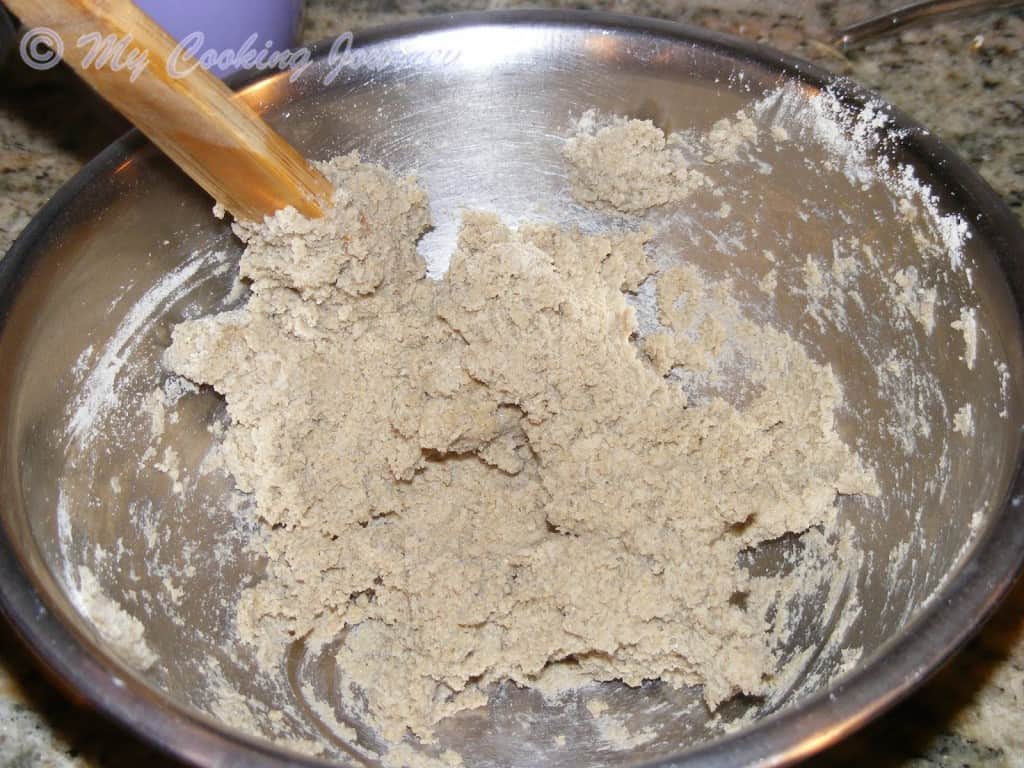 Divide the dough into 8-10 equal size balls. In a large plate, sprinkle some bajra flour and spread it around. Take one ball of dough and dust it with the flour. Place it in the middle of the plate and gently flatten it to make a roti with the heel of your palm. It does take a little practice to make it. You could also use a rolling pin to roll it out. Refer to the video to help you make it by hand.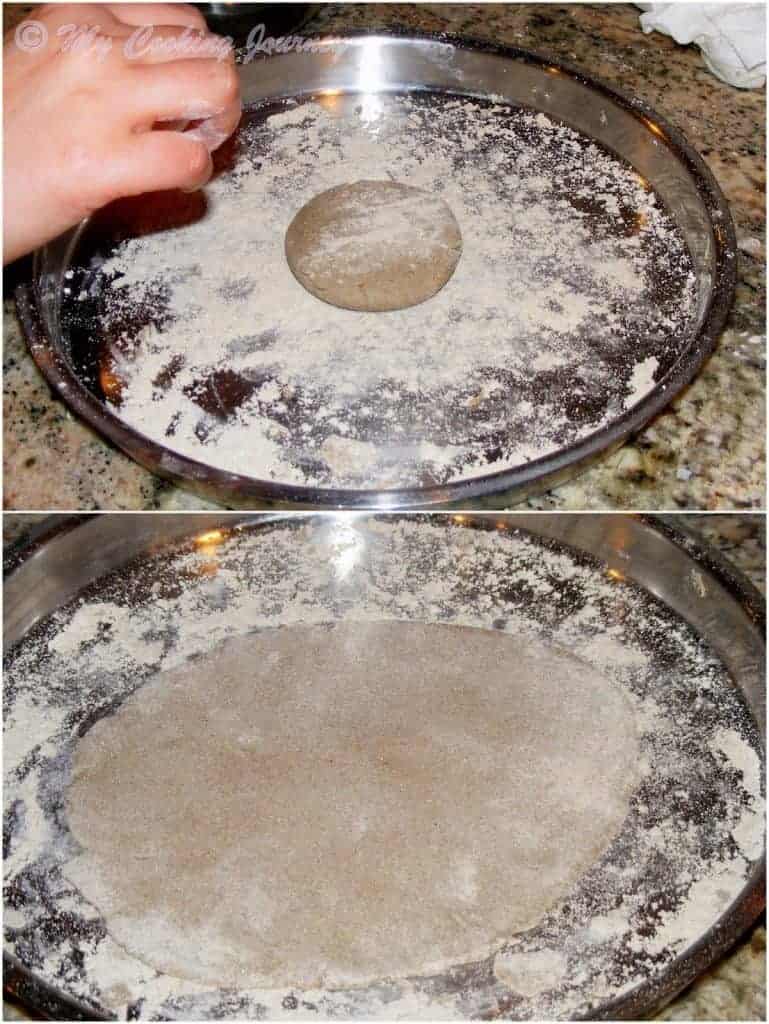 Heat a griddle/pan on medium high heat and place the rolled roti on the pan. Generously sprinkle water on the top side of the roti and spread it well using your hands. This helps to keep the bhakri soft.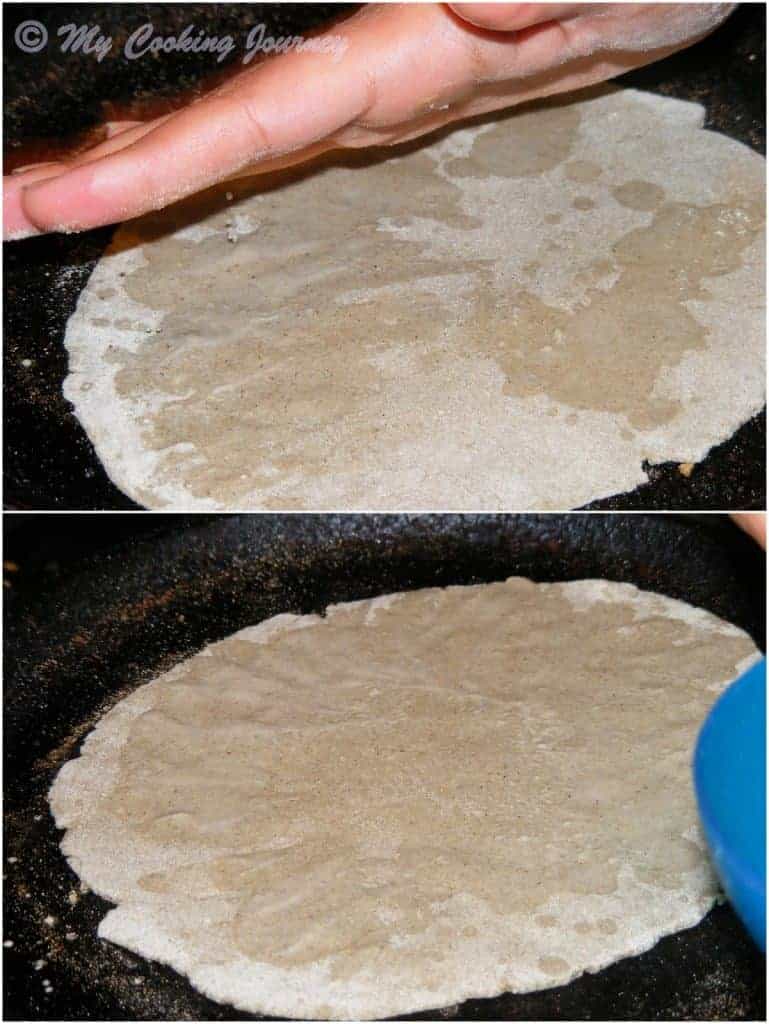 Once the water from the top gets absorbed, flip the bhakri over and cook on the other side. Now move the bhakri to an open flame and cook on both sides until golden brown. Transfer the cooked bhakri's to a container and brush with some butter. Keep it covered until ready to eat.
It is best to eat the bhakri's right after it is cooked.
To make Thecha –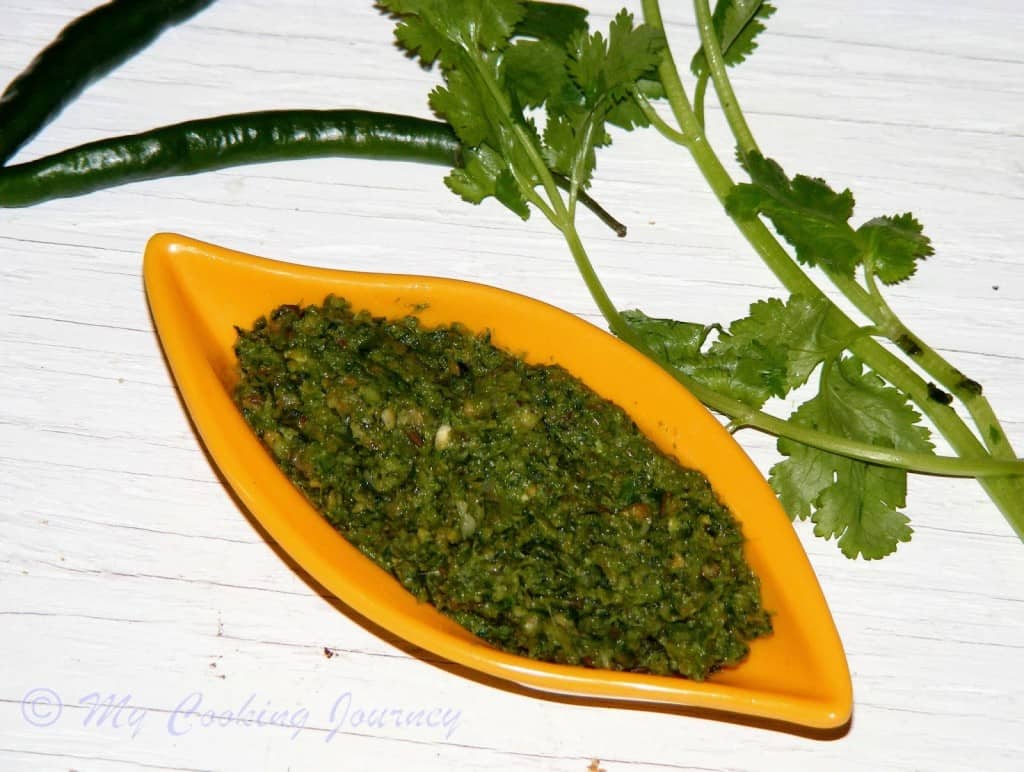 Wash and clean the green chilies and separate the cloves from the garlic.
In a pan, heat oil and fry the green chilies and garlic until blisters appear on the chilies and the garlic turns light brown. This takes about 8 minutes on medium flame.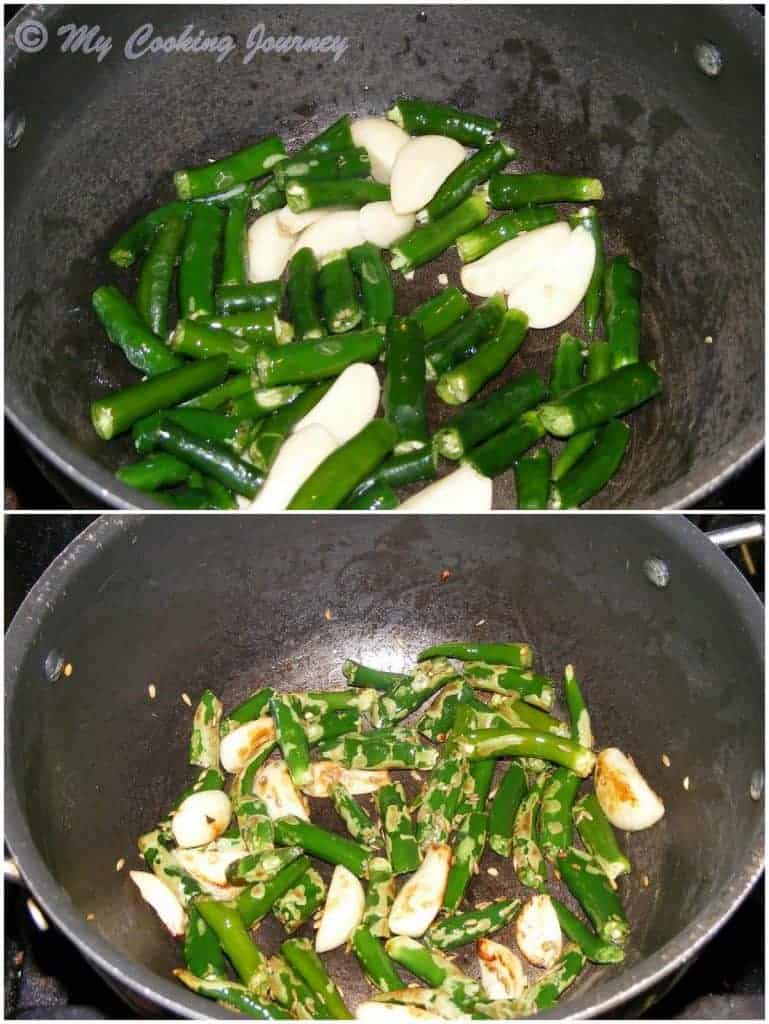 No add the cumin seeds, crushed peanuts and the cilantro to the pan and mix it well. Let it fry for about 2 minutes and then turn off the flame.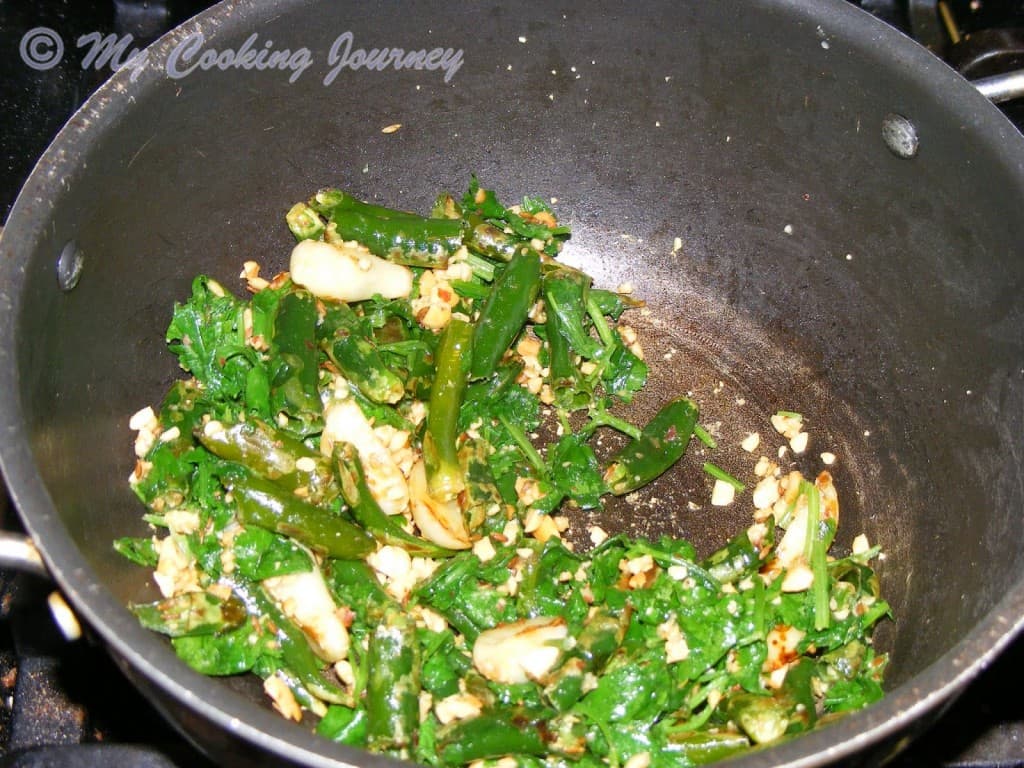 Let it cool down a bit and then grind it to a thick, chunky paste adding salt. Traditionally this mixture is pounded using a mortar and pestle, so if you own one, use it or else use the blender to grind it. Make sure that you do not add any water when grinding.
This stores well in room temperature for couple of days and then refrigerate it. When serving squeeze some lime juice.
Serve with hot Bhakris!