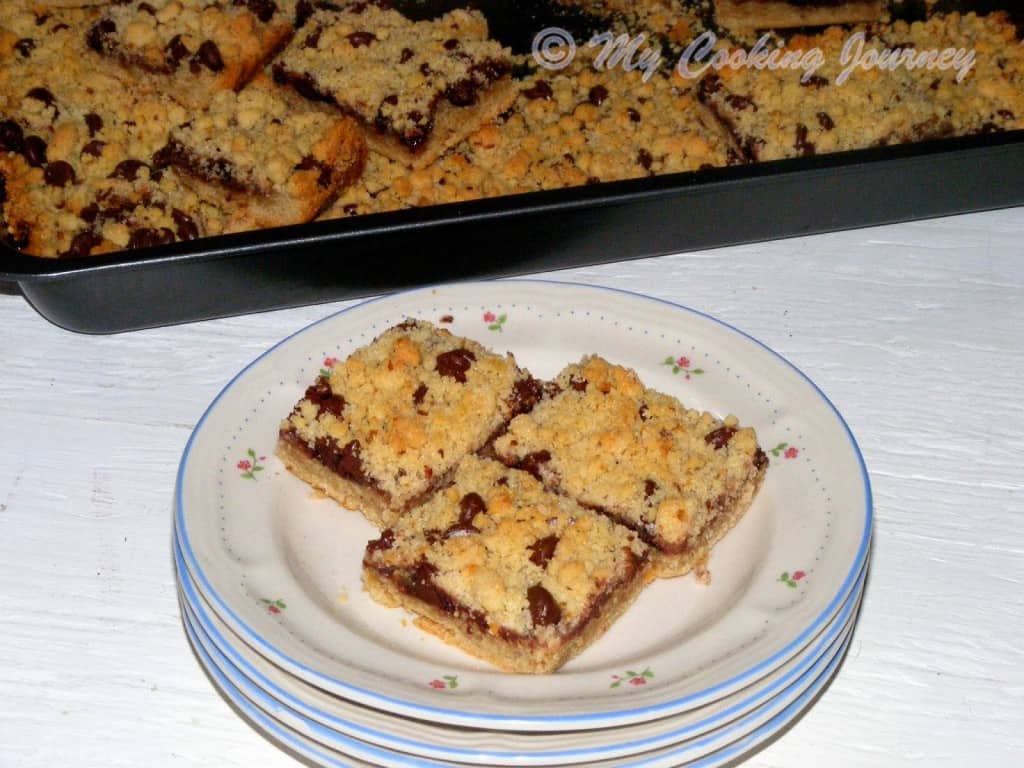 I was very excited when I saw this month's Baking Partners' recipes. Suja of Kitchen Corner Try It had suggested Lemon bars and this Chocolate Raspberry walnut bars. I was initially planning on making the lemon bars, but then changed my mind because after the many demands to make the Dulce de Leche Bars again (that I still have not made) from my son, this one sounded very similar. I was very happy with the outcome.
The bars were moderately sweet and had a perfect shortbread crust with a very nutty flavor. I had left the bars out after baking to cool, when my son came back from school. The minute he came inside and saw the bars on the kitchen counter, he very excitedly asked me, if I had made the dulce de leche bars. I told him, these were similar but not the same. I was worried that he might complain that it was not sweet enough, but he loved it and went for his second piece.
My next challenge was to get the approval from my somewhat picky little one. I took the bars (2 small ones) when I went to pick him from school and I passed on one of the bars to him. He started slow and then finished the entire piece and asked me if he could have the other piece too. That is it, I got his approval as well and I was totally happy.
We went for a weekend trip to the Lancaster County in PA where the Amish people have their big base. I found many home baked and homemade goodies and bought several different ones back home. We also visited a canning company which specialized in jams, jellies, sauces and salsas which were all locally made and canned. We had bought home several different jams/jellies from there and hence I happened to have the raspberry preserve that was used in the recipe.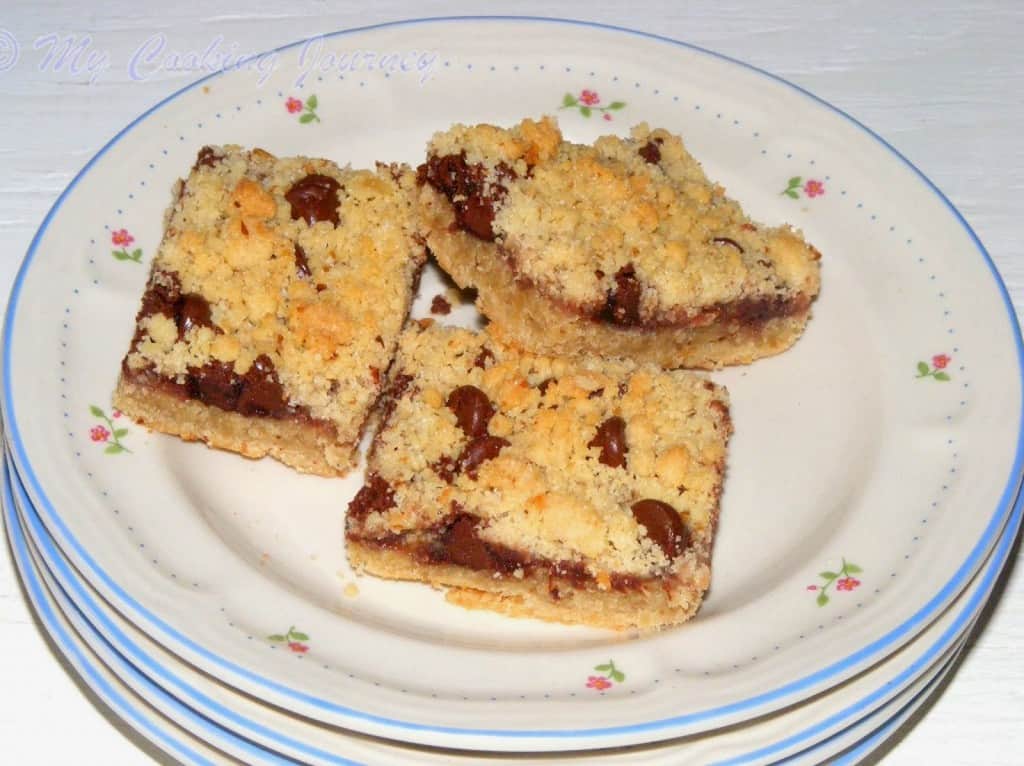 Preparation time – 15 minutes plus about an hour of chilling time
Cooking time – 30-35 minutes
Difficulty level - medium
Recipe adapted from - Faye Levi's Chocolate Sensations.
Ingredients to make Chocolate Raspberry Walnut Bars – Makes about 24 medium bars
For the Walnut Cookie Dough –
Walnuts – 1 cup (3 ¾ oz)
Egg Yolks – 3
Sugar – ½ cup
Salt – ½ tsp
Vanilla extract – 2 tsp
Lemon zest – 2 tsp
Chilled unsalted butter – 1 cup (8 Oz or 2 bars)
All Purpose flour – 1 ¾ cup
For the Chocolate Raspberry filling –
Raspberry preserve – ½ cup
Semi sweet Chocolate – 6 oz (either chips or grated)
For the Crumble topping –
Sugar – 2 tbsp
Walnuts – ¼ cup
All purpose flour – ¼ cup
Walnut cookie dough – ¼th reserve from the recipe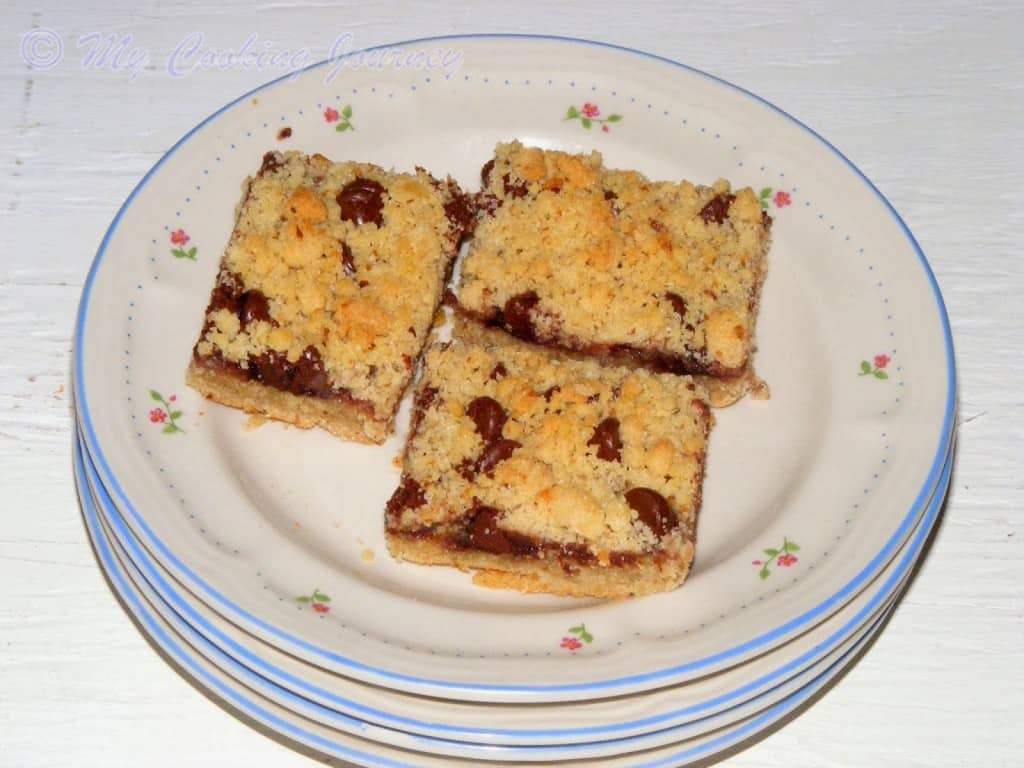 Procedure to make Chocolate Raspberry Walnut Bars –
To make the Cookie dough –
Finely process the walnuts in the food processor and keep it aside. Make sure that you pulse the nuts in intervals, so that they don't become oily.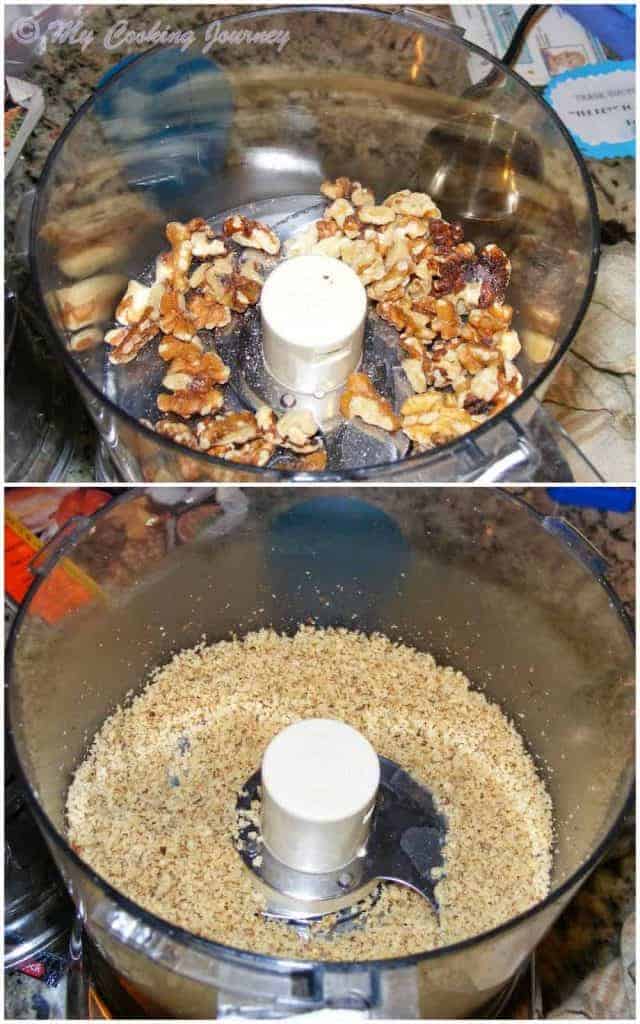 In the food processor, add the egg yolks, sugar, lemon zest, vanilla and salt and process it. Now add the chilled butter and pulse until combined. Now add the flour and the processed walnuts and combine until the mixture starts to form dough. It will appear crumbly and will begin to just come together.
At this stage gather the cookie dough and wrap it in a plastic wrap and chill it for about an hour.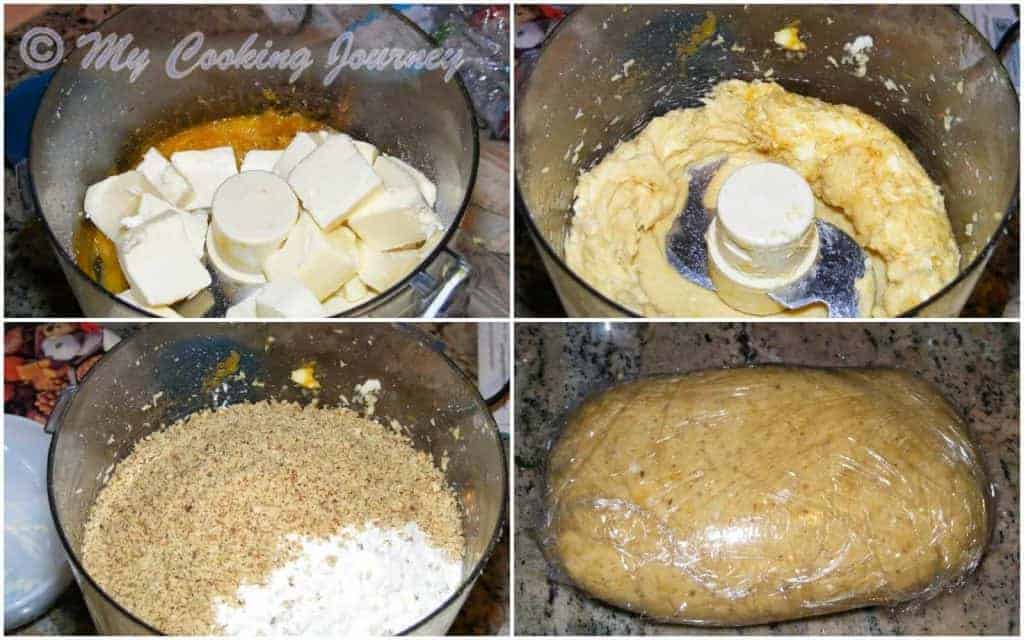 To make the crumble topping –
After an hour, cut out about ¼th of the cookie dough and combine it with the rest of ingredients (sugar, walnuts and flour) and process them together to form a crumbly mixture.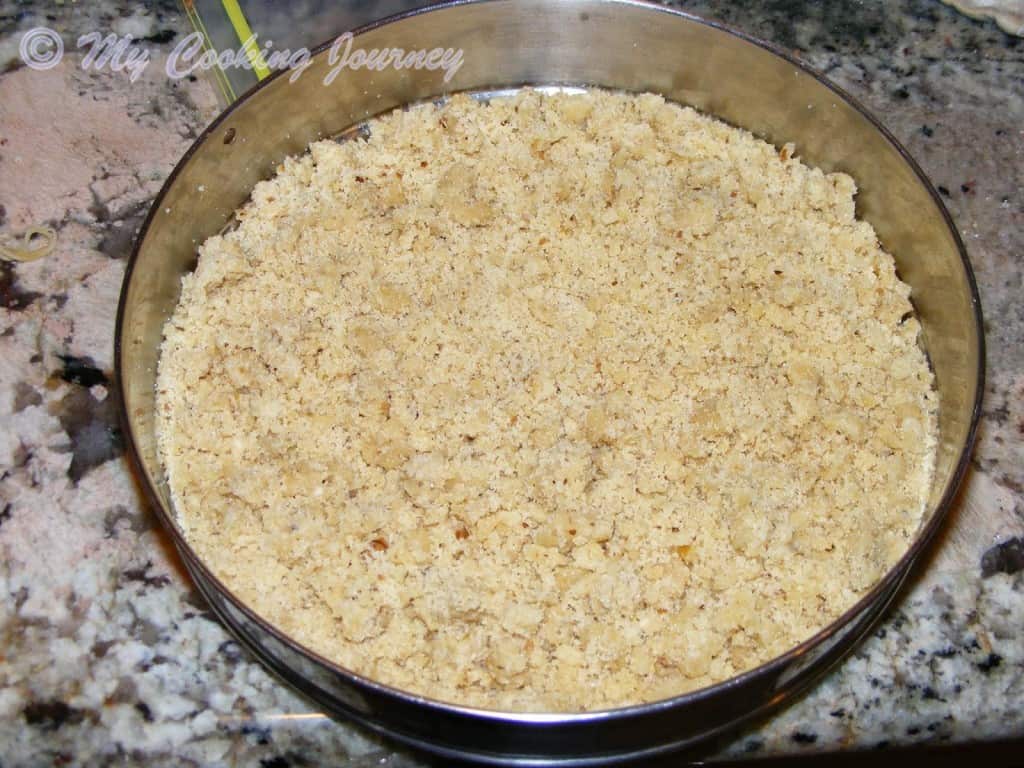 To form the bar –
In an ungreased 13 x 9 pan, pat the cookie dough (from the refrigerator) with the base of your palm to make a smooth even layer.
Now using a rubber spatula, spread the raspberry preserve over the cookie dough.
Layer the chocolate (chips or grated) evenly over the preserve.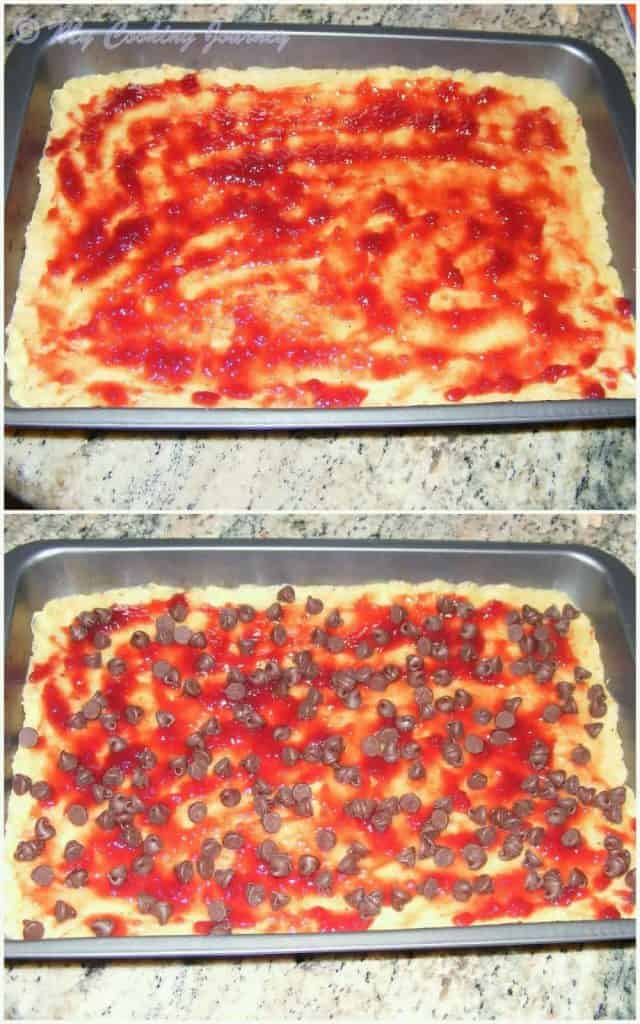 Sprinkle the prepared crumble topping evenly over the chocolate layer.
Preheat the oven to 350 F.
Bake the bars for 30 – 35 minutes until crumbs are firm and light brown. The bars will still be very soft to touch.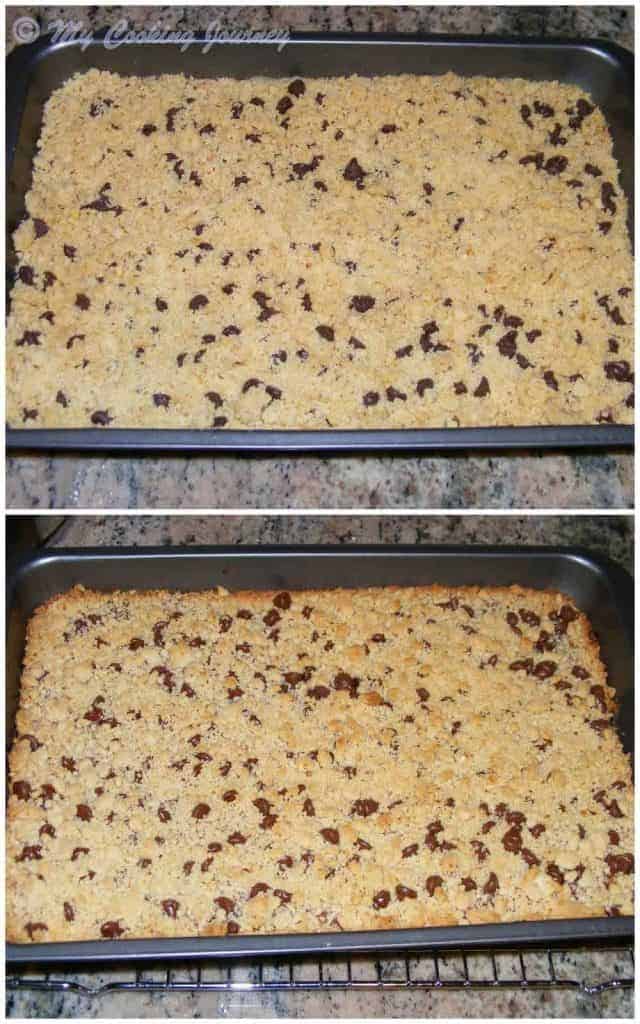 Cool the baked bars in the tray over the cooling rack until slightly warm. At this stage use a sharp knife to slice them into bars.
Cool it further and then store the Chocolate Raspberry Walnut Bars in air tight containers. It keeps fresh for up to 3 days in room temperature.