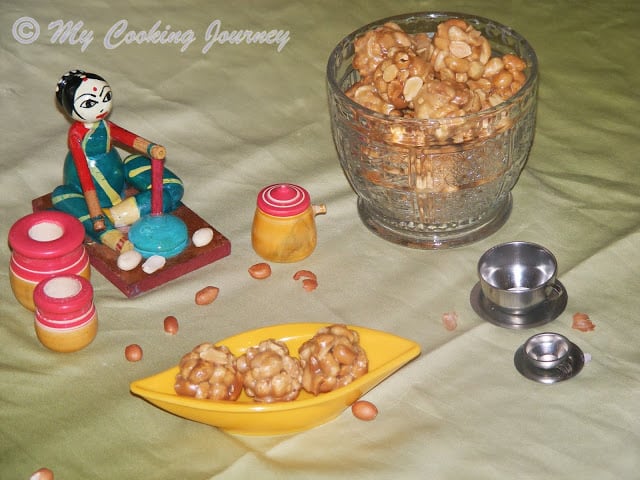 I chose to make Kadalai Urundai for my third and final day of my Tea Kadai Menu. Kadalai urundai is one of my husband's favorite sweet. These are found in couple of different forms. They are available as chikki (bar) form and in the ball form. The key to making these is getting the jaggery syrup in the right consistency. Peanuts are groundnuts as they call them in India are poor man's Almond. These are found in abundance in India and are very common in street side stores.
I remember those days when I used to take change (few coins) from my mother and used to go to the nearby store to buy couple of kadalai urundai. The crunchy kadalai urundai would satisfy my sweet tooth all the way back home. I am so glad to see my kids love kadalai urundai and I can't be more happy to be able to make these for them.
This is also made during karthigai deepam festival as a part of neivedhiyam. They store pretty well when kept in airtight container.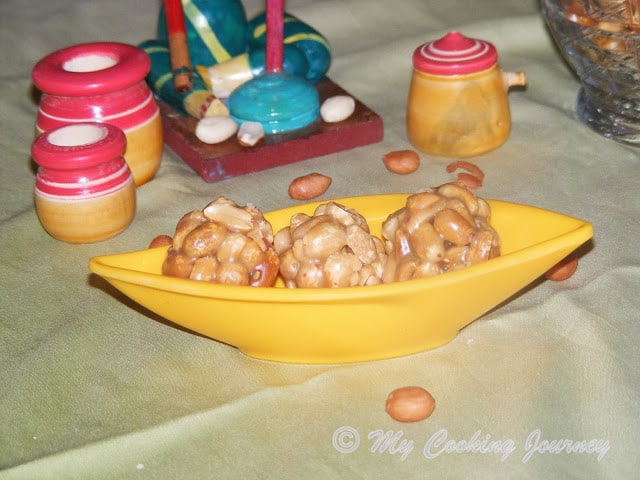 Preparation time – 10 mins
Cooking time – 45 mins
Difficulty level – medium
Ingredients to make Kadalai Urundai – (makes around 25 balls)
Peanuts – 2 cups (raw or unsalted roasted)
Jaggery – 1 cup
Water – ½ cup
Cardamom powder – ¼ tsp (optional)
Ghee – to grease your palm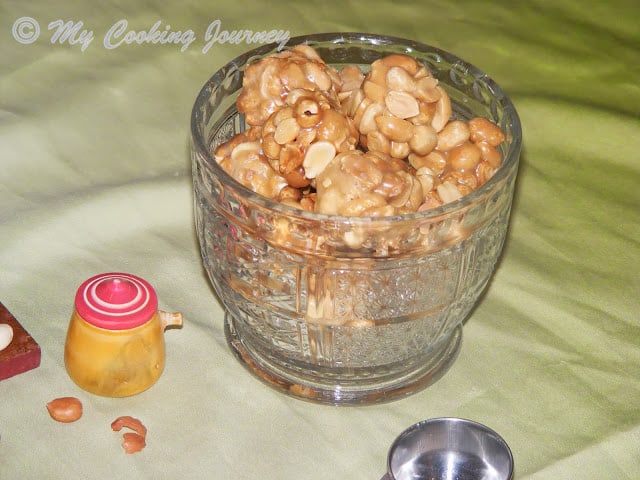 Procedure –
If using unsalted roasted peanuts, just remove the skin and keep it aside.
If using raw peanuts, we need to roast them. To do so, layer the peanuts in a single row in a baking tray.
Preheat the oven to 350 F and place this tray of peanuts in the oven. Bake them for about 15 – 20 mins, rotating the tray twice or thrice in between.
Remove the peanuts after about 16 mins and leave it out until it cools down to room temperature. Then rub the peanuts in between your palm and remove the skin. Blow away the removed the skin and then keep the dehusked peanuts aside. I have tried to roast penuts over the stove top previously and it roasts them very unevenly. Roasting them in the oven yield very uniformly roasted peanuts.
Heat jaggery and water and let the jaggery melt. Strain it to remove the impurities and then heat it again until it comes to the hard ball stage.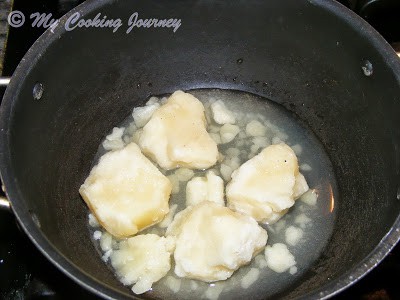 This is the trickiest stage in the recipe. If you have a candy thermometer, go ahead and use it to determine the hard ball stage. If not keep a shallow plate filled with cold water. Add a drop of syrup to the water and then slowly try to make a ball out of it. If it forms a ball without disintegrating, then the syrup is ready. I missed taking pictures for this stage. I will upload them when I make them again.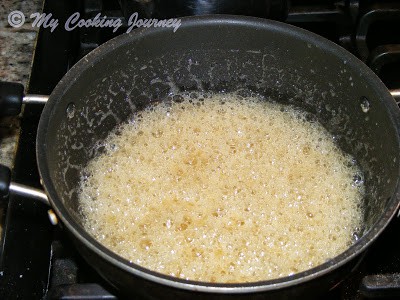 Pour this syrup on the roasted peanuts and mix it using a wooden spoon.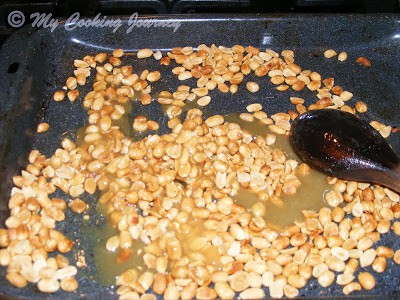 Grease your palm with little ghee and then start making round balls. Make sure you start rolling it out when the whole thing is still hot otherwise, the peanuts would become hard and it will be unable to roll them.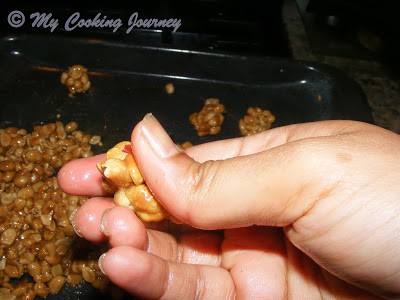 If the syrup crystallizes before making balls, then slightly heat the tray/plate. This will start dissolving the syrup and then make balls out of the remaining.
Cool the urundai in a single layer (to prevent sticking with each other) and then store it in an airtight container.