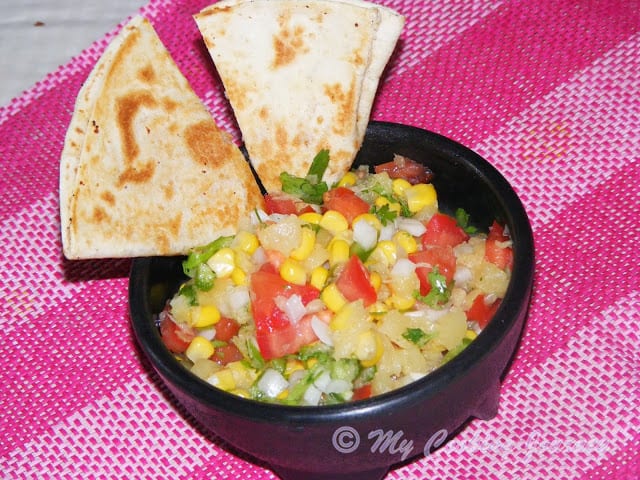 Summer always means lots of fresh seasonal vegetables either from my backyard or from the local farmer's market. My oldest son loves fresh vegetables and summer is his favorite time of the year, when he can just go to the backyard and eat a handful of fresh ripe cherry tomatoes.
The other day when I was making quesadilla as a quick late evening snack, my son demanded some fresh salsa. Hence I started the putting together this Corn Pineapple Salsa. My little one comes to me and says I want pineapples in the salsa. Thank god, I had a can of crushed pineapples in the pantry. Next came the demand for some corn and so in went the corn. Then I added some fresh tomatoes and cilantro from the garden and made this quick and easy salsa which has loads of fruity freshness to it.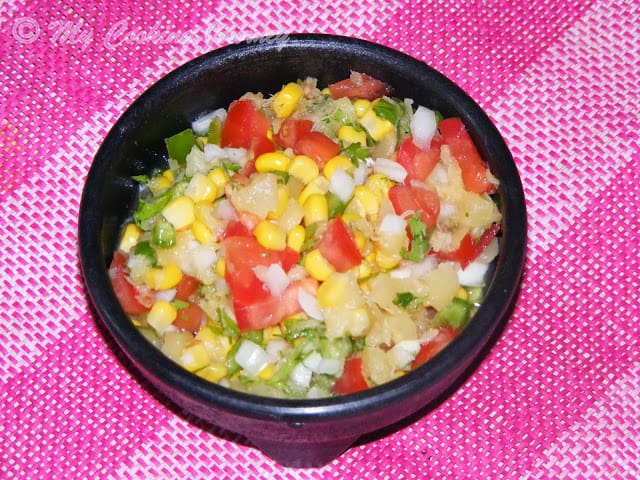 This Corn Pineapple Salsa is very easy to put together and would be a perfect crowd pleaser. This could serve as an accompaniment to some dish or as a dish by itself. We just ate a bowl of it as it is and it pleased the salad yearning side of me.
This also served as a way for me to get as many vegetables as I could into my kid's meal. I used canned corns and pineapples, but if you have fresh ones in hand, please use them. If using fresh corn, I would suggest boiling them in water for few minutes and then cool them down before using. Also grilling the corn would be a wonderful idea.
This week for the BM, I am going to be making Kids delight recipes with the theme as after school snack. After school snack is an absolute requirement in my house hold. With my kids in several activities, I need to feed them healthy as well as filling snack before we head out of the door. So the next few recipes that I will be sharing might help you plan your kids after school snack once the school reopens (in my part of the country).

Preparation time – 15 mins
Cooking time – none
Difficulty level – easy
Ingredients to make Corn Pineapple Salsa – (serves 4 as a salad or 8 as salsa)
Corn – 1 can (drained)
Pineapples – 1 cup or 1 can (chopped fine or crushed)
Tomatoes – 2
Bell pepper – 1 small (chopped finely)
Onion – 1 small (chopped finely)
Garlic – 2 cloves (minced)
Jalapeno pepper – 1 tbsp (de seeded and chopped finely)
Cilantro – ¼ cup (chopped finely)
Lime juice – from 1 large lime or about 2 tbsp
Vinegar – 1 tbsp
Sugar – 1 tsp
Salt – to taste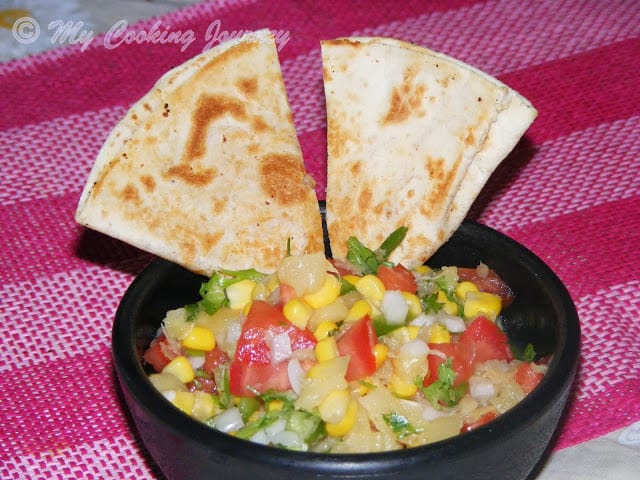 Procedure –
Drain the corn and pineapple from the can and add it to a large bowl.
Chop all the other ingredients and add it to the bowl.
Add the remaining spices and ingredients to the bowl and mix it well.
Refrigerate for at least ½ hr before serving. This helps to bring all the flavors together and it tastes wonderful when chilled.
Serve the Corn Pineapple Salsa with chips or Quesadillas or as a salad!