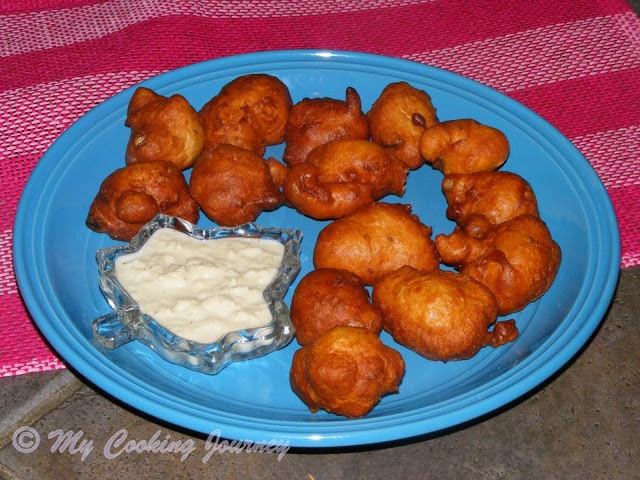 Coming to week of blogging marathon, I am going to be making evening snacks for the next three days. This Goli Bajje recipe was suggested by Priya Suresh for South North Challenge. She had challenged the North Team with this delicious fried snack. Even though I belong to the same team as priya, as soon as I saw her post this recipe I could not resist making this.
This recipe is so easy to make and is a perfect snack for the cold evenings. We finished the whole plate as soon as I made this. I served this with some coconut chutney even though this really does not need anything on the side. The batter does need a little bit of fermenting time, so plan it accordingly. I made the batter in the morning and it was perfect to fry in the evening.
Preparation time – 10 mins plus overnight or about 8 hrs to ferment the batter
Cooking time – 20 mins
Difficulty level – easy


Ingredients to make Goli Bajje – makes around 20 -24 medium size bajji
All purpose flour / Maida – 1 cup
Besan / kadalai maavu/ chick pea flour – ¼ cup
Yogurt – ½ cup
Coconut pieces – 3 tbsp (I used grated coconut)
Cumin seeds – 1 tsp
Ginger – 1 tsp (finely grated)
Green chilies – 2 (finely chopped)
Sugar – ¼ tsp
Baking Soda – ¼ tsp
Salt – to taste
Oil – to deep fry
Procedure –
Combine the flours, baking soda, sugar and salt in a bowl. Add the yogurt to it and mix well. Now slowly add water to make this into a thick batter. The batter should neither be too thick or too thin. It should be able to fall slowly when dropped from a ladle.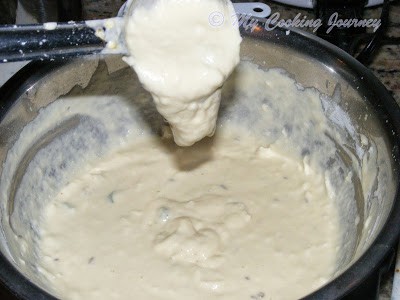 Cover the batter and leave it to ferment overnight or about 8 hrs. If your yogurt is sour, the fermentation would take lesser time. In my case I had to leave it outside for about 8 hrs.
Now add the rest of the ingredients and mix well.
Heat the oil in a pan and when the oil is hot enough add a tbsp full of batter into the oil.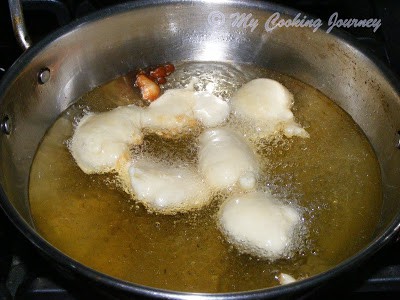 Fry these on both sides until golden brown in small batches and drain on a paper towel lined dish.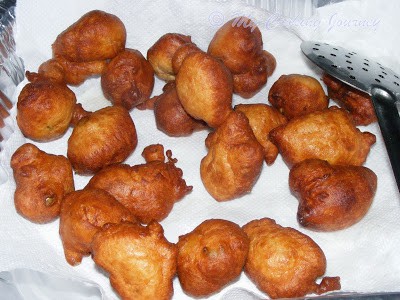 Serve the Goli Bajje hot with chutney or ketchup!