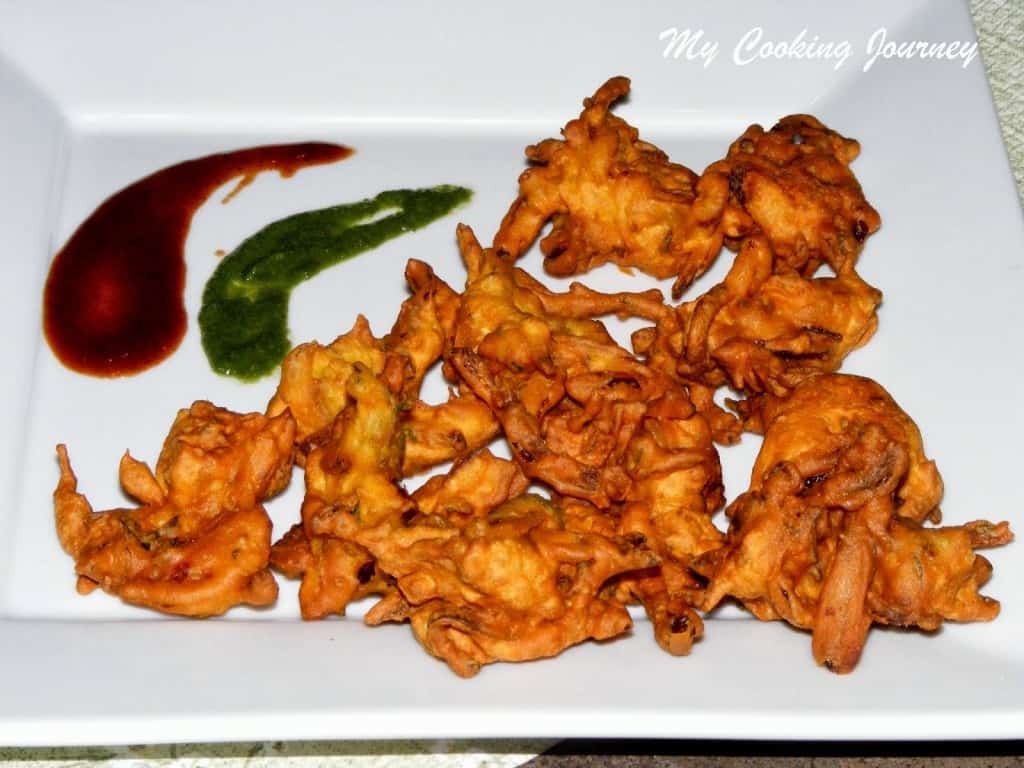 This week for the blogging marathon, I chose to make three recipes from 'How to make perfect series' published in The Guardian. This definitely made for very interesting read as chef Felicity Cloake, researched on individual component of particular recipe and came up with the best of the best.
Onion Bhajias, or Onion Bhajis as she called them is always a pleasure to eat when we eat out in the Indian restaurants. I always like how the texture used to be perfect. After reading through her post, I realized how important it is to have the perfect balance between the onion and the flour. Also I just could not make myself call it the bhaji, because for me bhaji is always the batter coated deep fried vegetable fritters. This is more of the pakoda kind of preparation and with onions it just was amazing.
I used the yellow onions here in the recipe, but if you like a little bit of sweetness go with the red onions. Also to get the perfect crispness, I leaned that the 2:1 ratio of the gram flour to rice flour is very important. This recipe also had a bit of lemon juice for flavoring which surprisingly came through very well in the recipe. I am just not used to adding citrus to deep fried recipes and this is something new I learned.
This quick and easy to make recipe will be loved by the little ones and adults alike. I served it with some dates chutney and green chutney, but a ketchup will work well as well. I loved it with my curd/yogurt rice and this trait is definitely from my mother.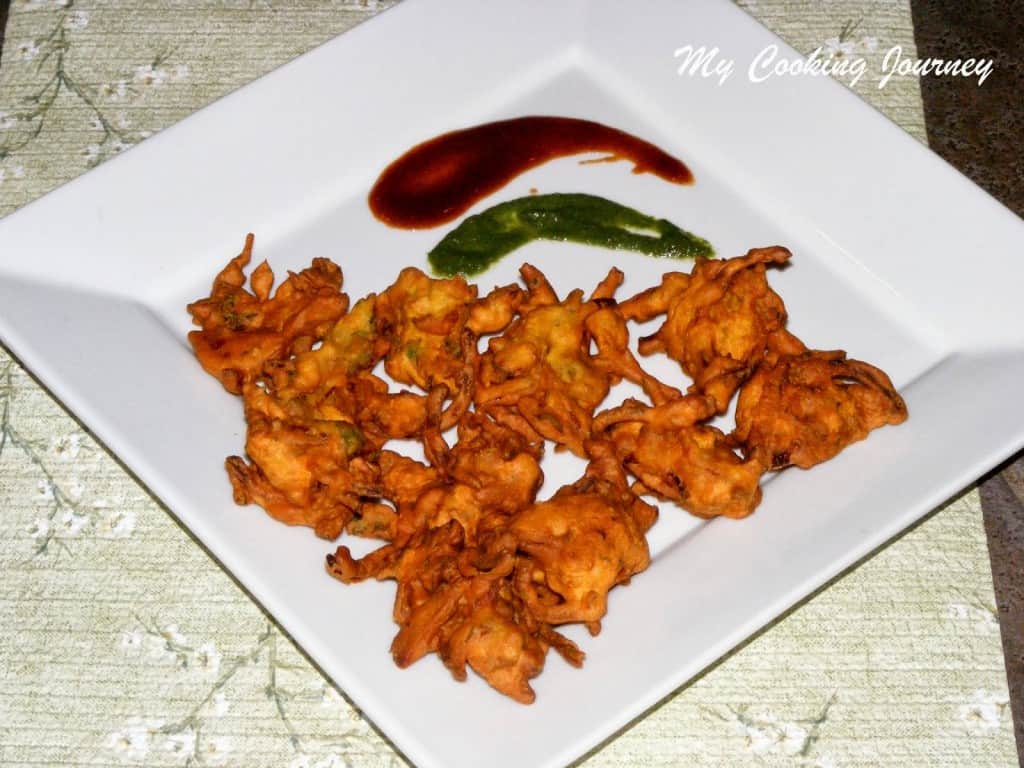 Preparation time - 10 minutes
Cooking time - 20 minutes
Difficulty level - easy
Ingredients to make Onion Bhajias - Serves 2
Gram flour/Besan - 60g (I did weigh the ingredients)
Rice flour - 30g
Ghee (melted) - 1 tbsp
Lemon juice - from ¼ lemon
Turmeric powder - ½ tsp
Cumin seeds - 1 tsp
Green chilies - 1 or 2 (finely minced)
Fennel seeds - ½ tsp
Ginger garlic paste - 1 tsp
Curry leaves - few
Cilantro - ¼ cup (finely chopped)
Salt - to taste
Onions - 2 small (thinly sliced)
Oil - to deep fry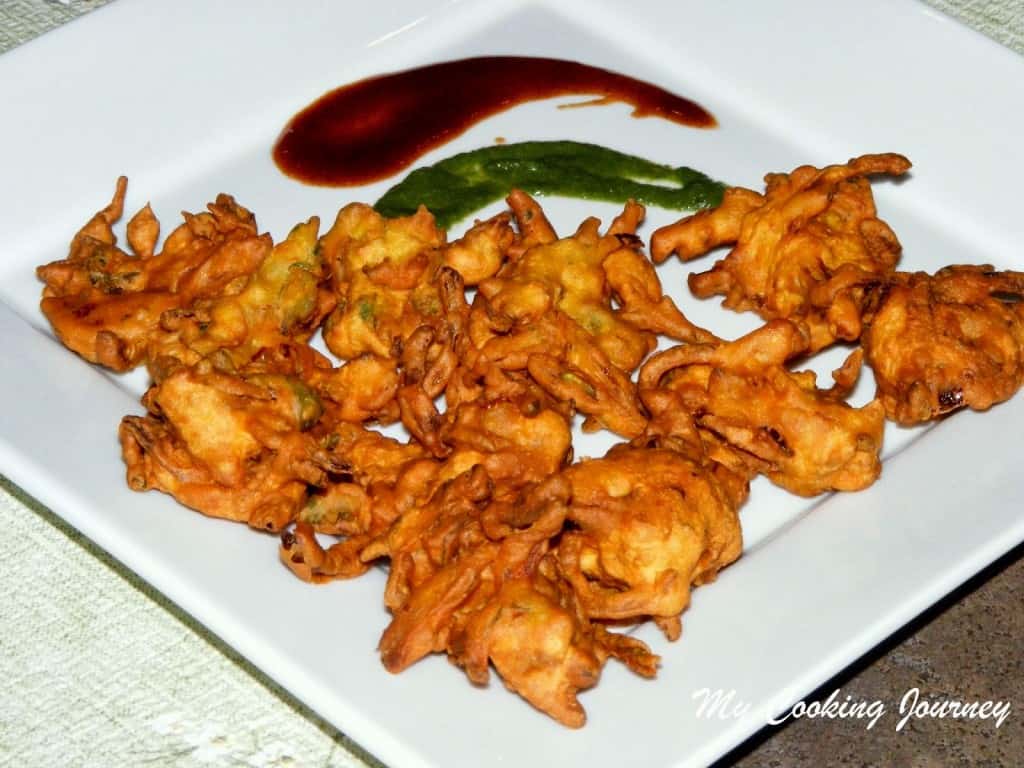 Procedure -
Sift the flours together in a mixing bowl. Add the lemon juice and the melted ghee and mix with your fingers.
Now add cold water little by little to make a very thick batter.
Add in all the spices and the herbs and also the salt. Now add the sliced onions.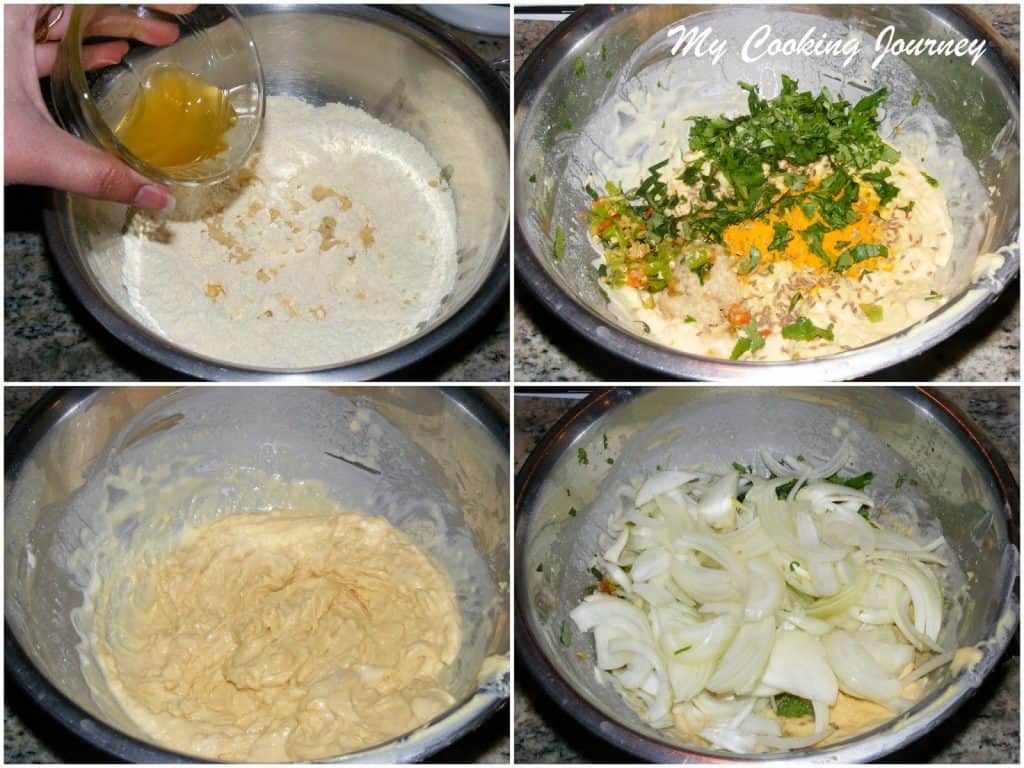 Mix them all together to coat the onions.
Heat oil in a wide pan. The right temperature to fry is when the oil sizzles up when a small drop of batter is added and then it floats on top. At this stage make small balls from the batter and drop it gently into the oil. Let it fry until it is golden brown on all the sides.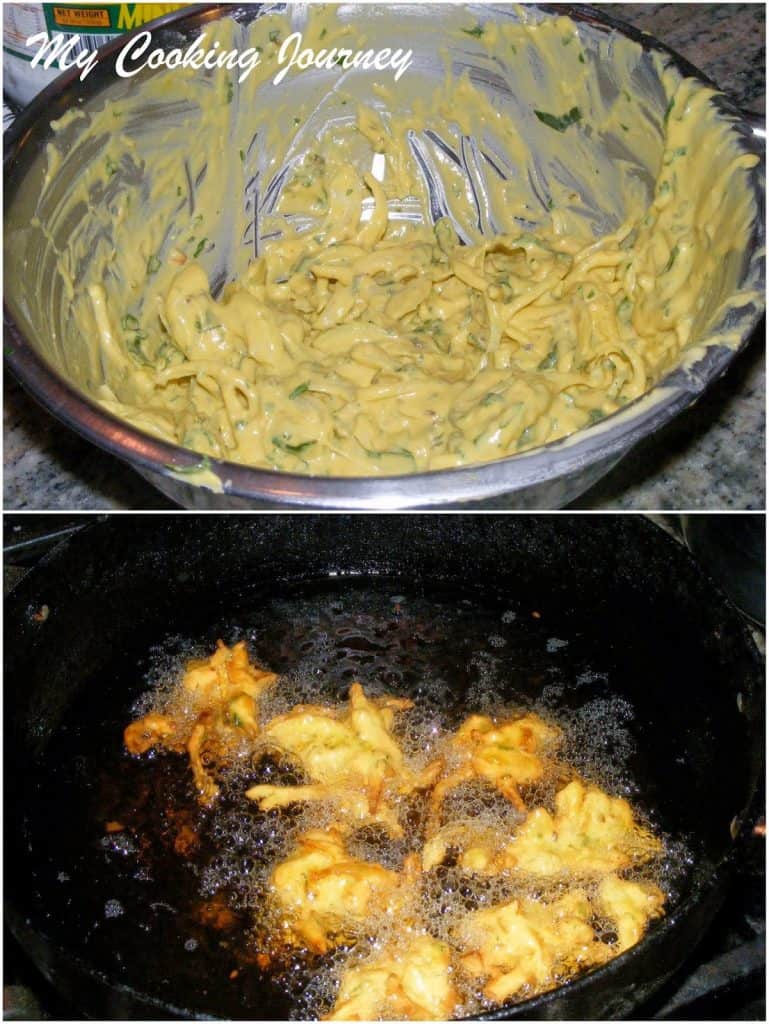 Drain on a paper towel lined bowl and serve hot with chutney!