For the second day with the theme 'cooking from a cookbook', I wanted to use greens. We had just harvested a big bunch of spinach from my backyard and I wanted to use it right away. More than me, my son was eager to see me transform the spinach harvested from his vegetable bed (I have to mention that it is from his part of the garden). Also I wanted to try out something new that I have not made before. and that resulted in green cutlets.
Our first harvest of spinach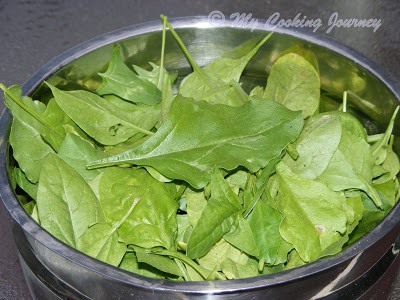 That is when this recipe caught my eyes from Mallika Badrinath's – Snacks special. I have always made cutlets with vegetables, but cutlets using channa dal was new to me. The ingredients that I am working with today are channa dal (Bengal gram dal) and greens (spinach).
Preparation time – 10 mins
Cooking time – 1 hr
Difficulty level – easy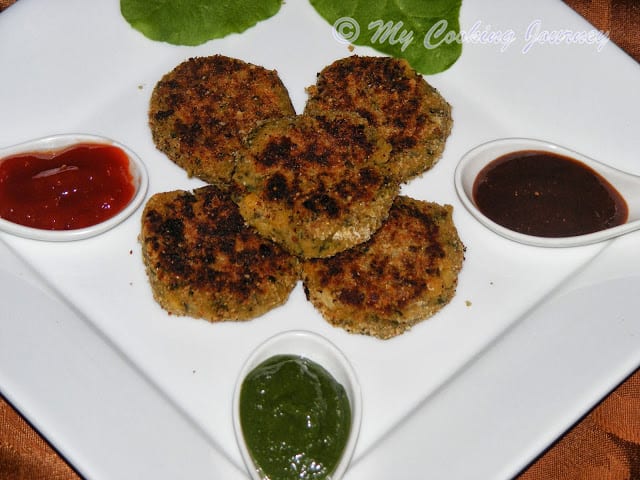 Ingredients to make Green Cutlets – (makes around 20 large cutlets)
Kadalai paruppu/channa dal/bengal gram dal – 1 cup
Onions – 2 (chopped fine)
Spinach – 2 cups chopped fine
Ginger garlic paste – 1 tsp
Green chili paste – 1 tsp (or minced green chilies)
Bread slices (white or brown) – 8 (with the ends scraped)
Bread crumbs – ½ cup
Corn flour – 2 tbsp
Garam masala powder – 1 tsp
Lemon juice – from 1 lemon or about 2 tbsp
Salt – to taste
Oil – for shallow frying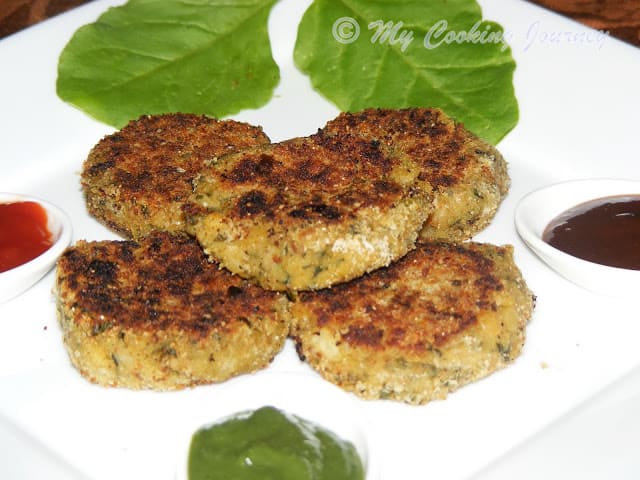 Procedure –
Cook the channa dal in pressure cooker or stove top until soft. Drain the excess water and then grind it into a coarse paste or mash it using a masher. I used the masher to mash it and it worked very well.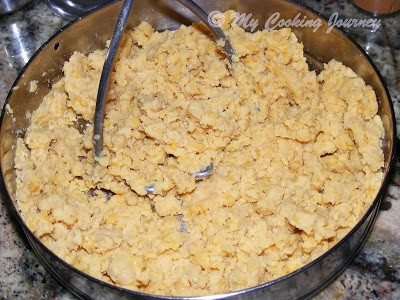 Heat about 1 tbsp of oil in a deep pan and sauté the chopped onions.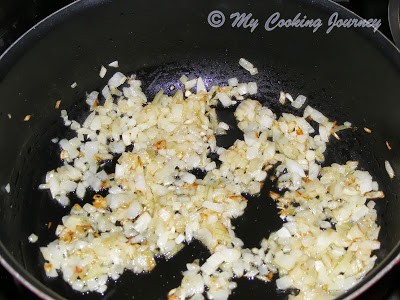 Once the onions are translucent, add the ginger garlic paste and green chili paste and fry for a minute.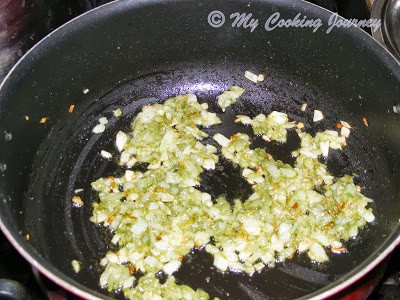 Now add the chopped spinach and fry well until the raw smell leaves the spinach and it is cooked (about 7 mins).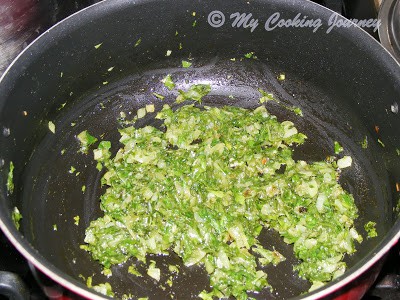 Add the mashed dal, salt and garam masala powder and mix well. Fry the dal until all the excess moisture disappears and the mixture looks like a dough. Add the lemon juice, mix one more time and take it off the flame. Let the mixture cool down a bit.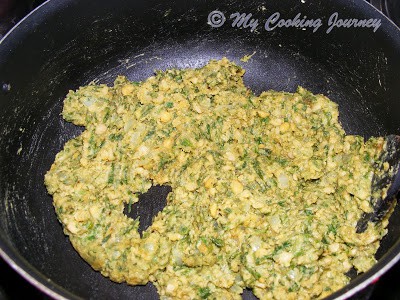 Dip the bread slices one by one in water and then squeeze out all the excess moisture.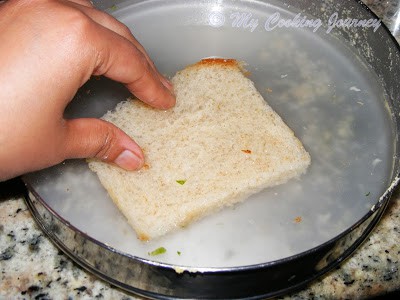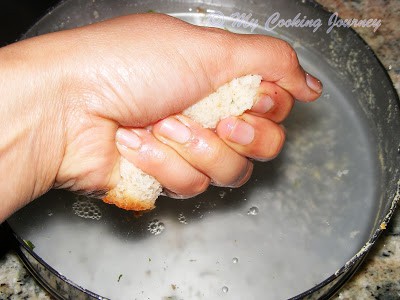 Add the squeezed bread slices, about 3 tbsp of bread crumbs and corn flour to the dal/spinach mixture.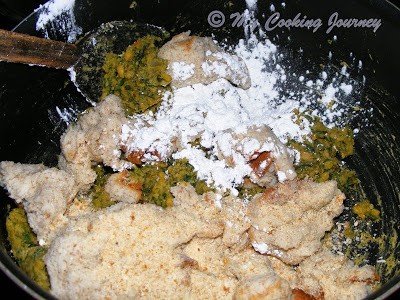 Knead well with your hands and make dough. Leave the mixture in the refrigerator until you are ready to make the cutlets or at least for ½ hr.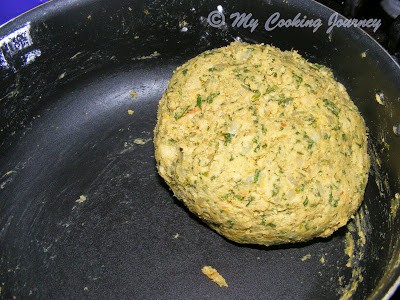 Make 20 even sized balls out of the mixture and then flatten and shape it into then cutlet. Coat the shaped cutlets in the remaining bread crumbs.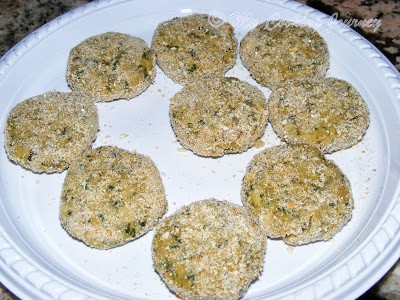 Heat a large cast iron pan/tawa. Add enough oil to coat the bottom of the pan and then add the shaped cutlets.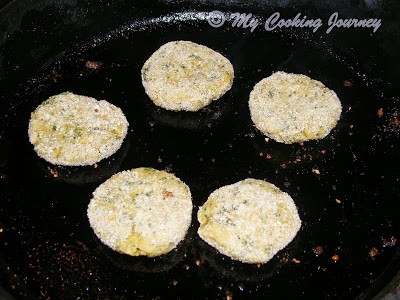 Fry the cutlets on both sides until golden brown and crispy. Drain on a paper towel.
Serve the green cutlets hot with dates chutney/green chutney/ketchup!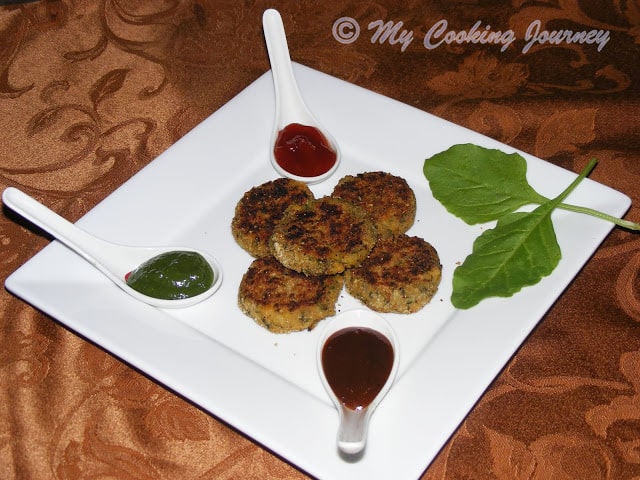 Notes and observation –
Leave the dough in the refrigerator for at least ½ an hour before frying. This yields in crisper and firmer cutlets.
If the dough appears to be a little bit on the wetter side, add couple of slices of squeezed bread.