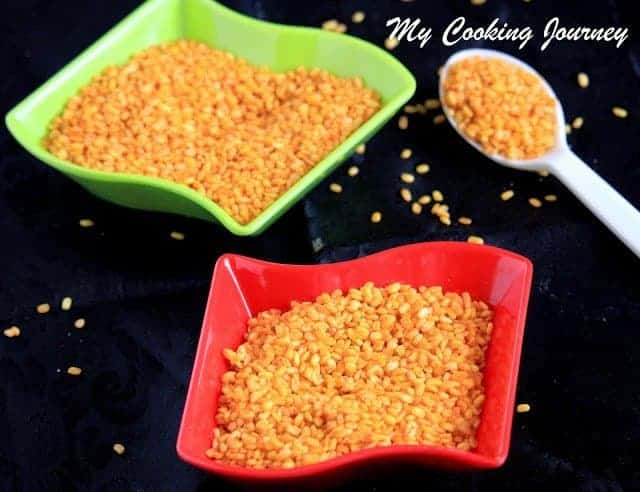 I have lot of recipes bookmarked from the Baking Mega Marathon. It might be months before I try out all the recipes that I have bookmarked. When looking for snack ideas to post for this month, I remembered this recipe that I had bookmarked from Sreevalli's space. I love fried moong dal and every time I eat it, it reminds me of my childhood days when I used to eat this at the movie theater. Couple of decades back, before the days of pizzas and burgers, they used to sell this moon dal in tiny packets. I always wanted this during the interval break along with the wheel shaped spicy fryums.
I was in no mood to deep fry the moong dal and hence I loved the microwave version that she had posted. This recipe took me about 8 minutes in the microwave and overnight soaking of the moong dal. Very easy to make and it was a wonderful snack to eat on the go.
I am hosting Srivalli's Kid's delight event from May 16th to June 15th. I am linking this bun to my 'Kid's delight – Snacking all the Way' event.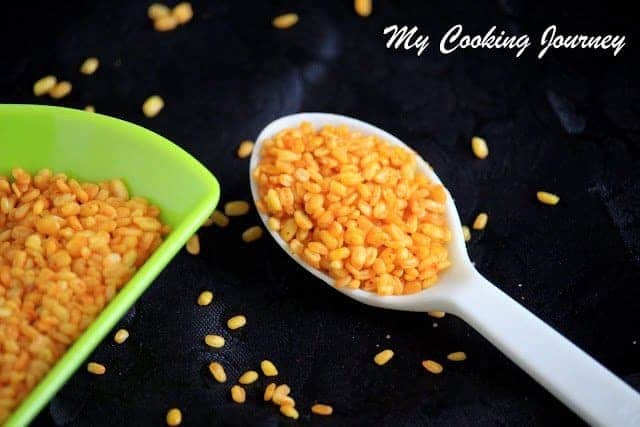 Preparation time – About 30 minutes minimum soaking time
Cooking time – about 8 minutes
Difficulty level – easy
Recipe adapted from – Ammaji Kitchen
Ingredients to make Fried Moong Dal –
Moong dal / Payatham Paruppu – ½ cup
Baking soda – ½ tsp
Salt – to taste
Red chili powder – ½ tsp
Oil – 1 tsp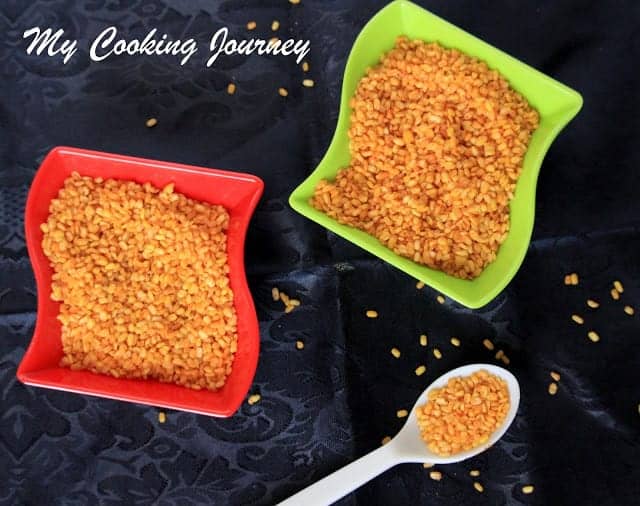 Procedure –
Wash the moong dal and soak it along with baking soda for at least 30 minutes. I made two batches and once I soaked it for 2 hours and the other time I soaked it overnight. Both of them yielded similar results.
Drain the dal completely and dry them as much as you can by placing it in kitchen towel. Make sure that the dal is as dry as you can get.
Place the dried dal in a microwave safe wide bowl and add 1 teaspoon of oil to it. Mix well. I used my pyres 8 inch square baking pan.
Microwave it on high for about 8 minutes, stirring it after each minute. The dal could lump up when baking, make sure you break the lumps and give it a good stir every minute.
At the end of the 8 minutes, you will notice that the dal is all crunchy. Add salt and chili powder at this stage and mix well.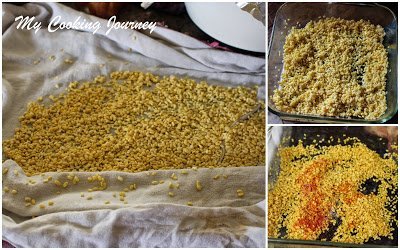 Store in an air tight container and happy munching!