These Gluten free chocolate Pecan Cookies are just so delicious and you will not be missing the flour in the chocolate delight. This flourless chocolate Pecan cookies are perfect to bake for your Gluten free friends for holidays.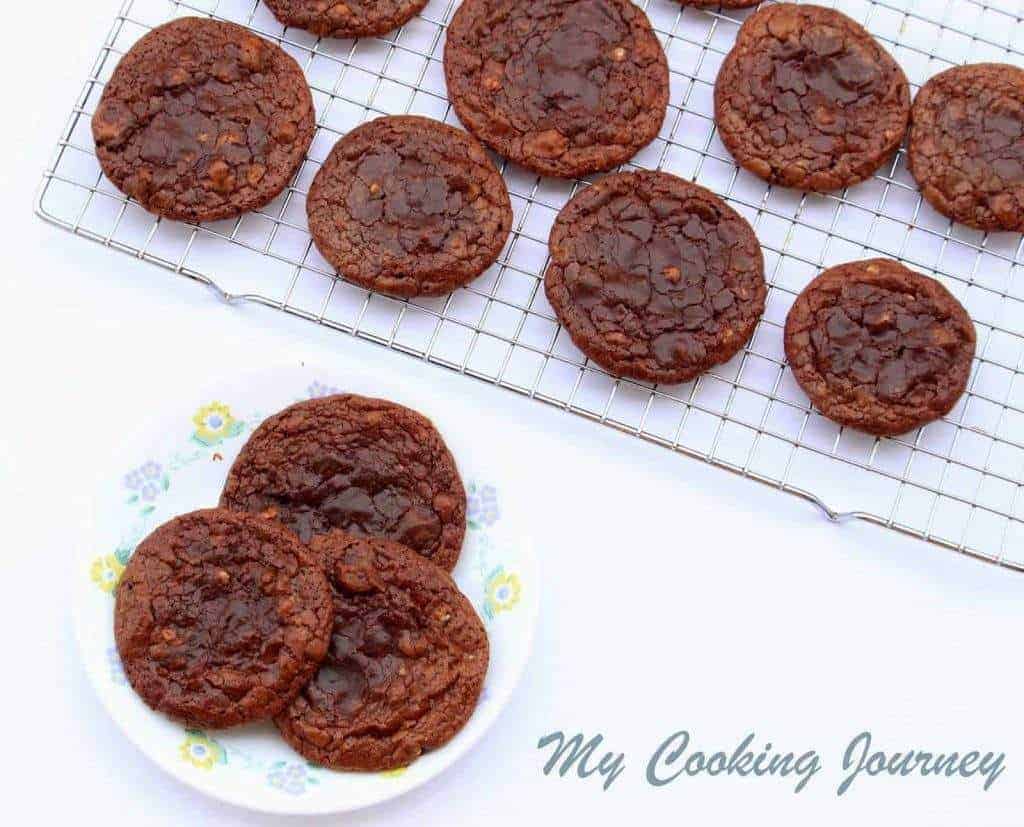 If you have been following my blog, you would know that I don't cook with chocolate a lot. Lately I have been attempting to use chocolate a bit as my little one loves it. I and my older one do not like chocolate. My husband though just loves chocolate, but he is quite happy with chocolate as is and does not really complain that I do not make anything chocolate for him. I have always had that guilt feeling within me that just because I am not a big fan of chocolate, I don't make a chocolate based dish. Now that my little one joined my husband's team of chocolate lovers, I guess I better start making chocolate recipes.
This month for the Baking Partner's challenge, we had couple of heavily chocolate based recipes. My husband approved of both the recipes, but I leaned more toward this cookie as my little one would like to eat it. Also I have never made a flourless cookie before. This is a wonderful choice if you are thinking of making a Gluten free dessert. This recipe uses a little bit of corn starch and pecans along with chocolate. Make sure that the ingredients you buy are manufactured in a completely gluten free environment to prevent any cross contamination.
This month's recipe for the baking partners group was suggested by Suja. She had mentioned that the cookies made with cornstarch were a little flat and hence she tried her next batch with almond flour. Those had yielded her nice puffed up cookies. I was amazed at the texture and flavor of these flourless cookies and if you are a chocolate lover, you will absolutely love these.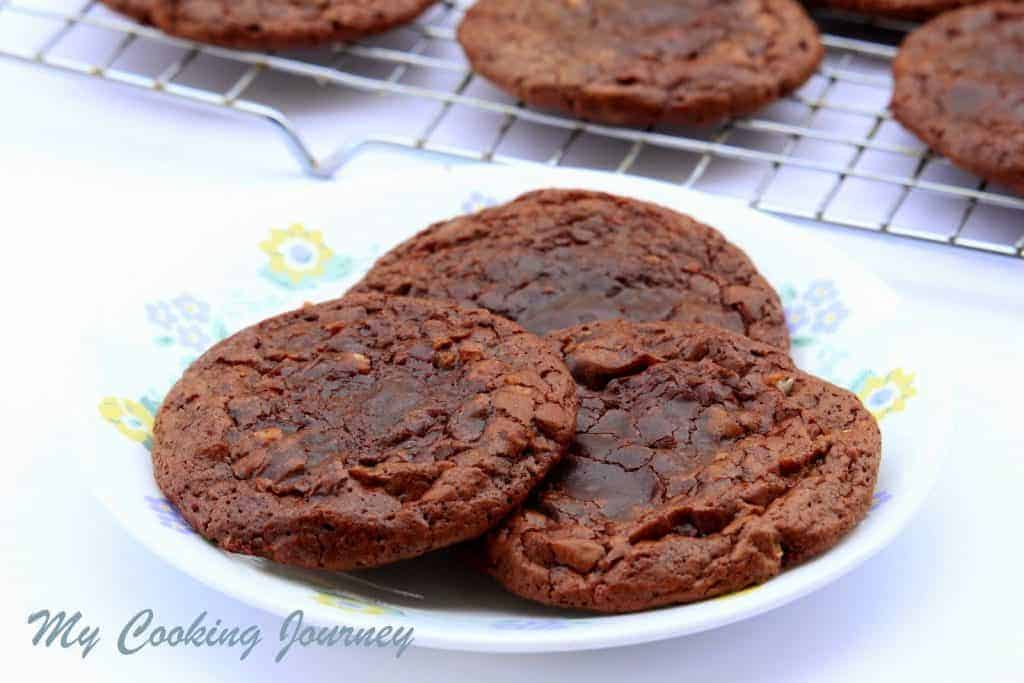 Preparation time – 15 minutes plus overnight resting time
Cooking time – About 10 minutes per batch
Difficulty level – easy
Recipe source – The secret recipes by Dominique Ansel
Ingredients to make the Gluten free Chocolate Pecan Cookies – makes about 24 cookies
Dark chocolate chips (over 60% Cacao) – 1 ½ cups plus ½ cup
Unsalted butter – About 3 tbsp (45 gms)
Granulated sugar – 1 cup + 3 tbsp
Corn starch – ¼ cup
Baking powder – ¾ tsp
Salt – ½ tsp
Eggs (large) – 3
Pecans – ¼ cup (finely chopped)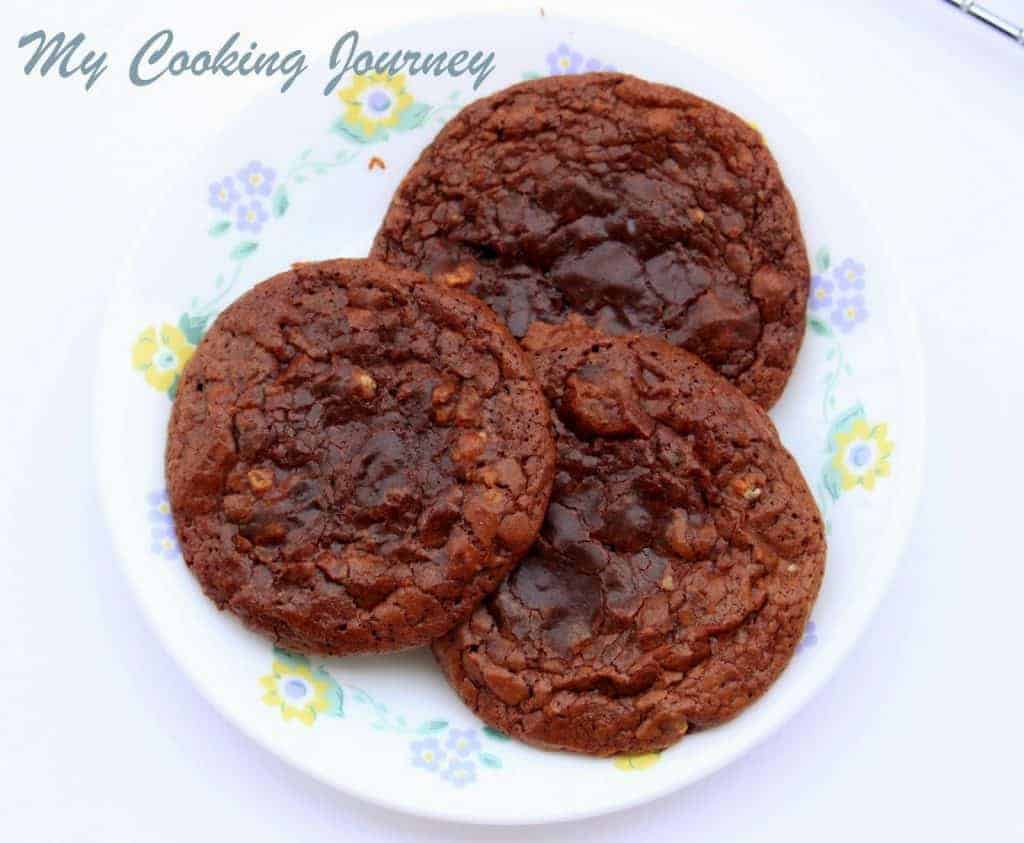 Procedure to make the Gluten free Chocolate Pecan Cookies -
To make the dough – One day before
In a large bowl, combine the sugar, corn starch, baking powder and salt.
Add the eggs to it and whisk well until all the ingredients are well combined and the batter appears like a pancake batter.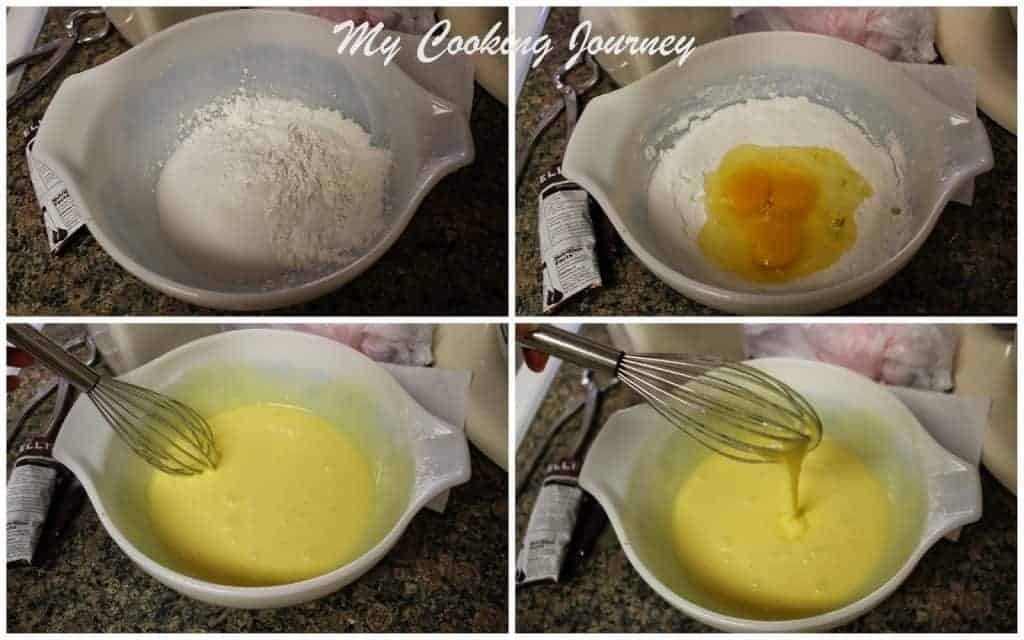 Melt 1 ½ cups of chocolate over a double boiler. Heat about 3 inches of water in a sauce pan and when the water comes to a simmer, reduce the flame. Add the chocolate to a stainless steel bowl and place it over the simmering water. Make sure that the top bowl with the chocolate does not touch the water. This could cause the chocolate to scorch. Make sure that the water is barely simmering.
Keep stirring the chocolate with a spatula until it melts completely and is smooth.
Melt the butter in the microwave gently and then add it to the melted chocolate. Mix well.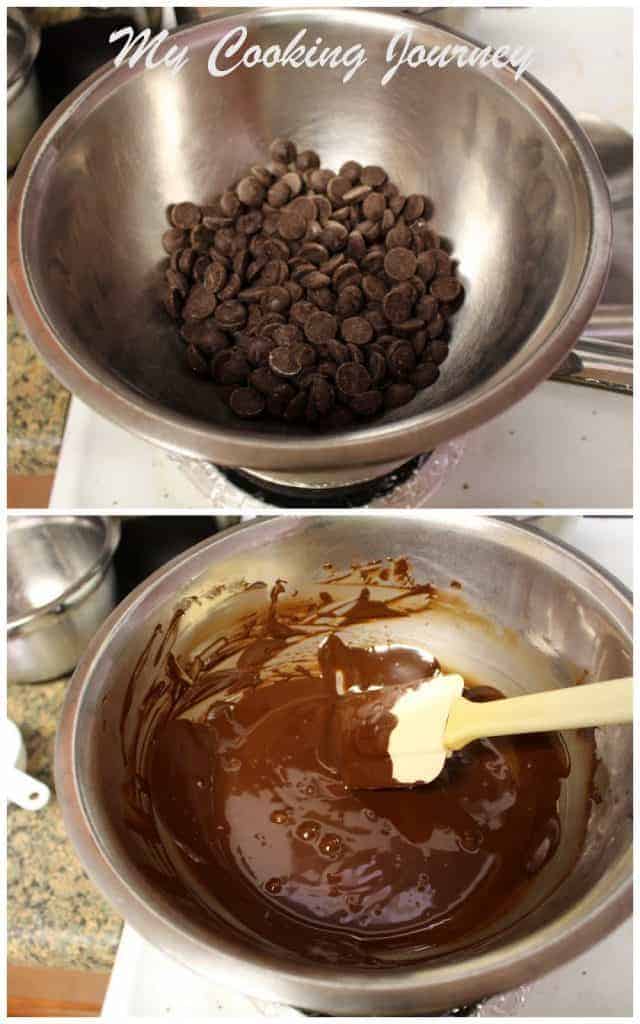 Slowly add this chocolate mixture to the prepared sugar/egg mixture and whisk gently to combine.
Add the remaining ½ cup of chocolate and the chopped pecans and fold in.
Transfer this dough to a clean bowl and wrap it with a plastic wrap making sure that the plastic wrap touches the top of the dough. This prevents skin formation in the top layer.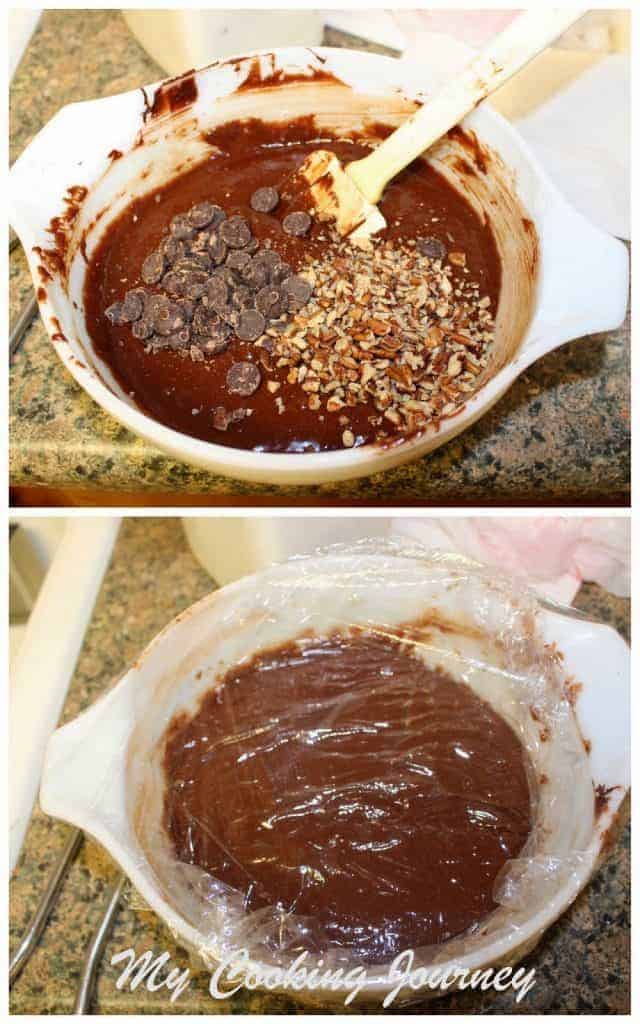 Refrigerate this dough overnight.
Baking the cookies –
Preheat the oven to 350 F and line two baking sheets with parchment.
Remove the dough from the refrigerator.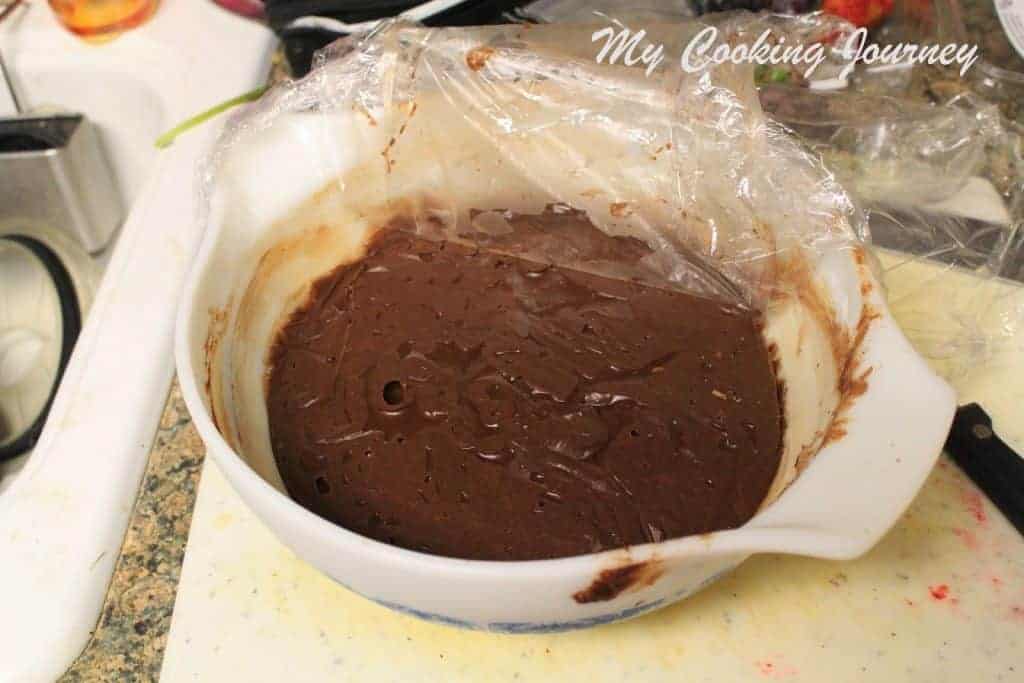 Take about a small handful of dough in your hands. Roll it quickly and place it on the prepared sheet about 2 inches away from each other. Gently press each ball to flatten it slightly.
Bake the cookies for about 8 – 10 minutes rotating once in between. The cookies when done should have cracks on the surface and the corners would just begin to set. Also the center would have a wet spot about the size of a quarter. Remove them from the oven at this stage and let it cool on the rack for about 10 minutes.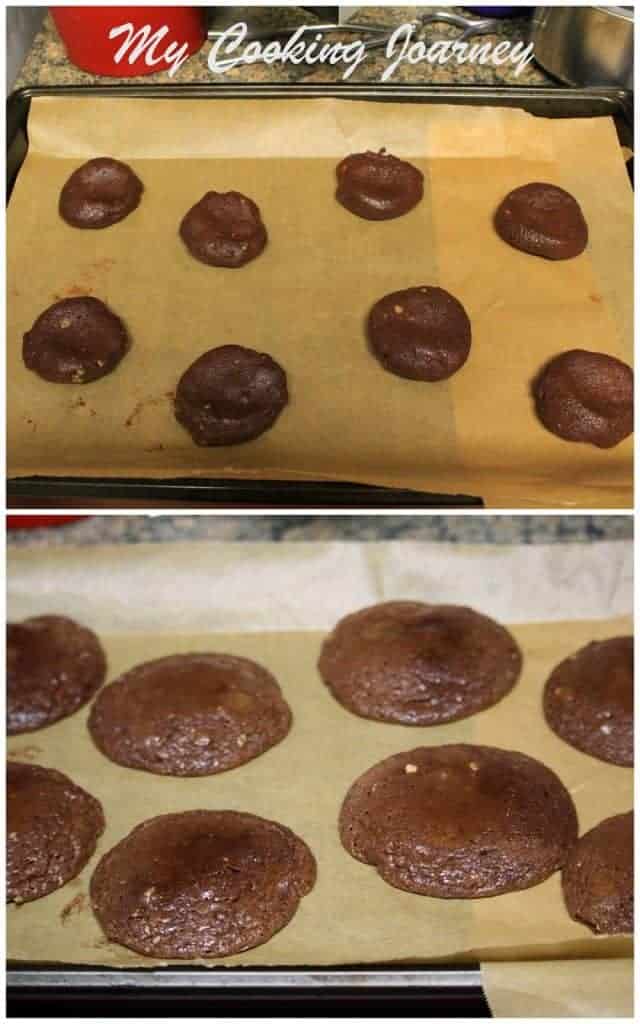 Carefully remove the cookies with the parchment sheet and let them cool on a rack.
Repeat with the rest of the dough. Once cooled, store in an air tight container.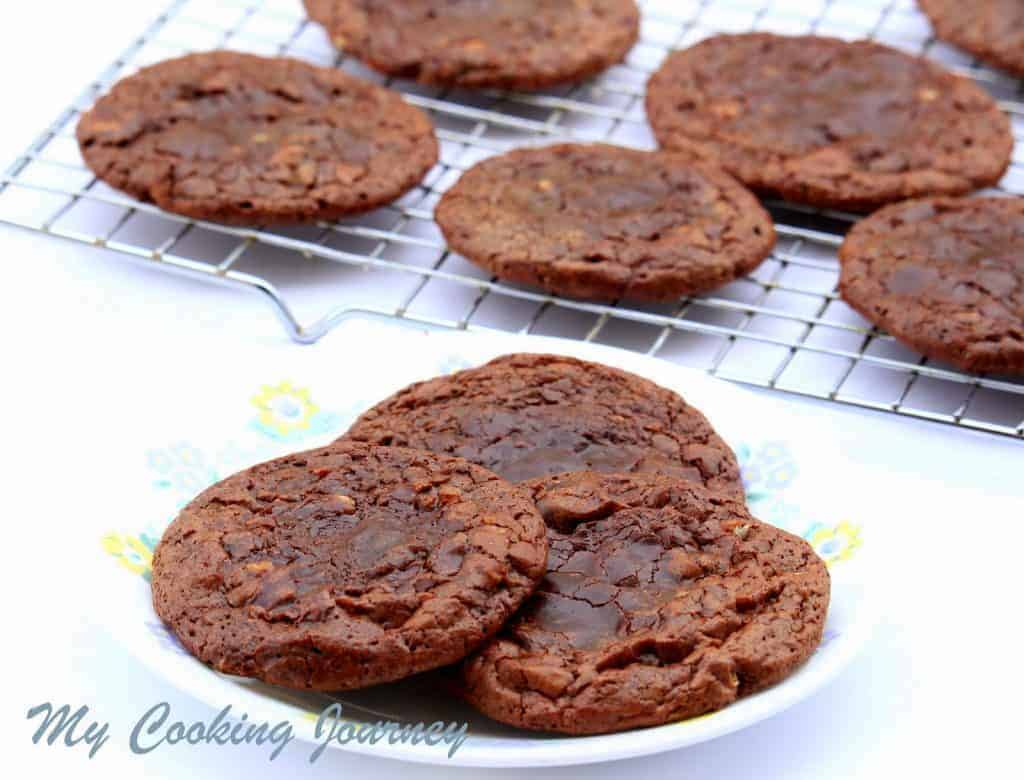 Pin the recipe here to use later -