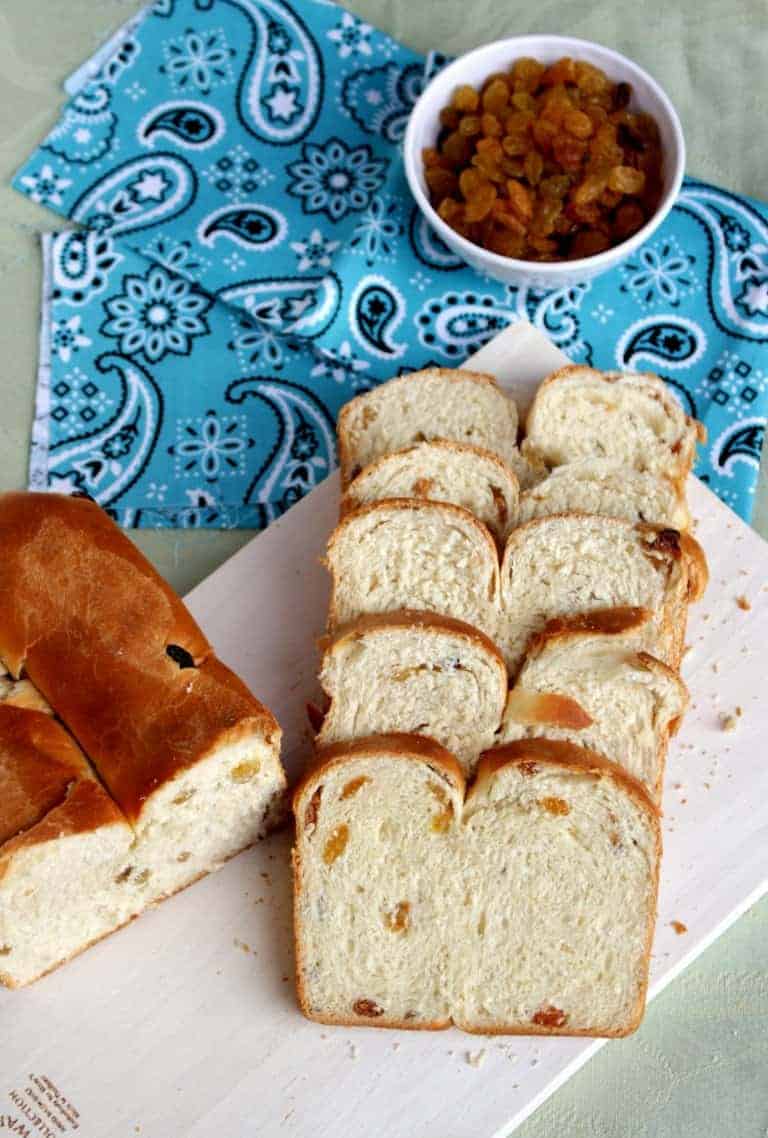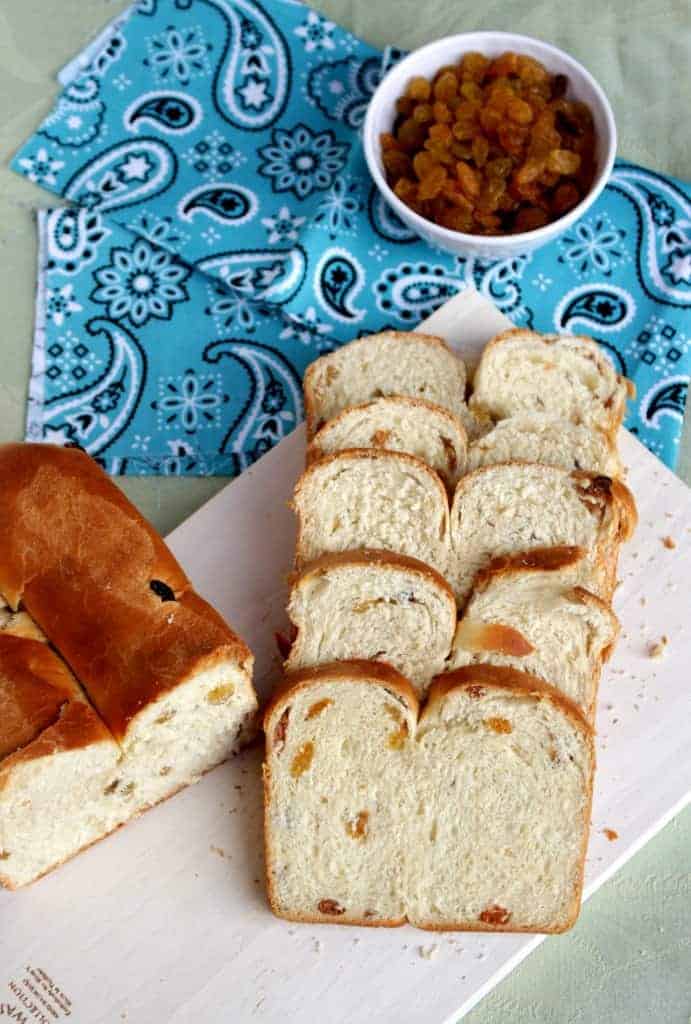 My mind was set on baking an Irish bread for the alphabet I. When I started researching for breads that start with the alphabet I, lot of Irish soda bread came up. That was the first bread of choice for me to bake . When I was researching more on the bread, I realized that the Irish soda bread was very plain and did not have much of a flavor. My family is not a big fan of such breads and hence I was putting off baking it for a long time. That is when, I came across Irish freckle bread on Mayuri's space.
This is a beautiful loaf of bread which appears 'freckled' due to the addition of currants or raisins. The bread has potatoes which is sort of a staple in Irish diet. I saw many version of Irish soda bread, which had raisins in them. I read that it was not traditional to add the raisins in them and hence wanted to skip it. Finally when I found this bread with the freckles of raisin, I fell in love with it.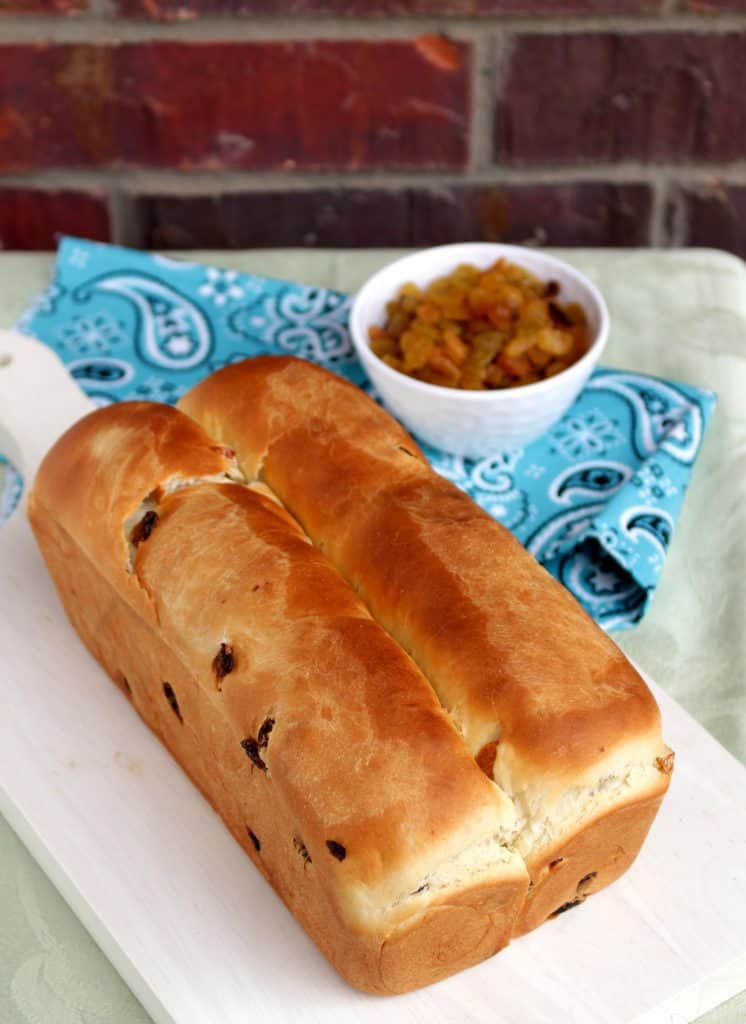 The bread dough is enriched with egg and potatoes. Also the shape of the loaf is pretty different. The Irish freckle bread has a very beautiful texture and holds very well to toasting. All it needed was a big chink of butter to finish it all up.
My bake for the alphabet I is the Irish freckle bread from Ireland. I will be baking this bread routinely at my house as we all loved it and my boys especially fell in love with the raisins in the bread. I will also be adding a little bit of nuts in the bread next time when I bake it to give a different flavor.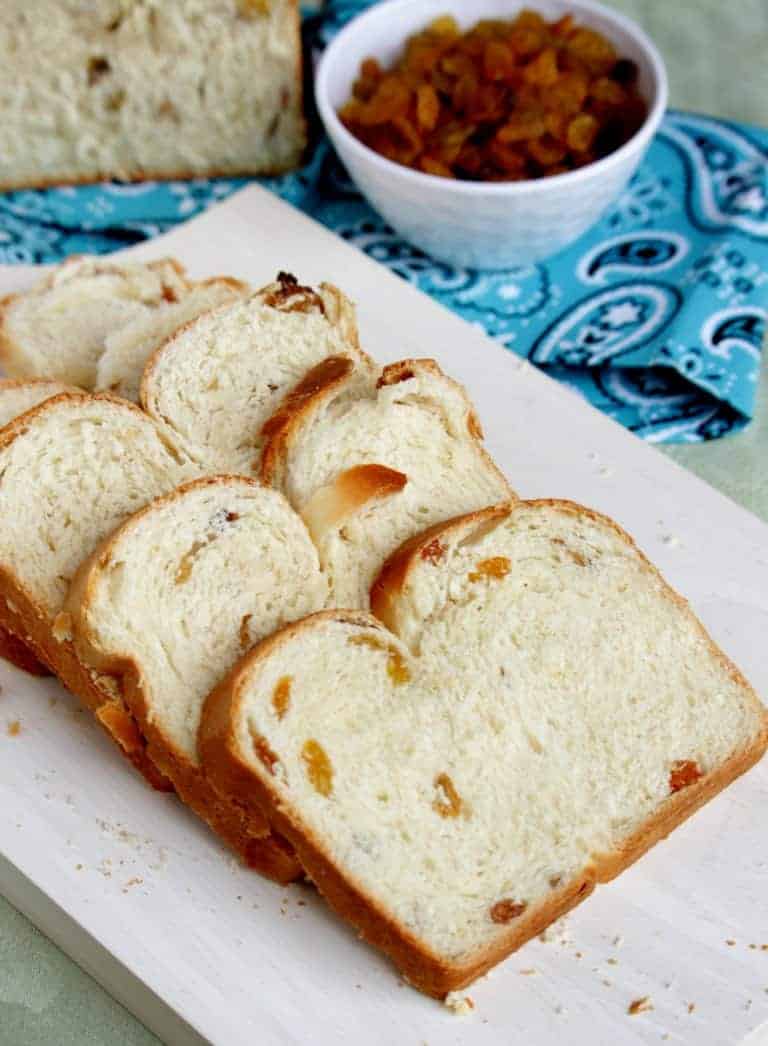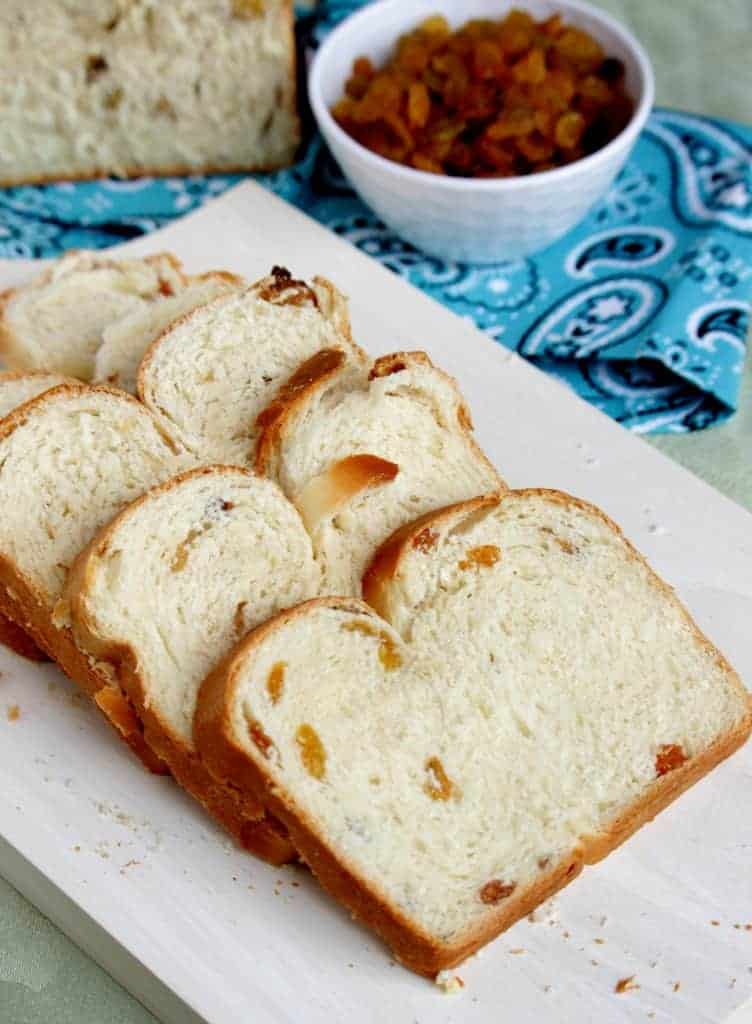 My other bakes in the A – Z Baking around the World Marathon –
A for Almond cookies from China
B for Bretzel Rolls from Germany
C for Chocolate Cupcakes with Chocolate Buttercream Frosting from USA
D for Danish Cookies from Denmark
E for Empanada from Argentina
F for Franzbrötchen from Germany
G for Grissini from Italy
H for Hot Cross Buns from England
Preparation time - 20 minutes plus about 2 hours of inactive time
Baking time - 30 to 35 minutes
Difficulty level - easy
Recipe adapted from - Mayuri's Jikoni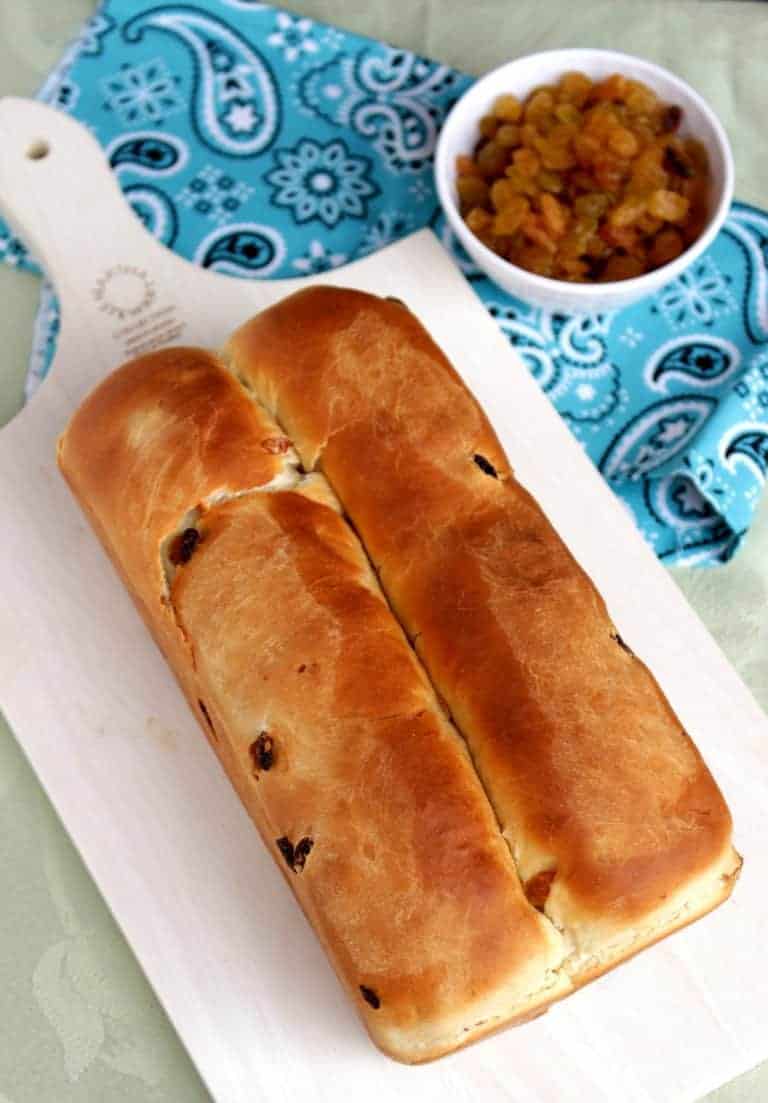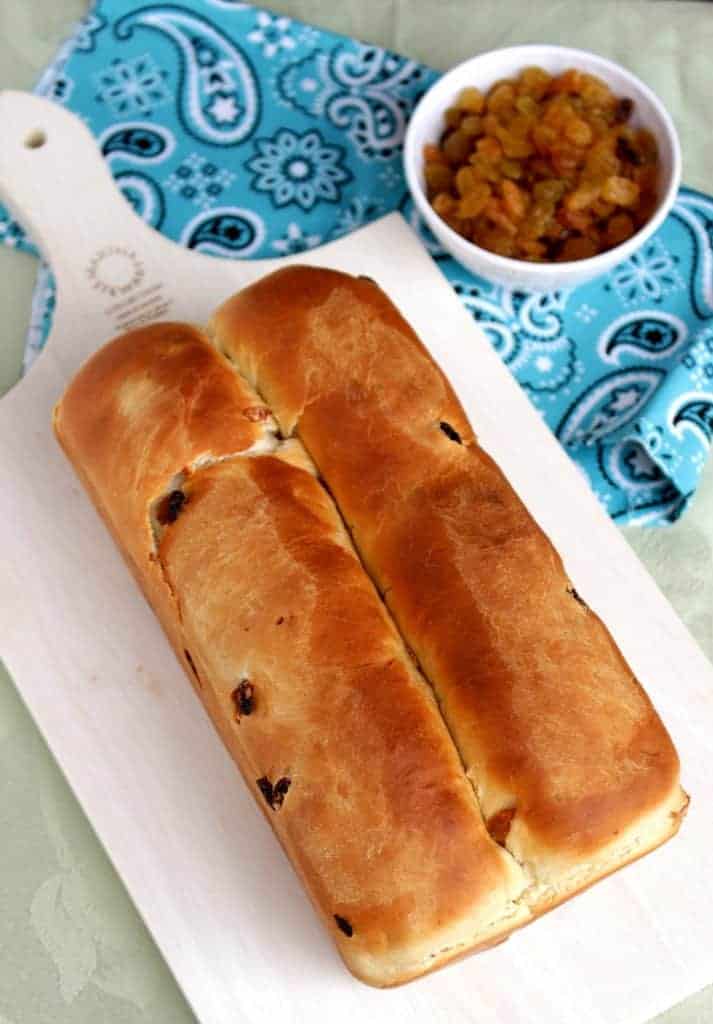 Ingredients to make Irish Freckle Bread - Makes 1 standard size loaf
Instant yeast - 2 tsp
Potato - 1 small (peeled and cubed)
Water - ½ cup - ¾ cup
All purpose flour - 2 ½ cups to 3 cups
Sugar - 5 tbsp
Butter - 4 tbsp (melted and cooled)
Salt - ¾ tsp
Egg - 1
Raisin - ½ cup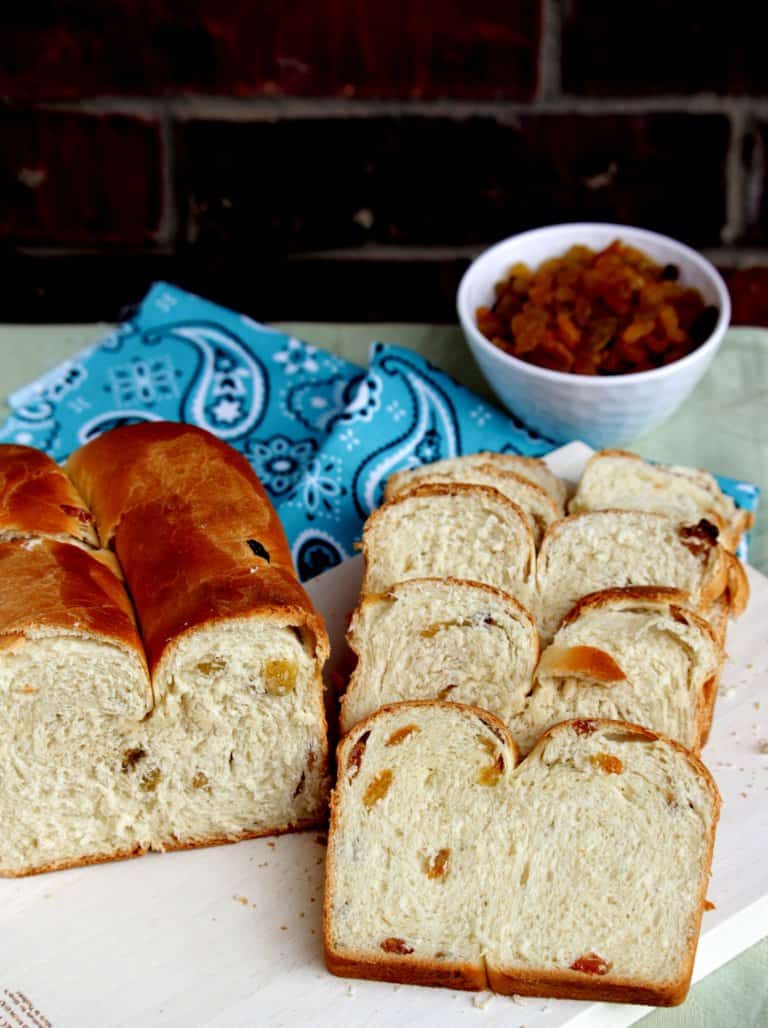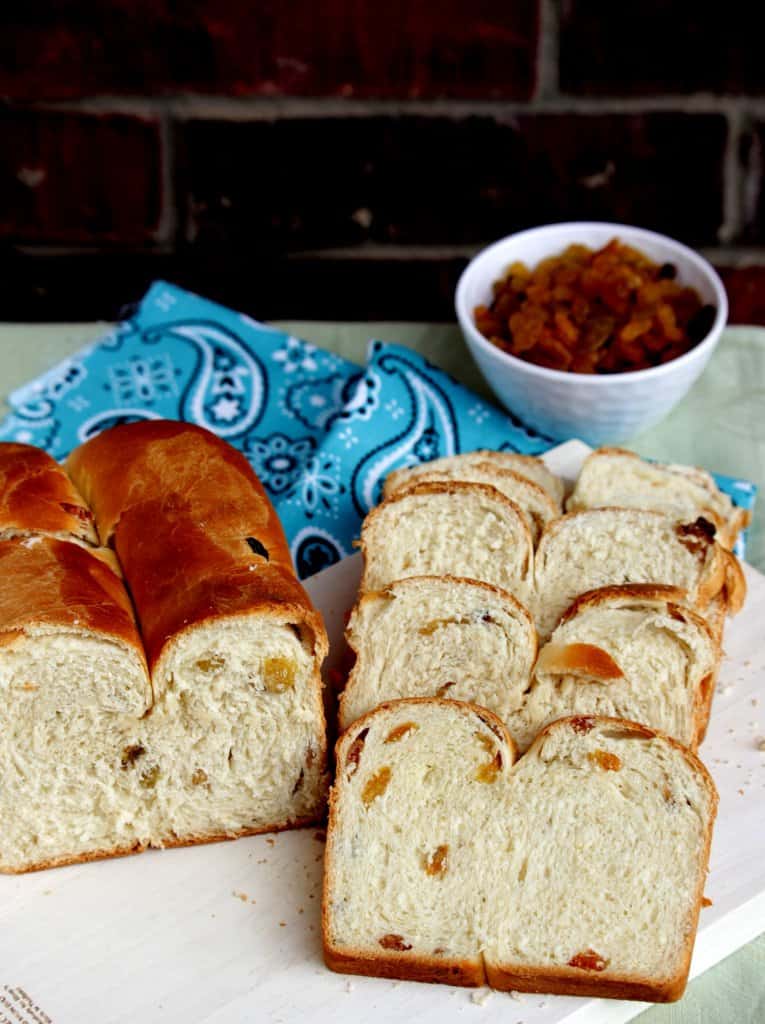 Procedure to make Irish Freckle Bread -
Making the dough -
In a small sauce pan, add the cubed potato and water and bring it to a boil. SImmer until the potatoes are fork tender. Remove the potatoes and mash it up well. Also keep the potato water aside and let it cool down until it is lukewarm.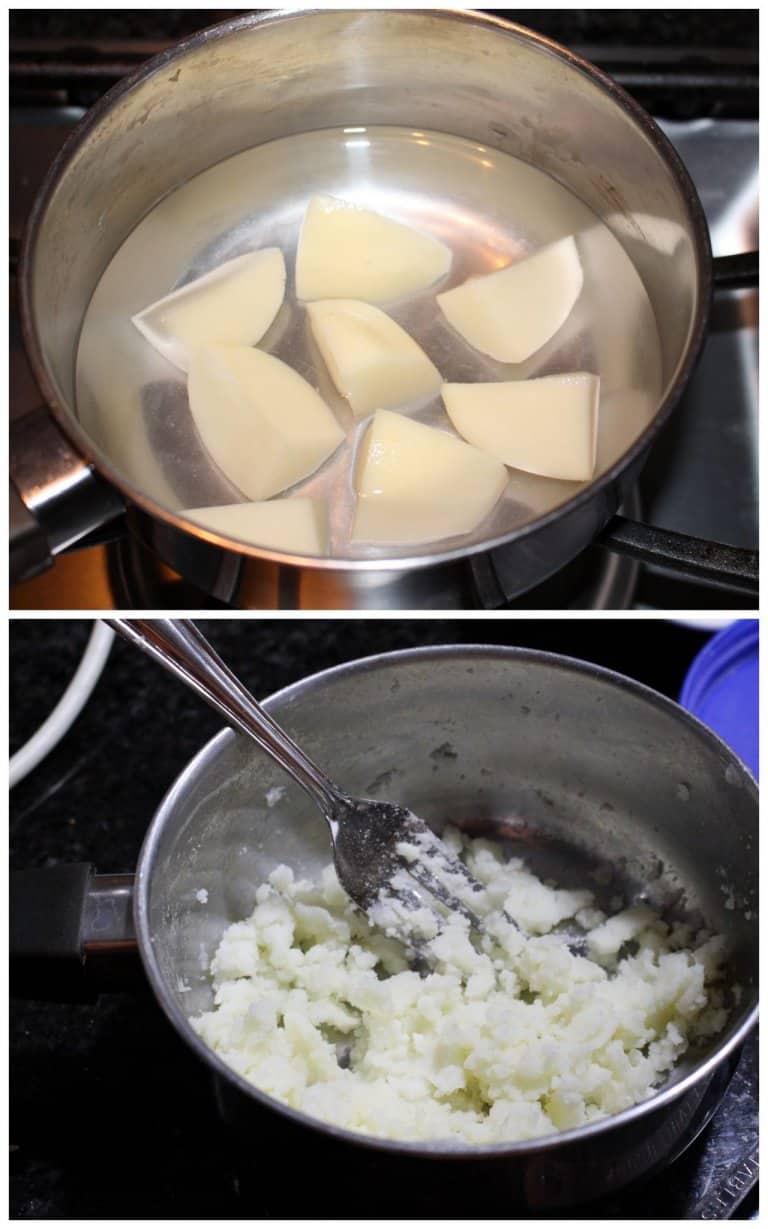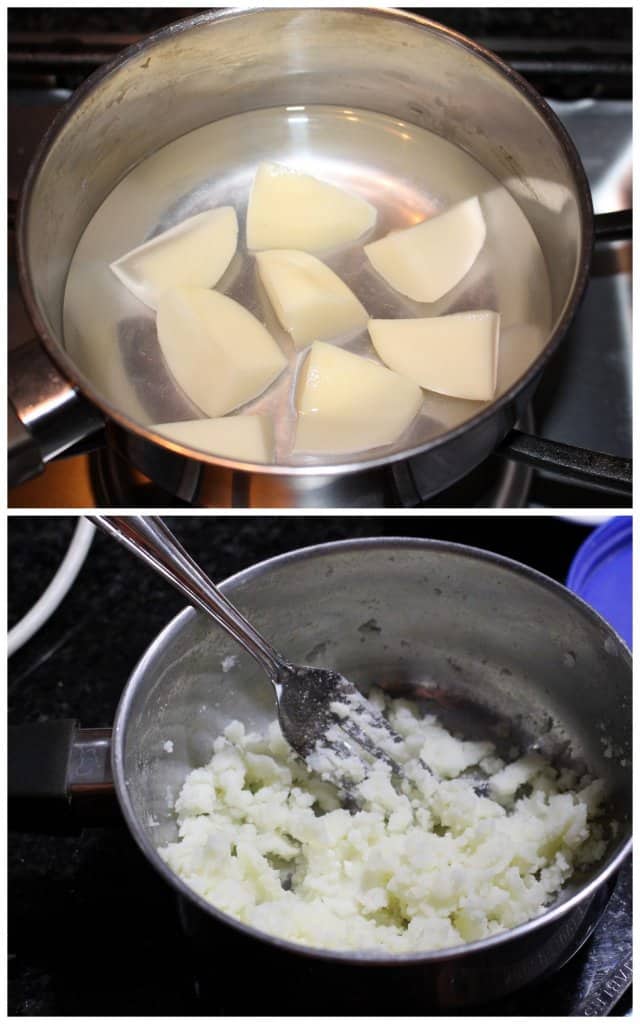 I made the dough in my stand mixer. In the bowl of the mixer or in a large bowl, add 1 ½ cups of flour, yeast, sugar, salt, mashed potato and ½ cup of the potato water. Mix it up well using the beater attachment.
Cover the mixture with a damp towel and let it rise until it is bubbly and foamy (about 1 to 1 ½ hours).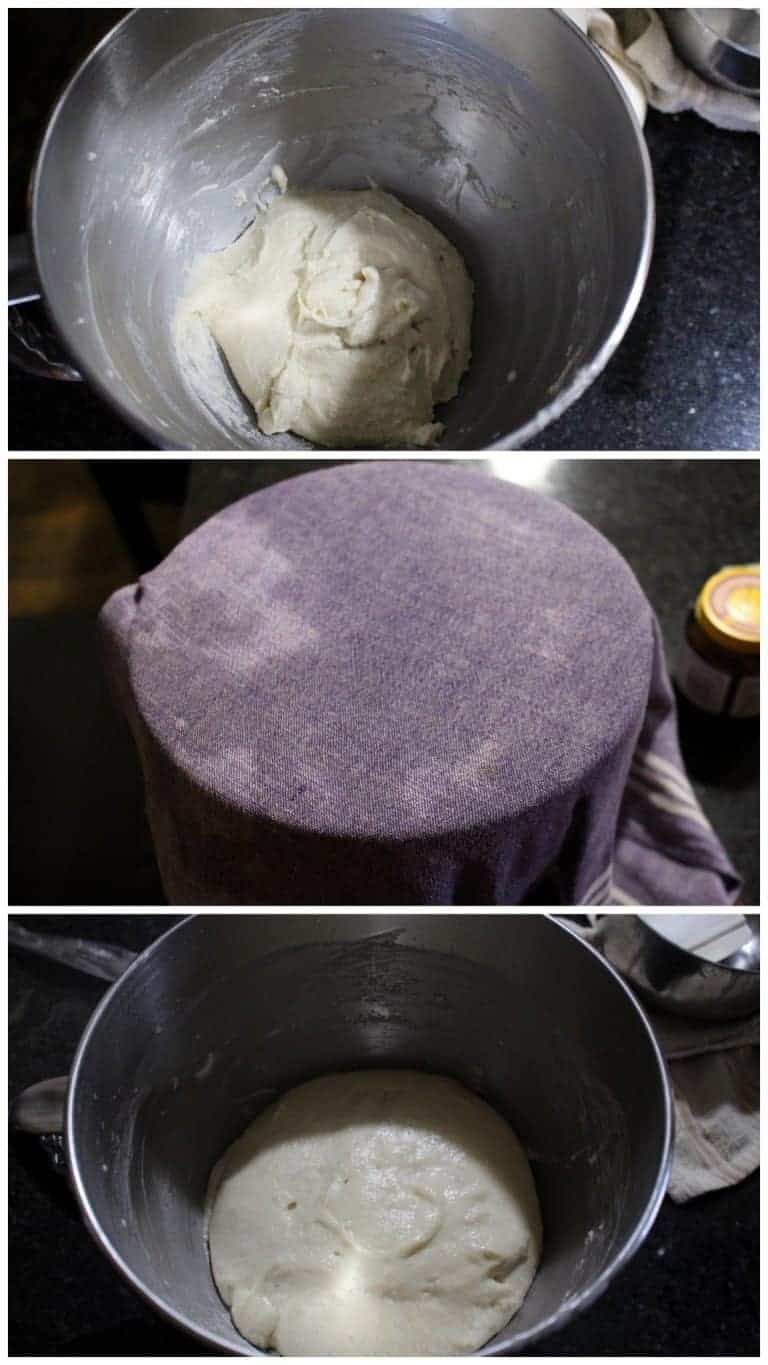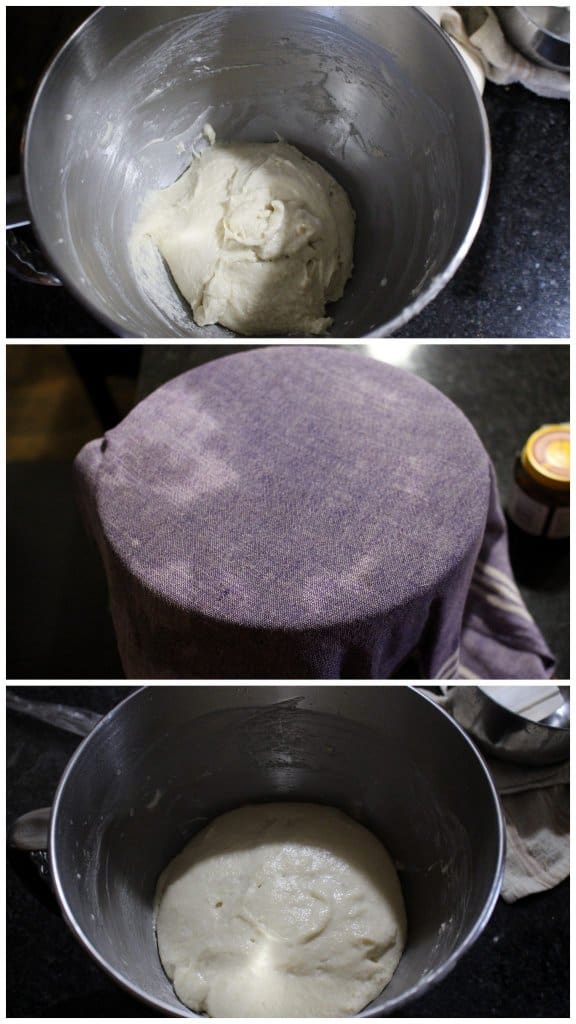 Once the mixture has risen, add the melted and cooled butter, egg and the raisin. Mix it well and add the remaining flour, ½ cup at a time. Knead until a soft dough forms (about 10 minutes).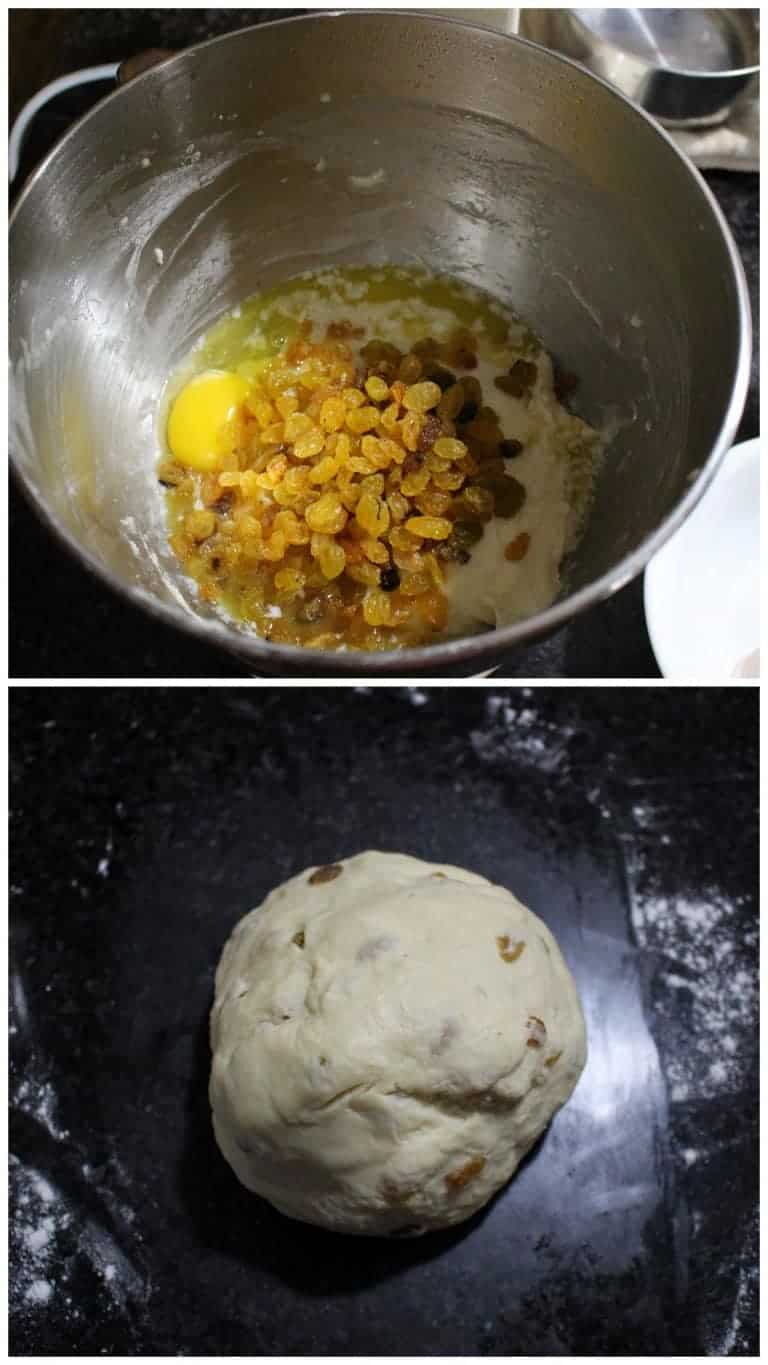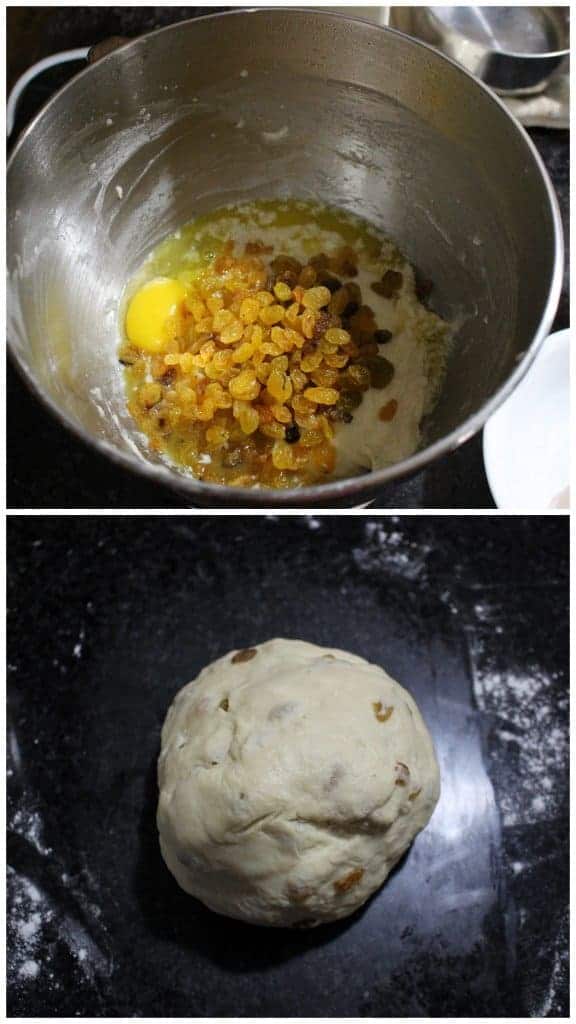 Shaping and baking the bread -
Grease a standard 8 x 4 loaf pan with butter.
Divide the kneaded dough into 2 equal parts.
Roll it into a 10 x 6 rectangle. and then roll it into a cylinder. Repeat the same with the half as well.
Place the cylinders next to each other in the greased pan.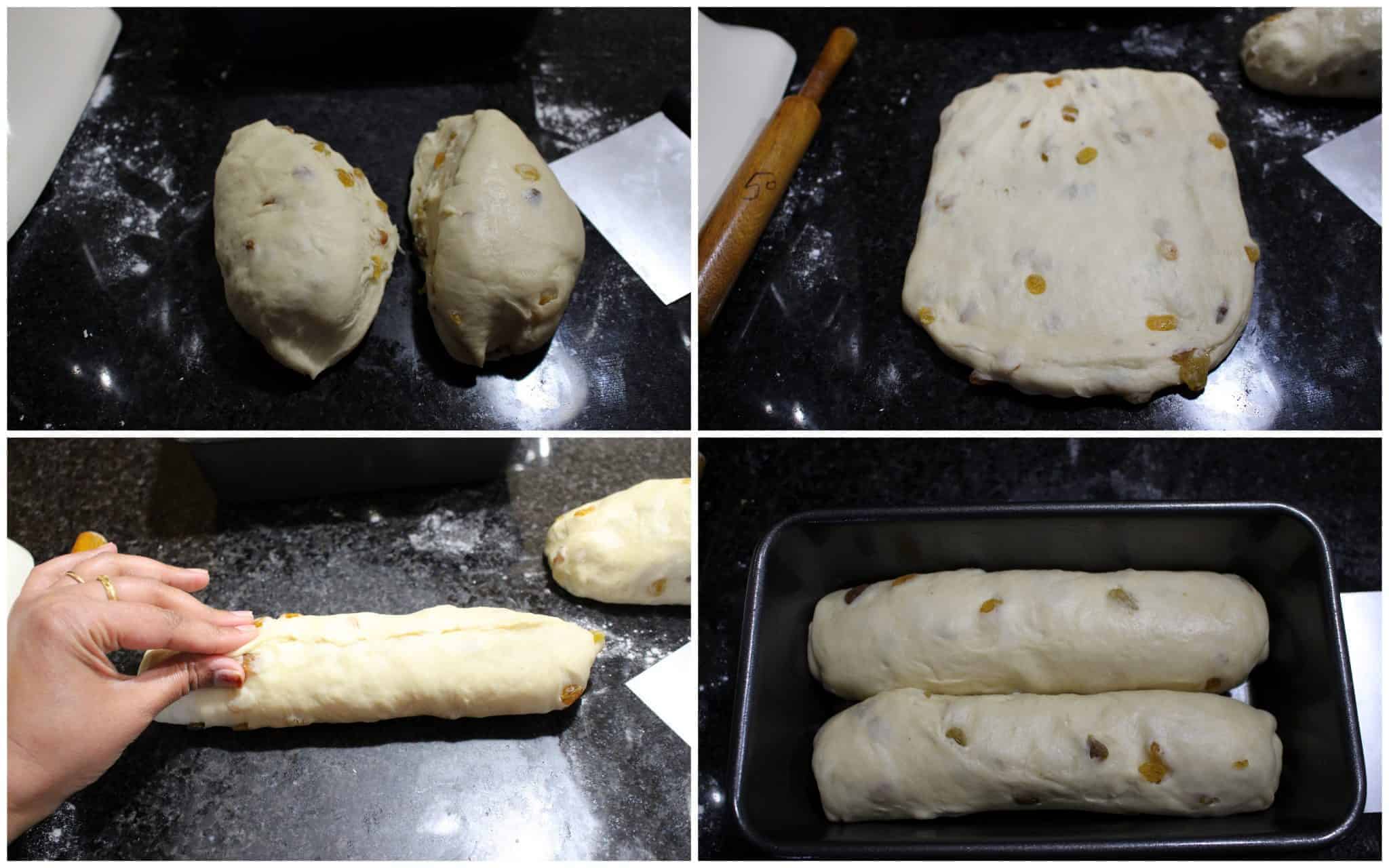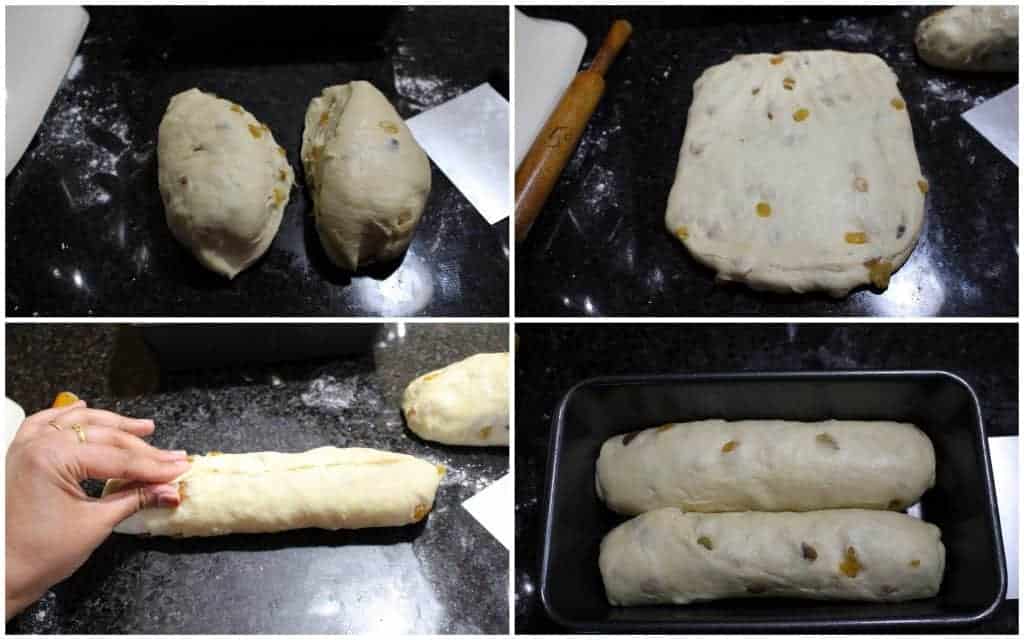 Let the dough rise until it reaches the top of the pan (about 1 hour).
In the meantime, preheat the oven to 350 F. Place the pan in the oven and bake for about 30 to 35 minutes or until the bread is golden brown and sound hollow when tapped.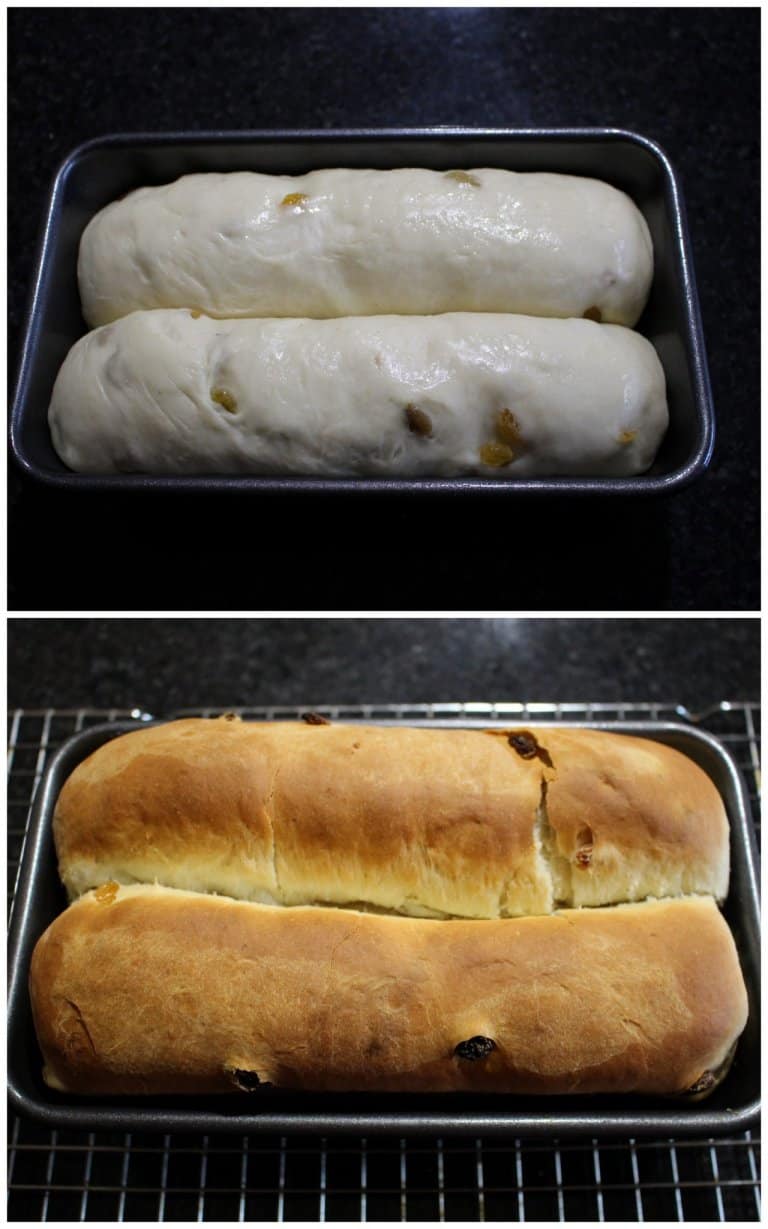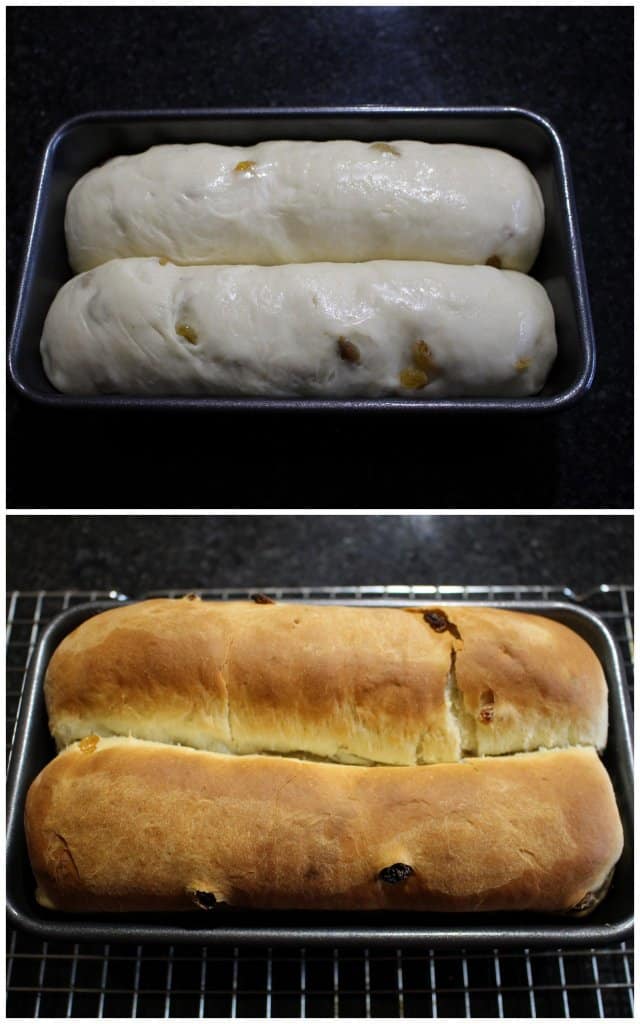 Let the bread cool in the pan for few minutes and then carefully remove it on a cooling rack to cool completely.
Once the bread has cooled down completely, slice it into thin slices and serve.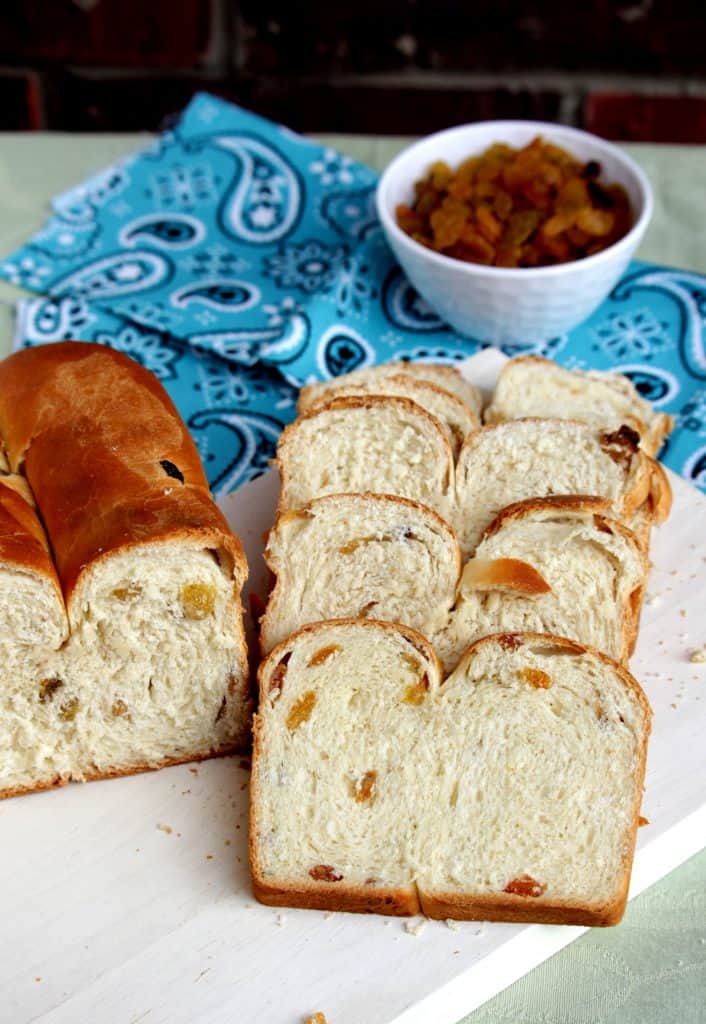 If you like the bread recipe, pin it here -