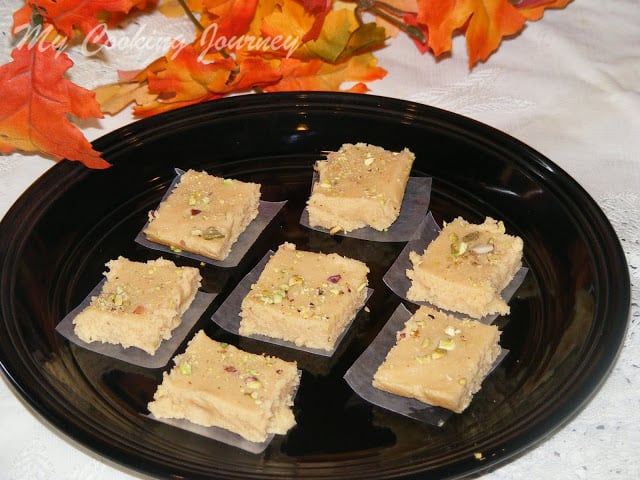 After a couple of month's break, I am back again for my blogging marathon. I simply love this event, since it motivates me to get back to routine blogging. The themes for the event makes it even more interesting as it paves way for me to do more research and learn.
For this week's BM, I chose the theme Course wise meal from any state. For this theme, I chose Bengal as my state and sweets as my course. The first sweet that I came up with is the ever popular Kalakand. I love kalakand for its simplicity and grainy texture. When it comes to sweets, I prefer ones that are made with fewer ingredients. This sweet basically requires just Milk and sugar, but making it from scratch takes too much time. I made this using ricotta cheese, which basically is the closest form of Indian cottage cheese available here and condensed milk.
Traditionally this is made by making fresh paneer from milk and then combining the paneer with condensed milk and sugar and reducing it further until it reaches the required texture. I took the shortcut and used equal quantity of ricotta cheese and sweetened condensed milk and reduced it further to get the burfi consistency.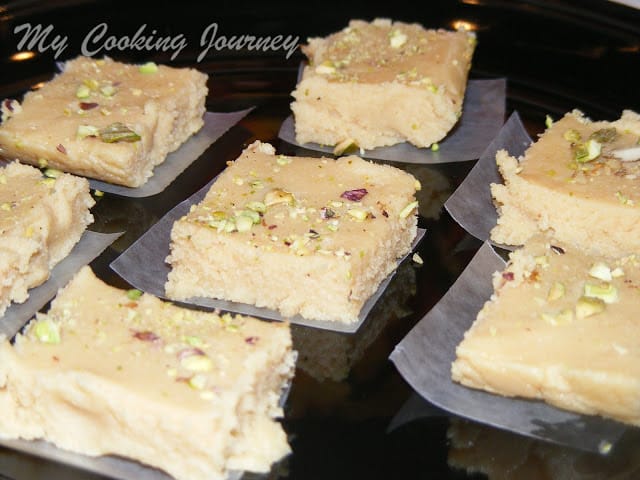 Preparation time – 5 mins
Cooking time – 40 mins
Difficulty level – easy
Ingredients to make Kalakand – (makes about 20 small pieces)
Ricotta cheese – 15 oz container
Sweetened condensed milk – 1 can (14 oz)
Cardamom powder – 1 tsp
Pistachios (or any nuts) – few (for garnish)
Ghee – 1 tsp for greasing the tray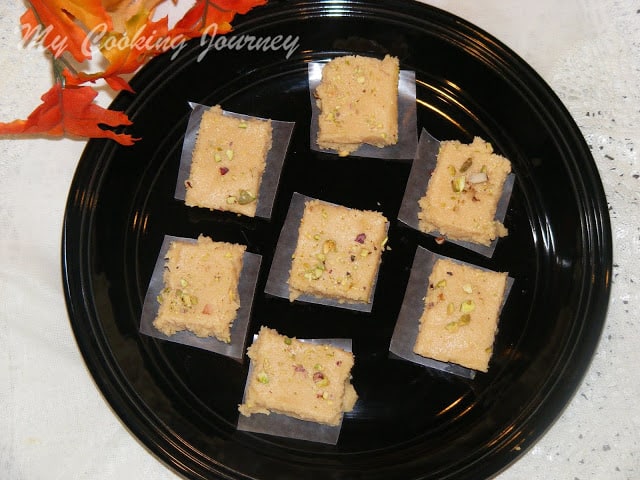 Procedure to make Kalakand –
Grease an 8 x 8 pan with ghee and keep it aside.
In a heavy bottom pan, combine the condensed milk and ricotta cheese. Mix well and heat over medium flame.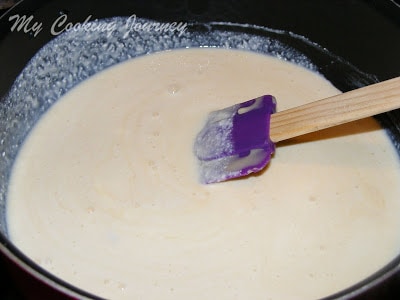 Keep stirring the mixture. Once the ricotta cheese hits the heat, it will liquefy. Keep stirring for about 20 – 30 mins, until the mixture solidifies.
Add the cardamom powder once the mixture starts to get thick. Keep stirring until it starts to leave the sides of the pan.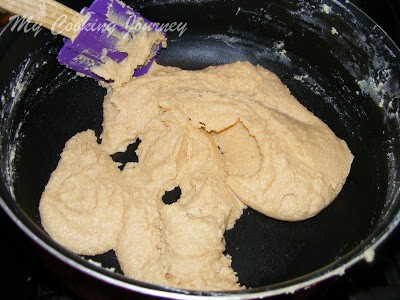 Transfer the mixture to the greased pan and level it evenly with the back of a spatula. Sprinkle the nuts over the top and slightly press it with the spatula for it to stick to the sweet.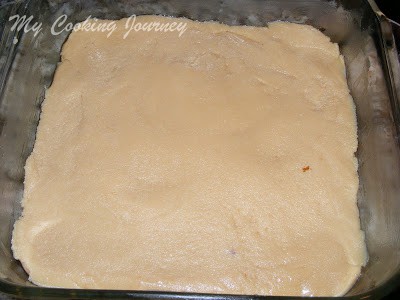 Let it cool down a bit and then cut it into desired shape. Let it cool entirely before removing it.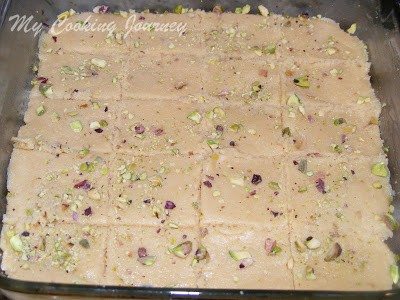 Serve it in room temperature or chill it for an hour or so in the refrigerator and serve.
Notes and Observation –
This can be made in the microwave too instead of stove top. Follow the same recipe and make it in a deep microwave safe glass dish. Keep stirring after every 5 mins and also keep an eye that the mixture does not boil over.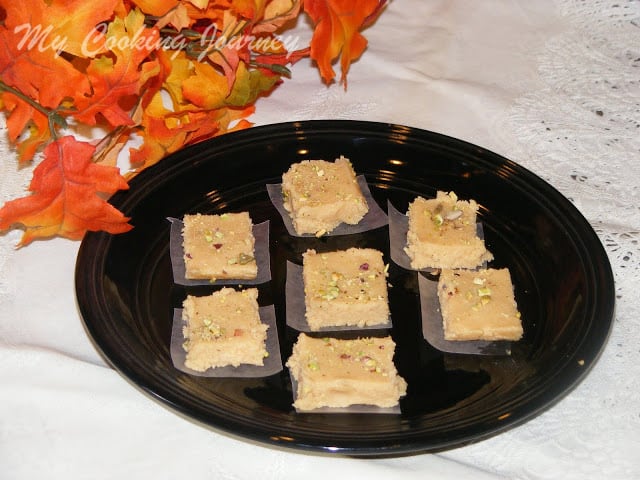 Check out the Blogging Marathon page for the other Blogging Marathoners doing BM#29