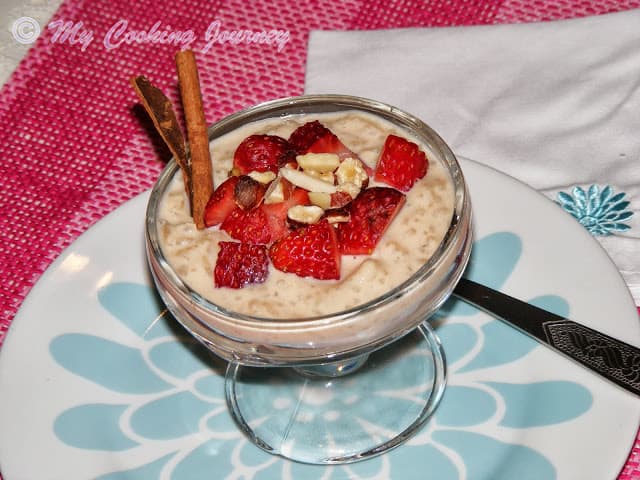 For the third day of cooking from a cookbook theme, I wanted to make something that utilized fruits. I had a box of strawberries in my refrigerator and that was one of the ingredients given to us to choose from. This recipe for Rice Condé Sundae is from the book 'The complete encyclopedia of vegetables and vegetarian cooking' by Roz Denny and Christine Ingram. This is one of the books that I use when I need to know about a vegetable that is new to me. There is literally every vegetable that is explained in detail in this book with regards to where and how they are grown, how they are cooked and their taste comparison.
This sundae is a version of our paal payasam, or rice kheer but with slight difference in flavors. I was a little skeptical about how this would taste with berries on top. When my son tasted it first, he said he did not like it. Then after a few minutes he came back again and said, Amma can you give it to me without any nuts. He tasted it for the second time with just the rice pudding and the fruit and he loved it. He took a bowlful of the pudding topped with extra strawberries and licked every bit of it.
The ingredients I chose for today's theme were Milk, strawberries and brown sugar/jaggery. The recipe was made with low fat milk (2 %) and it has very little sugar in it. The original recipe has white sugar in it, but I substituted it with brown sugar and molasses. This gave the desert more of an earthy flavor a beautiful color.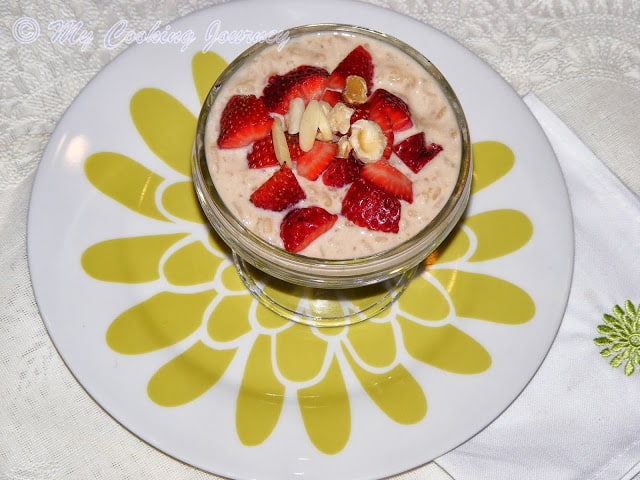 Preparation time – None
Cooking time – 1 hr plus couple of hours to chill in the refrigerator
Difficulty level – easy
Ingredients to make Rice Condé Sundae – (Serves 4)
Milk – 2 ½ cup (I used 2 % milk)
Rice – ¼ cup (rinsed and drained)
Molasses – 1 tbsp
Brown sugar/jaggery – 4 tbsp (substitute with white sugar if preferred)
Cinnamon – ½ tsp ground or 1 stick (I used one stick of cinnamon)
Vanilla extract – 1 tsp
To serve –
Strawberries or any mixed berries
Toasted nuts
Chocolate sauce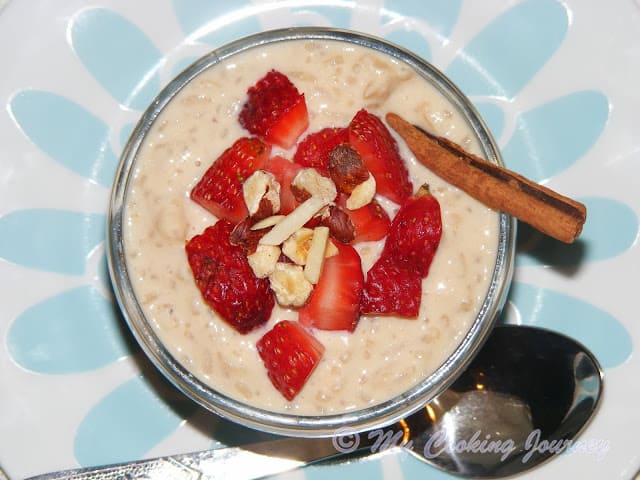 Procedure to make Rice Condé Sundae –
Combine milk, rice, cinnamon stick in a medium sauce pan and bring it boil. Keep stirring to prevent the milk from boiling over
Bring it to a simmer and let it cook for about 30 mins or until the rice is soft. Now add the molasses, brown sugar and vanilla and mix well.
Let it simmer for about 20 more minutes until the rice is very soft and the pudding comes to a thick and creamy consistency.
Let it cool down a bit and then chill it in the refrigerator.
To serve –
Just before serving, spoon the pudding into sundae bowls and then top with chopped berries, nuts and chocolate sauce.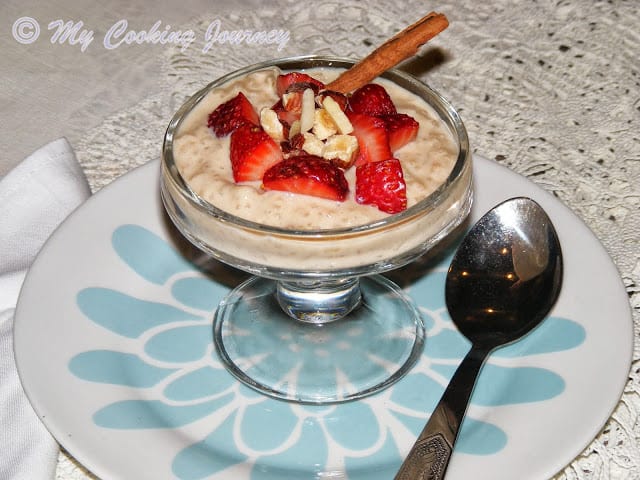 Notes and observations –
If the pudding reduces too quickly when cooking, add little extra milk and cook it until the rice is soft.
I made this using regular rice, but to add another layer of flavor, try using Thai fragrant rice or any other variety.
The desert tastes rich and creamy even if using low fat milk. So there is no need to use full fat milk.
Adding brown sugar and molasses adds an additional layer of flavor. If you prefer you could substitute it with regular white sugar.