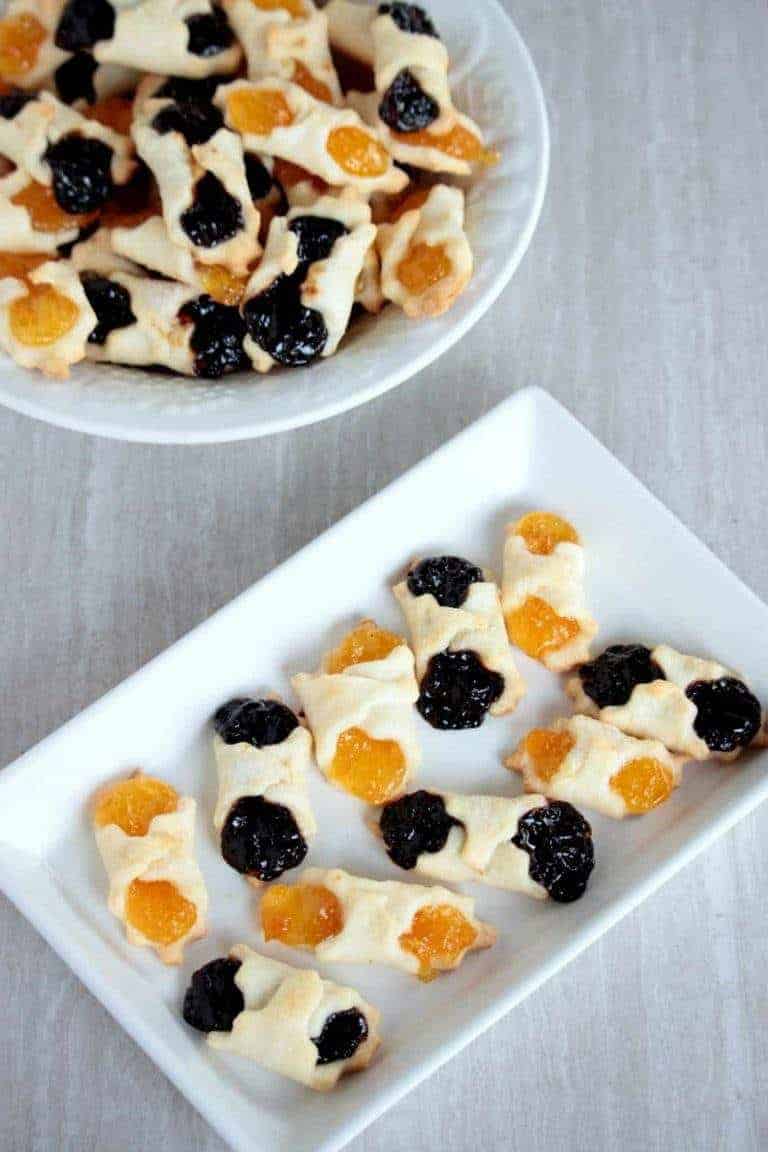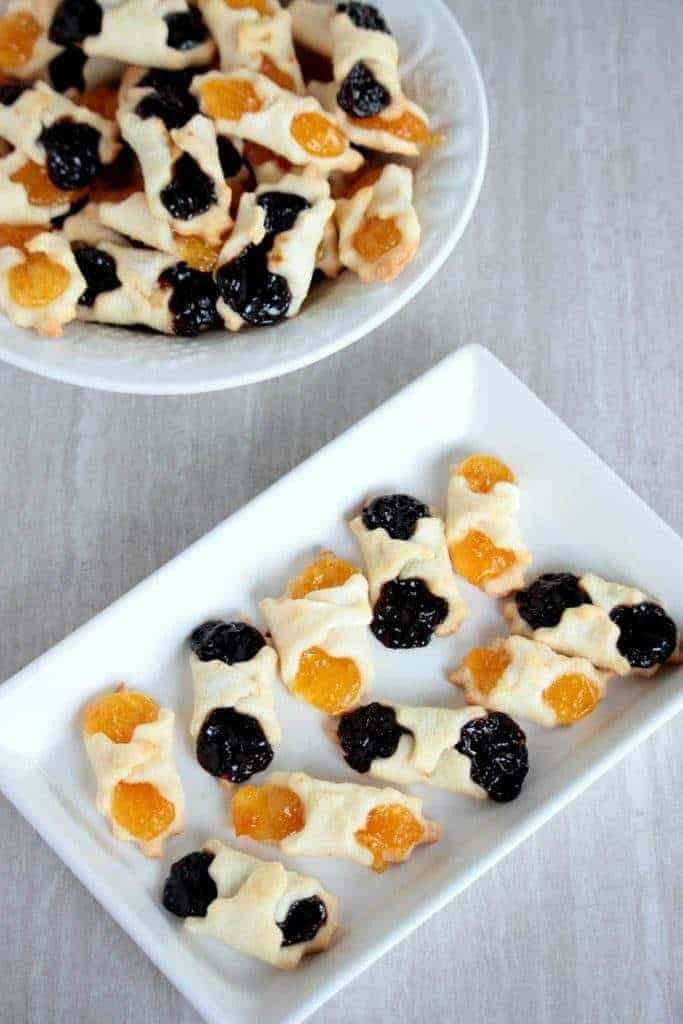 Kiffles are traditional Hungarian pastries that are made during the holiday season. These pastries are hand rolled paper thin and then stuffed with pastry/pie fillings. The dough is made with just 3 ingredients; cream cheese, butter and all purpose flour. I added a bit of salt in the dough to bring out the flavors. When reading through the description of kiffles, I initially decided that I will fill them up with some jam. Only when I researched further, did I realize that I should be using pie filling instead of jam as they would run off the dough when baking.
I have never used the pie filling and had no idea how they would be. I was debating whether to make my own filling or buy them. Before making the filling, I decided to go to the stores to take a look. I saw that we had Solo brand of pie fillings available and that was what I was looking for. There were many different flavors that I saw online that were available and my boys absolutely wanted the pineapple flavor. When I went to the store, there was only 2 flavors on the shelf, apricot and prunes plum. I was glad that they were of two different contrasting color and that would look good for the pictures, but worried if my boys would eat the prune flavor.
I made the dough for the pastry the night before and again, this is one of the firsts for me. Having never made a all fat dough and was really looking forward to how it was going to hold the shape. The dough was very soft when I made it and totally understood the need for refrigeration. I refrigerated the dough overnight and it was perfectly hard the next morning. In fact, I had to leave the dough out for few minutes before I started rolling it out. The first chunk of dough was all over for me and I never managed to get a good rectangle. I trimmed the corners and measured out 2 inches squares.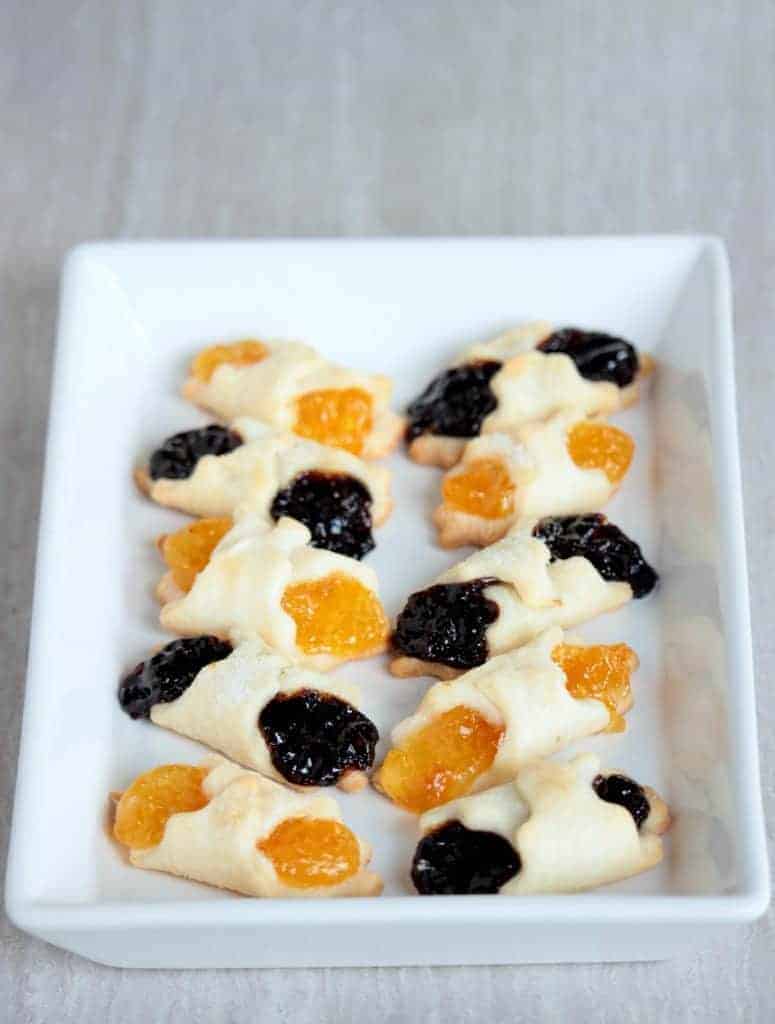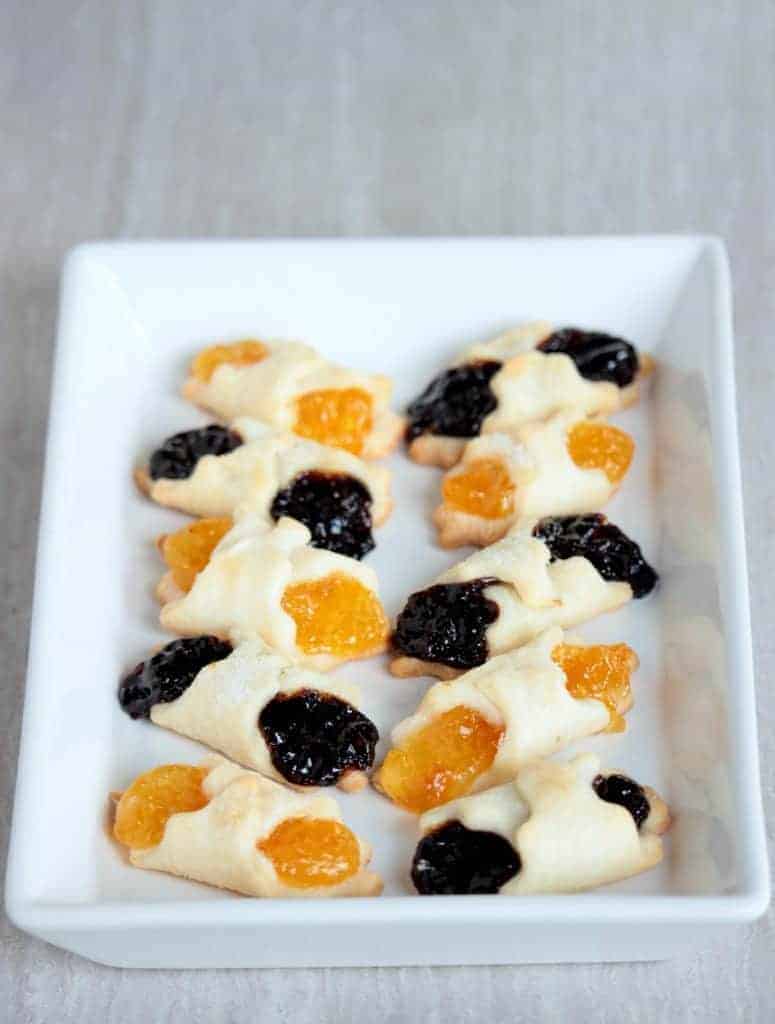 I wanted to make the nice fancy crinkled edges for my Kiffles, but I don't have the crinkled cutter. A bulb flickered in my mind and I knew that there was a crinkled roller in the play dough set that my son has. Praying hard that I find the box with all the play dough gadgets, I ran upstairs and found the fancy roller. I could not have been more excited than this.
I assembled the pastries and baked the first batch. My husband was just leaving to work, when the first batch came out and I quickly gave him one to taste test. He loved it and wanted to taste the other flavor as well. On his way out he mentioned that the pastry shell was marvelous and they just melted in the mouth. Not saying it out loud, I said to myself, this is what a all fat dough does.
My greatest critics were going to taste it only in the evening. I finished photographing them and waited for my boys to come home. My oldest came home and the first thing he asked was, what's new I baked today. I showed him the Kiffles and he loved how they look. He ate one and then another and then another and a few more without saying a word. A few minutes later, he came to me and said this is one of the best pastries he has had in a while. He mentioned that these were not too sweet and the sweetness from the pie fillings were just right.
The dough can be a little tricky to work with. when very cold, it is hard to roll. when it warms up too much, they start sticking. I would suggest having all the ingredients ready and work with the dough quickly. If making a large batch, you could place the fillings in a piping bag and pipe them on to each square. I used a small spoon to place the filling, but it was time consuming.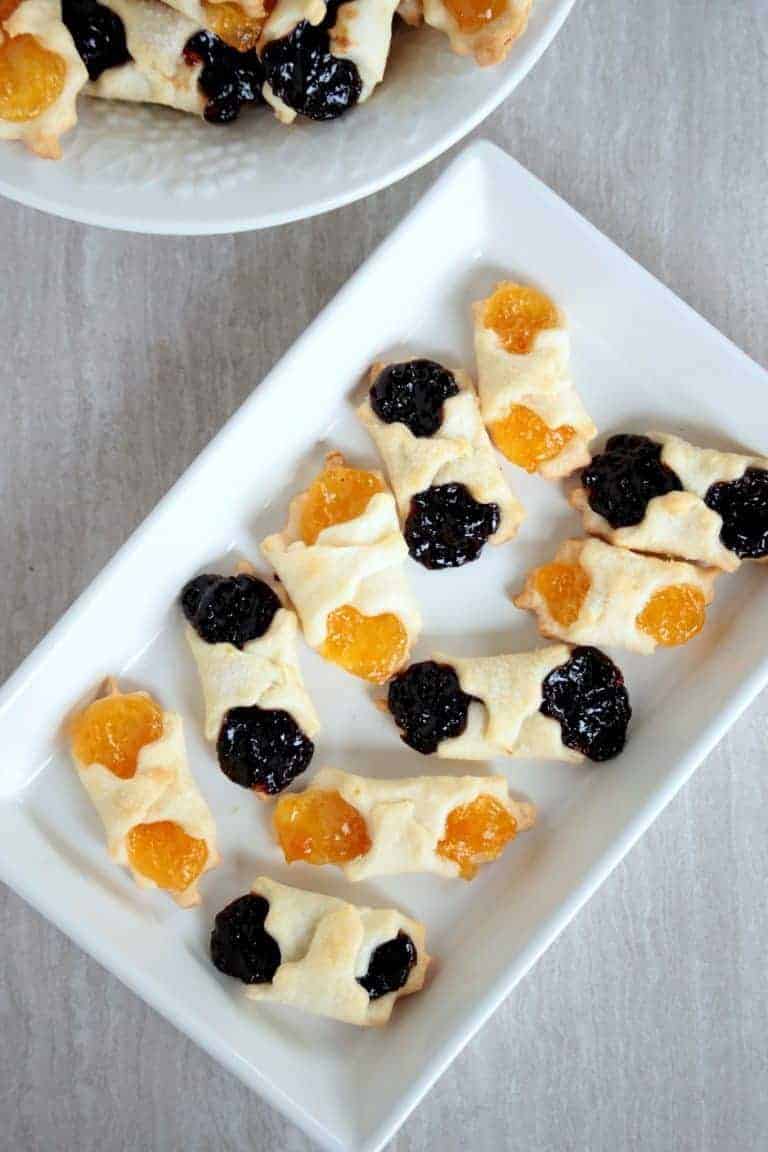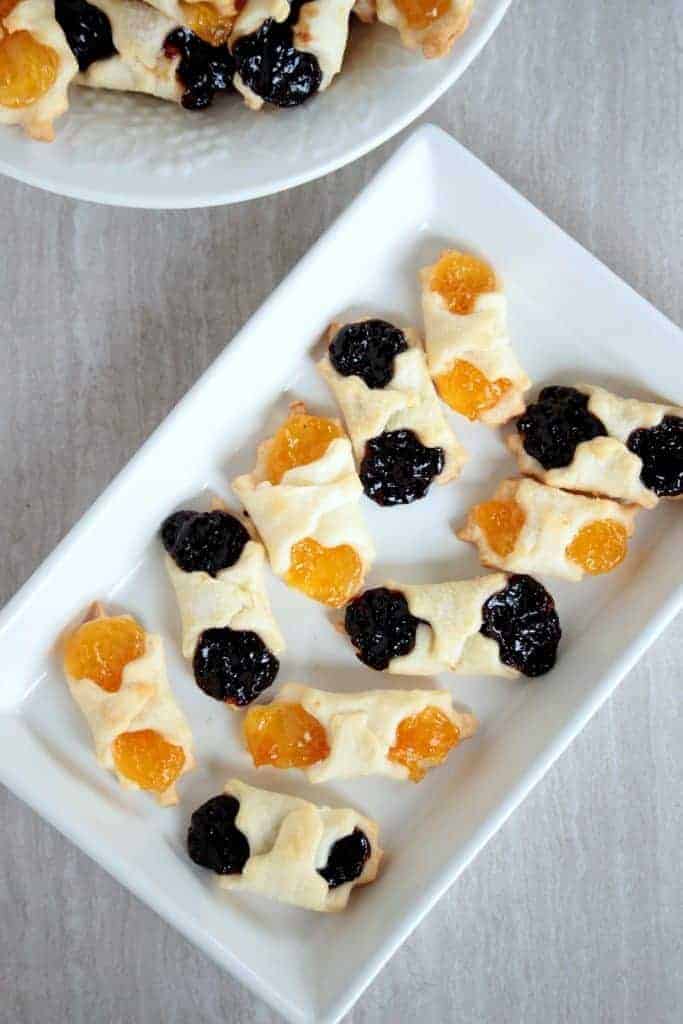 My other bakes in the A – Z Baking around the World Marathon –
A for Almond cookies from China
B for Bretzel Rolls from Germany
C for Chocolate Cupcakes with Chocolate Buttercream Frosting from USA
D for Danish Cookies from Denmark
E for Empanada from Argentina
F for Franzbrötchen from Germany
G for Grissini from Italy
H for Hot Cross Buns from England
I for Irish Freckle Bread from Ireland
J for Jan Hagel Cookies from Netherlands
Preparation time - 10 minutes
Baking time - 12 to 15 minutes
Difficulty level - Intermediate
Recipe adapted from - My Gourmet Connection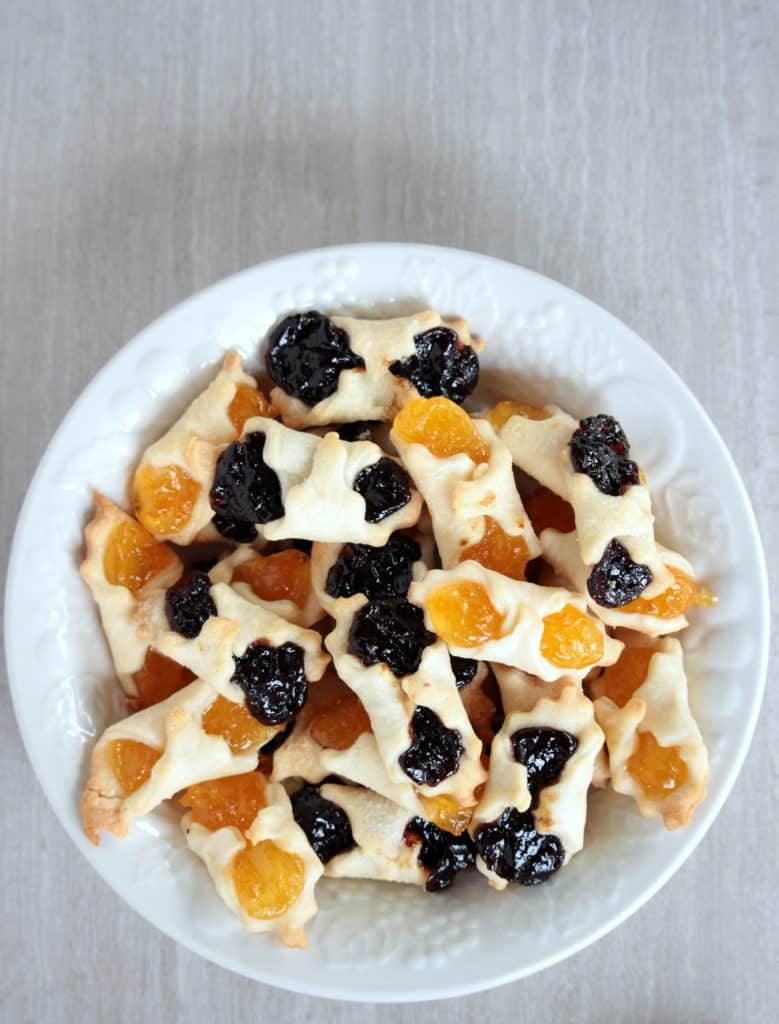 Ingredients to make Kiffles - (makes 4 dozen)
Cream cheese (plain) - 4 oz (softened)
Unsalted butter - 8 tbsp (softened)
All purpose flour - 1 cup plus about 2 tbsp
Salt - ½ tsp
Cake and Pastry filling (I used Solo brand) - I used Apricot and prunes flavor
Flour - for dusting the surface when rolling
Sugar - for sprinkling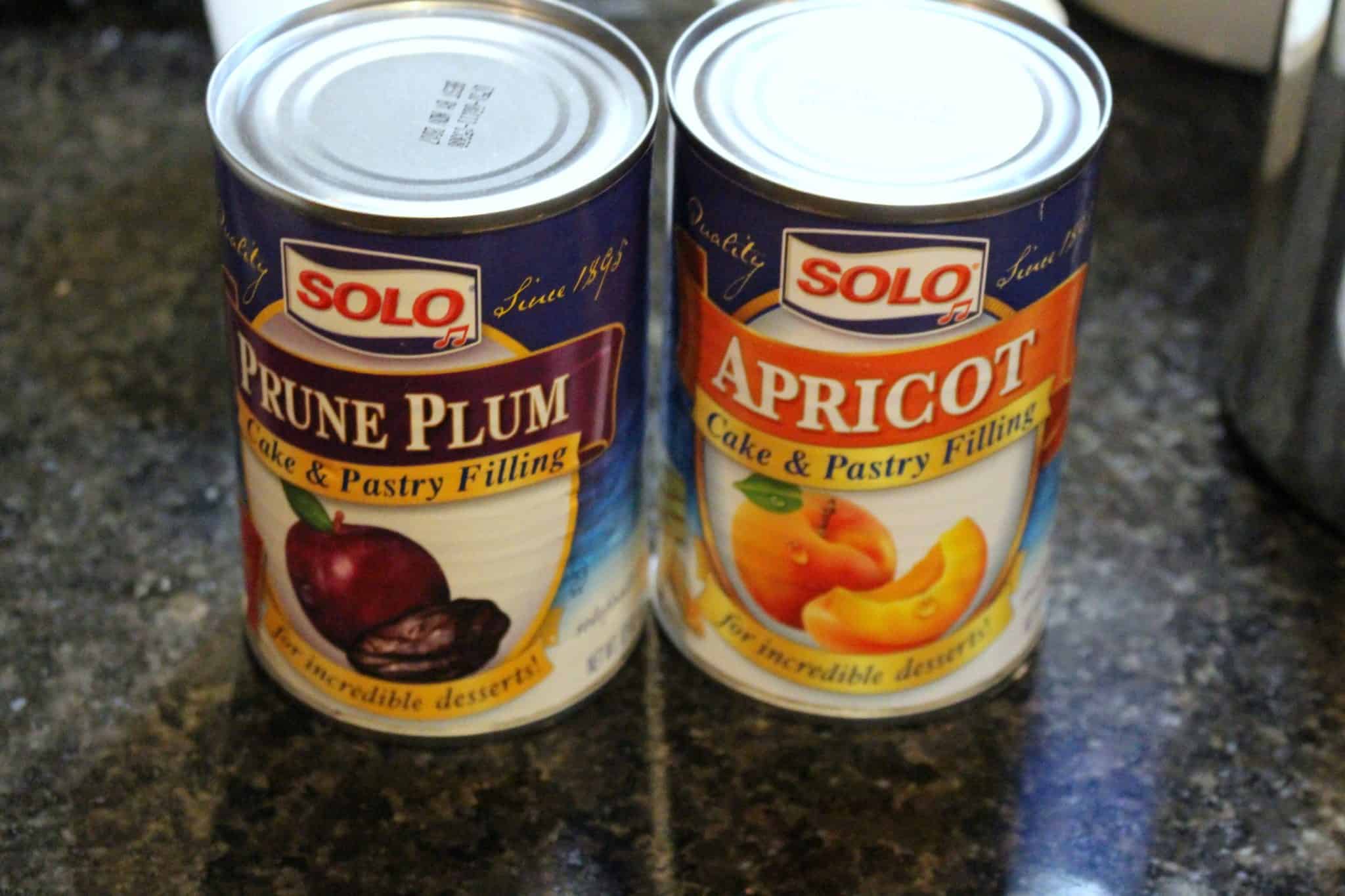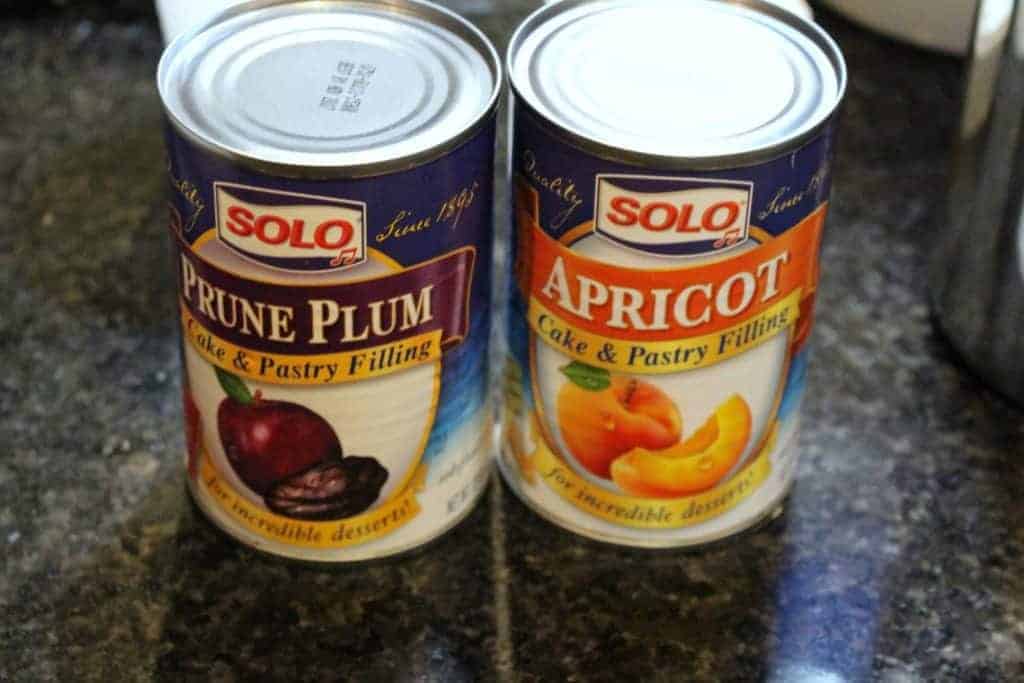 Procedure to make Kiffles -
To make the Dough -
In a large bowl, beat the butter and the cream cheese until fluffy. Be sure to leave the cream cheese and butter on the counter to soften.
Mix the flour and salt in a small bowl. Add this mixture in 4 batches to the butter mixture. Mix well after each addition.
I used my hand mixer to beat the butter. Once we add the flour, the mixer will start to clump up. At this stage, use your hands to mix it and make a soft dough.
This is a all fat dough, so the dough will be very soft, but not sticky.
Divide the dough into two and pat it down. Wrap it in plastic wrap and refrigerate overnight. If overnight is possible, refrigerate at least for 3 hours.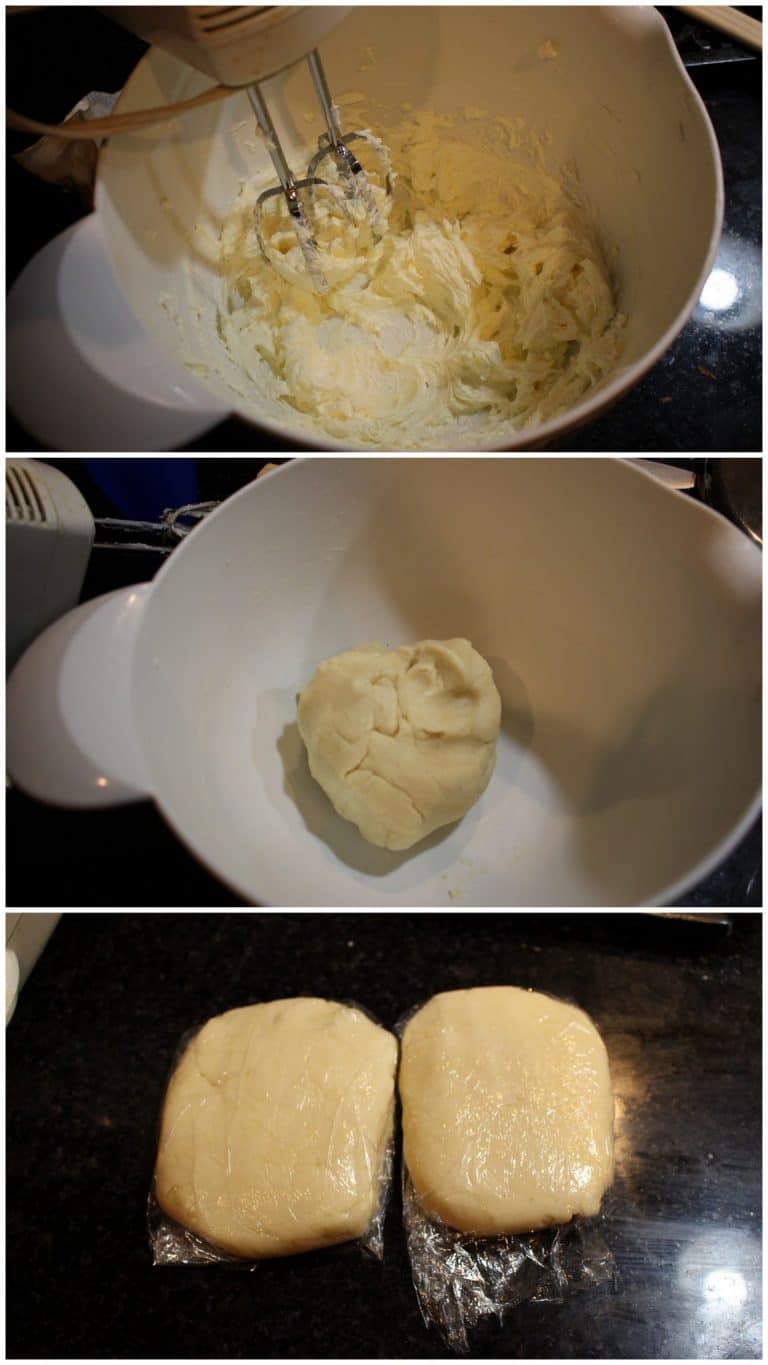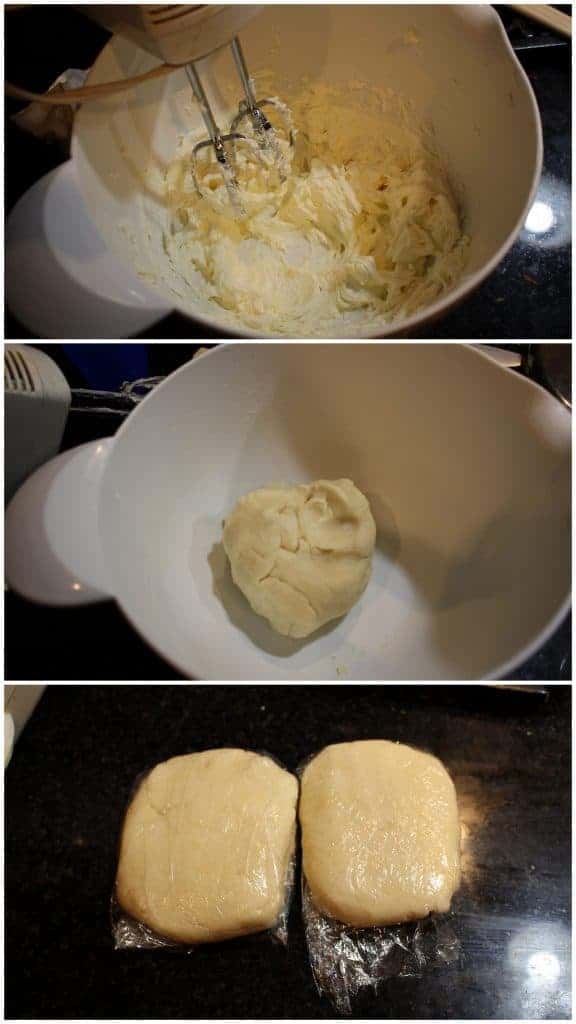 To shape and bake the pastry -
When ready to roll, dust the work surface with plenty of flour. Remember that this is a all butter dough and hence will become soft much quicker. Hence we need to dust the surface and the rolling pin with sufficient flour.
Preheat the oven to 375 F. Layer a baking sheet with parchment and keep it ready.
Let the dough sit out of the refrigerator for 5 minutes and then roll it into thin rectangle. There are several thickness that is mentioned, but I would just say, roll it as thin as possible. Keep lifting the dough often so it does not stick to the surface.
Using a serrated roller cutter or plain pizza cutter, cut the dough into 2 x 2 squares. Try to keep the squares as equal in size as possible. I used a ruler to guide me when I was cutting the dough.
Place a tsp of filling in the center of each square.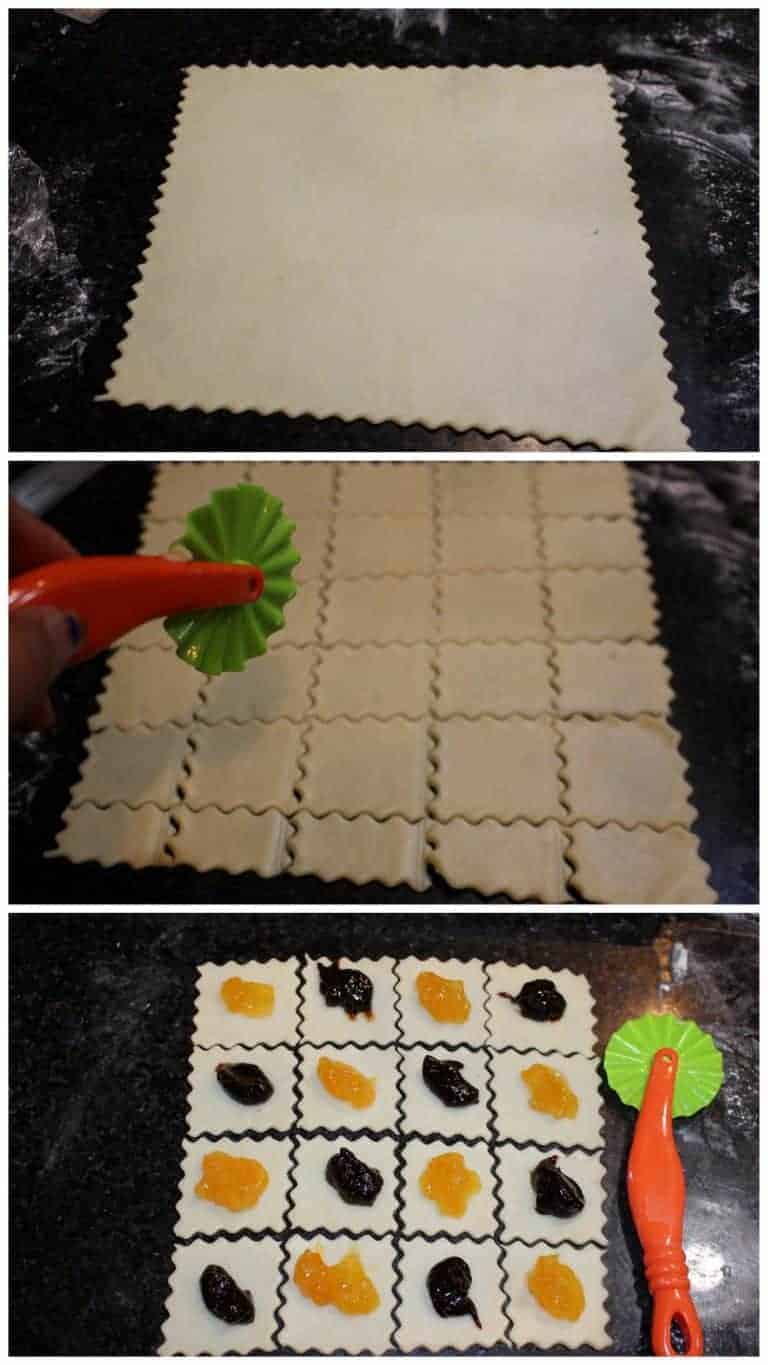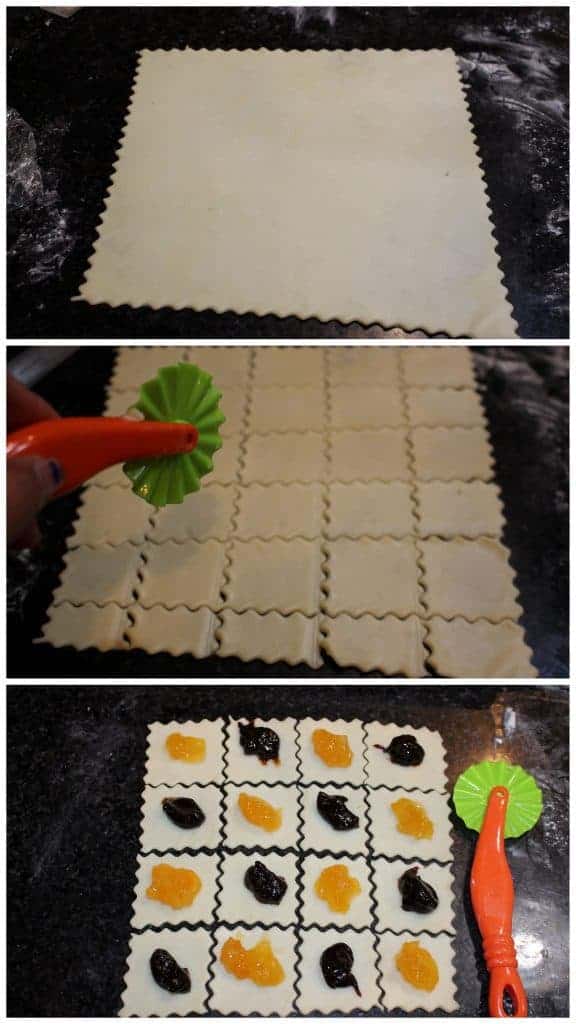 Bring one corner over the filling and then the other corner over the first one and pinch to seal. Repeat the same with all the squares.
I would suggest that you work as quickly as possible, as the dough becomes very soft the longer we leave it out.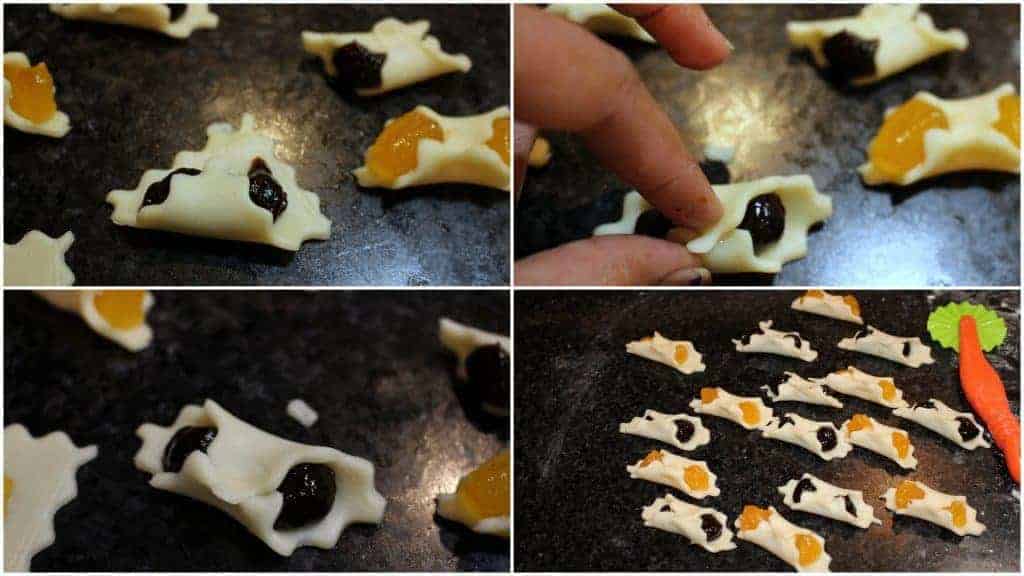 Place the shaped kiffles on the prepared baking sheet and sprinkle little sugar over them.
Bake them for 12 to 15 minutes or until the edges starts to turn slightly brown and the pastries starts to firm up. For this pastry, I would highly recommend using double tray to insulate as the bottom of the pastry could burn easily.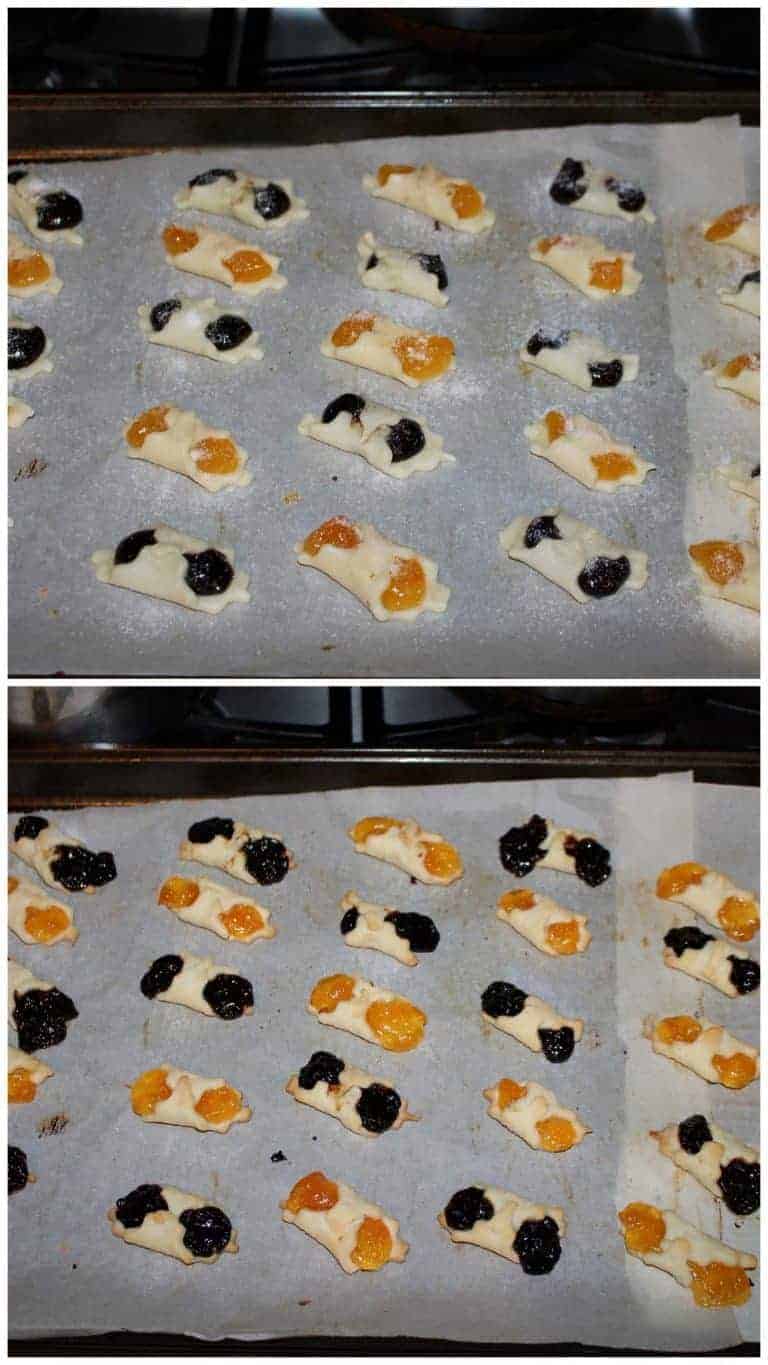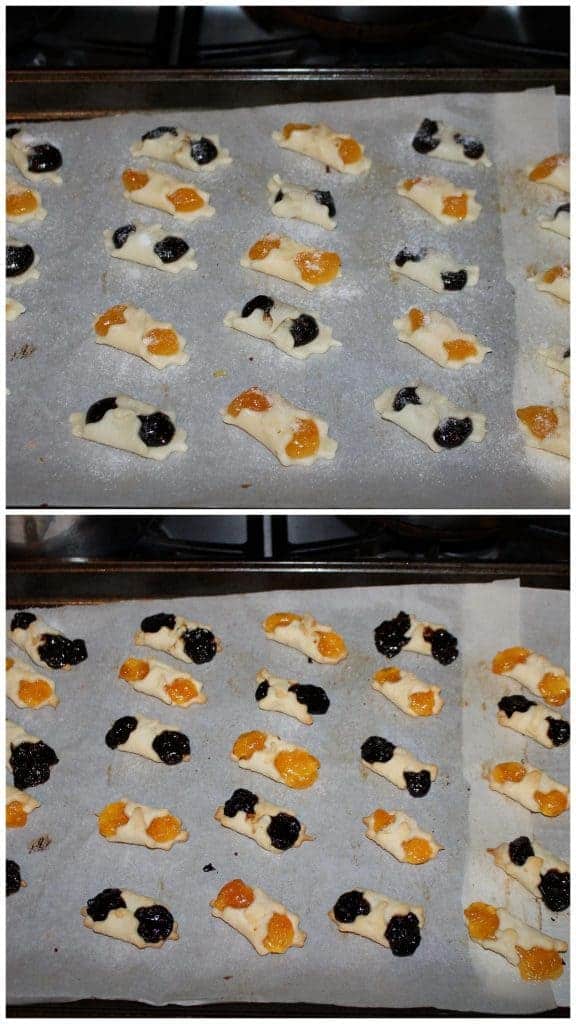 Let it cool in the tray for couple of minutes and then transfer the kiffles to cooling rack to cool completely.
Store them in a container layered between parchment paper to avoid sticking.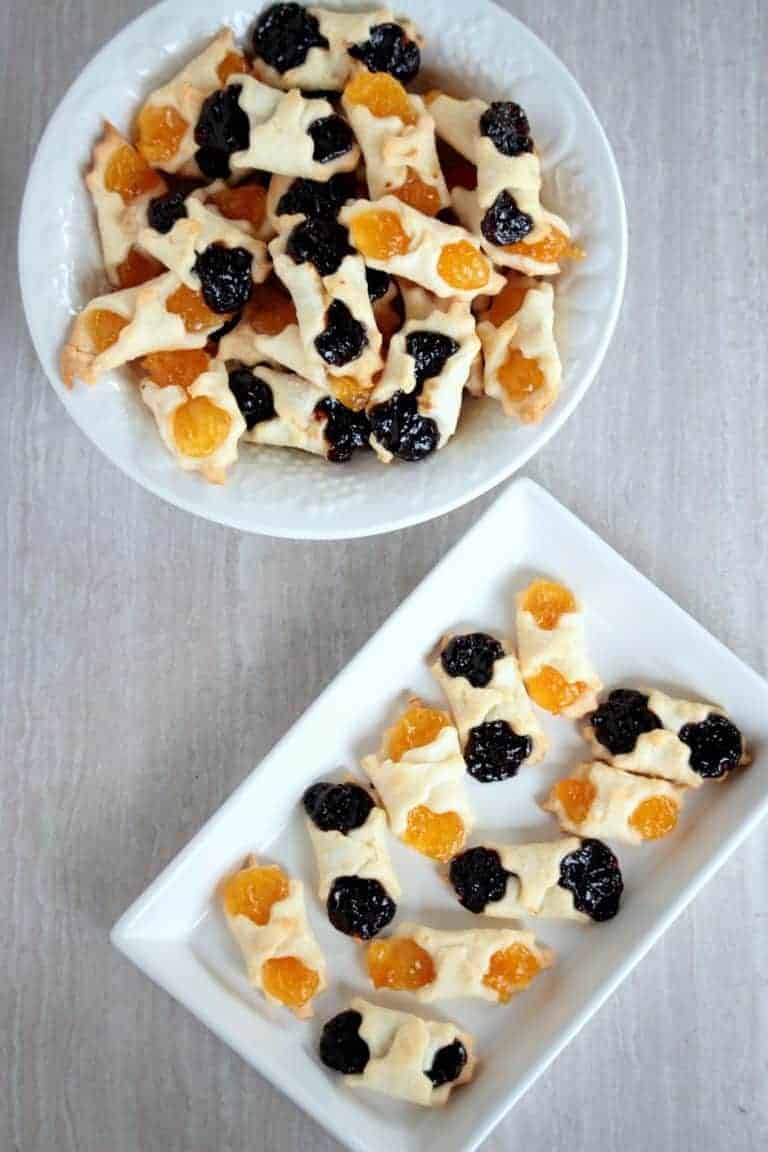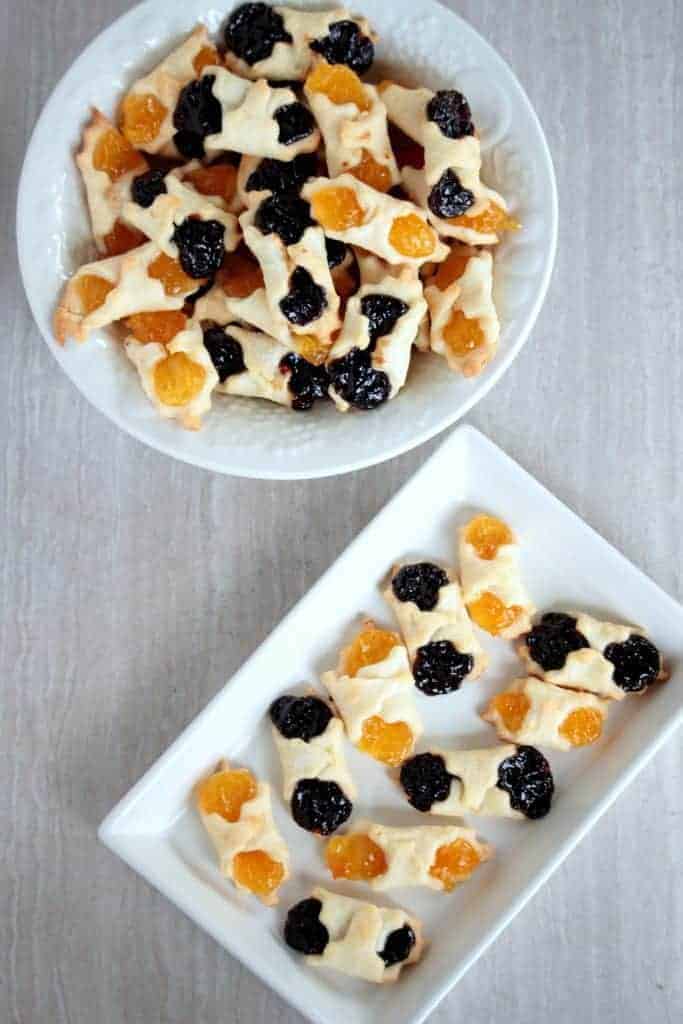 If you like this recipe and want to save it or pin it for later -