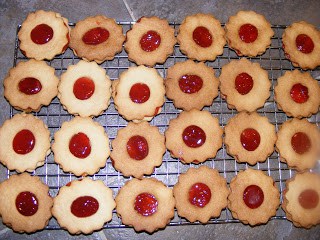 One of my all time favorite cookie as a kid, this Jam Sandwich Cookies recipe reminds me of my childhood days. I remember eating jam cookies from Iyengar bakeries in Chennai. This recipe can be made using any jam, store bought or home made. I made these with strawberry jam. I had some frozen strawberries left in my freezer from last year's picking and I made some fresh jam to make this cookie. Store bought jam works just the same way. We might just have to liquefy it a little bit to be able to spread it on the cookies. And the best part of this recipe is this is an eggless cookie. So here is to all my friends who don't use eggs or have kids with egg allergies.

Preparation time – 20 mins
Cooking time – 20 mins
Difficulty level – medium
Ingredients to make Jam Sandwich Cookies – Makes 32
Blanched Almonds – 1 cup
All purpose flour – 1 ½ cup
Butter – ¾ cup
Super fine sugar – ½ cup
Grated lemon rind – 1 lemon
Vanilla extract – 1 tsp
Salt – a pinch
Jam (Strawberry or raspberry) – 1 ¼ cups
Lemon juice – 1 tbsp
Procedure-
Finely grind the almonds with 3 tbsp of flour.
Cream together the butter and sugar until light and fluffy. Stir in the lemon rind and vanilla extract. Add the ground almonds and remaining flour and mix to form dough. Gather it into a ball, wrap it in waxed paper and chill for at least one hour.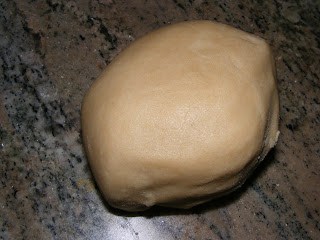 Preheat the oven to 325F. Line two baking sheets with waxed paper.
Divide the dough into four sections. Roll out on lightly floured surface to ⅛ inch thickness. With a floured 2 ½ inch cutter, stamp out the rounds. Then from half of them, cut out the centre. Make sure that there are equal rings and rounds. Place them ½ inches apart on the prepared baking tray.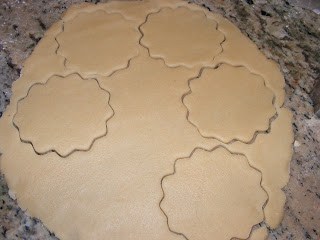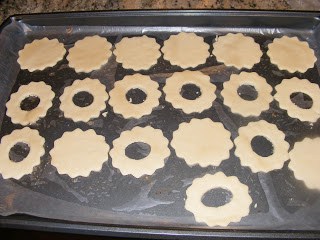 Bake for 12-15 mins, until lightly browned. Cool for 2-3 mins and then transfer them to wire racks.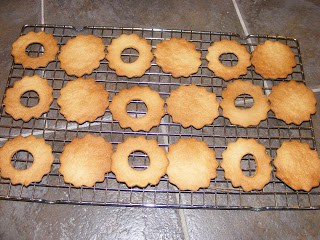 In a saucepan, heat the jam with the lemon juice until it melts and comes to a simmer. This step could be omitted if using homemade jam.
Brush the jam over the cookie rounds and sandwich them with the rings.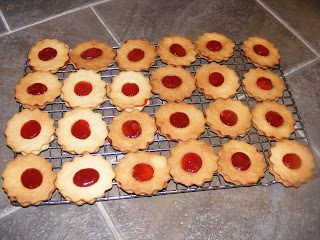 Once cooled completely, store them in an airtight container layered between waxed paper.
Notes –
This is an eggless recipe.
Almonds could be skipped and substituted with all purpose flour if needed.
Keeping the dough refrigerated is very important.
Roll out the cookies as thin as possible. Otherwise, they become too thick and heavy and takes longer to bake.
Happy Baking !!!