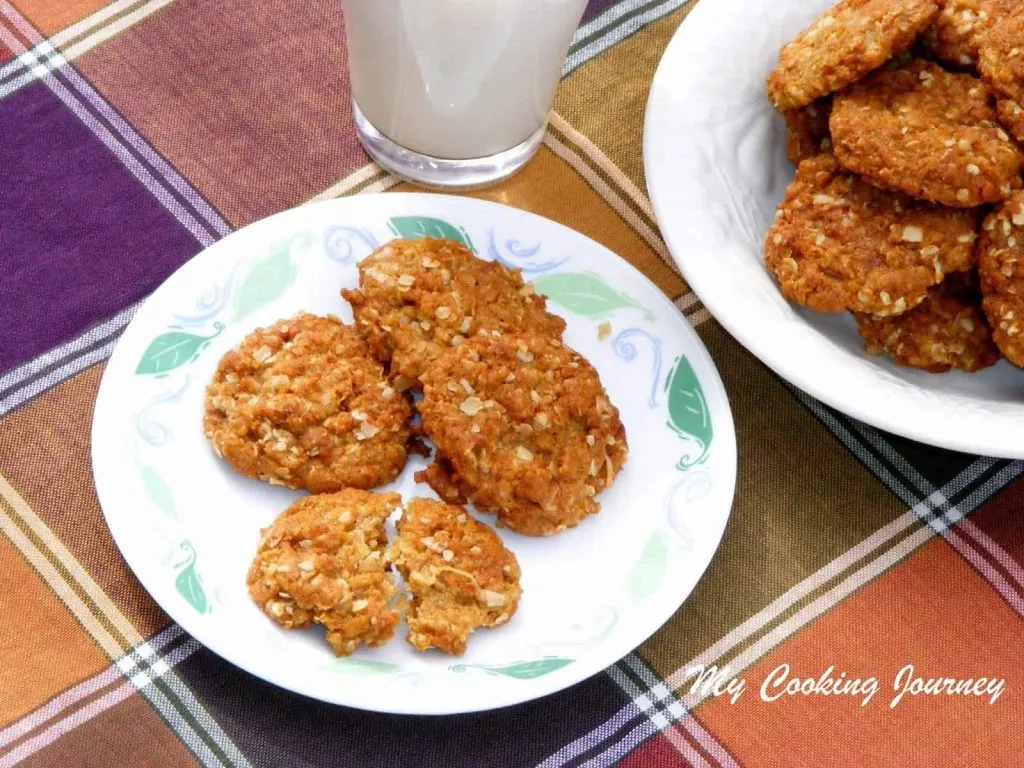 This week, after a long break I am starting my weekly blogging marathon. The theme for my first week is car snacks. Snacking in the car is an everyday affair for us, so this theme was very apt for my family's lifestyle. With my boy's activities in the evenings, we are out of the house for prolonged period of time. So all our snacking occurs only in the car and they can be messy. Cookies are the best option for a non / less messy snack.
I also wanted to get back in track with the rest of my blogging groups and hence chose this Anzac biscuits which was suggested by Saraswathi of Sara's kitchen for the International food challenge. We explored Australia for the month of October. The Anzac cookies are very popular cookies in Australia and New Zealand. The current name (Anzac) is associated with the 'Australian New Zealand Army Corps' that was established during World War 1. Before that these cookies were called the 'soldier's cookies' or the 'rolled oats cookies'.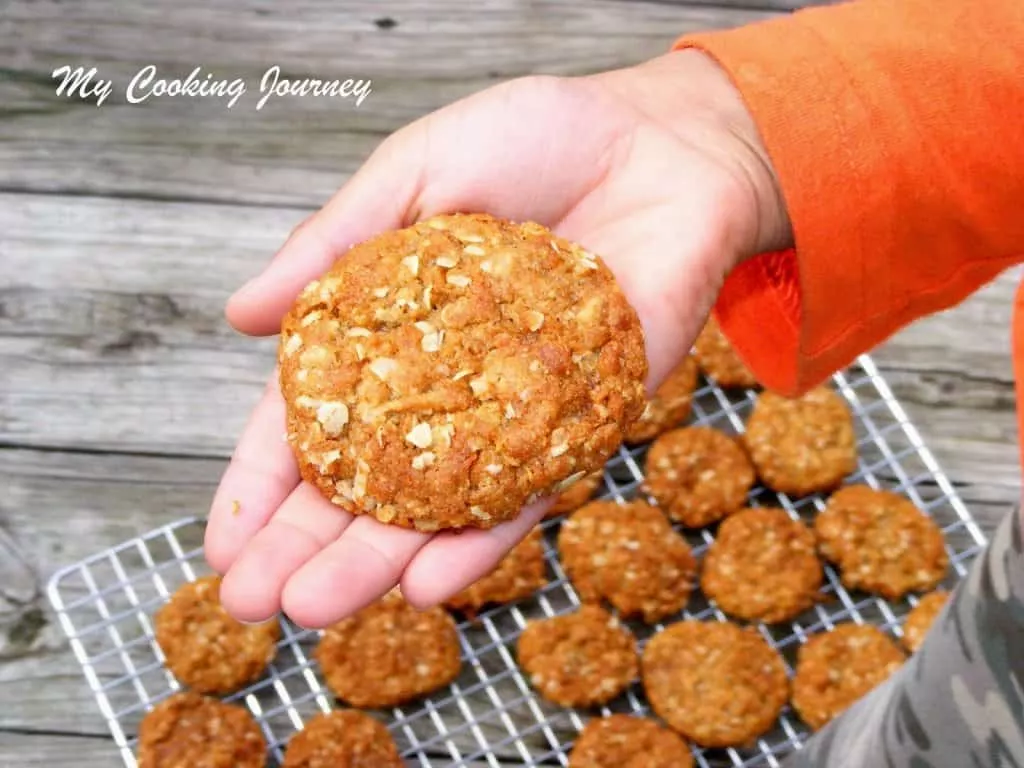 These cookies have a very long shelf life since it does not have eggs or any perishable ingredients. Hence, these were made by the soldier's wives and sent with them to war.
I have slightly altered the ingredients to make it healthier. I have used half wheat flour and half all purpose flour and also used brown sugar along with regular white sugar. Next time when I bake these, I am going to try using all brown sugar. Also I substituted honey for golden syrup because I did not have any. I used the sweetened coconut flakes in the cookies. You could also use the desiccated coconut available in the Indian stores.
The cookies are soft and chewy with lot of texture from the oats and the coconut. You could also use some nuts and raisin in the cookies. I baked them for about 4 minutes to retain the soft texture. If you like more crunchier cookies, increase the baking time by about 2-3 minutes.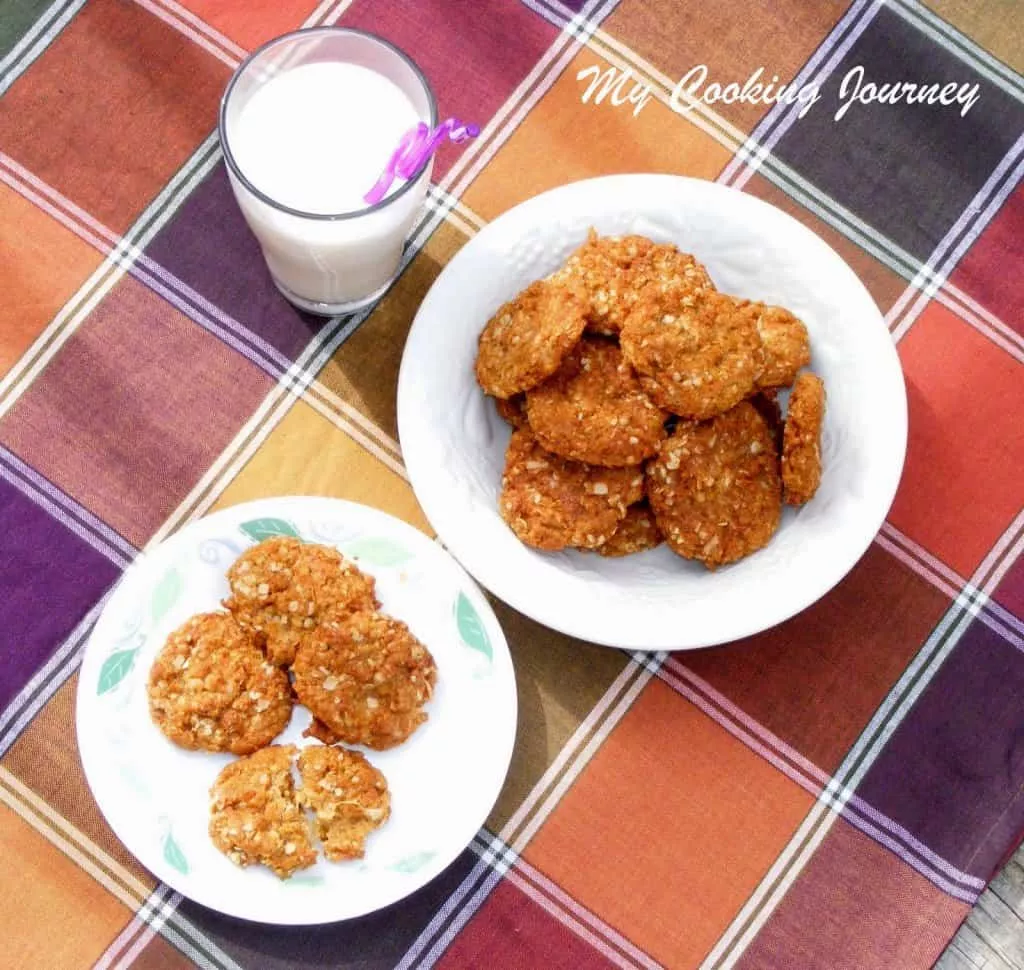 Preparation time – 5 times
Cooking/Baking time – 12-15 minutes/batch
Difficulty level – easy
Ingredients to make Anzac Biscuits – Makes about 30 small cookies
Quick cooking oats – 1 cup
Whole wheat flour – ½ cup
All purpose flour – ½ cup
Brown sugar – ½ cup
White Sugar (regular) – ½ cup
Flaked coconut – 1 cup (I used sweetened flaked coconut)
Butter – ½ cup
Baking soda – 1 tsp
Boiling water – 2 tbsp
Golden syrup – 1 tbsp (I used honey)
Procedure to make Anzac Biscuits –
Preheat the oven to 350 F.
Mix together oats, flours, sugars and coconut together in a large bowl.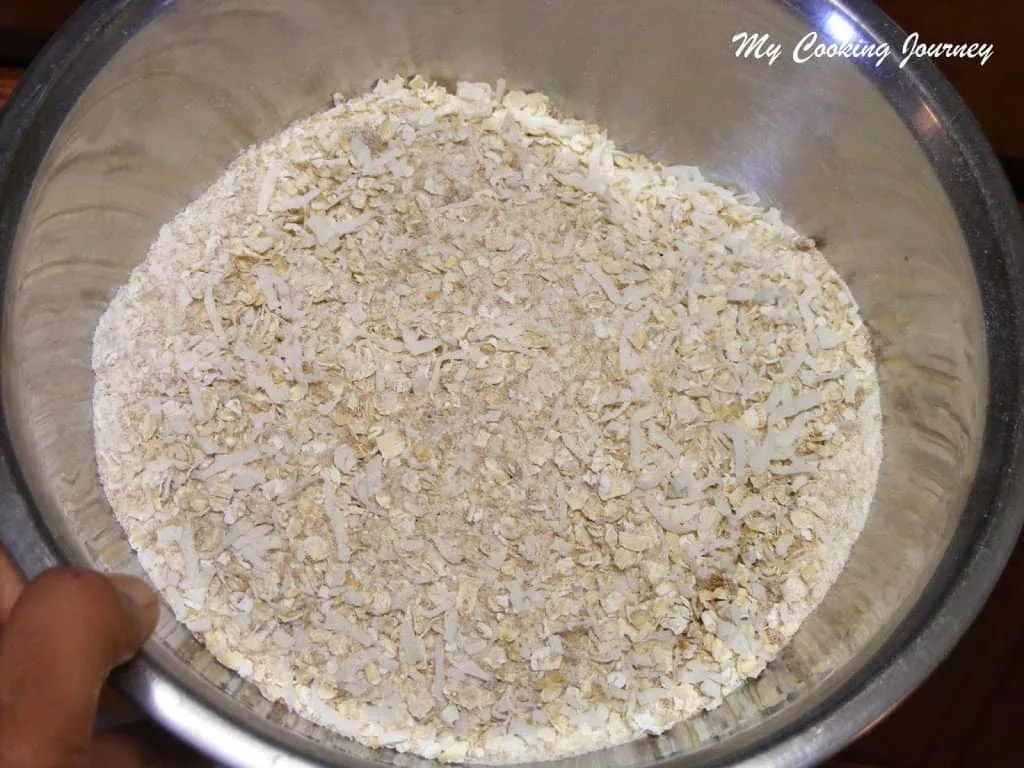 In a small cup, mix together the boiling water and the baking soda. You would see the soda fizz up when hot water is added to it. Mix well to ensure all the soda dissolves.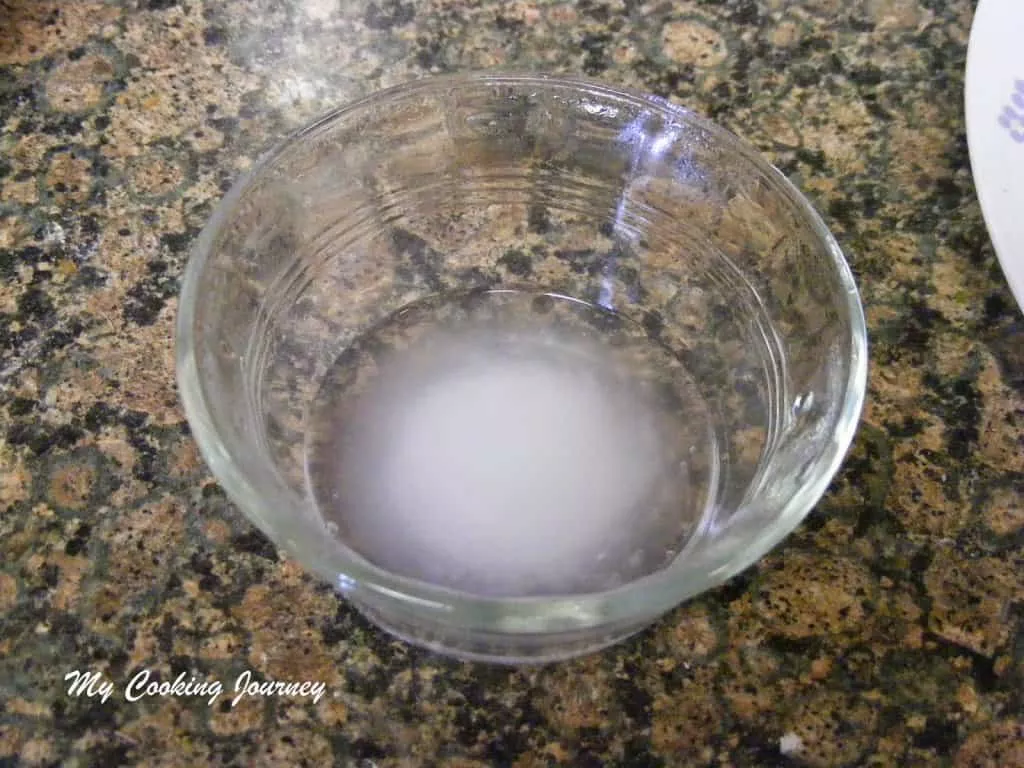 In a small saucepan, melt the butter and then add the golden syrup/honey to it and mix well.
Now add the baking soda mixture carefully to the warm butter/syrup mixture. The mixture would start to foam up.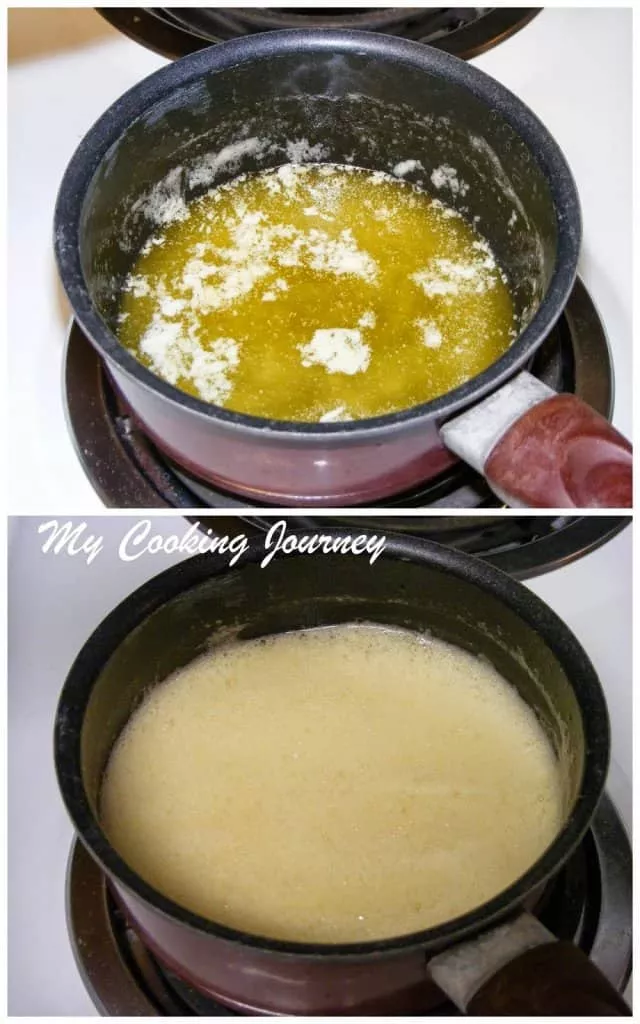 Add this butter mixture to the dry ingredients and mix well until combined. The mixture will be very crumbly and dry.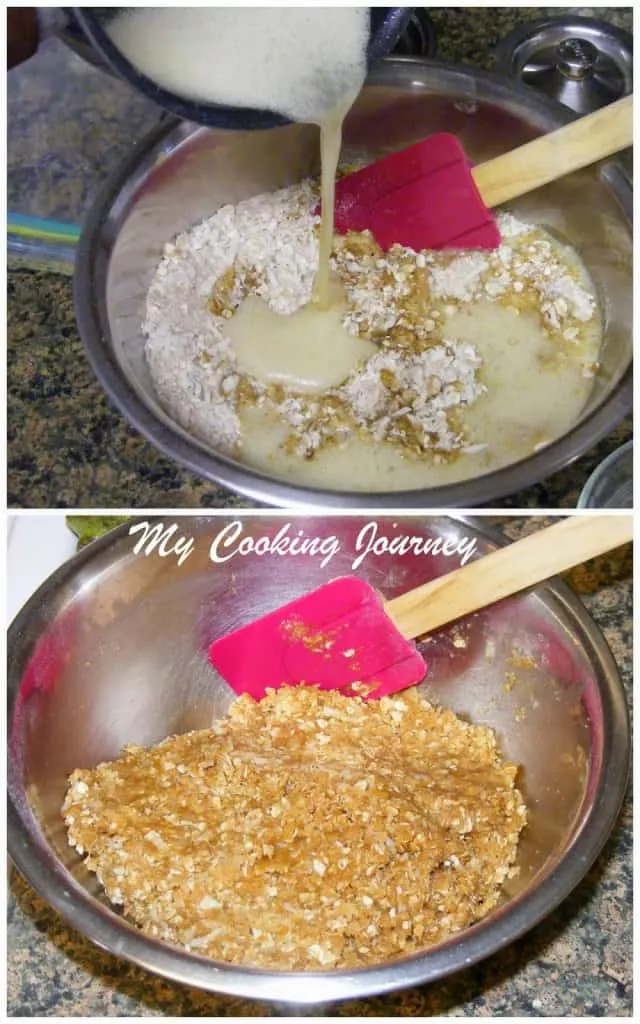 Use a tablespoon measure or a small ice cream scoop to form the cookies and layer them on a greased or parchment lined cookie sheets. You don't have to space the cookies a lot since they do not spread much.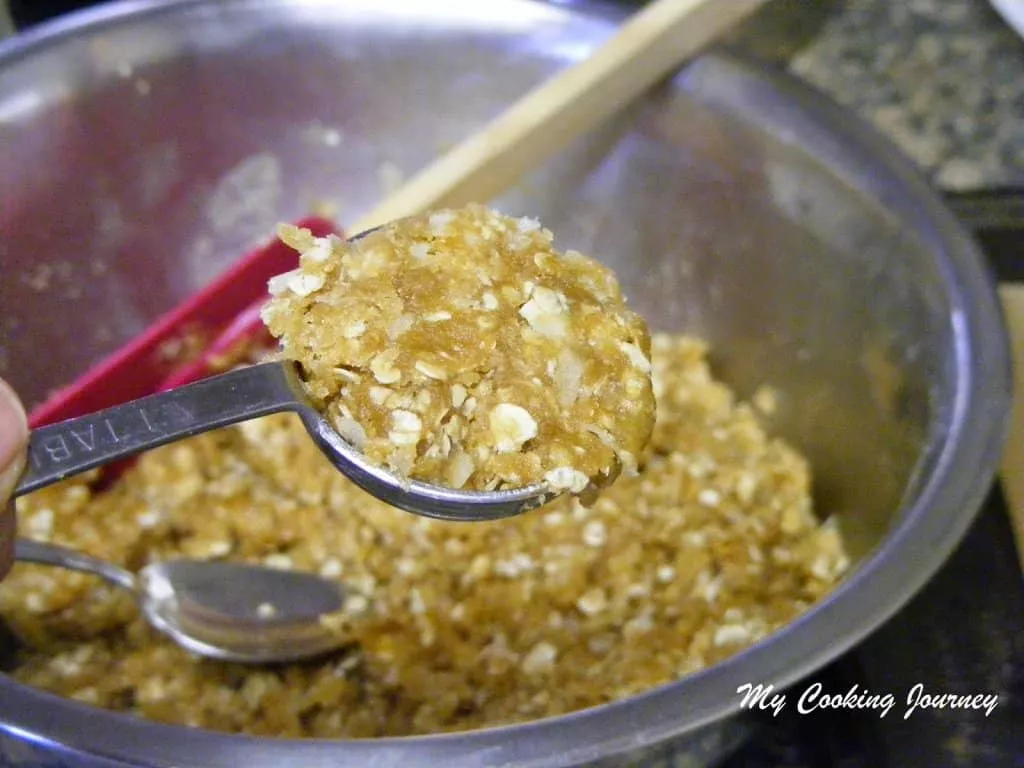 Bake in the preheated oven for about 12-15 minutes. Remove when the cookies are slightly firm and golden brown in color. Extended baking, yields crunchy cookies. I baked mine for about 14 minutes and they were crisp on the outside and chewy in the inside.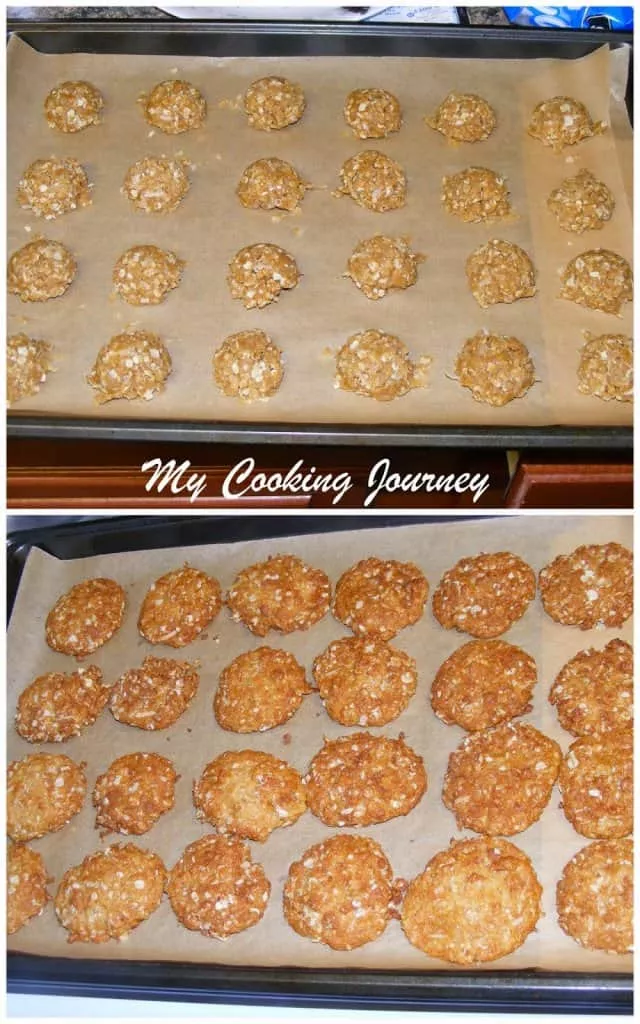 Let it cool in the sheet for 3-5 minutes and then cool completely on the cooling racks.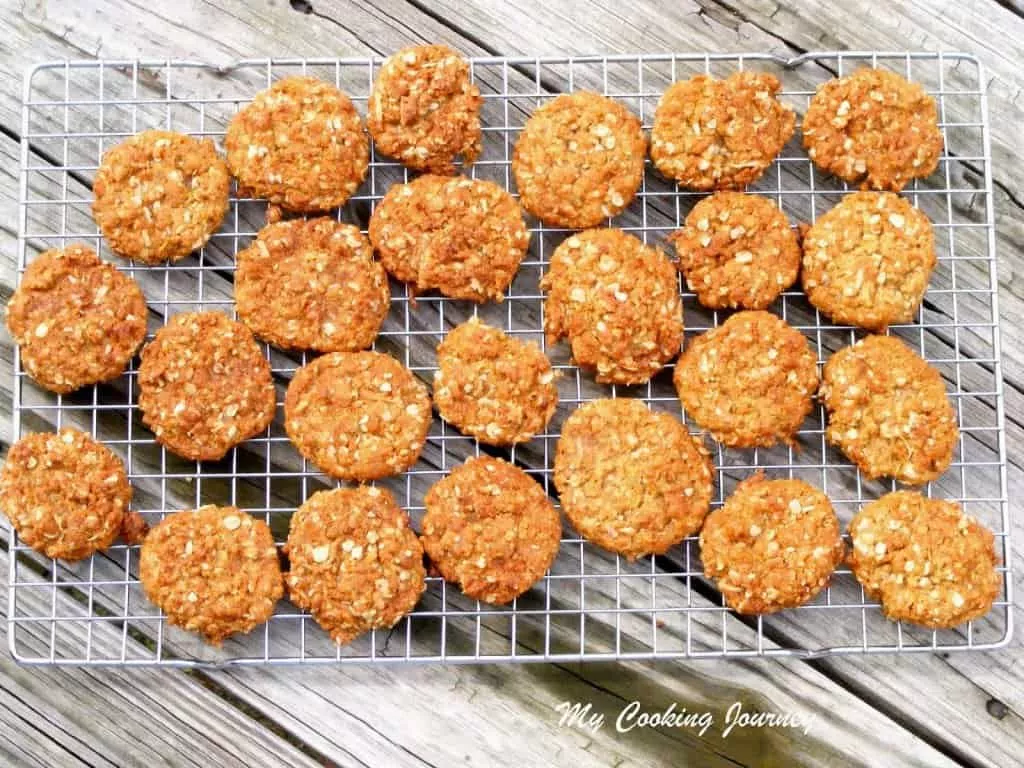 Once completely cooled, store in an airtight container.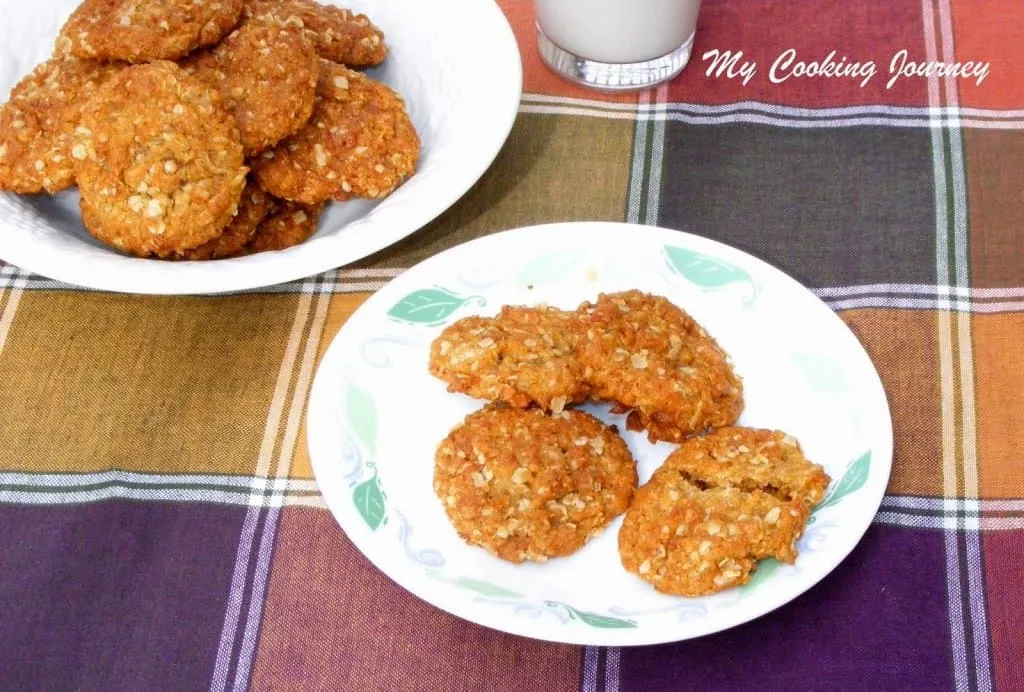 Check out the Blogging Marathon page for the other Blogging Marathoners doing BM#46