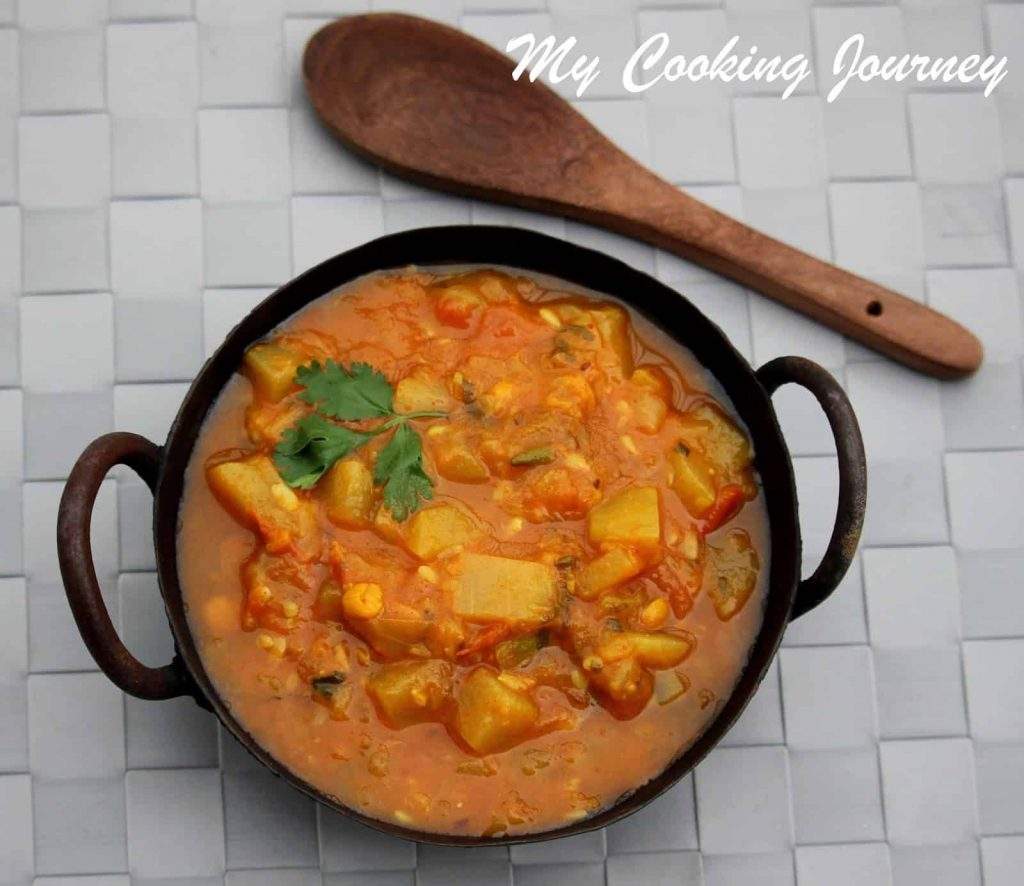 Bottle gourd is one of the vegetables that we grow in our backyard. This delicious bottle gourd recipe has been one of our family's favorite. The vegetable itself does not have too much flavor in it, so it takes up whatever we cook it in.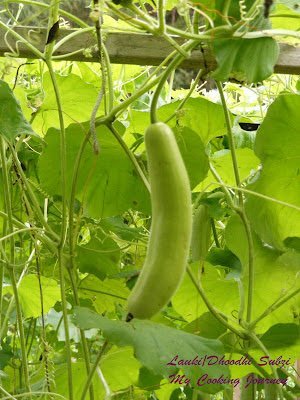 Bottle gourd has very high water content, almost 96%. Hence, it is an excellent vegetable to use if on a low calorie diet. It is also a very cooling vegetable for the same reason. So here is a very easy subzi dish to please your family. Try this lauki subzi to go along with Vegetable Pulao !
The theme of reposting the recipes with updated pictures gives me an excellent chance to go back and revisit my old recipes and give them a face lift. The picture of the lauki from our garden back in New York will always be close to my heart and reminding us of the wonderful times we had there. Hopefully we will find resources here to continue our passion.
Preparation time – 10 mins
Cooking time – 40 mins
Difficulty level – easy
Ingredients to make Lauki Subzi - (serves 4-6)
Bottle gourd/lauki/dhoodhi – 1 medium
Channa dal/Bengal gram dal – ¼th cup
Onion – 2 (chopped)
Tomatoes – 3 (chopped)
Green chilies – 2 (slit)
Ginger – 1 inch piece (grated)
Cumin seeds/jeera – 1 tsp
Turmeric powder – ½ tsp
Red chili powder – ½tsp
Dhania jeera powder – 1 tsp
Oil – 2 tbsp
Salt- to taste
Cilantro/coriander leaves – to garnish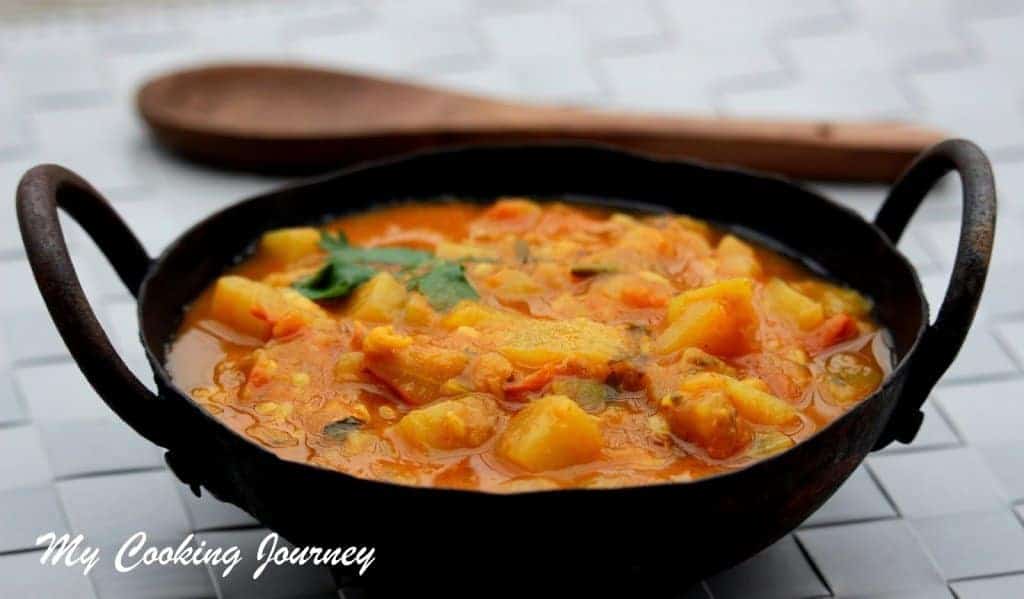 Procedure –
Soak the channa dal in water for about half an hour to an hour.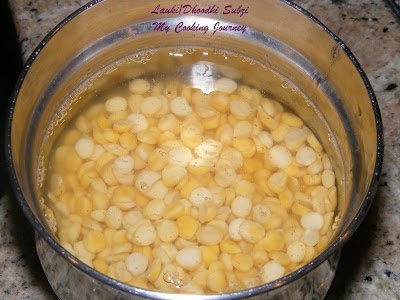 Peel the bottle gourd and cut it into 1 inch cubes. I generally do not remove the seeds from the inside unless otherwise it is very mature.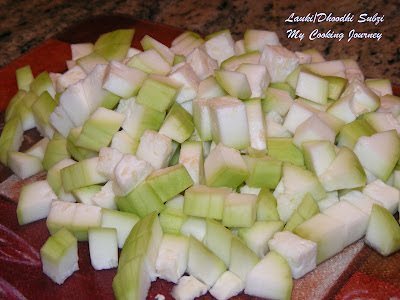 Heat a tbsp of oil in a pressure cooker and add the cumin seeds to it. Once the cumin seed splutter and becomes aromatic, add the chopped onions. Fry the onion until it is golden brown.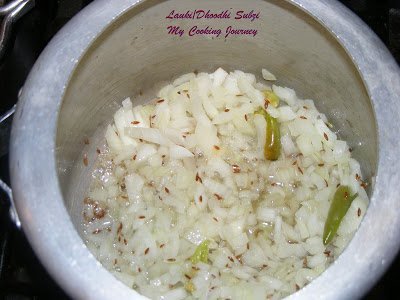 Now add the grated ginger and the tomatoes. Cook on medium heat until the tomatoes turn mushy. Now add the salt and the turmeric powder and cook for a minute.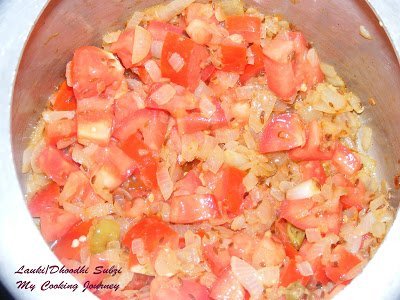 Drain the water from the soaked dal and add the dal.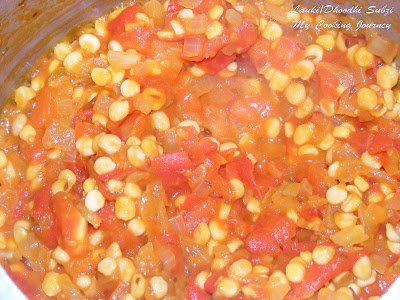 Mix it well and then add the chopped bottle gourd. Give it a good mix and then add about a cup and a half of water.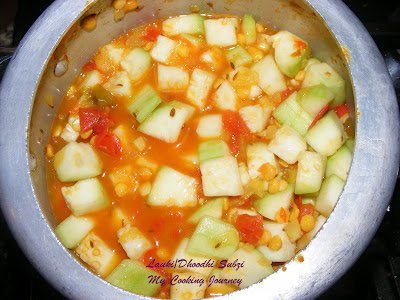 Close the cooker and let it cook until 4 -5 whistles.
Once the cooker steam releases, open the cooker and let the subzi simmer.
Heat a small pan and add the remaining oil. Once the oil heats, add the chili powder and the dhania jeera powder. Fry it for few seconds and then add it to the simmering subzi. Mix it well and cook it further for 5 more mins.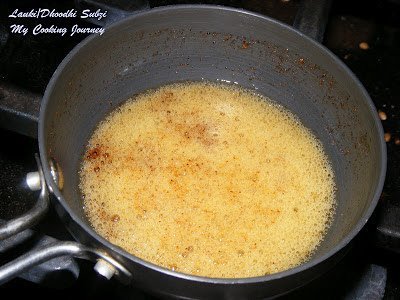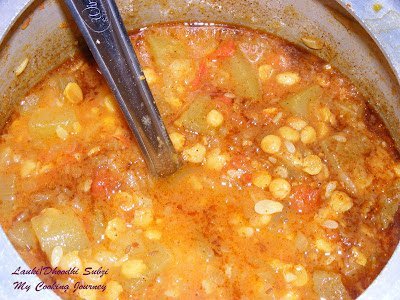 Garnish with cilantro and serve lauki subzi hot with rice or rotis!!!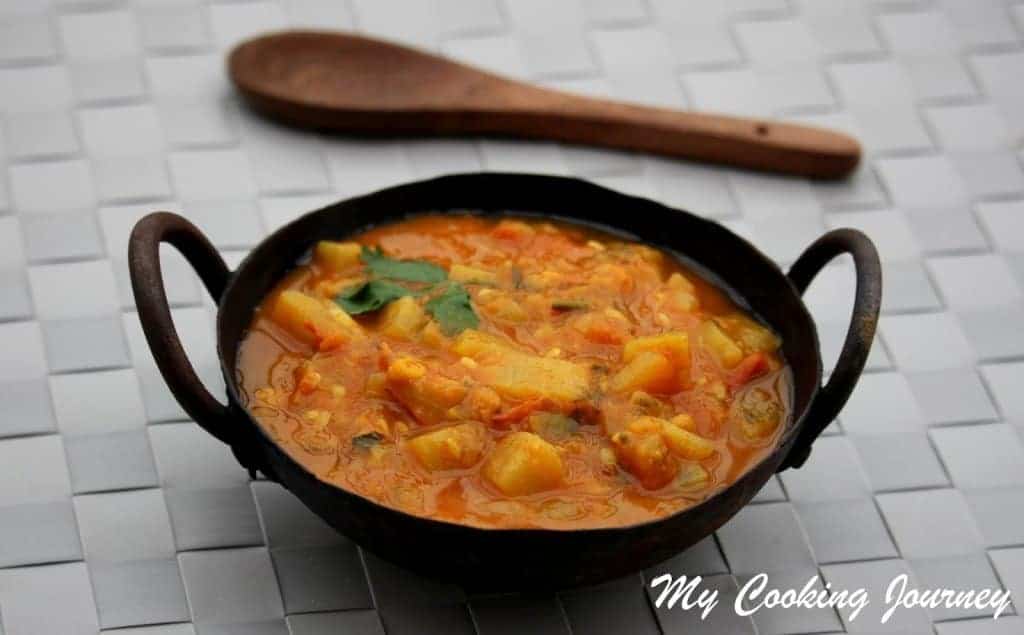 Notes -
You could make this recipe also without the cooker. Just follow all the steps in a heavy bottom pan and cook for at least 25 mins or until the bottle gourd is soft and mushy.
Happy Cooking!!!