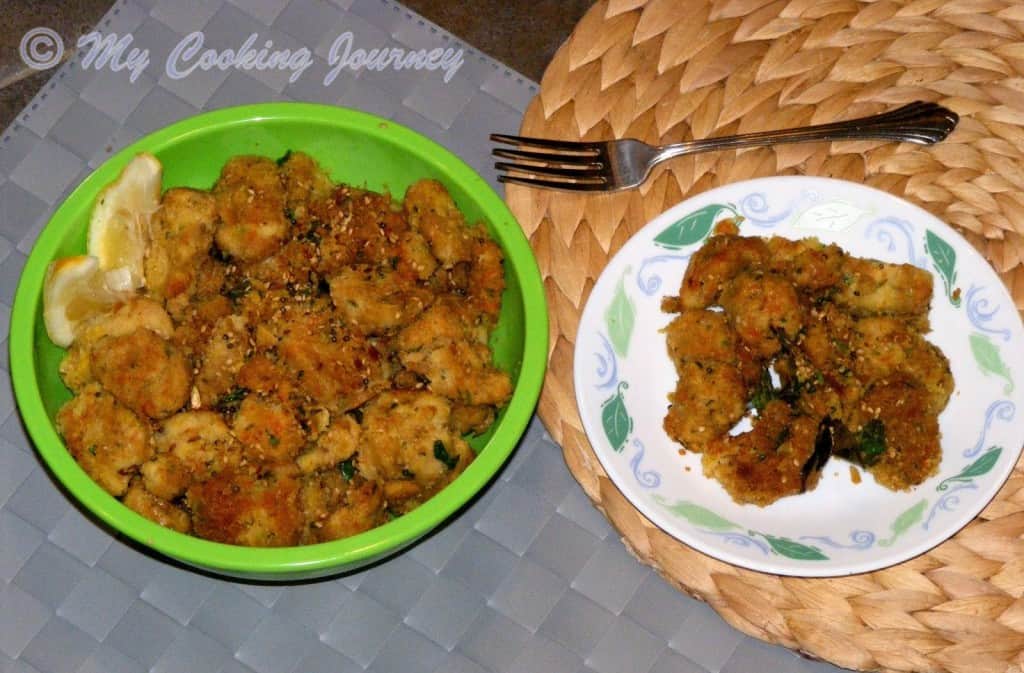 This week I chose to do three days of evening snacks for the blogging marathon. Evening snacks are very essential for my kids because they are in quite a few activities and I need to feed them something substantial, so they don't feel hungry. I wanted to make these Gujarati special Muthias for the regional blogging marathon last month, but ended up doing the Khaman Dhoklas. So this week I made the muthias as an evening snack. This is a very filling snack and very nutritious too.This is also served as breakfast in Gujarat.
For this month's Shhh Cooking Secretly challenge, my partner Shailaja gave me rice flour and bottle gourd. I used one of the ingredients, the bottle gourd and made this Lauki/Doodhi muthia as my dish for this challenge.
Preparation time – 15 minutes plus about 20 minutes to rest the dough
Cooking time – 30 minutes
Difficulty level – easy
Recipe adapted from – Nishamadhulika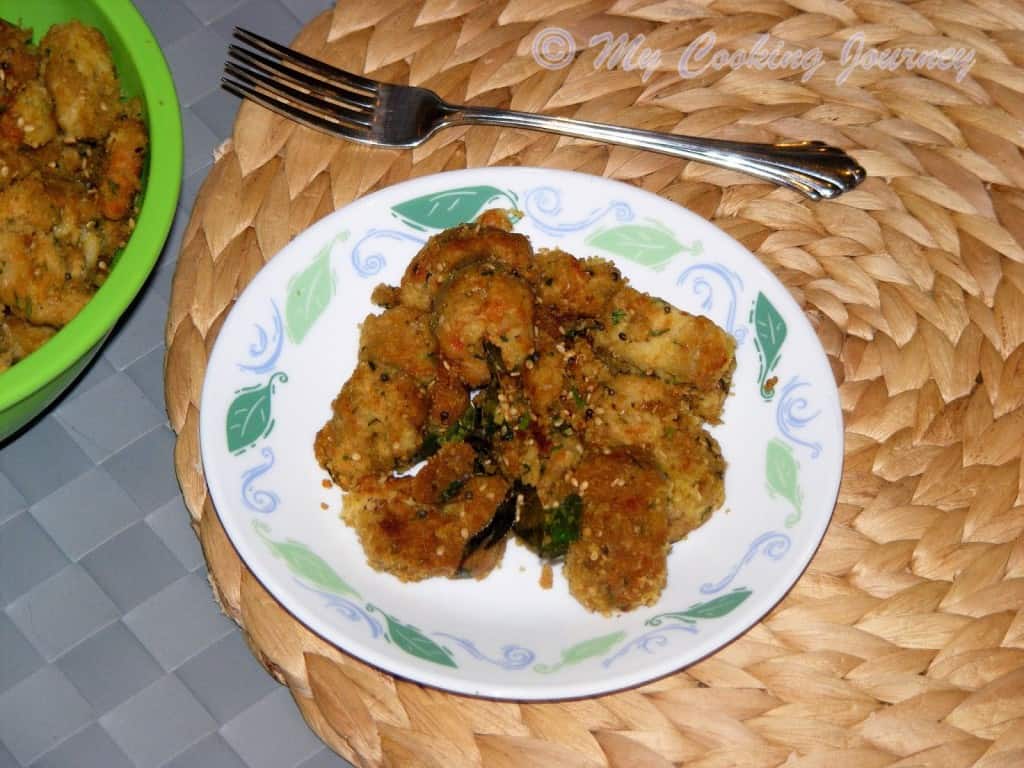 Ingredients to make Lauki Muthia – serves 6
Lauki /Doodhi/bottle gourd – 1 small (or about 2 cups (grated)
Wheat flour – 1 cup
Rava/semolina/sooji – ¾ cup
Besan /Gram flour – ¾ cup
Green chilies – 2 (chopped into small pieces)
Ginger – 2 inch (grated)
Baking soda – ½ tsp
Sugar – 2 tsp
Turmeric powder – ½ tsp
Oil – 1 tbsp plus more for greasing the steamer trays
Salt – to taste
Cilantro – 2 tbsp (chopped)
To season the steamed muthias –
Oil – 2 tbsp
Mustard seeds – 1 tsp
Cumin seeds – 1 tsp
Sesame seeds – 1 tbsp
Curry leaves – few
Asafetida – ¼ tsp
Lemon juice – about 2 tbsp
Cilantro – to garnish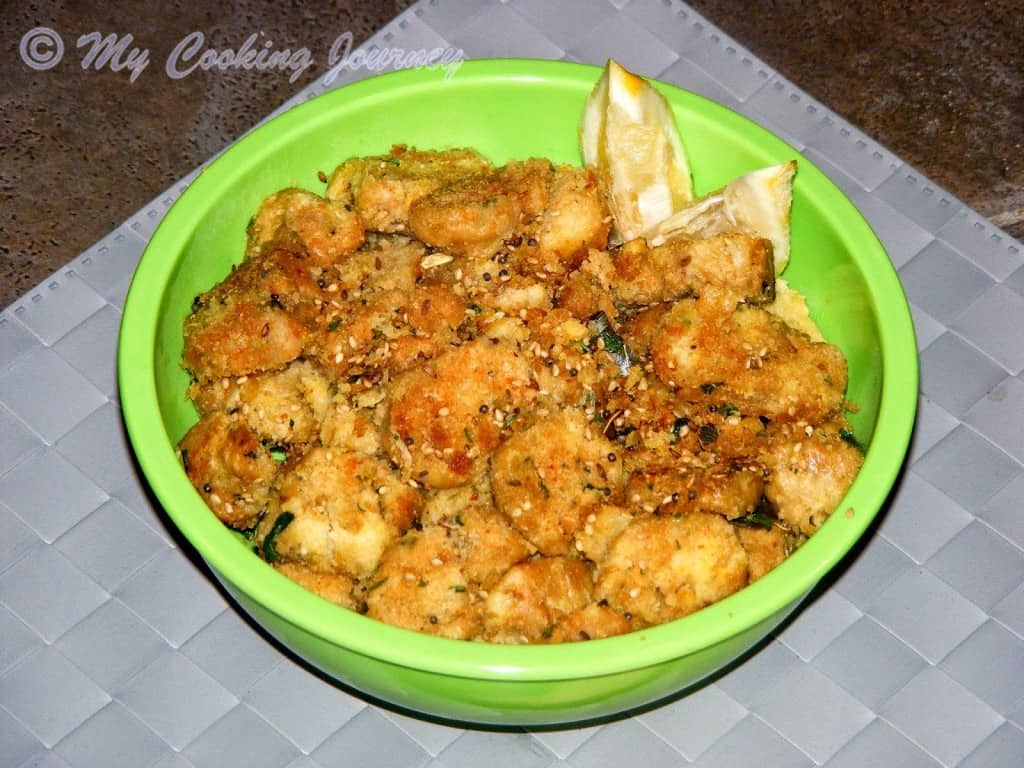 Procedure to make Lauki Muthia –
Peel the bottle gourd and grate it. Bottle gourd has very high water content, so squeeze out as much as water you can from the vegetable and keep the vegetable in a large mixing bowl. Do not discard the squeezed out water. Keep it aside as this will be the water we will use to knead the dough.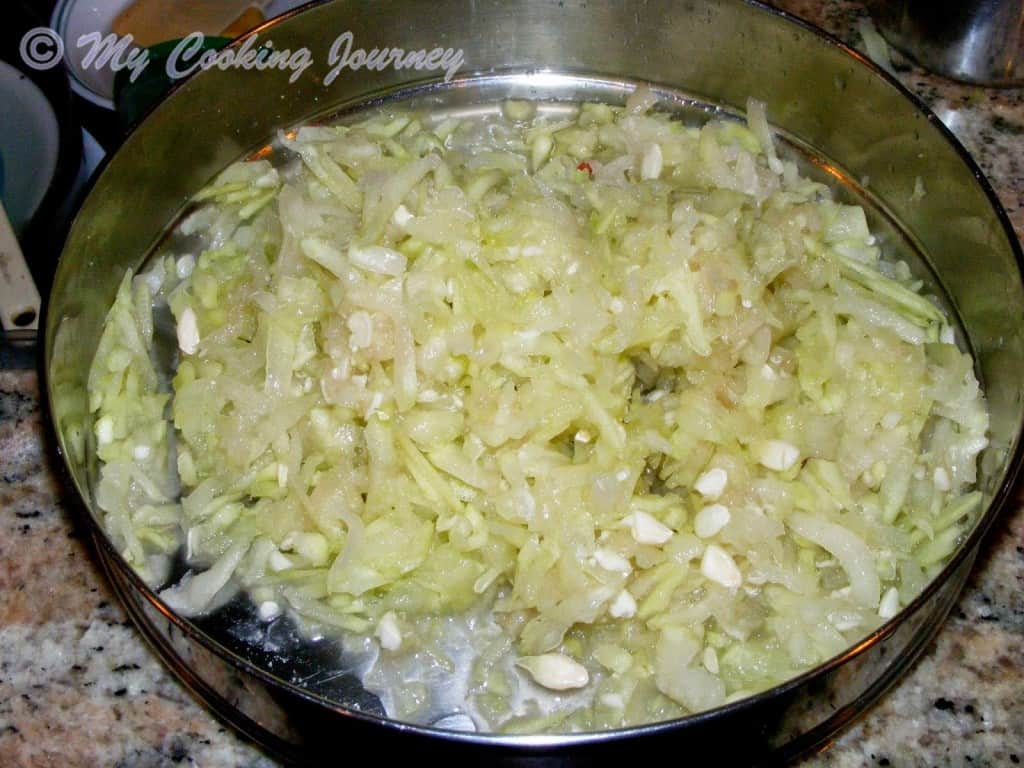 In the bowl with the vegetable, add all the ingredients mentioned above (except the seasonings). Mix well using your hands and form soft dough. Use the squeezed vegetable water to make the dough. Cover the dough and keep it to rest for about 20 minutes.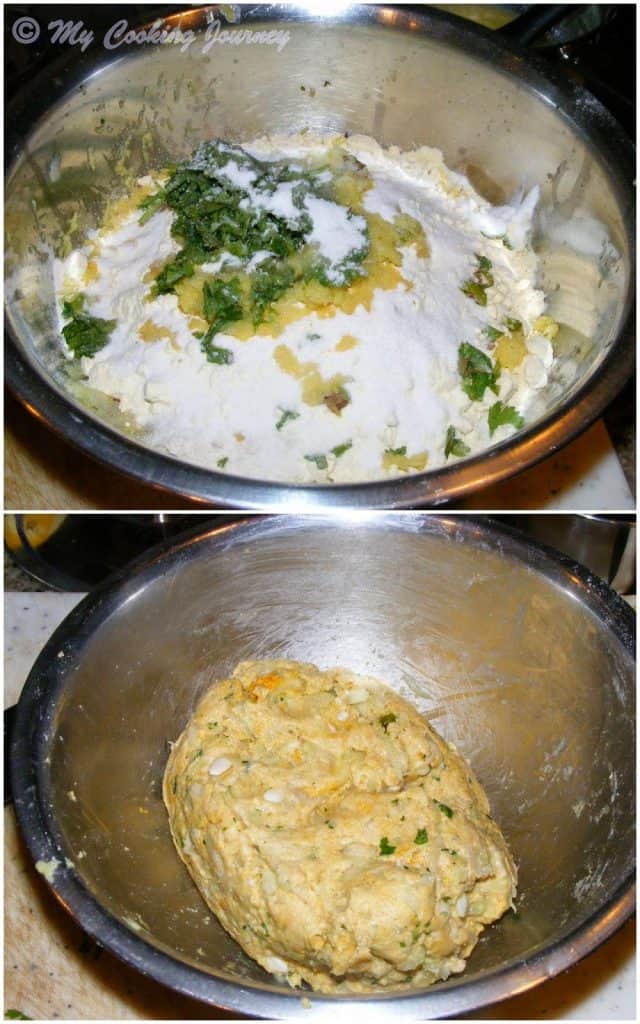 Heat water in the steamer. Using wet hands make cylindrical shaped muthias from the dough and layer them on a greased steamer plate. Repeat the same with the rest of the dough and then steam the muthias for about 20-25 minutes. Insert a fork in the muthias to see if it comes out clean. If the fork comes out clean, then the muthias are done.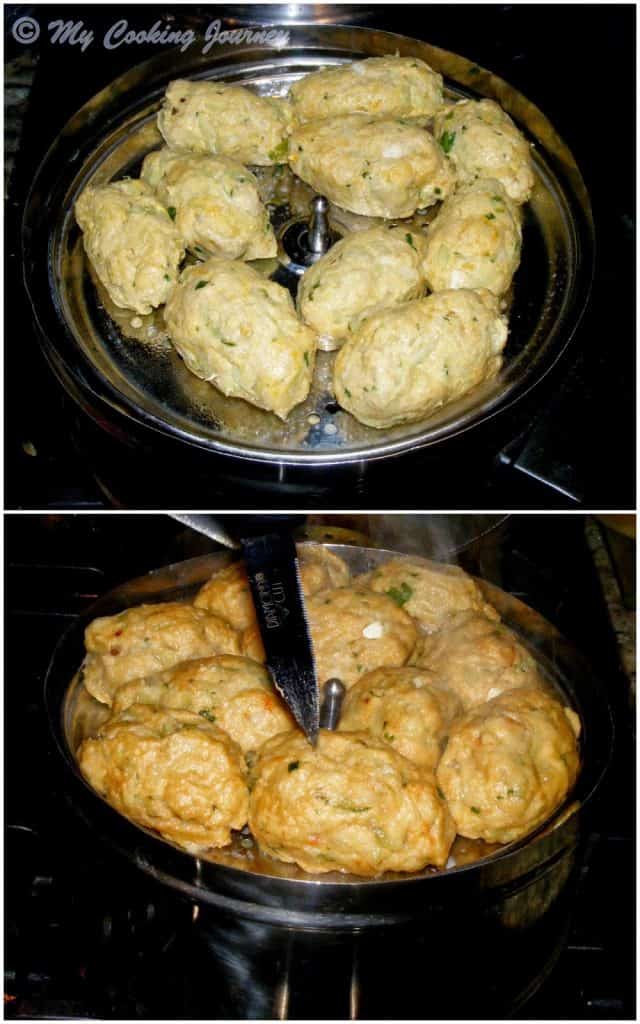 Remove the steamed muthias and let it cool down a bit. Then slice them into ½ inch thick pieces.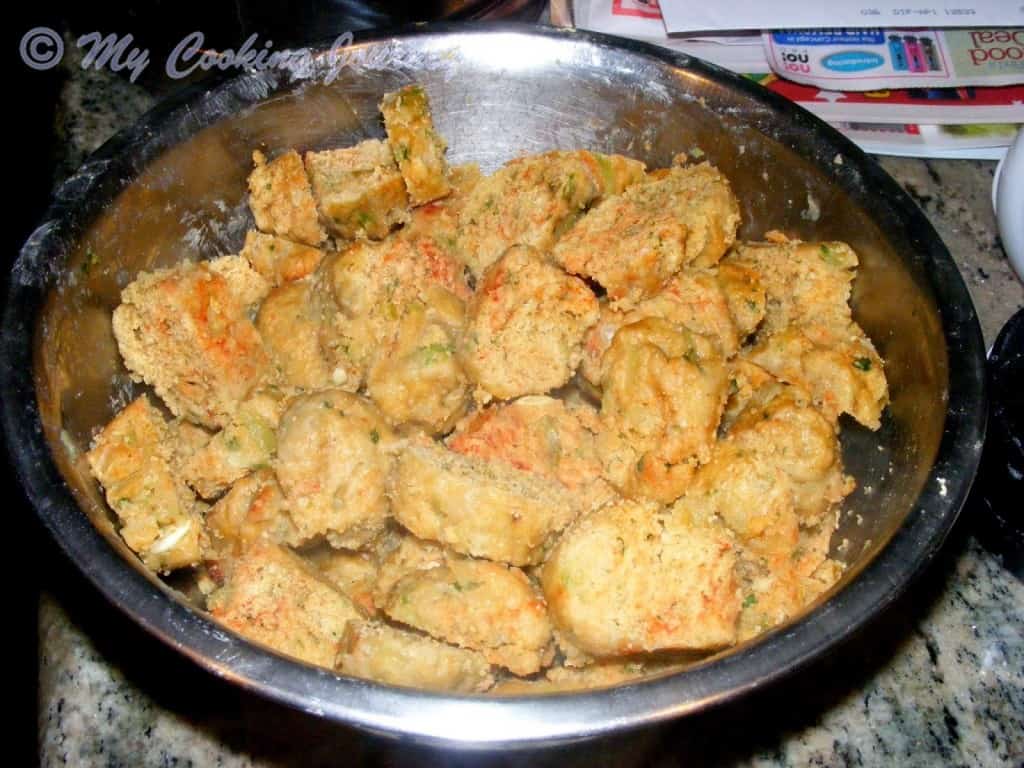 Heat 2 tbsp of oil in a wide pan and add the mustard seeds, cumin seeds, sesame seeds, curry leaves and asafetida.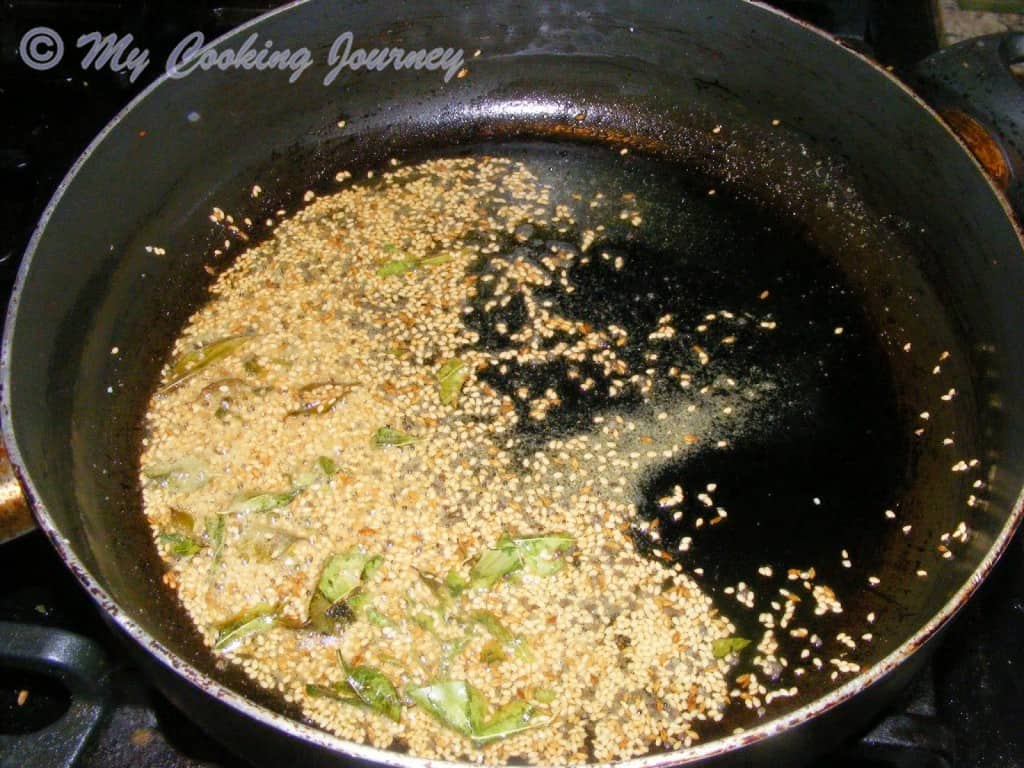 Fry for a minutes and then add the sliced muthias. Mix gently to coat and let it cook for about 5 minutes.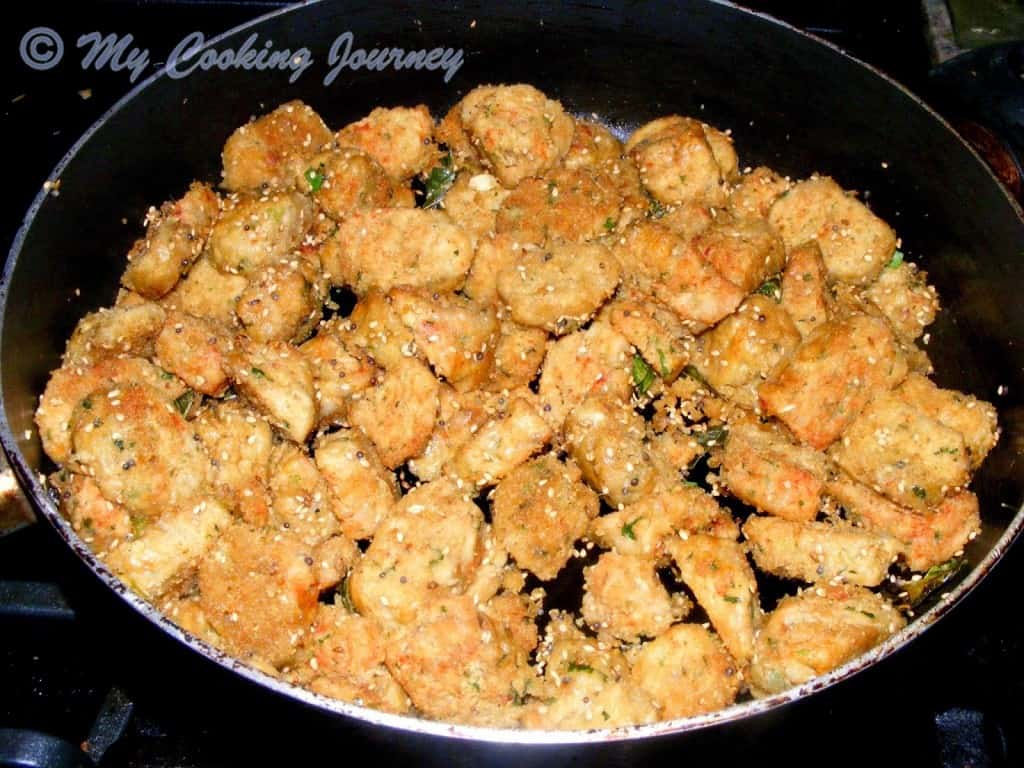 Add the lemon juice and cilantro and stir.
Serve with sweet tamarind chutney and green chutney!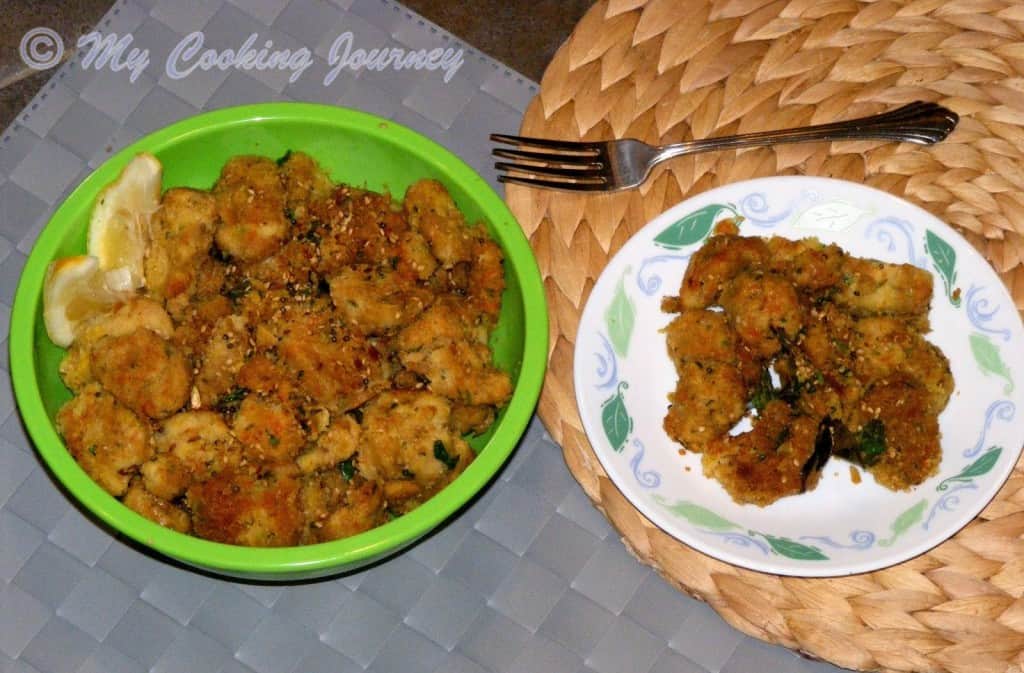 Check out the Blogging Marathon page for the other Blogging Marathoners doing BM# 40