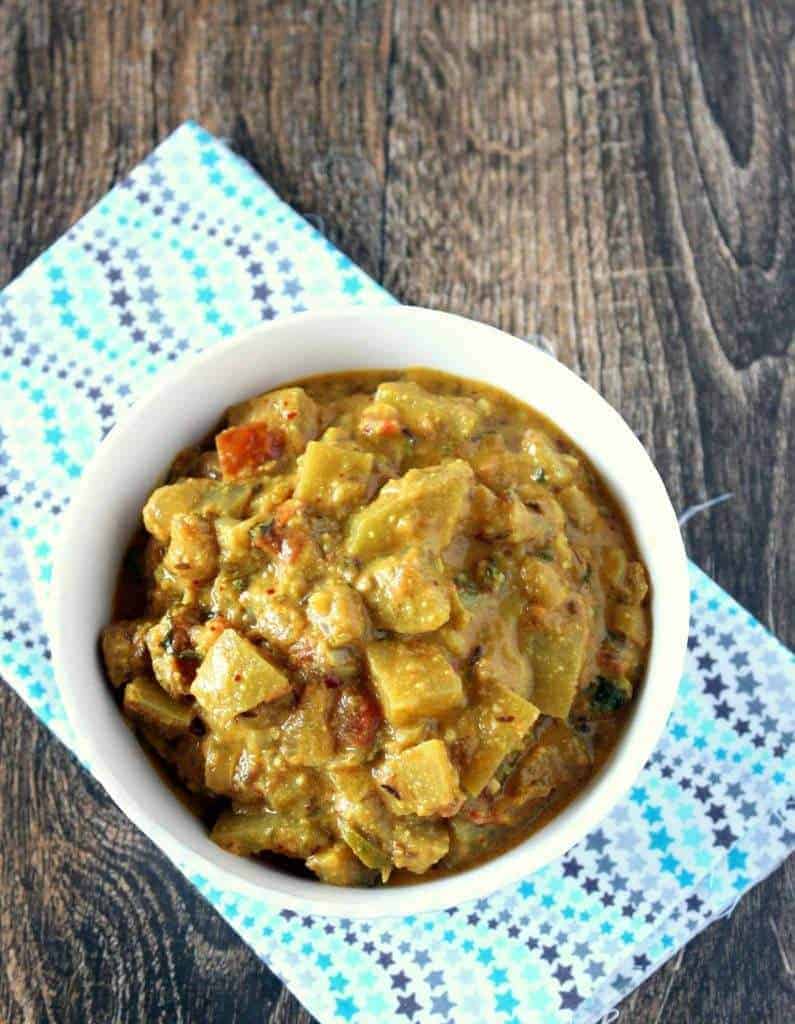 I am a big fan of peanuts in gravy and to add to that if the recipe has sesame, there is no going back. Lauki also known as Dudhi, which is bottle gourd in English is something I cook very often at home. If given a choice my boys would eat Lauki subzi almost every week. The irony is many South Indian Brahmin family do not eat bottle gourd. I grew up in North India and we never bothered with any of these beliefs, so lauki with chana dal was a very common subzi in my house. Things have changed over a period and people have started consuming lauki knowing the health benefits, but I still find it very amusing that we still have preferences in vegetables in spite of being vegetarians. So, this Lauki subzi with peanuts and sesame is a new addition to our lauki loving family.
I have to admit the only thing I commonly make with lauki is the Lauki subzi. It is a regular part of our weekend menu like this North Indian Lunch/dinner menu #1 here. Apart from it I make the Gujarat famous Lauki Muthia and recently made the Lauki burfi which was loved by everyone in my house.
This subzi is so creamy and delicious and this has 2 of my favorite ingredients, sesame and peanuts along with lauki. I am so happy to have found yet another subzi that I can alternate with the Lauki chana dal subzi. This week my theme for the BM is 'Bookmarked recipes' and this is my first one from my list of bookmarks.
Preparation time – 10 minutes
Cooking time – 30 minutes
Difficulty level – easy
Recipe adapted from – Veg Inspirations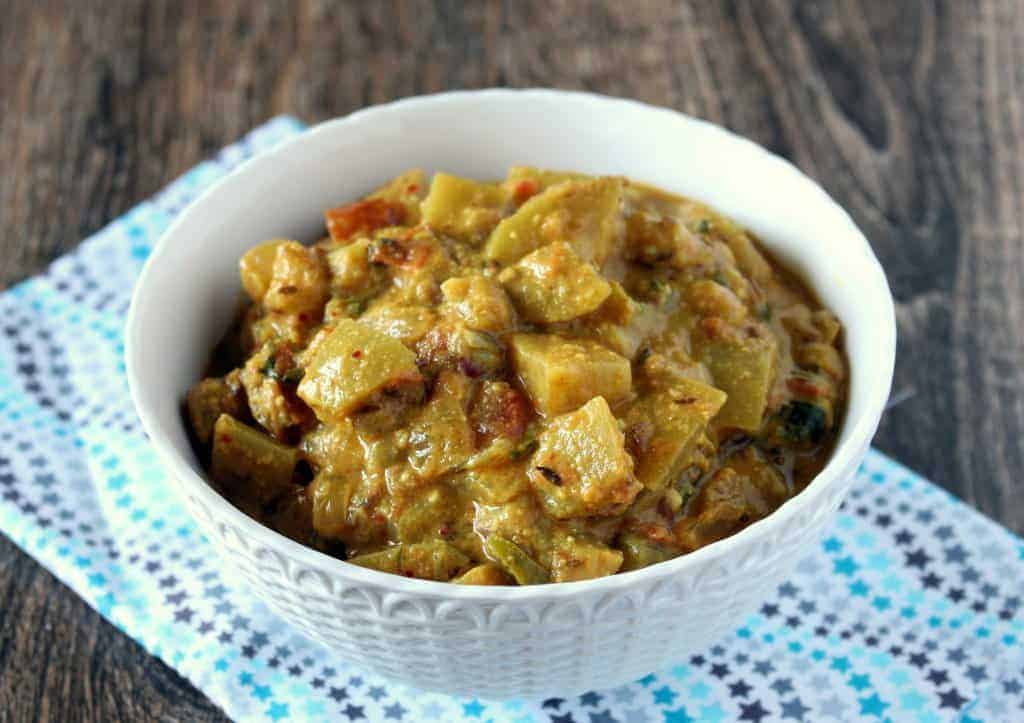 Ingredients to make Lauki Subzi with Peanuts and Sesame – (serves 4)
Lauki / bottle gourd / dudhi – 1 large (about 5 to 6 cups chopped)
Onion – 1 large (chopped)
Tomatoes – 3 (chopped)
Cumin seeds – 1 1/2 tsp
Turmeric powder – 1/2 tsp
Red chili powder – 1 tsp (adjust based on your spice level)
Oil – 1 tbsp
salt – to taste
Cilantro – for garnishing
For the Masala paste – 
Peanuts – 4 tbsp
Sesame seeds – 2 tbsp
Coriander seeds – 2 tsp
Red chilies – 3 or 4
Desiccated coconut – 2 tbsp
Procedure to make Lauki Subzi with Peanuts and Sesame – 
Roast the peanuts until slightly brown and keep it aside. Fry the sesame seeds to light brown color and place it along with the peanuts. In the same pan, dry roast the coriander seeds along with red chilies and keep it in the bowl. At the end, turn off the flame and roast the desiccated coconut in the pan for few seconds and remove it along with the rest of the ingredients. Let this cool down and then grind it to a smooth paste adding a little water.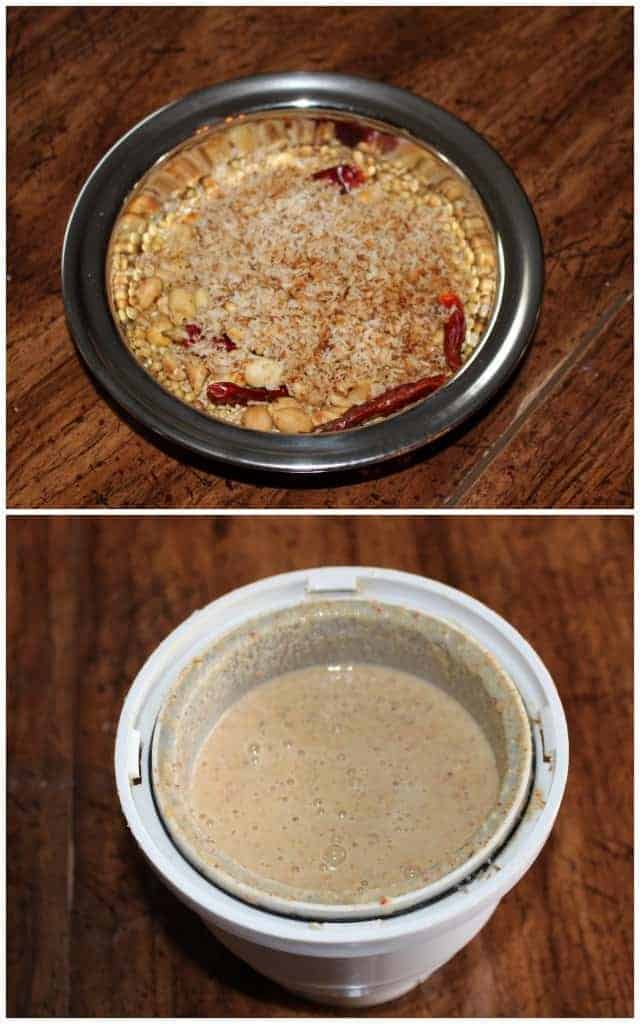 In a pan, heat the oil and add the cumin seeds. Let it crackle and then add the chopped onions. Saute the onions until they are translucent and then add the tomatoes along with turmeric powder, red chili powder and salt. Let the tomatoes cook until they are slightly mushy.
Add the chopped lauki and mix well. Add about a cup of water and let the lauki cook until it is soft. Don't over cook the lauki and make it mushy.
At this stage, add the ground masala paste and mix well. Adjust the consistency of the gravy by adding a little more water if needed.
Let it simmer for 6-8 minutes and then garnish with cilantro.
Serve hot with phulkas!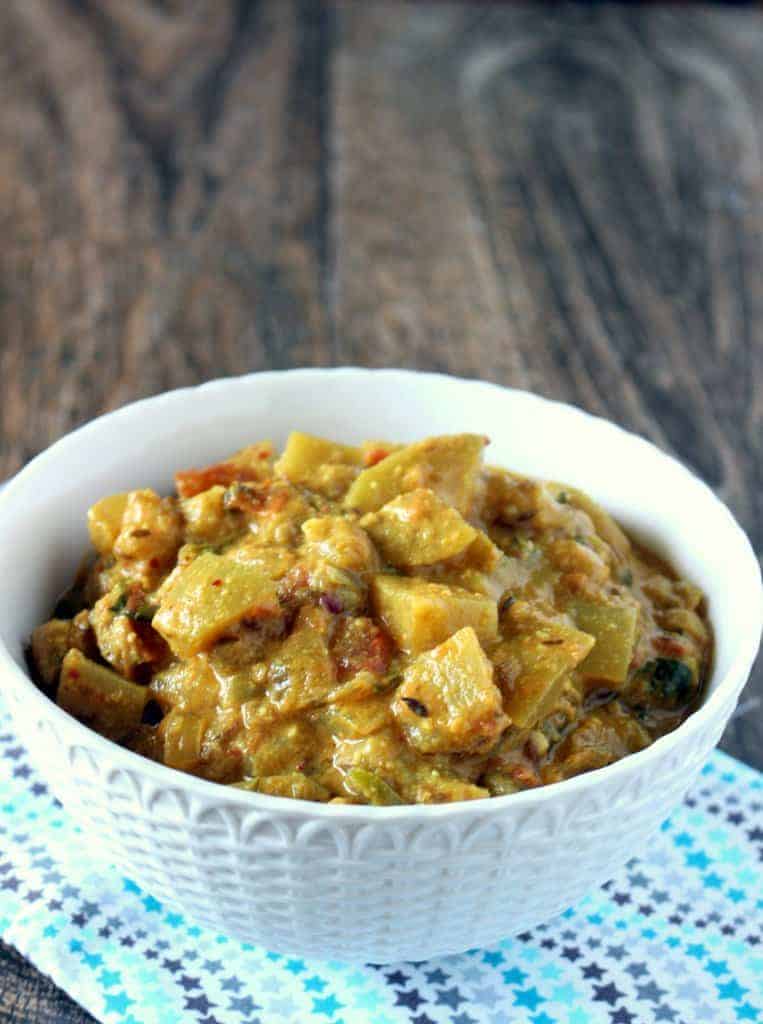 Check out the Blogging Marathon page for the other Blogging Marathoners doing this BM#72