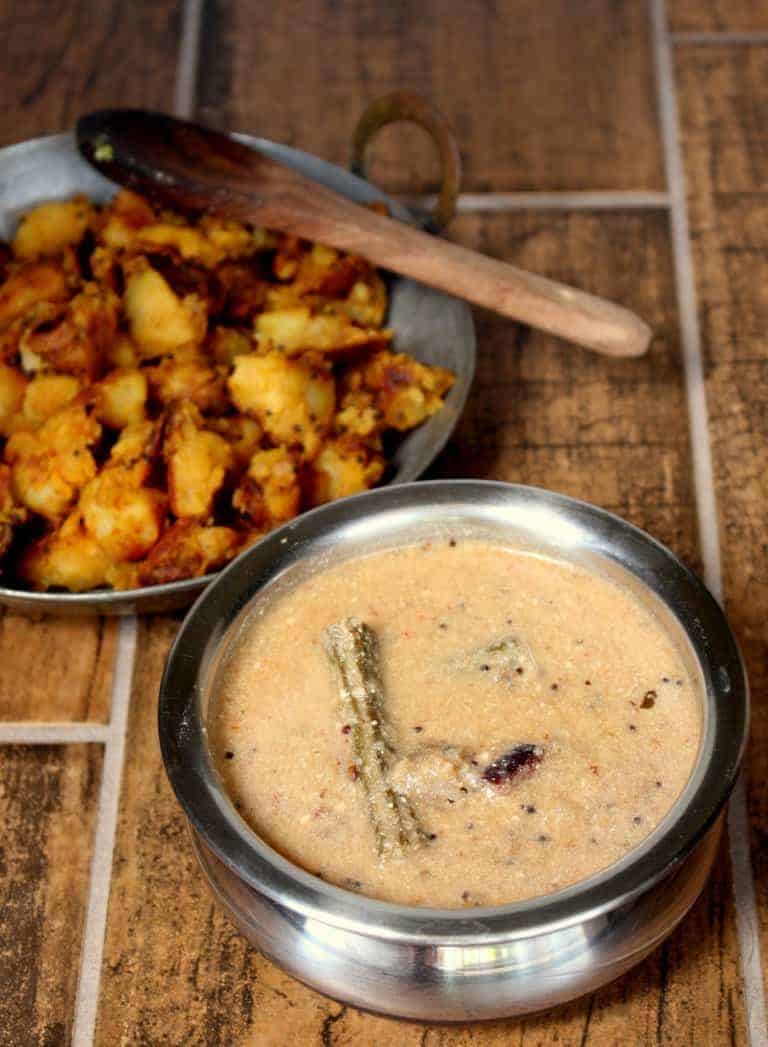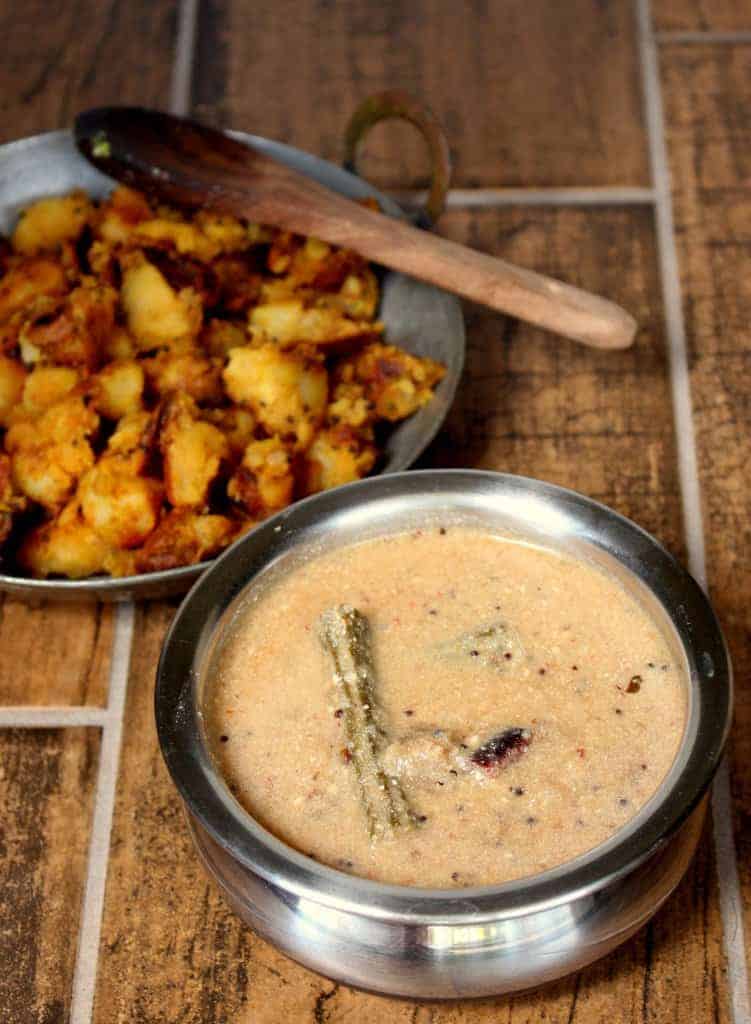 Being a South Indian, sambhar and kuzhambu are something that we make on regular basis. Different sambhars and kuzhambu is what my family makes everyday, but I am an exception in that. I don't just cook South Indian food but we prefer to go on a good rotation around India and also the world, before we come back to our cuisine. Having said that, I also have to admit if I see some different kind of sambhar or kuzhambu, I have to try it out right away. This iru puli kuzhambu was absolutely mouthwatering when I first saw it in Nisha's space.
The kuzhambu was something that you don't come across often. The kuzhambu usually has the sourness from tamarind with the exception of Mor Kuzhambu that gets its sourness from sour buttermilk. This Iru puli kuzhambu had the sourness from both tamarind and buttermilk which was very interesting. Also the simple spice mixture with fenugreek seeds (vendhayam) was very aromatic.
I used drumsticks and eggplants as my vegetables for the kuzhambu, but you could use any other vegetable of your choice or also a combination of mixed vegetables. This is a specialty from Tirunelveli region of Tamil Nadu just like this Sodhi with Puli Inji and Tirunelveli Sambhar. This is my second recipe under Bookmarked theme for the BM.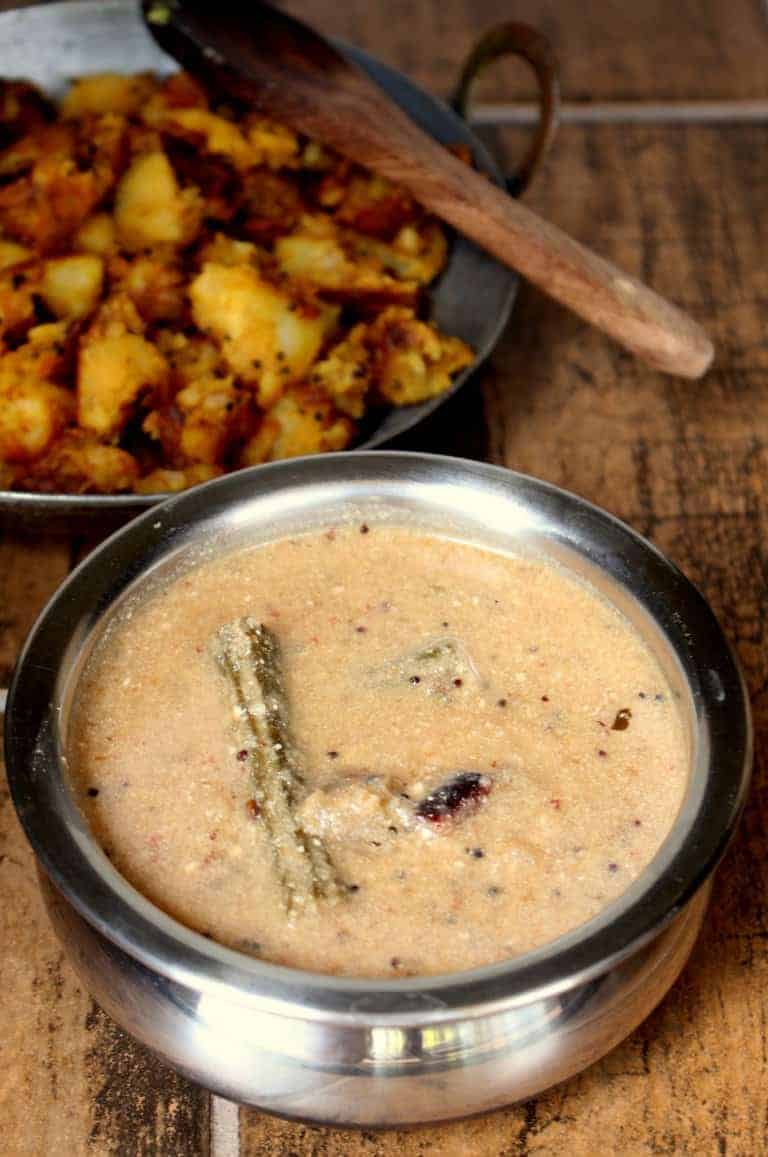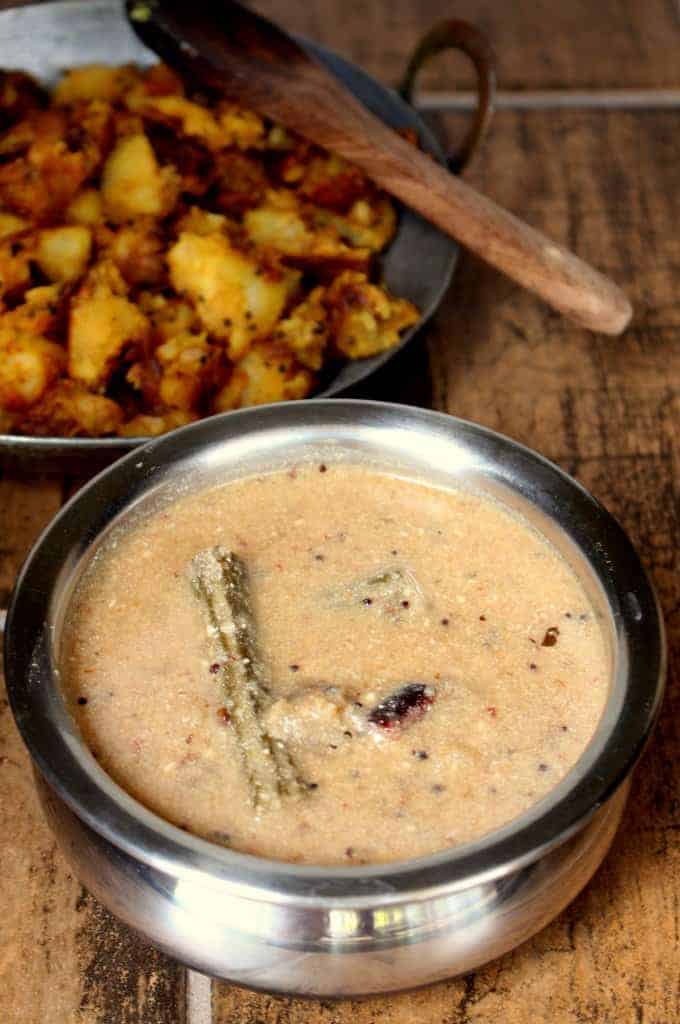 Preparation time - 10 minutes
Cooking time - 40 minutes
Difficulty level - easy
Recipe adapted from - The Magic Saucepan
Ingredients to make Iru Puli Kuzhambu - Serves 4
Eggplant / Kathirikkai - 1 cup (cubed)
Drumstick / Murungaikai - 10 pieces
Tamarind - A lemon size ball soaked in 1 cup of hot water
Buttermilk (sour) - ½ cup
Oil - 1 tbsp
Mustard seeds - 1 tsp
Red chilies - 2 or 3
Curry leaves - few
Salt - to taste
For grinding together -
Oil - 1 tsp
Red chilies - 2 or 3
Fenugreek seeds / Vendhayam - ½ tsp
Coconut - ¼ cup (grated)
Raw rice - 2 tsp
Procedure -
In a small frying pan, heat 1 tsp of oil and fry the red chilies and fenugreek seeds until aromatic and light browned. Let it cool down a bit and then add the raw rice and coconut to the mixture and grind it into a paste adding little water.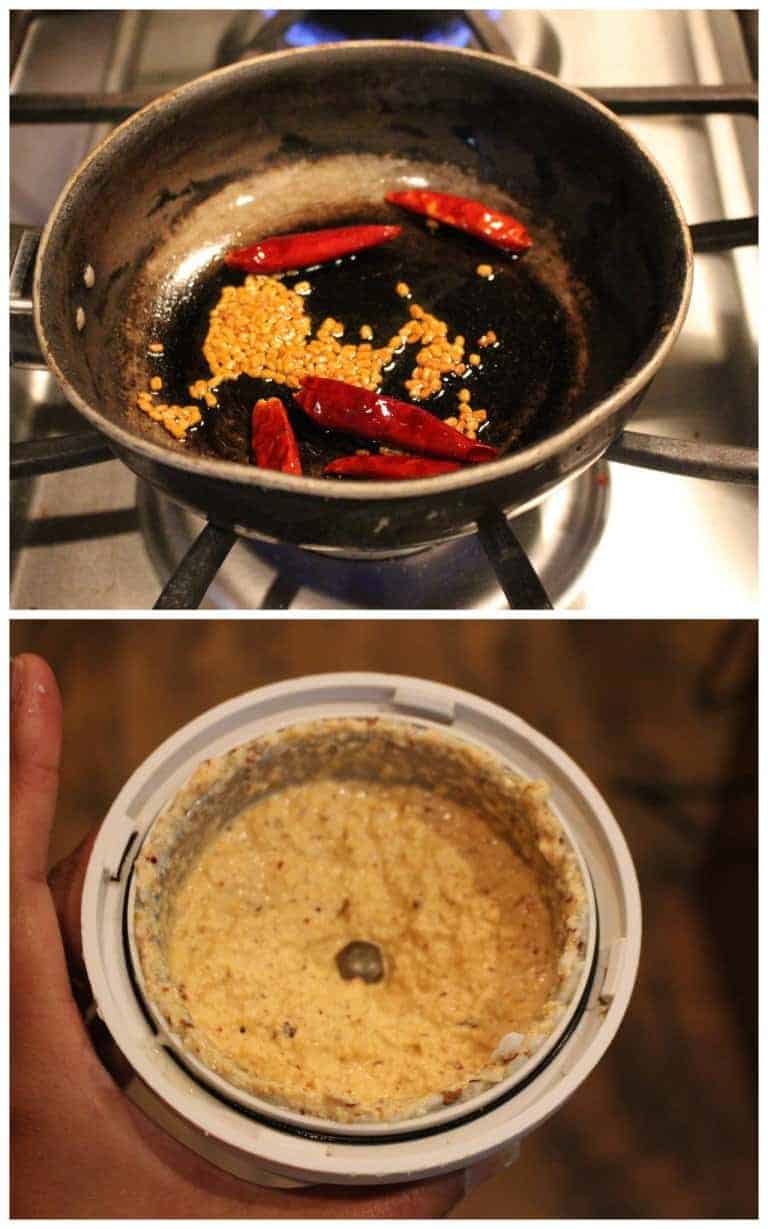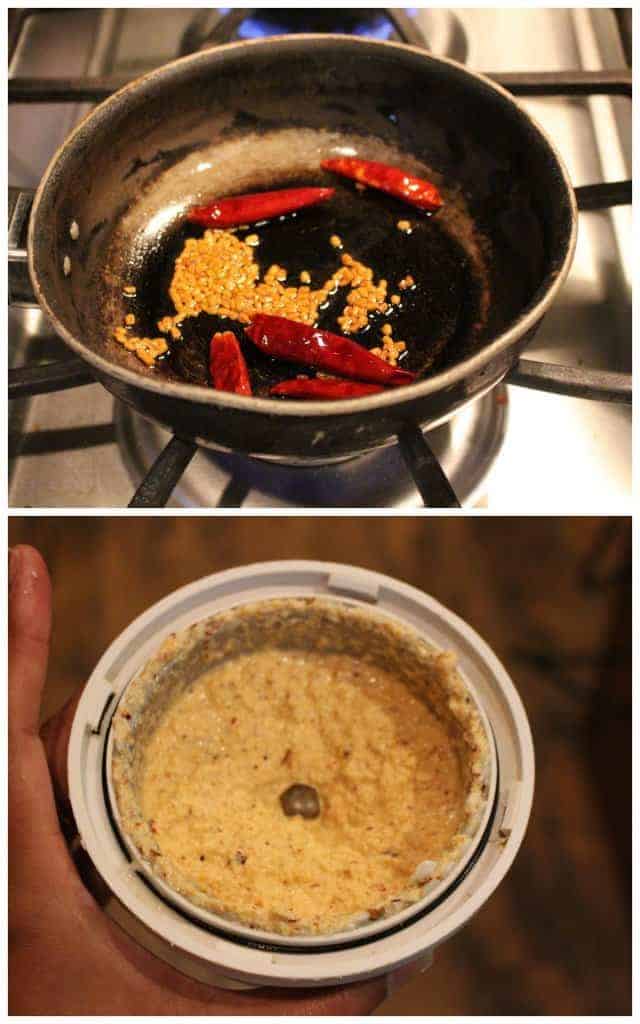 Soak the tamarind in hot water and squeeze the pulp out. Whick the buttermilk well and keep it ready.
In a sauce pan, heat 1 tbsp of oil and then add the mustard seeds, red chilies and curry leaves.
Add the chopped vegetables and saute them for couple of minutes.
Now add the extracted tamarind pulp and salt to the pan and let it boil until the vegetables are cooked and the smell of the tamarind goes away.
Next add the ground paste and let it come to a boil. Let it simmer for 4 to 5 minutes.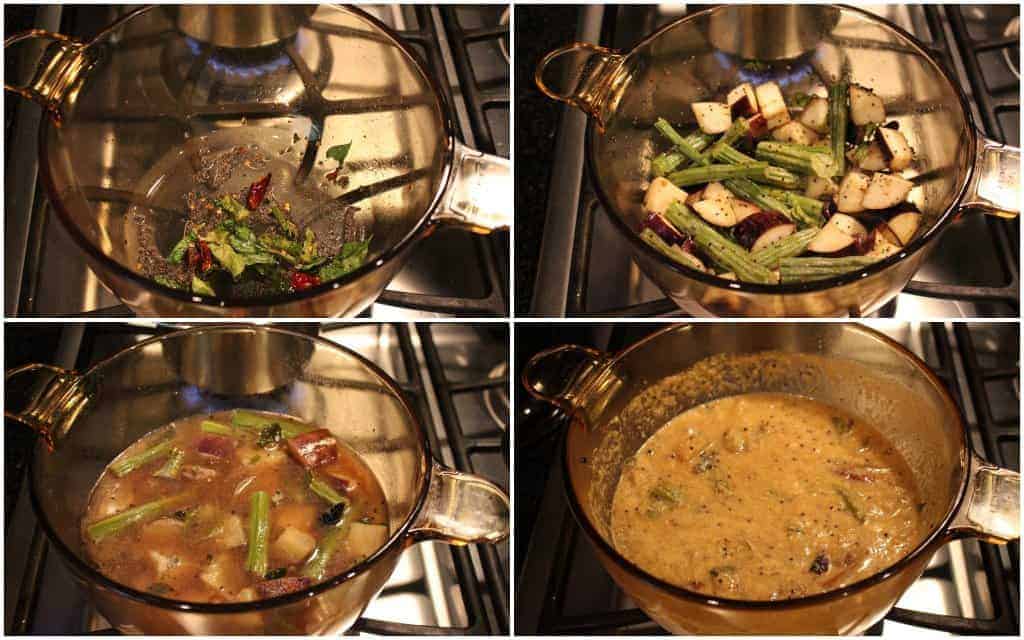 Now turn the flame to the lowest and add the whisked buttermilk. Mix well and let it cook until the kuzhambu froths up on top. Do not let the kuzhambu boil too hard after adding the buttermilk as it could split.
Serve hot with rice.